How to Start An Online Store in 2021? Everything An Entrepreneur Needs to Know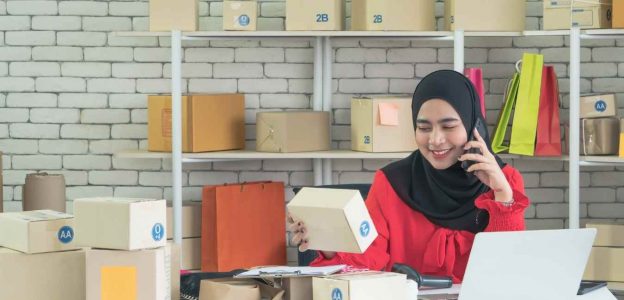 Creating an online store was a bigger deal a few decades ago but with transformation in technology and dedicated IT experts, starting your own online store that is tailored to your business needs is a matter of a short span now. Various small businesses have stepped up the ladder of success by owning a full-fledged website that caters to their business rather than owning a retail store with upfront inventory (a large investment).
Today's smart shoppers associate with everything that is advanced and reduces their extra efforts. Earlier there were more informative plus static websites but now there is an entire online ecosystem that helps with decision making, shopping, payment to delivery. How can you start your online store that gives the ultimate shopping experience to your clients?
The article lets you by all the crucial steps you need to follow while starting your own online store. No matter which e-commerce business you are coming up with, these remain all-time crucial in 2021.
Here is something one should consider before working towards their online store… Let's check out the pre-requisites.

1. A Concrete Business Idea
An Idea is the base of any business. What is your niche? And what product/service categories you will be selling through your site? You can either follow your passion (if it has a market scope) or watch out for some low-investment online business ideas that are worth giving a shot in 2021… Before you land on any conclusion, find the market demand and competition for your business segment.    
2. A Brand Name
Think creative, intriguing, and convincing business names. You can check its domain availability through various third-party tools that are completely free of cost. As it is not at all easy to find .com URLs for some names, you can hire the experts for brand name suggestions and find the domain name available for your dream online store.
3. A Logo
A logo is not just the symbol or the acronym, it is the identity of your brand. A logo design has to show the purpose of your brand and what you want people to perceive of your brand – a sporty kind, classy, informative, subtle, or mysterious. You can reach out to a professional logo designing company that will go to the roots of your vision and design a logo that will bring your vision through a logo.
4. Products To Sell 
The products you sell decide your profit margin, shipment, and market scope. Make sure you have researched for your niche and accordingly plan the catalog that will go on your e-commerce website. A niche can either be your passion or the category that you find profitable. In fact, you can watch out for the low investment business ideas that you can pursue in 2021. Be confident about your niche and the product demand with prior market research and competition analysis.
5. Product Photos 
A professional photoshoot is a must for cataloging any commodity on a business website. If you have perfect lenses to capture the details of the products you are selling (as people are concerned with details) then you can go DIY shoots or hire the professionals to do it on your part. Also for on-demand goods like customized t-shirt printing, it is quite possible to use digital mockups that give the exact idea of the end-product.
6. Abide By The Legal Requirements
Paperwork and regulatory documentation are a must before you start your own business. To avoid future discrepancies make sure you abide by all the regulatory terms that are prevalent for trade in the local market.
How To Start Your Online Store in 2021? From The Scratch
1. Design A Mockup
2. List The Products You Want To Sell
3. Backend Record Keeping
4. Customize your Store with a Perfect Theme
5. Hire the Expertise
6. Focus on Main Pages of Your E-commerce Website
7. Tips for Homepage Designing
8. Pay Extra Attention to Navigation Menus
9. Focus on the Checkout Payment Structure
10. Collect Taxes
11. Shipping
12. Prepare Your store for Launch

1. Design A Mockup
A mockup is a visual prototype of an app or a website through which you will decide which features to add and how the interface will work. This is the major segment even before one starts to develop the e-commerce portal. As it is irritating, frustrating, time, and resource-consuming to make changes during the app development period, it is highly recommended that you discuss with your mobile app development company and fix the changes at the designing or prototyping phase. Know more about creating app mockups and wireframing. Though every e-commerce website is an interactive ecosystem, keep your focus straight on creating a feature-rich and dynamic user interface.
Make your passion your business in 2021: 
1. Sell customized T-Shirts online
2. Sell photos online – A Guide for Photographers
3. Create your own online boutique to prosper in 2021. 
2. List The Products You Want To Sell
Now that you have an idea of the niche products to sell, the target audience, their demand, and sourcing, you are good to go with listing the products on your business site. When it comes to sourcing you can go with the dropshipping business model, partial handcraft, or complete in-house production. It depends on the nature of your business.
Also Explore: Start Your Business from Home in 2021 with these low-cost ideas. 
Components for Listing
1. Product Title – Apart from being appealing, a product title should make it clear what a person is buying from you. Titles often involve keywords so that it is easier for the viewers to search the products with relevant keywords. You can go with complimentary words along with the main keyword. 
2. Product Description – Describe the product that you are selling. A description often helps in decision making and therefore you have to ensure all the questions are answered for the viewers. PDs are customized based on the products you are selling and include surface descriptions, color, sizes options, variants, and other relatable specifications. The part often concludes in 50 words.   
3. Product Photos – What a viewer looks for is detailing in the photographs for decision making. Make sure the pictures are clear leaving no doubts for the customers purchasing the products. Go for closeups to complete poses, with enough lighting.   
4. Product Price – Mention the MRP at which you are selling the product to the end-consumer. As this is the final price you are offering, the MRP covers your expense and leaves you a profit margin too. Pricing has to be done keeping in mind several factors. 
5. User's Guide (if needed) – There are various products that need a small user's guide. It can be some equipment or a cosmetic product, make sure you write a little user direction or application to guide the viewers. In case there is no need for a user's guide, you can replace the segment with other similar buys or the best buys/promotions on your website.   
6. Product Reviews – Under the section lies the reviews made by previous customers for the same products. As it is said there is no better promotion than personal recommendations by other purchasers. You can use positive reviews as a source for market promotions and improve from the ones that have a suggestion or criticism for the product.
Tips to consider while product listing:
-> Make sure you are able to relate to your target audience. 
-> Be as specific as you can with the descriptions. 
-> Avoid grammatical errors. 
-> Say a lot in a few words. 
-> Your words should go with the display picture. 
-> Highlight your generous promotions, return, and free shipment policies. 
-> Highlight the best prices (if you have). 
-> Anticipate common questions and answer them for customer satisfaction from the product.  
-> Hire an expert if you are a layman with content curations. 
-> Help customers imagine themselves using the product by giving size charts, materials used, or letting them know how the product is made.
3. Backend Record Keeping 
There is a need for you to keep a track of the products that you will be cataloging on your eCommerce website. Maintain an excel of the product listings (a backend inventory keeping). Even if you are adopting dropshipping or on-demand production business models it is mandatory to note the sourcing, barcodes, quantity, shipping, variants, organization, and availability (whatsoever headlines you need for listing).  The crucial step to start your online business in 2021, backend product listing is a must.

1. Sourcing
| | |
| --- | --- |
| SKU | Stock Keeping Unit is the product code that helps the vendors to search for a particular product from the invoices, orders, or track the moment of the product. You can reuse or generate your own SKU.   |
| Bar Codes  | Bar Codes are kept for the records in case one is re-selling the products. If you are making and selling the products then you can leave the barcodes.  |
| Quantities | How many units of a particular product you have in hand. The record of this helps you to show how many of the pieces are left in the stock or when the item is out of stock.   |
2. Product Availability
The organization is the key to fast track the available or out-of-stock inventory. Integrate automation tools for repeated entries and update the listings for stock availability.
| | |
| --- | --- |
| Product Availability | List the products that are on your e-commerce site. Later you can use multiple sales channels to market your products online.  |
| Product Type | A backend list of product categories that will be used to organize and create dropdowns on your eCommerce website. |
| Vendor  | Keep the record of the source from where you are getting the products – manufacturers/wholesalers/third-party vendors. You can filter the list based on the vendor to speed up inventory tracking.   |
| Tags  | Tags are the keywords through which people will search your products online. You can use various tags to help users find the products via your site's search bar. Or on SERPs as well.   |
| Collection  | Segregating the products under collections is a must for any online business. You can curate special listings for views when they will search for discounts, recommendations, sales, etc. also you can curate listings for specific audiences and purposes.  |
3. Shipping
While backend inventory keeping you will categorize each item you are cataloging for shipping conditions.
Weight 
The weight of the final product from the prospect of shipping. 
Customs

Information

If you are planning to trade internationally then this is the crucial segment of your backend record keeping. 
Records of product shipping and customs regulations help you give your regular customers perks like fast delivery, free shipping, etc. These small perks actually retain your clients to your brand.     
4. Customize your Store with a Perfect Theme
The website is representative of your brand and business. Make sure you hold the theme that is descriptive of your brand and the user interface that has dynamic functionality. There are templates available online over third-party tools or you can outsource your entire e-commerce web designing and development task to a potent web development company. They justify each penny spent by giving the best solutions for your e-commerce business needs.
An e-commerce website is more than just a catalog of products that one can buy online. The site helps people understand your business, relate to your back story, and trust your product and vision. Also, curate the content to help the viewers understand your brand. The content that is easy to read yet impressive and engaging has the power to influence in 2021.
5. Hire the Expertise
E-commerce web development requires robust architecture and functionality, therefore one cannot go easy with their choices for expertise. Rather than DIY or freelance resources, it is recommended to reach out to dedicated experts who have a clear knack for in-built technology, the core codes, and programming languages used to create an uninterrupted and sound interface to facilitate viewers. Outsourcing to a professional IT Company is your best bet in 2021 as it costs far less than owning a physical retail store and has a scope for you to reach out to millions with your website. 
6. Focus on Main Pages of Your E-commerce Website
Focus on creating the key pages of your eCommerce website:
| | |
| --- | --- |
| Contact Page | Customer is the king for any business and customer support is the priority. The contact page will help your clients connect with you with genuine queries or questions.   |
| About Us Page | The About us page helps the viewer to connect with the business, the vision, the roots of the company, the beliefs, and what problem you are going to solve through your brand. Educate your clients about your brand and business through the About Us page.  |
| FAQ Page | The section holds some of the repeated and mostly asked questions that you think might elevate in the minds of the viewers as they visit your site or the app. |
| Policy Pages  | These will help you establish a general protocol and let people know the terms on which your business runs. There are often queries regarding the shipment, returns, trial, and refunds. Take the inspiration from other giant e-commerce sites to catch up with the important points.  |
Red Alert: Do not make these mistakes with your e-commerce web/app development.
Explore: 8 Premium Ecommerce Website Templates to get inspired from.

7. Tips for Homepage Designing: 
One of the key pages to create when it comes to an e-commerce site, homepage designing is as crucial as other pages. It is the face of your online eCommerce store that attracts the viewers to surf more and get the deals. What sections to include for the home page? 
1. Slideshow – Slideshows capture the eyes and pique the interest as fast as they could. This is an indirect promotion of your brand where you can picture people wearing or using your products or give some highlights of your services that are meant to be noticed at the very first glance. The points that are important are meant to be in the section.
2. Featured collection – The best deals and the best-sellers are featured in the segment to pique interests. You can go for collections, buy 1 get 1 free, the best sellers, etc to fill in this segment. The deals that are worth a shopper's attention are what goes in the featured collections. 
3. Images and Texts – Pictures with a text description is another trait that attracts the eyes and helps the viewer get the first impression of the product. For a featured collection you can make a widget having a text and an image directing that by clicking you will get all the hot deals of the season. You can go with the images of your company, the founders, etc for the About Us page.  
4. Newsletters – This is to entice people to join your email list. It is not necessary that everyone who lands on your site purchases from you in the very first look. Give people a reason to join your email list by giving them newsletters, the recipes, the looks, the article, the tutorials, or any other exciting piece of content to unlock.
8. Pay Extra Attention to Navigation Menus 
Navigation menus are the "Call To Action" tabs for the customers. These are mostly on the front page and are present at the top of the homepage with, cart, wishlist, and logo. The owner of an e-commerce website or an app should be particular about the visibility and one-thumb accessibility of these navigational tabs that lead them to the category they are willing to search in just a few clicks. 
1. Main Navigation – The visibility of these navigational tabs is high and so there goes the link of the important segments that will affect the decision-making process of the shopper. Take inspiration from other eCommerce sites or ask your web development company to prioritize the main segments and create sub-menus (dropdowns) to organize the search.   
2. Footer Navigation – This is where the links of non-essential pages go. Basically, these provide the basic knowledge of the company and the brand and have nothing to do with the decision-making process of the shopper.  
3. Search bar –  Enable the search bar at the top of the site with other main navigation menus. A search bar is what a shopper needs the most when he has to make precise searches and not spend time on other promotional or featured stuff.

9. Focus on the Checkout Payment Structure
Payment is the base for any purchase and if you are starting an online e-commerce store make sure your payment structure is powerful, clean, and secure. Do not let your customer hassle you for payment after shopping. Here is what you need at your checkout payment page…  
1. Let customers create an account by giving a customer accounts form at checkout. A basic checkout payment form includes phone number, email, and modes of payment.
 2. Inform the customers about successful/unsuccessful payments by sending them either a text message or an email.  
3. In the payment form, know what fields are mandatory and what can be kept optional for the purchaser to decide whether he wants to fill or not.  
4. Pay extra attention to the delivery address. To save customers time at checkout use the shipping address the same as the billing address. Mostly the address is the same, still, you can ask for confirmation before automating the process.
 5. Make sure you have a valid reason for every information you fetch from the customer at the checkout. Do not go for any unnecessary information that is irrelevant to the ordering process. 
6. What if someone changes their mind at the checkout? There are several reasons for incomplete edge payments. You can set u an automated reminder email for such shoppers that their cart is pending. 
7. Also, you can come up with an automated system to send emails to the customer after 10 hours of abandoning the checkout. While the store and the cart are still fresh in their minds they might reconsider their purchase. 
 8. Ask for their valuable shopping experience. Every shopping and every feedback counts. The positive ones will act as marketing agents and the negative ones will help you make some tweaks to your system.  
9. Keep a firm insight into the tabs, dropdowns and the font – avoid overlapping of the segments and the fields. 
10. If you are involved in international trades then having a currency convertor is an upper hand for your e-commerce store. Multilingual websites also work the best in your favor.
More on starting your e-commerce business in 2021 
Know 10 Best Payment Gateways in the USA for online E-commerce Stores 
10. Collect Taxes 
As soon as you are registered as a business entity in front of the local government you are obliged to collect certain taxes on every trade you make. There are tax slabs and obligations for every sector, as a business that sells goods and services you have to collect the said taxes and redirect the entire tax sum to the government each time someone purchases from you. That has to be mentioned clearly on your site's checkout billing. Certain third-party tools automatically calculate the taxes on the purchased commodity; you can integrate those on your site to take care of tax calculations. Know more about secured payment systems and billing protocols with a professional IT Consultancy like Vervelogic. 
11. Shipping
This is one of the major reasons people shop online as what they cannot get in their local market they can get online. Shipping remains crucial in every e-commerce business so before you start with an online store, here are the shipping arrangements you can make to retain your clients.
1. Free Shipping – Once the customer has purchased for hundreds of dollars it is quite fair to ask for free shipping. You can offer free shipping on loyalty cards to your regular clients or keep a purchase threshold above which the shipment is free. You can certainly make small adjustments to your retail prices beforehand. 
2. Real-time shipping rates – There are various carrier facilities that give amazing shipping options and live to price. You can pass on these benefits to make your clients come back for more.  
3. Flat Shipping Rates – Flat rates are the best when it comes to shipping products of almost similar size and weight. Making it easier to predict the actual charges. 
4. Offer Local Pickup – Give the local customers the choice to pick their orders from your location (that is within their premises). Also through your e-commerce site, you can give notification settings, pickup instructions, and other relevant details for each location.

12. Prepare Your store for Launch 
Now that we have taken all the tangents into consideration you are ready to launch a full-fledged store and come firmly into the market. With the help of the best e-commerce web development agency, you can easily cross through every hurdle that comes in your way regarding web development from secure payment to interface management, advanced core programming, cataloging, integration of AI, feature list, etc. 
Above that Vervelogic is a standalone Web Development and digital marketing firm that lets you have all the services under one single roof from branding to logo designing, e-commerce/m-commerce development, domain availability, digital marketing, SEO, SMO, and content management. With 20 years of trust and goodwill in the market, the company has given best-in-class solutions to clients across the world. We are welcoming our clients to talk about their business requirements.
Marketing Channels
Marketing is not only necessary to promote your seasonal deals but is also crucial to introduce your online store in the market. If you are starting with an online store then digital marketing, content curations, SMO, and SEO are a must plus a constant drive for you. There has been a long debate on deciding the online marketing and sale channels that you can use to promote and sell the deals, well it depends on the kind of business you are pursuing in 2021:
The Sales Channels worth giving a try in 2021: 
1. Google Channel – Though there are various other SERPs in the role, Google is the highest referred search engine across the world. With the Google channel, you can advertise your store and commence shopping campaigns.    
2. Shopping Comparison Sites – There are various shopping comparison sites where online stores are listed to give the best value of the product for the shoppers. Most of the shoppers refer to such sites for getting the best deals and leveraging the opportunity, the online stores get their brands registered on the sites to get sales. This is the best sales channel for any online store offering shipping discounts or other promotions. Know more about Price Comparison Sites.  
3. Other E-Commerce Marketplace – Several entrepreneurs start their journey from third-party e-commerce apps like Amazon, Shopify, and eBay. These are undoubtedly the best platforms to grab sales. You cannot rely on these portals completely as these are highly competitive marketplaces and partially refrain you from owning an authority. 
4. Influencer Marketing – Collaborating with Instagram, Youtube, or Facebook influencers to promote your site and products online to their follower's lists. There is a commission on every conversion that is done from their end. This is one of the best digital marketing and promotion tactics to cope with competition in 2021.   
5. Facebook Shop – Make the most out of your business Facebook account by selling the products via Facebook Shop on your Facebook page. The followers who already know your brand and have liked your page will be able to see the catalogs on your page and buy from you directly from there.  
6. Buy Buttons – Whether you have an online eCommerce store or a couple of blog posts or emails, you can install the buy button sales channel and post the catalogs with buy buttons. After clicking on the button the shopper will be redirected to the checkout page.
Conclusion – Start Your Online Business Today

With proper planning and implementation comes success in every business. Starting an online business is no different. One has to know the insights, opportunities, challenges, and objectives and accordingly make the business plan to succeed in 2021. Also, it is wise to outsource your tasks to professionals as taking everything in hand often leads to unnecessary stress and chaos. Prevent yourself from such miseries and pay attention to the article to know how you can start your online store in 2021 and outsource the web development and marketing tasks to the dedicated experts as and when needed.
Build, optimize and grow from your online store in 2021..!!!
(Visited 84 times, 1 visits today)