How To Sell Photos Online: 18 Best Sites To Sell Photos Online and Earn
Every day is fun if you are able to turn your passion into a regular full-fledged business. The same goes for photographers. If you are passionate about photography, have those intriguing lenses to capture moments, and are creative in your work, then now is the time to sell your masterpieces and monetize your talent.
In 2021 when every person with an iPhone or some free photo editor software claims to be a photographer, what makes a professional is the far-sightedness, a niche (for storytelling), and an advanced tech stack.
If you have everything it takes to be a professional photographer but are lost in various directions or are restricted by a limited budget then the article is of utmost worth to you. Even if you have earned a diploma in photography and want to kick-start your career on a stronger base, we are here to discuss how to sell photos online? Resources needed and business ideas that will help you turn your dreams into a reality. So Stay Tuned.
Top 18 Sites to Sell Photos Online
With your passion and talent in photography, you need to license and sell masterpieces to earn the best out of them. Monetize your skills with these 18 places or take inspiration to start your own online photography brand.   
1. Alamy 

World's most diverse platform and a perfect place to sell photos online, Alamy has millions of images in stock.
Highlights
-> It stocks videos and 360-degree panoramic images. 
-> Stocks everything from generic photo collection to niche photos
-> Currently, the platform holds more than 110000 buyers worldwide 
-> Considered the best choice when it comes to selling and licensing the photos       
2. SmugMug Pro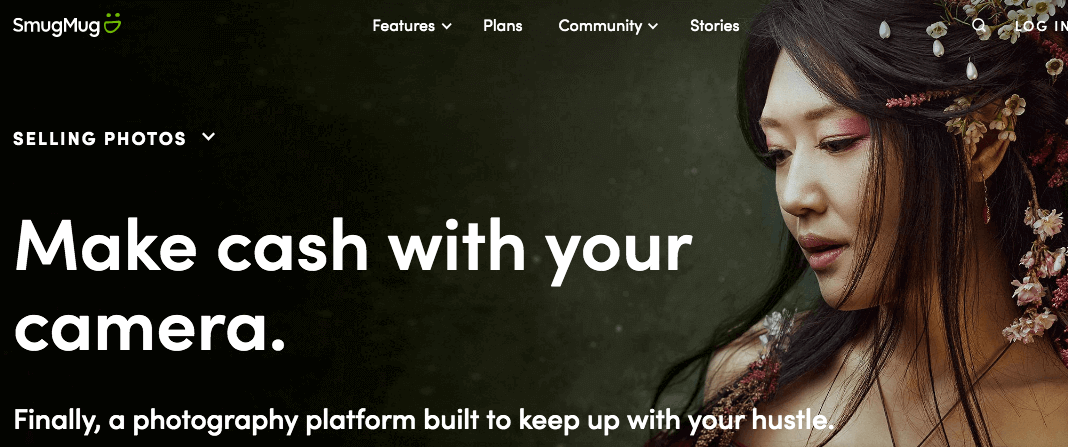 Several businesses are keen to buy the photos from you as they are relatable to their clients, SmugMug Pro helps you sell photos online with an impressive portfolio. Not limited to this, the platform holds tools that will help you grow in your niche. You can get everything you need to sell the photos online under your name by just paying a minimum subscription charge. Also, the site claims 15% of the profit as a commission.
So if you sell a print for $10.79 and SmugMug's default price is $0.79, then the markup of that print is $10. In this case, you are entitled to $8.50 as your profit share.
Highlights 
-> Lets you create an impressive portfolio. 
-> Tools to help you build a professional photograph. 
-> Every facility is accessible with a minimum subscription charge. 
-> It is entitled to 15% commissions on sales.
3. Shutterstock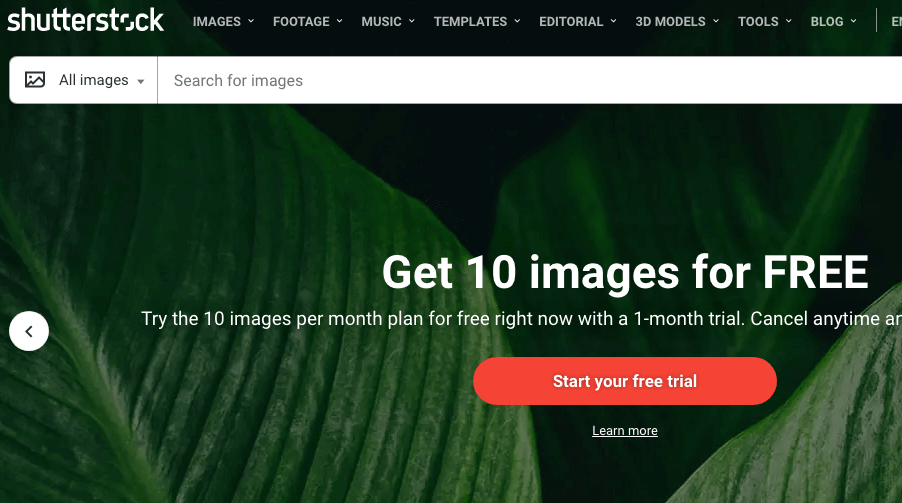 Known by the name itself, Shutterstock is one of the gems when it comes to selling photos online. This is indeed the greatest platform to monetize your talent for photography. The site has paid billions of dollars to its members in the last 15 years and the platform helps you reach millions of people to get you to earn some fast cash from your talent in photography.
Though Shutterstock is a well-embraced website it is considered a micro-stock site where one can purchase non-exclusive photos at much cheaper rates. One cannot expect a handsome amount of earnings from this site but the only way to increase the downloads is to stock a large number of images that can be used as a virtual metaphor.
Highlights 
-> It is a popular site to publicize your clicks online. 
-> Used worldwide and has fetched billions of dollars from its contributors. 
-> The way to earn fast cash from photography. 
-> Site to purchase non-exclusive photos at reasonable rates.

4. Can Stock Photos
A large community of photographers is on the Can Stock Photos to stock and sell some of their most intriguing clicks making us obsessed with their thought and storytelling. The website gives you the chance to earn and in lieu takes some commission in the form of percentages on a fixed amount. Can Stock Photos give you $5 for every 50 photos your referrals sell?
Highlight 
-> Owns a large community of photographers and buyers. 
-> The most referred website for photo metaphor content. 
-> Gives you the chance to upload your portfolio and on every sale, it takes a fixed amount as commission. 
5. 500px
A platform for both newbie and professional photographers, 500 px hosts millions of photographers who want to sell photos online. The site gives you the opportunity to showcase your talent to over 1 million customers all around the world and give them unique, creative content. Being a photographer you can create a lot of content for any niche that piques your interest and auction it to the people or organizations that are interested.
Just like Facebook is for socialites, 500px is a community-based ecosystem where you can follow other photographers, list your photos in their marketplace.
Highlight 
-> Holds more than 1 million customers. 
-> Has a worldwide reach. 
-> Is a great platform for showcasing creative and unique content online. 
-> It is a community-based platform to interact and learn from photographers like you. 
-> Holds Photo Quest Competitions and winners are entitled to amazing gifts. 
6. Etsy
Have your own Etsy store and sell some of your greatest clicks online. Etsy's interface is quite user-friendly which gives users the benefit to get started easily and sell the photos quickly over the platform.
Highlights 
-> Free subscription
-> User-friendly interface 
-> You can sell the photos quickly and easily over Etsy 
-> You can create and market your Etsy store. 
-> It enhances your branding
Etsy takes 5% of the transaction price that includes shipping charges you set. Also, it claims a 3% + $0.25 payment processing fee once the print is sold.    
7. Twenty20 
Started as an Instagram tool, Twenty20 is now helping photographers like you to sell some intriguing prints to big brands. The ecosystem lets you connect with your potential clients and sell them the content that piques their interest.   
Highlights
-> Earn $2 per photo (licensed)
-> Opportunity to participate in photo challenges and earn prizes. 
-> Get 100% commission from the brands that hire you for the scheduled shoot. 
-> You can sell the photos individually or upload your website page on the Twenty20's main domain.
Give your career a head-start by developing a website to display the masterpieces and tell some heartwarming stories through them. Reach out to a professional IT Development Company with your requirements. 
8. EyeEm
The platform helps creators step into the commercial world and make the best from their passion for photography. In fact, the platform works both ways by providing the leading brands with on-brand customized content while helping the enthusiasts get their big break.
Highlights  
-> You are likely to get your first break from established brands if they find your portfolio interesting. 
-> Holds a massive community of more than 25 million photographers and videographers from 150 countries. 
-> Is referred to by brands like Airbnb and Spotify. 
-> You get a 50% commission for each print sold. 
-> You can get a substantial profit by creating the content for big commercial units. 
9. Depositphotos 
The platform helps you sell royalty-free stock images, vector images, videos, and music. With clients from more than 200 countries across the world, Depositphotos contributes to giving the best visual content by owning a huge library of over 150 million files.
Highlights
-> A full-fledged photography ecosystem. 
-> The platform is trusted by leading players like Warner Bros, TripAdvisors, Subaru, Bosch, etc. 
-> Commissions range in-between 34% to 42% based on the experience you hold and the status on the platform. 
-> Depositphotos holds a community of more than 100,000 contributors from all around the world. 
-> Easy to use and quick interface.
You can enjoy the monthly subscription plan for $9.99 at Depositphotos.  
10. Dreamstime
Dreamstime can be any photographer's all-time favorite website as it gives you the opportunity to link with individuals to Fortune 500 companies. Another platform for a great career head-start.
Highlights
-> More than 31 million active users. 
-> 600,000 contributing photographers. 
-> The huge galleria of over 144 million vector images, videos, clipart, and illustrations. 
-> 20 million monthly average site visitors. 
-> Dreamstime gives generous payouts which makes it the best platform to start your photographic journey to financial heights. 
-> Dreamstime checks your consistency and asks you to have at least 70% of your portfolio on site. 
-> You can generate 28% to 55% for your exclusive clicks on Dreamstime.  
-> Earn money from referrals.  
11. Foap 
Another way of having a great career start as a photographer, Foap is a community of over 3 million creatives. Whether you want to hold a commercial photoshoot or sell individual clicks to earn, Foap is the marketplace to monetize your talent and show your love for photography.
Highlights 
-> Earn a fix of $5 for every photo that is sold. 
-> Participate in missions and earn up to $2,500 from brands that set a photo brief and dispatch prizes for winning entries.
-> Get access to partner platforms Adobe and Alamy – the more the merrier.
-> Showcase your talent to brands like KraftHeinz, Nivea, Heineken and more.
It is really hard to get access to big brands easily, platforms like Foap are here to help you increase your reach and work for some most biggies in the market. In-app purchases are available for both Android and iPhone versions. 
12. 123RF
123RF is an unforgettable name when it comes to the stock photography industry. One of the biggest assets for many content creators, the site helps you market your clicks to more than 5 million people all around the globe.
Highlights 
-> The platform supports 17 different languages. 
-> It proudly owns more than 5 million buyers residing in 44 countries of the world. 
-> After being registered as a contributor, you can earn a 30% to 60% commission for every licensed photo sold from the website. 
-> The content platform is non-exclusive which gives you the flexibility to upload and sell the pics on other platforms as well. 
13. Zenfolio 
Zenfolio is at your fingertips whenever you want to sell the photos or create a portfolio of your photography. Also, with the help of a professional web development agency, you can come up with a beautiful website to upload and showcase your masterpiece to the world.
Owning a photography website gives you a clear edge as it helps you be known as an expert and helps you get more purchases in your bucket.
Highlight
-> Upload your website link or individual photos to grab attention. 
-> Selling photos is easy with Zenfoilio's gripping and feature-rich interface. 
-> The site has secure login and sign-up procedures. 
-> Digital product option available with Zenfolio.
-> The platform for beginners and professionals as well.
Zenfolio calls for a monthly subscription starting at $5 per month with a 7% commission on each photo sale.

14. Pixieset 
A comprehensive platform for creating, sharing, delivering, and selling photos online. Pixieset lets you create and showcase your own online photography segment with photographic prints, products, and more.
Highlights
-> You have complete control over your store with Pixieset.
-> Set a price for your photos and sell them in the market. 
-> An active platform to kickstart your own photography line. 
-> The best stock photography platform for streamlining your business. 
-> You can sell prints right from your gallery on Pixieset.
Pixieset charges a 15% commission for people who have opted for free plans and 0% commission charges on paid plans that start at only $8.
15. Adobe Stock
A free-of-cost platform to stock and sell photos online, Adobe Stock helps you create a catalog for your photos. Import your content, vectors, videos, etc directly from Adobe Lightroom CC and Adobe Bridge CC and anywhere through the internet.
Highlights 
-> Exposure to millions of buyers. 
-> Showcase your masterpiece on platforms like Fotolia. 
-> Be a part of the huge creator's community. 
-> Get a 33% commission on selling photos through Adobe Stock.
Even if you're working in a steady job, platforms like Adobe Stock help you have some side-earnings from your passion for photography. Get in touch with potential clients and sell your best clicks to them – this will keep you motivated for your passion. 
16. Stocksy 
Stocksy is another portal to showcase your talent in photography and monetize it. The platform offers incredible payouts where photographers can earn up to 50% royalty on standard licenses and 75% on extended licenses. 100% royalty is applicable for exclusives.
Highlights 
-> The mid-range stock of content. 
-> It is an artist-owned co-operative (you get partial ownership and have a say in the direction). 
-> You can claim shared profit in the form of patronage returns whenever the co-op has a surplus.
-> The profit share is determined based on the contributions you have made to the site through your sales of photos and videos. 
17. Getty Images
A sought-after choice for many publishers and brands, Getty Images is known as a high-end stock photography site. The site has a lot of exclusive and good-quality photos in its library that can be licensed.
Highlights
-> A platform for high-end photographers. 
-> The parameters to become a contributor are hard as compared to many stock photography websites. 
-> There are over 1.5 million customers to buy from your gallery on Getty Images. 
-> You can easily earn a commission of 20% to 40% from your sale on Getty Images.
Once listed on this website you get a big exposure to what a professional photography world looks like. A lot to discover and a lot to sell is there on the website. 
18. iStock Photo
As mentioned above iStock is a micro-stock offshoot of the site Getty Images. The key difference here is via iStock Photos you can sell your clicks to other agencies as well (as they are non-exclusive). Non-exclusive pics also mean that you will earn a much lower commission for your clicks than your exclusive content on Getty Images.
Highlights
-> The platform allows you to publish exclusive and non-exclusive photos. 
-> Commission ranges in-between 15% to 45% (depending on the exclusivity). 
-> Create and post storytelling photos, videos, and illustrations. 
-> AI-powered search 
-> Quick and easy licensing 
-> Affordable rates.    
Come up with your own dynamic and informative website where you can catalog your exclusives and sell them on-demand to big brands in the market. Not only website development but a professional IT Consultancy will also lead you through digital marketing, SEO, SMO, and SMM for your brand's publicity. Owning a website is the wisest choice in this technological era. A bunch of photo-selling sites mentioned above lets you upload your website/portfolio link on their domain as well. Know why SMM is important for any startup's sustainability and growth?

How To Sell Photos Online? The Key Steps
Though you can sell individual photographs too that won't depict you or your story and you will probably be lost after one or two sales. A professional photographer always depicts stories through photos that keep people engaged with their beautiful masterpieces. Let's know how to sell the photos online? Professional Photographer's Preference
1. Select A Niche 
Every professional photographer depicts a story with a consistent theme that eventually becomes the trademark of their work. For instance, you can tell a story of your love for wild animals by capturing some intriguing shots and attracting millions of eyes to your photos. Your story can be anything: a fashion saga, city spaces, travel diaries, nature, hiking, food, etc. the thing that remains consistent is your niche around which your story revolves.
Apart from the best storytelling, a niche helps you reach out to your potential clients who will be interested in buying from you. If you are owning a website or an online portfolio, it will be easier for you to enhance your site's visibility through certain keywords.
Keywords Everywhere will help know the search volume (for the keywords related to your website) on Google. More than 1000 average monthly searches are a good number to continue with that particular niche.
Just like any other social media expert, influencer, Youtuber, or blogger, a photographer needs to focus on building an audience base by triggering the passionate nerve as this is the ultimate key to the photography business and selling photos online. If you are holding a niche then platforms like Instagram and Facebook will help you connect with the right people and increase your reach by getting as many followers as you can.
Also linking your photos to various accounts will help you manage photo sharing through various platforms which is great for establishing your authority over the internet and letting brands or other professional photographers find you easily.    
2. Own an E-Commerce Website or Portfolio
A professional photographer always owns a portfolio of his work. Though the time is for technology to rule, photographers today hold digital portfolios to display their work to potential clients. By adding e-commerce and simple payment checkout you can easily and quickly make a deal and sell your masterpiece clicks online having a full-fledged online e-commerce business out of your passion for photography.
There are a lot of reasons for a photographer to go for online e-commerce website development. The major two reasons are quick selection & payments and second is trust & authority building. You can establish yourself as a brand and seek considerable earnings from an online store. And if you are a layman with technology then start on the right foot by seeking help from the best e-commerce website development company. In 2021, e-commerce can be your best bet when it comes to selling photos online and making your passion your full-time business.
When it comes to starting your own online photography brand, Vervelogic lets you have it all under one roof from e-commerce web development to digital marketing, SEO, and SMO.

How to Sell Photography Prints, Products, and Photo Books? 
1. Photography Prints
There are several ways to monetize your clicks, one of which is photography prints. People like to decorate their house with framed prints or find photographs on pillows or mugs quite intriguing. Selling such products with the piece of your passion for photography is the best way to sell products online and make a substantial profit. Moreover, creating and selling personalized physical products is easier than you think. There are several third-party tools that will help you upload the photo you clicked and sell those pictures as prints on various surfaces (papers, cushions, mugs, t-shirts, and calendars). If you like the idea you can go for tools like Fotomoto, Cafepress, Fine Art America, etc.
Also, you can own an e-commerce website to sell customized products online, facilitating your clients with easy ordering and payment.
2. Photo Books
A string of photos that depict your passion and interests. A photo book can be the best coffee table embellishment if you are able to capture your viewers in thoughts or storytelling. Have a consistent niche and theme for all your photographs and convert it into a physical or a digital photo book with appealing themes and sell your art online.  
How to sell Photography as a Service?
If photography print or photo book creation seems overwhelming to you, you can sell your talent in photography by offering to serve at various events. There are several business opportunities waiting for you like covering events, doing fashion or product photoshoots. For starters, you can sell your photography skills online by signing up on freelancing websites like Upwork or Fiver.  Or you can come up with your own online website representing your brand and displaying your expertise.
Tips for marketing your photography skillset
-> Create your own business cards and keep them handy every time you are on the go. 
-> Know how to increase your reach through social media platforms from social media experts. 
-> Create a LinkedIn profile too and showcase your work. 
-> Build your personal photography brand (online and offline). 
-> Attend events and exhibitions to meet with like-minded people and also your potential clients.
Legal Terms for Selling Photos Online
Here are certain terminologies that you need to know while you are selling photos online through any medium. Make sure to hold a track so that you are not confused with the category for your photographs and their pricing. 
1. Editorial Use – Used in blogs, articles, newspapers, magazines, etc. 
2. Commercial Use – Photos used to promote a brand, cause, or services. 
3. Retail Use – Prints on papers, frames, mugs, or other physical products. Often misconception with commercial use (but should be used differently). 
4. Exclusive – The license purchaser and owner can use the photo. Such photos have a copyright issue. 
5. Non-exclusive –  Non-exclusives can be purchased and used by anyone (costs far less than exclusive ones). 
6. Public Domain – Holds no restrictions or copyright claims and can be used by anyone even without a license. 
7. Creative Commons – Conditional use of the photograph is allowed as long as it complies with certain stated restrictions. 
8. Royalty Free – Anyone can purchase the license and once purchased that photo can be used as many times as the person wants. 
9. Rights Managed – Such photos are entitled to one-time license purchase and can be used as per certain restrictions regarding the distribution of the photo. 
10. Right Of Publicity – The subjects of your photos are entitled to certain rights when it comes to their inclusion in the photos. If you are selling it commercially you need to take their consent into utmost consideration.  
Prevent Your Photos from Theft
How would you feel if someone else is using your clicked photos without your consent? Not a good feeling indeed… Well, when it comes to content people do it knowingly or unknowingly.
If Used Unknowingly
To prevent photos from theft, most of the photographers watermark the image claiming their authority over the content which will let the user think twice before stealing and using it without permission. The watermark can be anything: the name or the logo. Several professionals go with their company's logo designs as the watermark to patent their photographs online as it is also a marketing tactic to publicize your work and let people recognize them for their services. It's like shooting two birds with one arrow.
Know more about getting a professional and appealing logo from the best logo design company in India. If you are selling or sharing your clicks with other beneficiaries you can apply your company's logo on the photo with photoshop or use a watermark generator.
If Used Knowingly
What if someone decides to steal your photograph even after putting the watermark? Serious cases call for serious measures. You can send the culprit a cease request and an invoice for using your photo without your consent. The combo works very well in favor of the photographers when it comes to persuading the culprit with reasons to either pay the fines or take the photo down.
The very least to expect is getting others to credit you for your photograph. The link back to your portfolio site will not only fetch you good traffic but is also an SEO best practice enhancing your website's visibility on Google.     
Conclusion 
Selling photos online is a great example of a low-investment business idea in 2021 also giving a center stage to your passion for photography. Whether it is your hobby, side hustle, or a full-time career, you can easily turn your passion into profit by utilizing the 18 best sites to sell photos online. This is to publicize your photography brand and to monetize your talent.

The Internet knows no boundaries, having an online presence of your brand (a website or an e-commerce portfolio) will help you reach millions with your services and turn them into your potential clients. Digital marketing, SEO, and SMO – these are the constant processes that will help you reach out to your target audience and tell them about your services. Your dedication, far-sightedness, and reach will decide your earning potential and sustainability in the market in 2021.  
(Visited 169 times, 1 visits today)