List of Leading Mobile App Development Trends in Covid – 19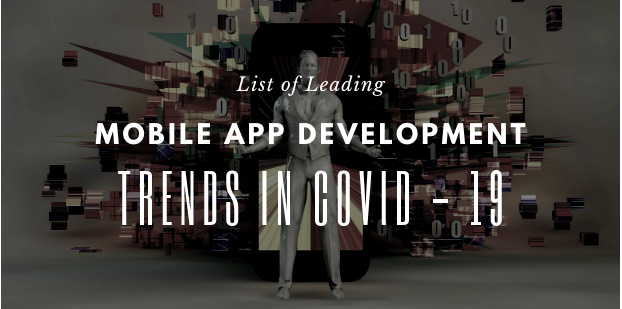 There is no life without mobile applications, the mobile phones and these applications are so much integrated in our lives they have become an important part of routine work. And in these times of need caused by this pandemic, various industries are also preferred to work with mobile apps thus the demand has been raised tremendously.
Due to Covid-19, small and large scale industries are experiencing a huge change in their work exposure because few companies might not involve in the mobile app technology to control their respective work. And with this involvement, the companies can face huge economic losses but the good thing is that such companies are starting to look for proper attention on technology that helps them in an unknown situation. So, let us have a look at the list of leading mobile app development trends in this Covid period.
On-Demand Apps
The top app development companies are generating most of their revenue via the on-demand apps as these are the one of the most important kinds of apps. Because of today's condition, a few large scale companies and also few startups are looking to invest in travel apps like taxi app development (Who is stuck on a particular area and willing to travel to another area with the help of private vehicle) so they can travel easily to their destination, and the online grocery app development where people don't have to step out of the house for the essentials they need.
Such apps are very beneficial for most of the family and bachelors as they refer to online mode to purchase the grocery items & travel as it saves their time and also helps to prevent the spreading of the virus. It is good to make use of this opportunity at the right time that is called business. Such demand is increasing day by day. Especially in the healthcare field, the requirement of the app is necessary.
Gaming Apps
No wonder since the lockdown in all over the world, most of the people got bored, but we people always find something to get connected to. So, these people spend most of their time with interactive mobile games and virtual reality games. Virtual reality is a technology especially used to develop for gaming. The interaction level of the virtual games is high. If you are also able to come up with an efficient mobile app development then it can be possible that the gaming app can turn the tables around.
Mobile games, especially PUBG kind of games are most welcomed by the people of smartphone users and even non-gamer users are also tending to use and play such games. Mant survey shows that people spend most of their time in gaming apps and social media apps on their smartphones. It's good time to take this opportunity and come up with the most entertaining, engaging and effective gaming app with the help of mobile app development companies.
Social Media Apps
It is known to everyone that social media apps are among the most used apps in the whole world. In the Covid-19 period, people used to show their talent by creating videos of their respective talent. For instance Tik Tok is a very popular app in which people are allowed to create small videos and in this Corona period its users increased drastically, but as soon as it was banned by the Indian government in India, people started to look for an alternative.
The popularity of social media apps will always be in the market. Using social media apps is increasing especially the platform to share the video. If you were able to pull off another engaging social media app with the help of a social media app development company then it can be very beneficial in very less time.
Health Based Apps
Health App is right now the most demanding app in the online market. Many health based companies and institutes are also used to prefer the apps to develop and increase the engagement of attention. And if you are also looking to step into this field then there is no right time than this. You need to find a health based development that can help you integrate AI in your health based app, because AI is a popular technology used in many industries to automate and increase efficiency.
Enormous companies are also available to help such demand by developing apps. Even machine learning is also used to assure the usage of developing apps. There are many fields that you can opt in the health based apps. For instance: With the help of top mobile app development companies you can create an app that can analyze the diseases with symptoms. Such demand will create a huge transportation for the healthcare industry.
Education Apps
It is known that in the period of Covid-19, it is very dangerous to step out of the house and nobody wants their children to visit any crowded place. But the education and the training is also important. Thus to manage such training, some education institutes are used to prefer online mode to teach their subjects. Education apps have seen a sure surge in downloads in the past 2-3 years. Most of the schools have already started to offer online mode to teach. Hence using the online mode to learn any stuff is a good approach. Online mode to teach any subjects will help the society effectively.
Fitness Apps
Fitness is the basic necessity in today's world. If you are a stronger immune system then you are not vulnerable to the diseases around us. And fitness is a basic need for every person to stay fit and focus on what they need to do but most of them do not have the right time to work out and some might have not proper knowledge to workout thus to manage such demand using the fitness app will be helpful especially in the corona season. With the help of a fitness app development company you will become a business easily. Many fitness partners and additional to that it will also increase the view of fitness programs in terms of degree. We are sure that in the future it will be a great business and especially in online platforms.
Home Based Job App
Everybody needs a job and in this condition caused by Corona many people are facing issues with their job. Some are getting discarded or layed-off, most of them are getting less pay. To survive in these conditions we all need a job.  To handle such conditions working from home will be a better choice, the only way to do such activity is to choose the job as work from home. So, people are actively looking for jobs on various platforms and if you are able to pull off an home based job application then you can also benefit along with the people who are actively looking for a job.
The current trends tell you about the latest apps in which you can invest in. All you need to do is to hire the top app development company, so you are able to incorporate all the things you want in your app with ease. The app development companies can help find the right path while creating the most amazing app that anyone has ever seen. The important aspect of any app is it's design, its UI and the best app development companies have the ideas to make an app engaging for it's users. So, take this opportunity and contact the app development company to get things done for you.
Read More: Vervelogic
# How to create your own Wallpaper App
# How to create your own Wallpaper App
# 9 Best Stock Marketing Apps of 2020
# 10 Best Calendar Apps for Android and iOS
# 25 Best Programming Languages for Mobile Apps
# Four prime types of Machine Learning Algorithms
# How to get compass on Google Maps?
# Most Popular Web Development Frameworks for 2020
# App Download and Usage Statistics 2020
# Small Business Ideas for Women in 2020
# Guide to App Store Optimization
(Visited 51 times, 1 visits today)