9 Best Stock Marketing Apps of 2021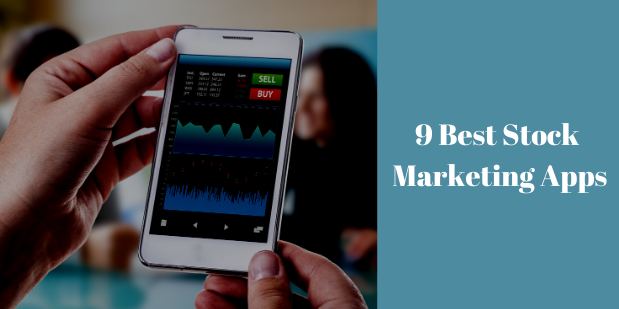 There is yet another blow from 2021- yes this time it's the economy, anticipated at least, unlike the pandemic and the border tensions. But why was it anticipated? Of course because more or less a country's position in the world depends on its economy and the average standard of living in the country depends on its economy.
Undeniably, a stable economy is essential for the lives we live in. However, the economy's success depends on the people affected by it and the people who interact with the economy through the stock market. Thus, the stock market is the lifeblood of economies.
The stock market has come a long way, modern stock markets utilize and leverage the latest technology that they can avail themselves. Stock market apps constitute a branch of technologies used by the stock markets and various companies communicate with their users via these stock market apps.
Stock Market Apps are quickly becoming a necessity for those engaged in the Stock Market. But how would you know which app is the best for you?
Here is the list of 9 best Stock Market Apps of 2021
Best Stock Market Apps for Investing and Trading
1)TD Ameritrade
Versatile and easy-to-use, TD Ameritrade is the top choice for casual investigators. What else would a beginner or a casual-investor want? If you are new to the world of Stock Market or a casual investor, TD Ameritrade is the best choice for you.
TD Ameritrade allows you to trade stocks, ETF and has options with easy intuitive order entry and editing. You can even access market news, third-party analyst reports and third-party research.
2) Thinkorswim(Owned by TD Ameritrade)
Yes, Thinkorswim is another app owned by TD Ameritrade and it has all the features present in TD Ameritrade. What makes the difference then? Thinkorswim is more detailed than TD Ameritrade and it is an easy choice for people involved with option trading.
3) Fidelity
As a more traditional Stock Trading App, it works essentially as the stockbroker for your portfolio. Fidelity is optimized for both beginners and experienced stock investors and it also can be used on any device and keeps the data of its customers secured.
4) Tastyworks
An alternative for Thinkorswim, Tastyworks is one of the leading apps when it comes to option trading. It might not be the most intuitive stock market app you come across but once you get used to it, it is a cakewalk then. What distinguishes it from the rest of its competitors is its powerful charting system which aims to make your trade safer and more profitable added to the benefit of its low fees.
5) Webull
Another much-recommended option for simple stock trading, Webull is one of the best for stock trading and ETFs with its zero-fee investments. However, the limited options of stocks to buy from can be a drawback.
6) E-Trade
Consistently rated as one of the best stock market platforms in the US, E-Trade is the best app if you are trying to invest in the US. Furthermore, E-trade is free to use and only has a simple form-filling process for its user base. An easy to use app, E-Trade is for both beginners and veterans.
Best Apps for Stock Market News and Updates
1)  CNBC Breaking Business News
The CNBC app provides you with the international stock market news which makes it a great option for those involved in international trading. It is easy to use and gives you the latest possible stock market news updates. The app can be used to view interactive stock charts for more information.
2) ET Market
Not using CNBC but in search of a similar app? Then go for the ET market, it has features similar to that of CNBC and can be an excellent alternative.
3) Feedly
With Feedly, you can organise and filter the stock market news you need from various stock market news websites. Not really a stock market app by default, Feedly can still be a versatile option for the traders/investors. Feedly brings you all the information into one place, thus easing things for you to find news relevant for you.
It must be, however, remembered that stock market investments or tradings are never 100% safe or profitable, however with experience and smart choices, one can grow as an investment or trader- these apps can be of great help of course.

Read More: VerveLogic
# How Much Does It Cost to Make an App
# How to Hire iOS App Developer
# Tinder Alternatives: Best Dating Apps Like Tinder 2020
# How to Outsource Mobile App Development
# Big Data and Machine Learning
# Functional vs Non-Functional Requirements: Main Differences & Examples
(Visited 49 times, 1 visits today)