Android versus iOS users: How and why they behave differently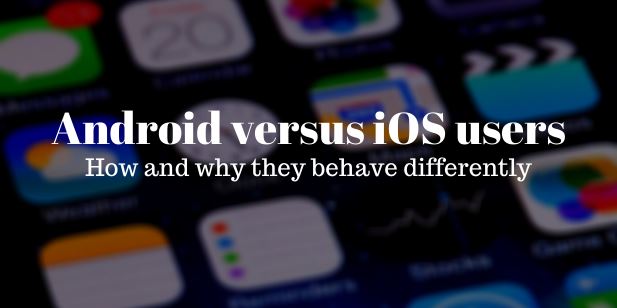 Discerning your audience is one of the most significant factors to consider while developing a mobile app development company in Kansas and what kind of devices the target audience use is an important variable in the equation. Enter the operating system and before you know it, the complete audience is divided. Android and iOS both comprise 97% of the OS market, yet two-thirds (64%) is Android.
It's next to impossible to determine which one is better. Why would one choose Android over iOS or vice-versa depending on a lot of things? And identifying them is very important to determine which platform one should prefer to create their app and monetize it.
It is known that in-app shopping is four times higher in iOS than android. It means shopping apps stand a better chance in the iOS market whereas digital utility apps like launchers, performance boosters, etc. are more favoured by Android users. Also, only 1.8% of iOS users open the push notifications but when it comes to Android, the number changes to 3.5%
So, what could be the possibilities? Why is it this android vs iOS war is never-ending? Let's take a look at all the aspects that could be a difference in user behaviour.
Facts and Features
Everyone is aware of the broader price range of iPhone as compared to the lower entry-level price point of Android. And though, Android remains the market leader, with a 51.1% market share, Apple dominates the profit share simply because iOS users are more active. When it comes to a mobile app development company in Kansas, push notifications, rules, etc, Apple is very strict and pushes OS updates to the user to make sure the user gets a consistent experience. However, Android users are divided among various manufacturers like Samsung, LG, HTC, etc. which brings me to my next point.
Loyalty and Engagement
iPhone users tend to be more loyal towards Apple as compared to Android. Even when it comes to other devices such as laptops, people using iOS are more likely to own a Mac than a Windows device. iOS users are known as power users because even though the android has a larger number of media users, iOS users engage with the mobile app development company in Kansas for more than nine hours in a month as compared to them. Hence, this could be an important factor to remember while creating the app.
Discerning the users
To know the customers, the business ought to understand the user first. While Android is common among all age groups, iOS users tend to fall in the younger age group more. The number of men iOS users are also comparatively higher than women. When it comes to iOS users, they generally have a higher income level and education whereas Android is common among lower-income areas and developing nations. Although this is just a generalisation of numbers and does not necessarily apply to everyone.
Demographic
As discussed above, developing nations share a greater part of the Android market. Asia and Africa are dominated by Android. iOS on the other hand holds 50% of the UK market and is more prominent among nations like North America, Japan, etc.
Personality
This plays an important role in all the differences between user behaviour. It is known that iOS users tend to lead more as compared to Android users who tend to follow more. iOS users are known to adapt early and are more extroverted. As discussed already, iOS users are more loyal when compared to Android users who show a greater level of honesty and humility. Again, all these are just generalisations of numbers and aren't necessarily applicable to all individuals. It only means that these traits are common among both categories.
As difficult it is to determine which platform is better or which should be preferred for a mobile app development company in Kansas, it is just as important to consider. Both have their pros and cons. Several points that can be concluded are that iOS users are more loyal and loyalty leads to retention. Considering audience size and/or engagement is also important for the success of your app. And also, performing user analytics could be helpful to find out the platform that should be used. The best option is to use both as a medium to connect and reach out to the users but if that's not possible, the above-curated list could come in handy.
(Visited 27 times, 1 visits today)