How to get compass on Google Maps?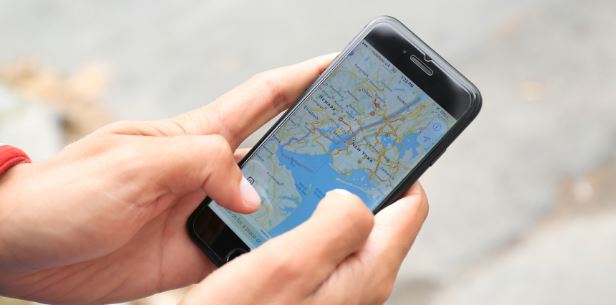 Nowadays everything is just a click away. Mobile Apps have made our lives easier than before. From food craving to finding location. There is an app for almost every field. Fitness, diet, beauty, tracking, traveling, booking, guides, books, photo editor, video editor, shopping, entertainment. App developers create new features to facilitate the individuals.Almost everything is entitled with various apps. No sector has been left behind. Download a suitable app, login to it and you're good to go for the app. We are all familiar with apps that are easy to operate.
Google
Generally for every problem we have 1 solution – Google. Whatever queries and questions are addressed and assisted on this search engine. Google itself is vast as oceans with numerous weblinks, photos, videos and more. There are a number of browsers and search engines that help with our queries. Google includes Google Chrome, Google drive, Google Photos, Playbook, Playmusic, Play movies, Gmail, Keep notes, Calendar, Google meet, Duos, Play Store, Google Maps. Google login helps to sync with day to activities and events. Google is self sufficient in any case. In terms of entertainment, education, storage and reminding your important dates. Main hub for apps is considered to be Google Play Store. Every required app is available at this hub. It also helps to post reviews and open for suggestions.
What is a Compass ?
It is referred to an instrument that allows you to locate direction. It helps to note the direction from the viewer standing position. It shows the direction with abbreviated initials of each direction. Compass magnetic effect strikes on north direction. It helps to navigate the exact direction. No more old handy compasses are being used today. These days inbuilt compass tools are available in smartphones. Its orientation changes according to the face of the holder.
Google Maps
There was a time when we use to stop in between the trip to ask about the directions of final destination. Tea stalls, random people worked like navigators to reach at new place. Time changed and navigators are turn in Google Maps. It the most come and useful app. As per today's time everything is available online. It is easier to locate places or the nearby landmarks. That helps to get an idea of the locality without any hassle. Google Map have useful feature that helps to move without any hinch. It is not only applicable for long distance tours but also allows nearby markets to explore. It reflect the locality cafes, restaurants, petrol station, groceries. It also helps with recommendation to well known places. Not only with walking distance, it also advises about the best route to travel, traffic free or less traffic roads. It also helps to navigate the directions. We can also save visited places for future reference.
Compass with Google Map
Ever witnessed a compass in Google Maps? To avoid any confusion in direction, the compass works as a life saviour.
1. Tap on My location icon on Google Map app
2. A compass rose icon will appear at top left corner of the screen
3. The orientation of the map will shift automatically. It will shift with the facing position of the user.
4. It will show an angled view instead of an overhead view. With the regular practice compass will show a north indicator.
5. Tapping on the compass may lead to exiting the compass mode.
This feature of Google Maps helps in avoiding confusing with the directions. Upgraded technologies are developed to make life easier. App developers work on providing a live world in small apps. This makes life more effective.
Google Maps is considered to be effective in business marketing. As it helps to locate the particular shops. Featuring recommendations works like a guide to people who have newly visited the place. It also includes the reviews and feedback from people that are customized. It is an essential key for wandering hearts.
Read More: VerveLogic
# How Much Does It Cost to Make an App
# How to Hire iOS App Developer
# Tinder Alternatives: Best Dating Apps Like Tinder 2020
# How to Outsource Mobile App Development
# Big Data and Machine Learning
# Functional vs Non-Functional Requirements: Main Differences & Examples
# 9 Best Stock Marketing Apps of 2020
# 10 Best Calendar Apps for Android and iOS
# 25 Best Programming Languages for Mobile Apps
# Four prime types of Machine Learning Algorithms
(Visited 8,806 times, 16 visits today)