10 Best Calendar Apps for Android and iOS in 2020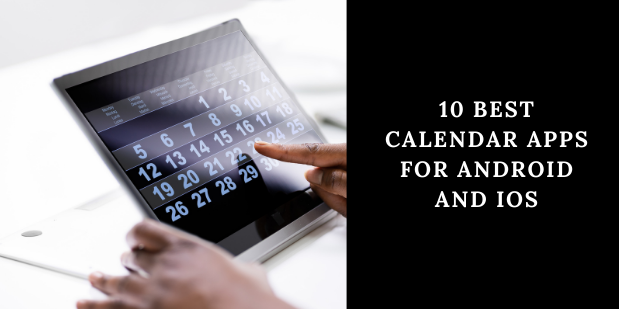 A Calendar is a daily essential, we have mobile phones and smartwatches to tell us what day it is- but for planning or to keep tabs, we require a calendar. Keeping a calendar can affect your lifestyle as well as professional and social performance. A calendar will keep you from missing meetings and appointments and make your life a lot less hectic.
Now, if you are a person who prefers to keep things organised and goal-oriented rather than being spontaneous, you surely would know the true importance of a calendar.
In the world that is being increasingly digitised, digital calendars have proved to be a better option than paper ones, they are easier to manage and you can carry them everywhere you go, plus zero chances of losing your calendar.
Your ideal calendar app depends on your needs and lifestyle. Do you rely on notification and reminders, or are they a nuisance to you? Do you need to manage a family calendar or one with a co-worker?
Here are some best calendar apps of 2020 those can conform to your needs and lifestyle
1) Google Calendar
Google Calendar is an excellent cross-platform calendar. In fact, much of Google Calendar's popularity comes from the facility to create multiple calendars in one place using a google account and then port these entries to almost any online calendar.
Google calendar also works with nearly everything else on the market, you can connect your Google Calendar with not only other calendar apps but also business apps and services that have a calendar in their features.
It is the default calendar on Android phones and it also works well on iPhones, it is simple to create and mark events and dates whether you are on your phone or computer and everything remains synced, no matter the time zone.
If you use Gmail, it gets better as Google Calendar automatically creates events based on the emails you receive.
2)  Any.do
Any.do calendar app should appeal to people who need tools to help them stay organised, such as location-based reminders, a reminder to preview your agendas of the day at the beginning of the day and the ability to add travel time to any notification before an event.
 The calendar works best on mobile phones where it makes good use of the small screen.
Further, you can connect Any.do to Apple's Calendar app to import existing events.
3) Apple Calendar
If you are all in on Apple products, then Apple Calendar is an excellent choice for you as it keeps all your events synced across your iPhone, iPad, Apple Watch, Mac and whatever dream device Apple would come up next.
Apple's clean and simple calendar lets you focus on your events than the app itself and it allows you to pull in info from other calendars such as Google Calendar, Yahoo and Microsoft Exchange and it is intuitive to use if you are familiar with other Apple apps
Apple Calendar has all the features you would expect from one of the best calendar apps.
4) Outlook Calendar
No doubt a solid app itself, Outlook Calendar's main advantage lies in the fact that most people already use it or are familiar with it. 
It is mostly present in large communities or work organisations like Universities, cooperatives and other such organisations or institutions.
You can create events, reminders, send meeting requests and view multiple calendars at once.
So if you are looking for a basic and easy-to-use calendar app for keeping track of your work events and meeting reminders, Outlook Calendar is the perfect choice for you.
5) Woven
Are you a busy professional looking for an app that could be beyond just a calendar app? Maybe Woven is the app for you, in fact, the app markets itself towards 'busy professionals'.
Woven offers 'Smart Templates' to save you time while scheduling common types of events. For instance, if you have a regular lunch meeting at the same restaurant, you can create a template that includes the restaurant location.
Woven also offers a built-in meeting scheduling tool, this can help avoid back and forth emails to schedule a meeting. Its interrogation with Zoom app is a boon as it now allows you to schedule and manage meetings at your Zoom meeting within Woven.
6) Meetingbird
Let's admit it, scheduling meetings is the worst- spending days emailing each other back and forth to find the best time-slot and in the end, even forgetting why you needed a meeting in the first place.
Now we don't want to have that, do we?
Meetingbird is there to solve this issue. How? The app syncs with Google Calendar and Outlook Calendar so that your availability for meetings is always up to date.
When you want to schedule a meeting, all you have to do is to send a link with the list of times you are available, the recipient then picks up the time that works best for them and the meeting they schedule is automatically synced with both the calendars. Way better.
7) Fantastical 2
If you are an Apple user and looking for an alternative to the default calendar apps on Mac/iOS, Fantastical 2 might be the app for you.
The app's greatest strength is its deep integration with the Apple ecosystem. Whether you are on the iPhone, Mac, iPad or Apple Watch, Fantastical 2 remains simple, user-friendly and synced.
One of it's best features is its ability to let you quickly create events whether you are at your desk or on the go. It even allows you to get reminders only when you are in a particular location
The app even integrates with Google Calendar, iCloud, Outlook Calendars and a variety of other apps.
Not all good things come for free and unlike the rest of the featured calendar apps above, Fantastical 2 does not provide its services for free.
8) My Study Life
While most calendar apps target busy professionals, My Study Life, as the name hints, serves students the best. It is a calendar app built specifically for students.
To begin with, the app includes smart scheduling features to help the students keep up with their classes and extracurricular activities.  If your classes schedule varies with the week, My Study life can account for that, ensuring that you don't forget any of your classes and there is also a special section for scheduling your exams.
Added to it is the benefit of the app syncing with your other devices and working offline. All to keep you organised and focused.
9) Timepage
An app handy for weather and travel information, so if you travel regularly, Timepage might come handy
Beneath its beautiful surface, this iOS-only app is a powerful calendar app. Its natural language processor lets you easily type your events, added to it is 'heat-map' a feature that helps you view how busy your month is at a glance.
Best of all, Timepage integrates with other calendar apps to show you weather alerts and travel time to events. You not only remember that you have to be somewhere, but you will also get there on time.
And there is an annual price to pay after a 7-day free trial for all these awesome features, but it's worth it.
10) Business Calendar 2
Sounds something straight out of office space, doesn't it? The name might sound monotonous but the app is anything but that.
Business Calendar 2 is the best choice for you if you want to be in control of the way your calendar looks. In addition to the standard day, weeks, months and year views, you can adjust the calendar to show you from 1 to 14 days from anywhere and the quick swipe between views helps you find what you are looking for easily.
But what really makes Business Calendar 2 stand out is its event-scheduling feature, you can drag events around the calendar and easily enter event-details without much swiping.
The natural language processor is another plus point as it allows you to enter events by just talking into the phone. Further, the app will learn your preferences over time and automatically suggest common locations and attendees.
Even though this amazing app comes for free with the above-mentioned features, the Pro and ad-free version is paid along with additional features such as file attachments and templates. A smart buy for busy professionals.
All these above Calendar Apps are loaded to take the load off you, hopefully, you have found the perfect app you yourself in the list. The one to keep you organised and help you keep track of your plans.

Read More: VerveLogic
# How Much Does It Cost to Make an App
# How to Hire iOS App Developer
# Tinder Alternatives: Best Dating Apps Like Tinder 2020
# How to Outsource Mobile App Development
# Big Data and Machine Learning
# Functional vs Non-Functional Requirements: Main Differences & Examples
# 9 Best Stock Marketing Apps of 2020
(Visited 57 times, 1 visits today)