How to create your own Wallpaper App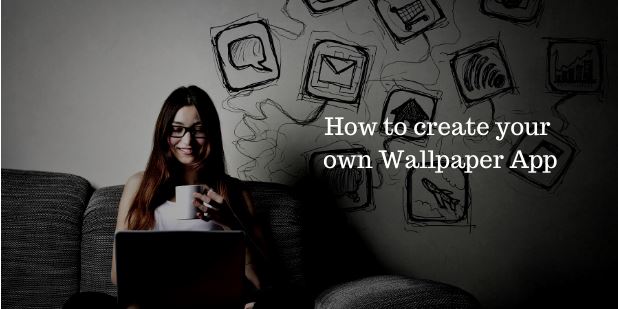 It is an undeniable fact that anyone would like to be greeted with beautiful scenery, or a meaningful message, or simply a humorous quote after waking up first thing in the morning.
Wallpaper apps are steadily on the rise so why not give it a shot? After all, developing an app is not as complicated as it sounds, you can simply hire an app developer. But you have to play your role as well.
Here are simple steps to creating your dream-like Wallpaper App
1. Review a  Popular Wallpaper App
Yes, it is very important to follow an example, especially if you are new to this sector. Reviewing a popular example. This will not only give you an idea of how things should work in your Wallpaper app but also might inspire you to create some unique themes.
When you have an example to follow it would be easier for you to plan, organize and grasp things.
2. Plan Your Features
What would make your app stand out against competitors? Unique features of course, and for that, you must have a competent Project Manager, an experienced IT architect, and a knowledgeable business analyst with you first so that you could discuss the features and their workings in detail.
App development companies like Vervelogic provide excellent assistance for your app to have unique and desirable features.
Some examples could be installing videos and gifs for Live Wallpapers. Touch-Sensitive \Wallpapers, cropping, themed wallpapers, changing wallpapers, downloads, etc.
3. Project Planning
-Not many would advise you so but launching an MVP(Minimum Viable Product) first and expanding the app according to market feedback is a smarter choice. This way, you are not exposed to the risk of having to make major changes in the app due to negative market feedback. Also, you would not have to invest a lot of money and energy all at once, instead, you will be gradually expanding your app as per the user preferences.
-Develop native apps since they tend to guarantee better user experience and preference.
-Secure your app so that you feel assured.
-Make sure that your application is secure, an app- no matter how pleasing, would not be chosen by the users at the stake of the security of their gadgets, so securing your app is important. Anti-viruses, real-time-threat intelligence, encryption, etc can be wise choices.
-Customize the overall front, theme, and colors of the app, it should be attractive, even the name of your app should be able to attract people's attention.
-Plan for verification and validation. Verification involves review and this should cover your design documents, test plan, test cases, and codes and validation involves testing.
4. Marketing Strategy
It is important to promote your app and let people know of the amazing idea that you have brought to life with the help of a trusted app developing company.
Social media, email marketing, and promoting through texts are some of the commonly used means.
Your wallpaper app will have even greater potential to become a hit if it operates well on both the phone and desktop.
And finally, you have your dream Wallpaper App, the kind you always wanted. So why depend on someone else for unique apps and websites when you can transform your idea into reality yourself? All you need is an idea and amazing and trusted app developers provided by companies like Vervelogic.
Read More: kids app maker
(Visited 122 times, 1 visits today)