App Revenue Statistics 2021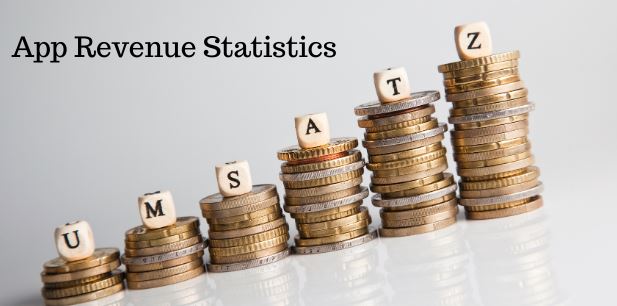 With the ongoing scenario of covid-19, every human being is locked in their home. No office, no entertainment, no traveling, and no meet-ups. But somehow these day-to-day routines are wrapped up in a single screen. Instead of office work from home, no show or movies to Netflix, traveling wrapped to online surfing, and meet-ups are changed to video calls. How are we connected to the outer world being at home? Online through the internet. One of the sources is developing applications. Applications that we download according to our needs. We all have spent our lockdown time through our smartphones. Our smartphones have indulged us in various activities. Social media Facebook, Instagram, Twitter, Whatsapp, etc. Music and entertainment Spotify, YouTube, Jio, Savana, Gaana, Netflix, etc. Meetups Zoom in, Google meets Skype, etc. Directly or indirectly we are united and pass through the time with the help of applications. For several decades apps have been a crucial part of a smartphone. In today's time, a phone can be with a calculator but not a play store. A wholly solely source of applications. Google Play Store, Apple Store, Windows are some examples. This article is to explore how every download or every app user is revenue to mobile apps.
Internet usage
Have you ever noticed where the maximum internet packs go?  Where do we spend our time mostly? According to Mary Meeker reports internet usage is more on mobile as compared to desktops or laptops. For decades the average usage of internet on laptops or desktop is constant whereas the graph for mobile internet usage is going up. The majority of the time is also spent on smartphones. But why? What attracts us to keep seated with our phones? Applications are the correct answer. For every difficulty, our outreach is with the applicable applications whether it is social media or fitness. Depending on the app has also led to less browsing. eMarketer says that adult smartphone users spend about 4 hours per day using mobile internet and 88% of that time is spent on mobile applications rather than browsers.
#2021 App Stats
App revenue statistics refresh the ongoing development of applications. It's difficult to advise the worth of the Mobile App industry because on average 3-4 apps are made on a daily basis and how many of them satisfies every individual, it's difficult to say. The app market is more tilted towards Google Play Store and Apple play store.
Google Play Store
We all have heard and spent time with Google Play Store for our desirable apps. Preferably we all opt for free apps. As free is a word that dominates every mind. 96% of the apps in the Google Play Store are free to download. Yet there are certain money-making techniques. Ad publishing in the application, add ons and upgrades are some of the earning ideas. According to Statista facts, there are more than 2.9 million apps published in Google Play Store by Jun 2020. Around 100,000 no. of apps are released in the play Store every month. It is economical and feasible to enter in comparison to the Apple App Store.
We all know that Google God has answers to every question. From browser to application google is considered to be the king. It has covered every needful app and has also strengthened the connection with the brand. It not only offers its own apps but also covers most of the app market. As it is the sole source for Android users. There are more android users as compared to IOS users. Its rate of publishing apps is 3 times that of the Apple App Store.
Apple App Store
Another app source to IOS users. We all have heard of iPhone users and their source app provider. Apple App Store is basically an App Store for iPhone, iPad, and even Apple watch. But how is it different from google play store? Somehow the App Store is ahead of Google play store. Nearly 4.4 million apps are published in this store by Jul2020. It's monthly realizing app is slow as compared to Google Play Store. It releases 30000+ apps. Free apps dominate the market. It shares 92% of the free apps. In the case of revenue generation. Apple App Store brings more revenue than Google Play Store.
The above graph shows the first half of the year consumer spending on apps. In both cases, it is rising but the Apple App Store has dominated the app market.
#Users
Providers are spreading their hard work to make our lives easier. App development has reduced our wandering towards the browser and websites. No matter what device user you are, you are entitled to use the app without any hassle. What sort of apps are downloaded by users?
The above categories are not only implemented on millennials but also on adults.
The above data describes that no matter what age group, maximum time usage is given to smartphones.
Millennials and gen z are the main revenue sources. According to the current situation, every human being is dependent on mobile apps for various reasons. But the majority of the scale is covered by millennials and gen z.
The biggest influence that attracts millennials is 48% due to the unique features of the application. 45% of the applications are downloaded in peer influence. 37% is due to the extraordinary design or say due to the comparison with other applications. Some of the apps are downloaded or purchased due to discounts provided in the application store. It has a total weightage of 12%. The rest of the 12% is in the box of promotion. Celebrity and media influence to opt for the app.
Social media >entertainment >gaming>others
It is an interesting fact that nearly every smartphone carries more than 10 apps, excluding updates. The reason behind purchasing a smartphone is also loading it with efficient apps. 90% of the people are involved in their phones due to apps. But what do apps serve people?
Social media is one of the aspects that cover the majority of apps. Facebook, Instagram, Twitter, Whatsapp are all well-known communication apps that are highlighted to social media. These apps not only cover the smartphone but also a time of the day. Social media and utility apps opt over gaming apps. It covers 95% of the smartphone crowd.
The second prize is entitled entertainment apps. YouTube, Netflix is the most common entertainment platforms. Music apps are in trend because FM and tapes are all old schools. Music apps are launched more than any other category. Video content is more accessible and understandable. It is more commonly used for promotion with a sprinkle of audio and graphics. Video apps subscriptions are considered as a mode of revenue generation.
Gaming one of the time passes considered. Its development requires more graphics that attract people to download and spend time. It is said that there is one gaming app over 4 nongaming apps on IOS. The Apple app store covers 20% as a gaming store. It is double the business-related apps. The gaming industry is a booming industry. 66% of smartphone users have gaming apps. It has reached 56% of the market share. As ongoing gaming app demand may cross $100 billion. Due to lockdown, this wonder has taken place.
Fitness has also been a great search over apps. Being at home has led people to explore due to the temporary closure lock on gyms, yoga sessions, and walks. Since 2017 this has grown by 130% in 2019. Worldwide consumers have spent $1.5 billion on this category. This is an upcoming trend that may take over other categories.
#App revenue and development
Dependency on apps has been a success for the developers. It is not an underdeveloped criterion as it is developing on a day-to-day basis. This has led to a high level of competition between developers. Not only that it has decreased the success rate of new applications. It was projected to hit $581.9 billion in-app revenue in 2020. Its upgoing graph has also increased the target in future scenarios. It is said to reach 1 trillion by 2023. Subscription is the led for a successful application as it works to generate revenue. In that scenario, Apple App Store is fulfilling the bag with green paper. No matter what, releasing new apps is with Google Play Store. Both are working on the same goal – attracting revenue.
Developing an app mainly focuses on the engagement and retention of the user. User is the main key to app lock. No user, no point of the app. Creating a time investment instead of time-killing. Spending more time on understanding an app may lead to moving out of the mobile database. Excessive notification and advertisements are also one of the reasons. Poor functionality may be a reason for poor UX.
There is no speed breaker seen since decades in the development of technology. Even filled with drawbacks it is the life of a smartphone. Developing an app with a user perspective may work in developer order. Preparing a draft with the competition and upcoming technology helps to promote your application. As mobile apps have no end.
(Visited 74 times, 1 visits today)