Best App Downloads and Usage of 2022- Statistics and Facts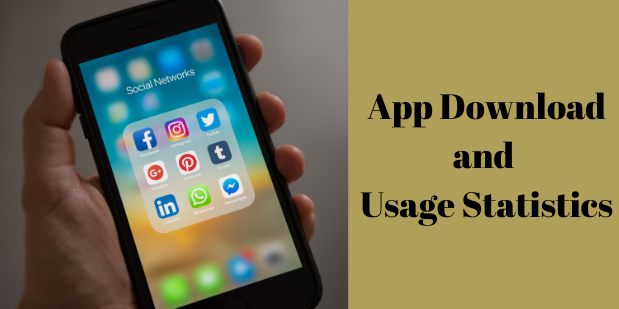 With 2.7 billion smartphone users across the world, it is no surprise that the mobile app industry is thriving. According to Statista, The Apple Store has now, 1.6 million apps available for download while Google Playstore has 3.55 million Apps to download from.
There are above 5 billion mobile users across the world with global internet penetration.
The number of mobile app downloads each year has been steadily increasing- in 2016, there were 200 billion app downloads in total in 2019. That number is projected to grow to 230 billion in the year 2020 and approx 300 billion by 2023.
The trend of downloading apps in 2020 has been a little different than before, especially after the lockdown worldwide, and many people are connecting online through various apps.
Key App Download Statistics
->The average count of new apps released daily (worldwide) on the Apple App Store is 1236 and around 3739 apps are added to Play Store every day.
->SensorTower identifies TikTok as the most downloaded app on Google Play Store while Zoom App has topped the list on Apple Store.
->Overall, TikTok is the most downloaded app of 2022 with more than 175 million downloads, far more numbers than in 2021.
->In 2022, Apple App Store has in total of 984,000 gaming apps while Google Play Store has 385,551 gaming apps to choose from. This includes both free and paid gaming apps.
->Gaming Apps like Subway Surfers and Call of Duty: Mobile have come under the category of most downloaded apps of 2022.
->Gaming apps and Social Networking apps are the most popular categories among users, both Play Store as well as App Store.
->90% of iOS apps on the Apple App Store are free, and only 10% of apps are paid. On the other hand, 69% of apps on the Google Play store are free of cost while 31% of apps need payment. Google Play Store has increased the number of paid apps. 
->Mobile apps are expected to generate $430.90 billion in revenue in 2022
->70% of all digital media usage comes from mobile apps.
->An average smartphone owner uses 30 apps each month.
App Download Statistics and Market
Apps cannot succeed without download- you could own the best app in the globe and yet, if no one downloads it, you would have nothing out of it.
In 2022, aside from gaming apps, both the Play Store and App Store have witnessed an immense amount of increase in the download of social networking and online meeting apps.
In Apple App Store, the Top 10 most downloaded apps in 2022 are-
-> TikTok
-> YouTube
-> Instagram
-> Snapchat
-> Facebook
-> Messenger
-> Google Maps
-> Gmail
-> Zoom
-> Amazon Shopping
As for Google Play Store, the Top 10 most downloaded apps of 2020 are-
-> WhatsApp
-> Facebook
-> Messenger
-> Instagram
-> TikTok
-> Zoom
-> Subway Surfers
-> Candy Crush Saga
-> Snapchat
-> Spotify
Finally, the Overall Top 10 downloaded apps have been sorted out as the following-
1) TikTok
With a total download of a whopping 111.9 million, TikTok has seen huge growth in 2020. 20% of its downloads were from India(before the ban) and 9.3% from the US.
2) ZOOM
The second most-installed app in the Overall Downloads category, ZOOM has ranked first in Apple Store downloads and third in Google Play downloads. With nearly 94.6 million installs, ZOOM is the most used app for online meetings and virtual classrooms. 17% of its downloads were in the US and India.
The significant growth in the app's download is primarily contributed to the lockdown implemented worldwide due to Covid-19. Offices and educational institutions have relayed on ZOOM for the continuation of work-life as well as courses.
3) WhatsApp
With more than 100 million downloads, WhatsApp has been ranked 3rd in Overall Downloads. It is one of the most popular and widely used chat applications by Facebook and it also supports communication between international phone networks, one of the many reasons for its high and rising popularity among smartphone users.
4) Facebook
Facebook is the world's most popular social networking application and has been ranked 4th in this list. The Facebook app is used almost everywhere in the world for social and business communication.
5) Messenger
Facebook Messenger has managed to sack 5th place in the list, mostly due to its ability to enhance the Facebook app experience and simple and convenient functioning.
6) Instagram
Instagram has been proven to be a great help in dropshipping business during Covid-19. Also, due to the worldwide lockdown, Instagram has witnessed a significant rise in downloads and users, earning the app 6th position on the list.
7) Google Map
Ranked 7th in this list, Google Maps is being widely used for navigation and location tracking. It is a very useful app for finding ways because GPS is very accurate.
8) YouTube
There might be rarely anyone who has not heard of YouTube- the largest host of videos on the planet that even offers a monetization option to the users. YouTube has managed to gain 9th place on this list. This video-sharing and viewing application can work on both mobile and desktop devices.
9) Snapchat
Snapchat is a social networking as well as a messaging application that can only be used through a dedicated mobile application. The app allows users to chat with other Snapchat users and send snaps in the form of images, videos, and bitmojis making it hugely popular, especially among the younger masses, gaining Snapchat 10th place in Overall Downloads.
10) Gaming Apps
It is not only the social networking apps that have gained an enormous amount of popularity in 2022, gaming apps run equally with the social networking apps in the race, here are the Top 10 Most Downloaded Gaming Apps of 2022.
Top 10 Most-Downloaded Gaming Apps 2022
Subway Surfers (82 million downloads)
Garena Free Fire (75 million downloads)
Stumble Guys (46 million downloads)
Bridge Race (45 million downloads)
Ludo King (44 million downloads)
Roblox (41 million downloads)
Tall Man Run (39 million downloads)
Race Master 3D (37 million downloads)
Candy Crush Saga (36 million downloads)
Fill The Fridge (35 million downloads)
Apart from this list, we have some more trading games from previous years that are still on the list because of their amazing UI and demand from people.
Slap Kings
With more than a million downloads after its release and 50+ million downloads estimated recently, Lion Studio's Slap Kings has been a massively popular game. It has easily claimed the title of the most downloaded mobile game worldwide with 35 million downloads by March 2020.
Though most popular in the USA and India, the game has taken the world by storm, and with the built-up frustration of all the lockdown measures, it is only a slight surprise that people are being drawn to a game of slapping or being slapped.
Draw Climber
Draw Climber is rapidly climbing up the chart and has made it to the 2nd position in the list after Slap Kings with 31 million initial downloads. Draw Climber is foremost favorable in two countries- Indonesia and Russia.
PUB-G Mobile
As the action multiplayer game reaches its second anniversary, it is turning its gears and turning into an entertainment medium for not just game enthusiasts but also for its recent downloaders.
Woodturning
With 21 million initial downloads, Woodturning has turned out to be the 4th most downloaded game worldwide. All for trying and craving out the form given to the player.
Perfect Cream
The game launched by Playgendary has earned the 5th position in the list with 17 million downloads by March 2020 and 50+ million downloads as estimated recently. Put the cream just right and you would be a champion.
Garena Free Fire
Being an ultimate survival shooter game, Garena Free Fire has won 6th place in this list with over 2 million initial downloads.
Subway Surfers
The escape game, though loved globally, encompasses a great fanbase in India. Falling into the category of arcade game, Subway Surfers is usually an all-time favorite leisure game.
Spiral Roll
Another game by Voodoo with 13 million initial downloads, Spiral Roll has obtained 8th place in this list as another arcade game.
Brain Test
Launched by Unico Studio, this game, as the name suggests, is here to churn all the brain matter, test your intelligence and help you polish your analytic skills.
Hunter Assassin
Hunter Assassin has crossed 20 million downloads by the beginning of 2020 and is also marked as one of the best action games for mobile, earning it a place in this list.
Most Popular Apps By Country
India
1) MX Takatak
2) Instagram
3) Facebook
4) Snapchat
5) Meesho
6) Moj
7) Flipkart
8) Ludo King
9) Josh
10) PhonePe
China
1) WeChat
2) QQ
3) Taobao
4) Alipay
5) iQyi
6) Douyin Short Video
7) Tencent Video
8) Baidu
9) Gaode Maps
10) Pinduoduo
USA
1) Instagram
2) TikTok
3) Facebook
4) WhatsApp Messenger
5) Snapchat
6) Telegram
7) Shopee
8) Facebook Messenger
9) Spotify
10) Zoom Cloud Meetings
App Categories
For your app to succeed, you need to understand what consumers want. This is especially true if you are building a new app.
Your app might be revolutionary in terms of concept and software but if there is no market for its usage, you might struggle to get downloads.
So first, you must know and understand what types of apps are being downloaded the most.
Most Popular App Categories in Google Play Store
-> Tools
-> Communication
-> Video Players and Editing
-> Travel and local
-> Social Media Apps
-> Music
-> Entertainment
-> News
-> Photography and editing
-> Books
Most Popular App Categories in Apple App Store
-> Games
-> Business
-> Education
-> Lifestyle
-> Entertainment
-> Utilities
-> Travel
-> Health and Fitness
-> Books
-> Food and Drink
App Market: Play Store and App Store
Google is one of the most influential tech companies on the planet specializing in a variety of internet-related services and products.
Today, however, one of their most lucrative products is the Google Play Store, a digital software distribution service.
-There are, as mentioned before, 2.8 million apps available in Google Play Store.
– To date, there about 760,000 app publishers have published on the Play Store
– About 96% of the total available apps on the Play Store are non-gaming apps even though the market of gaming apps is growing at an incredible pace.
– About 69% of apps on the Play Store are free. However, it should be noted that many free apps either offer or require in-app purchases.
– Around 20k+ apps are published in Play Store every week
– More than 111k apps are published on Google Play Store every month.
– Most of the paid apps on the Play Store cost more than $1
Apple App Store
Apple is a company that needs no introduction. The company possesses one of the most impressive product catalogs on the planet, offering a variety of popular devices, software applications, and online services.
The Apple App Store became one of the world's first commercially successful mobile app marketplaces since its launch in 2008. Today, it connects millions of iOS device users to millions of mobile apps and games from developers and publishers all over the world.
– There are more than 2.2 million apps available on Apple App Store
– To date, there are about 1.37 million app publishers who have published their apps in the iOS App Store
– 85% of the total number of apps on the Apple App Store are non-gaming apps.
– About 90% of the total number of apps available on the App Store are free, and the rest of the 10% are paid apps. However, the free-to-download apps might consist of in-app purchases
– More than 5k apps are published on iOS App Store every week.
– More than 39k apps are published every month
– Most of the paid apps cost between $1-$2
Free vs Paid Downloads
When you are creating a mobile app, one of the first things you need to figure out is the monetization strategy. Don't you want to make money out of your app?
Charging for app download might be something that comes into your mind. But if your app is new in the market, that can be a bit of a risk. But do you have to take the risk?
Let's look into the status of paid and free apps
– Vast majority of global downloads are all free. 98% of app revenue in the world comes from free apps, and only a fraction of people are willing to pay for mobile applications
– But that does not mean that you have to dismiss the idea of a 'paid download', you can launch a free app with in-app purchases- prescribed or required, it is up to you.
– It is worth noting that people who download paid apps are most likely to be involved- they would not pay for the apps they never use.
Why not have a look into the world's two biggest software application markets?
Google Play Store and Apple App Store
There are places where the overwhelming majority of mobile users are downloading apps. Users of iOS devices download iPhone apps from Apple App Store while Android users have Google Play Store to download from.
Worldwide, more downloads are coming from Google Play Store, however, both, App Store and Play Store have seen an increase in the percentage of downloads from 2017 and 2018 and the trend continues there has been a boost in download- credit to the worldwide lockdown.
The Google Play Store downloads grew by 14%, while Apple App Store just had a 3% growth rate.
The app industry is highly competitive and the number of apps in both stores continues to rise each year.
The Google Play Store is highly competitive, many apps do not even survive in the race. So even though the app-downloading rate of Play Store is more than App Store and still rising, there has been a fall in the number of apps available for download, the same is not the case with App Store though.
So it is safe to conclude that the number of apps available in each store is not connected to the overall app downloads
Top App Publishers
Millions of downloads, millions of apps- interesting, efficient, short to a wide range. Where are these apps coming from? App developers, yes, they develop apps but it is the app publishers across the globe, millions of them who make these apps available for us to download from the stores- both free and paid.
So here is the list of Top 10 Mobile App Publishers of 2020 by Sensor Tower
Google Play Store
1) Google
2) Facebook
3) Outfit7
4) Voodoo
5) Bytedance
6) Crazy Labs
7) InShot
8) Microsoft
9) BabyBus
10) AppLovin
Apple App Store
1) Google
2) Tencent
3) Facebook
4) Voodoo
5) Bytedance
6) Alibaba
7) Microsoft
8) Amazon
9) Rollic Games
10) ZOOM
Overall Top 10 App Publishers in the World
1) Google
2) Facebook
3) Voodoo
4) Bytedance
5) Outfit7
6) Microsoft
7) Crazy labs
8) Tencent
9) AppLovin
10) ZOOM
App Usage Statistics
Now that we have discussed how users across the world download apps, let us peek into the usage statistics. Mobile users download millions of apps- how do they use them? How much time do they put into the app- on their phones in general?
On average, a smartphone user spends 2 hours and 15 minutes each day using apps. Research shows that there are between 60 to 90 apps installed on average smartphones.
But are people using all these apps? Spending an equal amount of time on all these applications? No, a study shows that most people spend 77% of their mobile time on their top 3 apps.
Even though the average person uses 25 apps per month, 96% of that time is split between just ten apps.
In that way, more than two-thirds of the apps remain almost unused.
People are, hence, downloading apps but not using them. Hence, 75% of apps are used once after being downloaded and never used again.
Retention and Churn
It is no surprise that smartphone users are spoiled with choices, there are millions of apps to choose from. So as you learned, app usage is not guaranteed after download.
You may have an initial surge in terms of the number of downloads, but you might struggle to make money if people are not using your apps.
71% of app users churn within 90 days of downloading the app.
If you keep up with these metrics, you would know how to keep the users engaged with your apps.
You will never get 100% retention, so you need to come up with ways to gain new downloads.
In 2022, the surge of apps in the market has been more than usual- but people are bored easily, so gaining retention has been especially difficult this year for the app owners.
So if your app does not perform well, and has glitches, bugs, or UX flaws, people will most likely churn. See, no app is perfect- even the finest apps have bugs now and then, but it is your responsibility to identify those errors, have the problem resolved, and come up with new updates and versions of your app to improve the performance and user experience.
Most Essential Apps
Essential apps are the apps the users require from time to time- they can vary from daily to weekly to even monthly use- but their usage is required, and people depend on these apps.
So here are the apps users cannot live without.
Amazon
Gmail
Facebook
FB Messenger
YouTube
Google Maps
Google Search
Apple App Store
WhatsApp
Instagram
If you get a closer look at the list- it makes sense
– Amazon for purchases
– Gmail is primarily for formal communication and notifications
-Facebook and Instagram for social media
-YouTube for entertainment as well as research
-Google Search engine for almost every information and research
– Google Maps for navigation
-WhatsApp for communication
Most of the users who find these apps essential are between 16 to 35. Now that we've arrived at the aspect of user age. Here are the statistics of the average hours spent on apps per month by different age groups
18 to 24-year- olds spend about 112.6 hours on apps per month
25 to 32-year-olds spend about 102.4 hours on apps per month
35 to 44-year-olds spend about 93.4 hours on apps per month
45 to 54-year-olds spend about 75.6 hours on apps per month
55 to 64-year-olds spend about 69.3 hours on apps per month
65+ year-olds spend about 51.4 hours on their mobile apps
Apple and Android App Spending
There are some download and usage differences between Apple and Android apps- because the users are different.
Play Store is highly competitive and more than 85% of the global smartphone sales are for android devices. Apple accounted for just 14% of the sales.
Yet, Apple users tend to spend more on apps- both for paid apps and in-app purchases. While most Android users prefer free apps or in-app purchases.
This might  also occur to you
When and where are people using their mobile apps? Here is the data
91% at home
83% while in the washroom
73% while having dinner
72% while at work
79% while with family and friends
71% while waiting in lines
63% while shopping
78% while watching TV
62% during the commute to work
74% during miscellaneous downtime throughout the day

Global Penetration of App Activities
What are the top apps used by smartphone users in 2022?
90% of people have spent most of the year watching online videos while being engaged with their phones. As the enduring popularity of YouTube proves, there is probably nothing in the world closer to a universal language than short video clips that can be easily digested on a mobile device. Also, YouTube is the world's most popular music streaming service.
Music Streaming apps like Spotify have about 72% of users who spend most of their days listening to and downloading their favorites through music streaming apps
The popularity of online radio stations portrays that some form of traditional music listening is still popular. About 48% of global internet users listen to these digital updates of traditional media.
About 42% of app users spend a significant amount of their internet time listening to podcasts
About 52% of app users indulge in vlogs
Mobile App Usage by Country
Like everything else, app usage patterns change location-wise.
Japan and China have the highest average number of apps installed on smartphones. But it is worth noting that the usage of apps is not as high.
India has the second-lowest number of apps installed on smartphones on average after Mexico, but India has the highest number of apps used per month in the world.
So if Indian users download your app, the chances of your app being used regularly are much higher.
In the case of daily app usage, Brazil tops the list
While the highest average app usage per minute is dominated by South Korea, which surprisingly ranks the second-lowest in-app usage per day.
Conclusion
2022, though greatly tumultuous, has witnessed a boost in the app industry globally, the number of mobile app users, as well as hours spent on apps, have increased along with an overwhelming number of app downloads.
This data is encouraging to anyone who owns a mobile app or is planning to build or publish one. But it is important to remember that with the boost in mobile app growth, there has been another steep added to the already brutal competition of apps.
To survive and thrive in the app market, it is important to respond to and solve errors as the earliest and keep evolving and updating.
Also, if you are looking for branding solutions or online marketing for your brand then you should check out VerveBranding and Verve Online Marketing today and make your brand stand out.
(Visited 184 times, 1 visits today)