How To Make An App For Kids? Features, Benefits and Things To Remember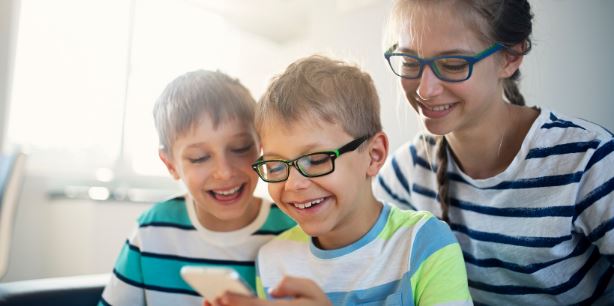 In today's digitalized world, the definition of learning has changed. Gone are the days of piles of heavy books being fed to young minds in the name of 'learning'. True, our mind can take in a lot of information and store it, but what we learn and remember is our choice. And the learning process of a child is the best instance of that.
So, how do you make learning interesting for children?
Young minds are essentially curious and the most active, so why not use that to shape their minds into their best versions?
Here come apps designed especially for kids, if all of them are not for learning purposes, the concept of 'learning while playing' is present in every kids' app out in the market.
Want to build your own as well?
It's not even half as intimidating as it sounds, thanks to app developers like Vervelogic.
Things To Remember While Developing An App For Kids
Know Your Target Audience
One of the traps for app owners is deciding the target audience. Here, it is clear that children are the target audience, or is it? The trick lies in the question itself. Your apps should be as appealing to the parents as much as the children. Of course on different aspects, top the parents, your app should be worth spending time (and even money) on. Remember, it is the parents who have to approve of your app before their children would start using and accepting it.
As for the children, the tour app has features that are super easy to use and language simple and colloquial. They should feel more like it is a friend they are interacting with. For a better understanding, you can also review the best apps for kids in the market.
Determine the Age of Children
This step is interlinked with the first step to an extent. Since your app is meant for children, it does not mean that your app has to cover the needs of children of all age groups. It can be meant for a certain age group and still be friendly to all children in general.
For kid's apps, you should focus on ranges of two years maximum, children develop fast and even two years can make a difference. Tailor the level of complexity and methods of interactions with your app for children of the chosen age group. This will allow you to correctly identify your niche and effectively target your product.
Discussion of the Project is Important
It is very important to sit down and discuss your project in detail with your Project Manager, along with a business analyst. This way, it would be much easier for you to weigh the pros and cons of the features and workings of your app as well as a marketing strategy.
Gamification
It is not a surprising fact that the mind of a child works differently than that of an adult. So, the first and most important difference you can make in your app is obvious- gamification.
Kids love to play and can be quite competitive as well. Adding educational elements into the games makes learning fun, and rewards will encourage them, as much in the virtual world as in the practical world.
Adaptive App
The more adaptive your app is, the more it has the chance of running long in the ever-changing market with cut-throat competition. Also, children develop their skills at different stages so your app has to be adaptive so that kids of any skill level can use your apps.
Marketing
The last and one of the most important steps- Marketing your app. Social media is a great option but if you wish your app to reach out to kids as much as to their parents, YouTube, Posters, and Advertisements would be an excellent idea. Further, reaching out to schools and introducing your app in the classroom does more than you think.
Top 8 Must-Have Features in Your Kids App
Now that you know the easy steps to create an awesome Kids' App, know of some must-have and innovative features needed for your app to take flight in the market.
App Analytics  
The app analytics feature provides you with a detailed and actionable look at how users are behaving within your app. This feature not only helps you remain better informed but also helps you make data-driven decisions.
Flashcards
Images attract children and flashcards help you add content to the images. Children will tap on these cards and learn the information behind them. For example, if an image consists of an ostrich, kids will click on the image and find out that the ostrich is the largest bird in the world. This way, you can make learning fun for the kids.
Videos
What is more fun than learning and understanding concepts through short and fun videos? Game-based educational videos like 'Dora the Explorer' can be fun as well as learning.
Push Notification
This feature will allow you to alert the user or send important messages in one go.
Quizzes
Quizzes do not have to be boring every time, you can add fun elements like some game-based characters in order to make the learning process easier for the children, and rewards will also encourage them to work better. Theme-based questions, photos, and videos will make quizzes more engaging for children.

Live Images
Live images will not only attract the kids' attention but will also make learning and processing easier for them.
Voice Processor
Kids can participate in verbal quizzes as well as go through speaking practice.
Interactive
It is very important for your app to have at least one interactive character, this will not only make the kids feel engaged but also assist them in their process of learning.
Offer different things
If you add different games or additional things for example a brainstorming puzzle or concentration increasing game, vocabulary game, etc. This will help kids to refresh their minds and increase their interest in the app.
It would not be surprising if you are having questions popping up in your mind. One of the most popular questions is-
Why Kids' Apps?
Here is why-
Benefits of Using Kids' App
Effective Utilisation of Time
On apps designed especially for children, they can use their free time on educational yet fun activities. Whether they are at home or on vacation, their learning never needs to be obstructed.
Availability  
Kids can click on an app and start or continue their learning yet fun interaction. Kids can access their lessons, projects, videos, etc anytime, anywhere.
Learning by Sharing
Kids apps allow users to share the available information and sometimes, even handle projects together. This not only connects the kids but also helps in peer studying.
Parental Control
Internet exposure can easily become a parent's concern, but with kids' apps, either there comes parental control to decide what the kids can and cannot preview or some apps exercise this censorship on their own.
Read More: How to create your own Wallpaper App
Conclusion
VerveLogic can be your one-stop solution for mobile app development and web development because we have a team of experts and market experience. You can get your app or website developed at the best price possible.
Also, if you are looking for branding solutions or online marketing for your brand then you should check out VerveBranding and Verve Online Marketing today and make your brand stand out.
(Visited 428 times, 1 visits today)