How To Sell Art Online in 2021?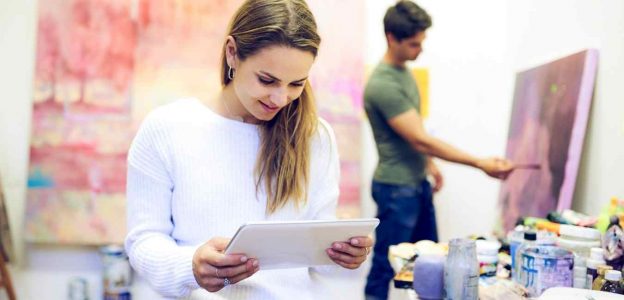 Gone are the days when art was overlooked by some of the fancy professions like engineering and doctorates. Today any professional artist can start making and selling their art in large galleries or online, in fact, some of the insightful masterpieces go for shedloads of money. But for all the dreams to come true there has to be a master plan, a roadmap, and keen insight into the best ways to sell art online in 2021?
Well, to succeed in the art you must succeed in the business. While the name is enough for some individual artists, others have agents to represent their work to wider and interested audiences. Though agent representation is still a way to reach a wider audience including corporate clients and deep pocket influentials, this is not the only way to do so. The article is here to open your eyes to new possibilities that have come with advancements in technology and the internet.

How can you sell your art online in 2021?
Every person needs a survival strategy and if you are an artist who is looking to sell art pieces online then this article has a silver lining for you. Know everything that experts and successful artists are doing these days. Selling your artwork online is indeed one of the best low-investment business ideas, but what it needs the most is time, guidance, and effort.
Selling Your Art V/S Selling Work of Other Artists
There are always two ways of selling the artwork online one is to create the masterpiece and sell them through your online store and another one is to curate the best artwork from other artists and display them to sell through your store. You can go with either of them or both of them.
Selling Your Work
Some artists like to keep the exclusivity by selling the art that comes from their insights – the original art or the reproduction of the originals. Well for artists, directly pitching to their potential clients and winning the deal has always been a task. This is one of the major reasons why being an artist is not considered a static career choice.
If you think your work is worthy to go out in galleries or adorn the homes of the filthy rich then you should not hold back. You can certainly have agents, galleries, and retail partners to sell the artwork on your behalf to just the right audience. Also depending on your signature style and exclusivity, pick an online sales channel where you are positive enough to fetch the attention of your target audience.
Internet and technology are ruling in 2021 and owning an online e-commerce forum with correct digital marketing tactics is a great way to market your art pieces apart from collaborating with agents or retail partners.  People also own an e-commerce forum to sell their art in the form of prints on apparel and merchandise. Know more about apparel printing and selling business.
Just like an e-commerce site, galleries can help you expose your work and at both places, you will have professionals to help you build your profile, promote, and exhibit your work.
Explore: 
How to Start Your Own online store in 2021? Step-wise Guide..!!
Marketing Strategies to Increase the popularity of your online art store.
Curating Other Artists' Masterpieces
There are several people who are not the artists themselves but have a deep love and keen insight into the artworks. If you have a love for various artworks you can still be in the game by buying and selling the masterpieces that you know are worth it.
Some artists work for their passion and barely have a knowledge of where to sell or how to sell their art and bring their talent in front of the world. Being an art lover you can work for them (sell online or via galleries). In a partnership with an artist, you can make a good percentage of profit with minimal investment beforehand.
As time is precious as money, an e-commerce site can help you with promoting, selling, and facilitating artwork purchases. Also, there are several other ways to work with an artist – you can sell framed originals or prints or license their work to be printed on the merchandise. There are several galleries and marketing partners who make 50-50 out of the consignment once the art is sold (in any form).

Artwork Selling: Original or Reproductions
As an artist, you can come up with the original work with exclusivity to sell in the market or come up with the reproduction of the original artwork or both. If you are skilled enough in this arena then selling artwork is an incredibly low investment startup for you in 2021. While a fine artist who chooses to go with only classics and sell at high rates shall better come up with something that is original, appealing, and exclusive. While digital art can be reproduced to be donned on apparel and merchandise.
Any art created has its own selling space and scope in the market, however, the art created with 2D mediums still has an unlimited market scope and can grab immense sales… Here are certain worthwhile options: 
-> Original Artwork – You can sell your original artwork in the galleries as well as the prints on the apparel. Or both.
-> Limited or open editions – Sell the original artwork as framed, unframed, or prints on canvas.  
-> Digital Art – Sell your artwork as digital downloads in the form of desktop wallpaper, templates, print-at-home art, etc. 
-> On-Demand Artwork – There is immense demand for personalized gifts in the 2021 market, creating and selling customized artwork at the request of the customers is quite a deal to catch. 
-> Merchandise – Get your art printed on various merchandise like t-shirts, enamel pins, greeting cards, mugs, etc., and see people donning your artwork every day.  
-> Licensing the work – This career choice is great for illustrators, cartoonists, and photographers. Photography and capturing the moments in the camera is no less than an art, know how you can kick-start your photography business on a stronger note… 
-> Collaboration – Collaboration with other influential brands will surely lead you to immense heights. Limited collections are sold through the partner brand store.
 Art has no boundaries and especially no particular canvas. You can use your imagination to create or re-create some best art pieces in the form of jewelry as well. 2021 is certainly a market for innovation integrated with technology. Know how you can start your own jewelry business in 2021 without having to spend too much.  
Reproducing the Artwork 
Reproducing the single artwork to adorn various apparels or merchandise means selling the single masterpiece as many times as it is sold in the market. If you choose to sell your artwork as prints you will have unlimited options to earn money (open edition). On the contrary, you can opt for limited editions to maintain the exclusivity of your artwork and take the advantage of people's curiosity to buy your product.
One of the best marketing tactics is that you create a sense of scarcity and urgency in the market urging people to buy from you or they will lose the deal. As various artists or curators say, every art that is created has sweat and blood and should be treated like it is special. Several galleries might make more money by selling the prints for apparel and merchandise, but the choice to limit your artwork adds value to it and lets you have more profit from a single piece.
Printing 
Selling your artwork online is one of your best bets in 2021 as the internet is deep-rooted and is capable of outreaching the traditional premises.
If you have chosen the path of printing and selling your artwork online, there are a range of options that you can go with like owning a printer to accomplish your tasks, or outsource it to the company and let them handle it for you, or go completely hands-off by selling your artwork and prints to other companies for apparel and merchandise printing. Apart from being an artist if you also have a keen sense of styling and fashion, maybe you can come up with your own online boutique and accessories store. Here is a complete roadmap to owning your own online boutique and a production house in 2021..
DIY Printing 
With limited orders in hand, you can certainly create, print, package, and deliver the artwork on your own. The method costs very low as all you need is a home printer and packaging material but this is definitely not sustainable. As your business grows you will have to look for other alternatives that will help you complete the orders and deliveries on time.
Moreover, DIY printing is useful only till you are selling artwork on paper. There are certain other advanced techniques through which you can print your artwork on fabrics and sell – for that you need an upgrade on your normal home printer.   
On-Demand Printing 
On-demand printing is the most hands-off and scalable printing and artwork selling option where you sell your artwork on paper and let your printing partner print your work on t-shirts and merchandise. Print-on-demand companies are your savior here. Such companies integrate with your online eCommerce store and let you upload your designs. When you receive an order, the companies print the shirts and merchandise and directly ship them to the customer.
Outsourcing makes things easier at every step, even when you are coming up with an e-commerce store to sell your masterpieces. Outsourcing your e-commerce web development tasks to a professional IT Outsourcing Agency is far more cost-effective, time and resource-saving than any DIY web designing or hiring freelancers. An experienced web development agency vows to give you the best for every investment you make in building your store.
Please Note: Request samples from your printing partner as the final goods will directly be delivered to the customers on your behalf. Quality, size, colors, and print matters the most in the sustainability of the online print business. 
Partnering With A Printing Company
As you are starting with your business of selling the art online, there are various online printing companies who can reproduce and mass your work to go on various canvases including hats, mugs, and other merchandise. They offer bulk discounts if they are printing many from the same piece. This printing type is the best way to earn money if you have a short catalog of designs and artwork. Also, the method costs inventory upfront and you will be obliged to pay for packaging and shipping.
What if you are not an artist? Can you sell anything else and start an online business in 2021? The answer to this is a clear yes. Here is the list of 14 things that you can make and sell online through a full-fledged e-commerce site in 2021.

Photography and Scanned Art
Presentation is a must for any online business and photography is a medium of interest through which customers buy the products from your online store. If the photographs are clear, appealing, and accurate with perfect lighting exposing the color combination, then your artwork is most likely to go faster than any other store that is not attentive to photography.
"If you have a bad image of your work or the image doesn't represent the work accurately, you're going to have a harder time selling it," says Ken (an artist and entrepreneur).
Photography is tricky and harder than a photoshoot. A slight lightning mishap may lead to glare or color irregularities. If your customer gets something different from what he expects then your brand's credibility is under question…
For a 2D artwork, it is highly recommended to go for scanning as it is affordable and effective as compared to photography. Scanning is the best way to send your artwork to the partnering agency/gallery and still keep a copy in your archives. You can completely bet on scanning when it comes to the details of your artwork. On the contrary, with photography, you have to be conscious of quality and color.  
Building Your Own Brand as an Artist
As an artist you might have your signature style or a medium to pull down the art on various canvases, this will say a lot about you in the long run. But how can you create a brand initially? Creating a brand is a must for people to know, recognize and purchase your artwork. However, there are various decisions you will have to make while starting your journey from an artist to an entrepreneur.
The art of any kind first pulls the strings of the purchaser's heart and therefore your story as an artist can affect the decision-making process of the customers. Also if you are selling open editions like prints then the packaging and the web design are your major marketing assets.
Do you want to make and sell your artwork under your name or a brand name? What is your brand story and which online medium do you choose to sell your artwork? 
The answer to the above will help you build your own selling portal, maintain authority and set the guidelines that will dictate your future decisions.
-> Branding and Logo 
A name and a descriptive logo will let people identify you and your art. A brand name and a logo are the online representations of your work and are important if you are converting your art into a business. Whether it's prints, or limited edition artwork, an e-commerce store with a brand name, logo and a story to tell always elevates the interests of the purchasers.  
-> Setting Up a Digital Store
An online store is a complete package from marketing to facilitating purchases and online ordering. Today many art stores and galleries are going online with the intention to serve their clientele well. Creating an online store is a major part of your business plan if you want to sell your artwork online. From business planning to pricing and setting guidelines, so far you have come alone. But when it comes to web development you can certainly step up the ladder with the help of a professional web development agency.
Before you jump into website development: 
-> Create a mockup
-> Setup designs and themes. 
-> List the features and functionalities you want in your online store.
-> Select a brand name and a logo. 
-> Focus on the main pages of your online art store.
Online Sales Channels for Selling Art 
A full-fledged online store is certainly the best way to sell your artwork to advanced people in 2021 but is that the only sales channel? Besides owning an online store, what are the other online channels through which you can sell your art online?
Start selling your artwork on other platforms:
1. Third-party marketplaces – You can display your artwork to sell on other influential platforms like Etsy or eBay. This helps you fetch more audience for your artwork through online mediums. 
2. Social Media Marketing – Through social media marketing you can pitch directly to the people who are following you and have a keen interest in your artwork. You can do the marketing yourself or hire a professional to do result-driven social media marketing for your brand. A standalone digital marketing agency like Vervelogic gives you a complete package from social media marketing to SEO practices, content curations, and running PPC ads.  
3. Wholesale – You can sell your artwork in other online boutiques or galleries. The curators will always welcome your work to their store.
Sell Art Online – Pricing 
If you want to sell artwork online you must know how to price them to create a balance between people's preferences and your profit margins. Let's have a look at how you can price the original art and the open-edition prints.

Pricing Original Art 
Selling the original art is the simplest way of kickstarting your art business in 2021 and especially if you do not have the privilege of connections in the art industry. Pricing is simple with your original art – time + material expense + your talent cost + your profit. You can certainly own a good sum for a solitary exclusive art.
The drawback of selling original art is that it is evaluated by the purchaser. The artwork from some of the popular names fetches a substantial sum while the newbies have to be incredibly creative with their piece of art to sustain and prosper. Moreover, if you take the help of a gallery that is well known in the business, then it is more likely to take half the percentage of your profit as a marketing cost.
The chances of growing in the business increase by a good percentage if you have your own e-commerce website/portfolio that showcases your talent to just the right audience and provides the most secure online payment and ordering mechanism. Advancement is highly appreciated in 2021.
Know more about:
 -> Digital payment trends in 2021 you could integrate into your e-commerce website 
Pricing Prints 
Pricing is no big deal with selling the prints or curating the reproduction – the cost of printing + your cost to sell and market the print + your profit. There can be arrangements in your upper profits based on what you are selling (an open edition or a limited edition). Limited editions go for a good sum.
Sometimes it becomes incredibly important to justify the cost of your artwork to potential clients. For instance, you are using the A+ paper material to preserve the artwork for a long time, this increases the material cost and ultimately the selling price of the artwork. Whether it's storytelling or justifying the cost of your artwork, communication becomes important if you are selling quality art that has a higher than average value.   
Packaging and Shipping  
You need to have a keen eye on how you present and package the artwork as the beauty of an artwork lies in its first impression also under any circumstances you cannot afford to risk any mishap during shipping – an artwork that arrives damaged is apologetic on the side of the art business who is dealing with the client.
Some artworks are fragile and you have no option but to dig into the shipping possibilities so that the client gets what he has ordered. Here are certain ways for safe shipment of art:
1. DIY Shipping 
While shipping an original art you must be extra conscious of the fragility of the artwork and how that can be boarded to the address of your clients. You might want to wrap up the artwork in rigid boxes – the larger ones go in rigid cardboard mailing boxes while the small prints go in hard cardboard envelopes. Also while fetching orders from your e-commerce site you are obliged to give what the client has seen on the site (a photographic replica) with similar detailing and condition.
Tip: Go with innovative photography with a subtle yet classy background and make the best use of the current freight/shipment resources to safely deliver your orders.      
2. Shipping the Giant Pieces
Framed artworks are extremely fragile and are privileged for extra attention. Packaging shops have exclusive cardboard and other packing materials for the shipment of such fragile pieces of art. Another best-in-class trick with shipping the larger artwork is un-stretching the canvas. Un-stretch the canvas, roll it in the tube, and support it with the cardboard roll, then stretch it at the destination. This drastically lowers the freight costs.  
3. Print-on-demand shipping
Let professionals take up the duty of shipment for you. If you sell the designs for on-demand apparel and merch only then from printing to order fulfillment and shipping is all taken care of by your partner company. Such companies get a good concession on bulk transporting and are certain to pass on the benefits to the associates too.   
4. Getting shipping insurance for fine art
Going back to selling the original art, the insurance you acquire on shipment of original work gives you benefits of replacement against the loss or damage of the artwork while freight. Various carriers give the basic insurance on most of their subscriptions, being an artist and more than that being a businessperson evaluate the balance between the extra coverage and the limitation each facility gives to you.
The very first step to start selling your art online is making a business plan that involves everything from niche to the business model, costs, profit margins, product listings, pricing, and shipment protocols. A business plan paves your way and gives you exposure to the market.   
Conclusion – Plagiarism and Copyright Claims
Plagiarism and copyright issues are the harsh realities of selling art online, says Ken (an artist and a business person). In the era of the internet and transparency, various copycats take away your original art and sell it well in the market with storytelling and correct marketing tactics. Various artists with intriguing works have been the victim of such issues and most of the time they are faced by the accomplished chain stores (who are hard to fight against).
 "If somebody is copying me, they're going to have to sit down and eventually learn for themselves, because sooner or later they're going to run out of ideas," says Ken. It is highly offensive to sell an original art without the consent of the artist, people do so but Ken took it as an indication that her work is precise and worthy.
The unscrupulous and copycat websites remain to be an issue for various galleries. If this is a reality then there is a silver lining for the artists too who could seek professional advice from copyright lawyers even before a mishap.

Sell Your Art Online in 2021 – FAQs 
Q1. I am an aspiring artist. What are the ways for me to sell my original artwork online?
Ans1. With everything being online and advanced in 2021, you need to think of advanced ways of selling your art in this era. You can go for online galleries, hire agents or own a full-fledged online e-commerce website representing your art, objectives, and brand. Owning an e-commerce store seems like an expense for selling art online, but it is a profitable investment in the long run as it helps you build your identity and you will need no one to sell your artwork online.  
Q2. What is better – selling art online or offline? 
Ans 2: It is 2021 and you can certainly put your bets on selling your art online. Online portals are worthy when it comes to 
1. Higher audience reaches by applying correct digital marketing tactics. 
2. Secure and cashless payments. 
3. Selling art on social media. 
4. Diversifying sales channels
5. Building a brand at a lower cost.
Q3. Which Type of Art Sells the Most in 2021? 
Ans 3: The love for art and artwork has been there for ages and it has always been difficult to analyze the tastes of the purchasers. Moreover, it depends on the purpose of the art – whether it is meant for the prints or the aesthetic art to adorn the walls of the homes. The original and large framed art can be anything that is unique and embraces creativity while the prints and merch can be something vibrant & appealing. The art curators often look for the purchase behaviors of their potential clients and accordingly showcase the frames in their galleries/websites.
(Visited 54 times, 1 visits today)