How To Start A Jewelry Making Business in 2021? The Comprehensive Guide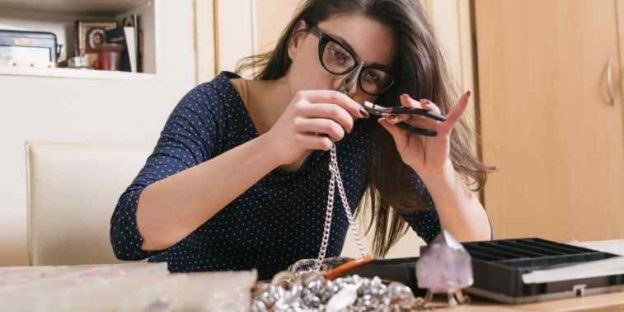 What is stopping you from starting a jewelry business if you have a creative hand in making one? One should not wait to start an online business if they have a talent that can be monetized on a larger scale. If you have insights and have worked before with the beads do not let your talent go to waste. Make and sell product business is a boon for small entrepreneurs in 2021.  Also if you are holding a certification in jewelry designing this is the time for you to get up and start a roaring business.
Jewelry designing is one of the best low investment business ideas and from my last couple of articles on e-commerce business, you must have known that every online business seeks more time, knowledge, guidance, and dedication than the huge upfront setup cost. Most importantly – the business plan that will help you take every major-minor step in your online business journey. The jewelry segment has an immense market scope and so is crowded. The global jewelry market was worth $348 billion in 2018, with fashion jewelry bringing in most of the share.
Inspired by some amazing jewelry businesses, the article is concocted based on everything one needs to know from jewelry making to holding a niche, marketing, setting up a studio, etc. Also, the article is an inspiration for those who are planning on starting a low-cost venture in 2021. Stay Tuned…!!  Also, know what other side business you can own in 2021

How to Start A Jewelry Business? The Very First Step
Seeking business out of your passion for jewelry making is the very first step towards financial success. Even before starting a business one needs to decide what is their forte? Fine or Fashion?  Both the categories have their own material requirements, scope, client base, and profit margins.
Know Your Forte… 
Fine Jewelry 
-> Made with precious stones, metals, and strings. 
-> Has a higher monetary value. 
-> Needs fine craftsmanship and is usually produced in bulk. 
-> Goes best on occasions like weddings, festivals, or grand fests.  
Fashion Or Costume Jewelry
-> Contemporary and trendy. 
-> Made of inexpensive materials and are often sold at reasonable rates. 
-> Have low prices. 
-> Best suited for light occasions or daily wear. 
-> Can be mass-produced or customized on-demand.
-> Consumers stock a bunch to go with their casual, formal, or party outlooks.
Other Contemporary Jewelry
-> The category is in between fine and fashion. 
-> Made with mid-ranged materials (metals, textiles, or semi-precious stones). 
-> Focus is laid on design, vision, and creativity. 
-> Prices for such pieces usually vary based on what materials are used but is still ranged less than fine jewelry pieces.
-> Goes the best with conference attires, light parties, get-togethers, outings, etc.
Once you have filtered the type of jewelry you will be working on, it will be easier for you to figure out the niche, your target audience, expense, and profits. Also, based on your target audience and occasions on which your jewelry can be donned, you can mold all your future marketing and promotional strategies that increase the chances for sales.
Current Jewelry Trends and Inspirations
The fashion and jewelry industry is all about trends and evolution. What was in fashion a year ago might not be people's current favorite. What you need to break the wall between your talent and the current trend are the fashion magazines, blogs, and publications. Grab the idea of people's current favorite and carve your own masterpieces that people cannot resist.
Jewelry Designing Trends
Talking about the online business establishment you can go with market research and Google Trends to find the demand of the jewelry type you will be selling. The Internet is a vast arena to market your products, you can also go with people's habits, shopping behaviors, current trends, and lifestyles to find out what pieces have a scope in the recent market. Staying updated on social media like Facebook, Youtube, Snapchat and Instagram will do the best for your business.
Keeping up with the current trends is only for inspirational purposes, for establishing a jewelry business you need to stand out of the crowd in terms of creativity and insights. Just like a piece of clothing, a piece of jewelry is a clear reflection of a women's personality. That's what Biko founder and designer Corrine Anestopoulos did, launching her collection based on personal style.
With her collection, she bought something totally new to the market and locked every glimpse that went to her collection. When she launched, Corinne was working with a brassy finish. "Nobody else was doing that," she says because shiny silver was the trend at the time. Market research, authenticity, and innovation are your privilege while starting your own business in 2021.
Inspirations for Jewelry Designing
Inspiration plays a major role in starting and being constant in any business – especially the fashion and jewelry industry. The industry is heartwarmingly welcoming to those who have an aesthetically unique design and consistent branding. Before you reach out to the experts for branding or even before starting with your first piece, make sure you have a signature style that roars your name.
Depending on which platform piques your interest you can pick up Pinterest boards, jewelry boards, digital mood boards, or simply a sketchbook to let out your work on a canvas. Gather images, colors, textures and nature, architecture, royal or travel inspirations, and merge those to create the masterpieces that will depict a single story or a mood.   
Build A Brand Out Of Your Passion 
The brand you will be creating is different from the branding you do for your business. While both are incredibly important for your online jewelry business, your brand depicts your goals, visions and your signature style of jewelry designing and the branding is the representation of your business in the market.
Branding is all about owning a name, a logo, and a website with content curations that speak on your behalf. Do storytelling through the main pages of your website like homepage, About Us, and go for social media posts to share the process, inspiration, and tell behind the scene story to bound people to your brand.

1. Branding – Web Development, Packaging, Logo Design, and Name
Despite being crucial for your jewelry business, branding is even more tricky and professional. You cannot go wrong with the representation of your ideas, vision, goals, and objectives. As it is an online business we are stressing on in 2021, what you need for branding is a business name, domain name, an impressive logo, package designing, and a full-fledged website or e-commerce portal. Your additional assets would be digital marketing and social media marketing.
Even if it is a startup or a small business, branding helps a business to get initial recognition, spreads awareness, and contributes substantially to trust-building. A business plan is a must and with professional guidance. As you have an empire to create, DIY could be risky and might lead to unforeseen problems in the near future, with the help of the professional experts from Vervelogic you can create a strong online base for your business from web development to branding, logo designing and product package designing – all under the single roof.
2. A Business Plan for Your Brand
Whether or not you are planning to fetch some fundings from the investors, a business plan is a must as it keeps you on heels with every next step you take regarding your business. A business plan is a must-have while pitching to the investors but even if you do not need fundings, several entrepreneurs have trusted it as a guide for their business journey.
Most importantly while creating a business plan, the person comes across the possibilities and challenges that are likely to cross his path in the near future. A business plan includes everything from market analysis to studying target audience, business goals, backend management, cost, sustainability plans, etc.
Know how to write a business plan that will actually help you with your business?  
How To Make A Pro-Level Jewelry? 
The very first step towards starting your online jewelry business is product availability. Whether you will completely develop the product, do handcraft by using raw materials, or outsource the production. The price composition is set based on the complexity, design, skillset, and type of production.
The segment comprises of four most popular ways of jewelry production that entrepreneurs in the industry mostly trust:
1. Fine Handcrafted jewelry
2. Handmade Casual Jewelry
3. Bulk Jewelry Production
4. On-Demand jewelry Production
1. Fine Handcrafted jewelry 
Producing some of the most expensive yet versatile jewelry of the time, the fine handcrafted and one-of-a-kind jewelry production requires special equipment and an even more professional skillset. Each piece goes for a substantial sum and is even auctioned if the designs are unique and are worth betting for. Such jewelry mostly flaunts precious stones complimented with gold or silver work.
The methods behind the production are soldering, silver/goldsmithing, 3D printing, laser cutting, weaving, gemstone fixing, etc. People who hold years of experience in the field are taking up online routes to spread their roots even further. And if this is the field you are planning for then you might want to study, invest in diploma courses for designing and hire craftsmen to expand your skillset.     
2. Handmade Casual Jewelry
Easier than fine jewelry making, handmade casual jewelry is a piece of art and elegance that is made by assembling the chains beads, and pendants. The detailed tutorials and a knack for fashion are enough to create masterpieces that have a demand in the market. Fewer equipment is used in the making and the business holds the quality to scale.
Such jewelry is mid-ranged and can be worn on various light occasions and festivals as well. With women inclined more towards style than heritage, this category of jewelry production is here to prosper.     
3. Bulk Jewelry Production  
If you have a strong hand in jewelry designing then there is no point holding back your dreams due to lack of manufacturing, you can have your designs manufactured by someone else. The production type is not fit for fine, on-demand, and one-of-the-kind jewelry, but it is a cost-effective deal when it to comes to bulk production and in-trend pieces. You can go for local or overseas manufacturing each of which has its own set of pros and cons. Take decisions wisely.
The detailed sketches or accurate 3D printings of your work are a must if you are outsourcing the production to the manufacturers (especially overseas manufacturers). You can go for manual design tools, 2D or 3D general design software, jewelry designing software to create the mockup of your jewelry designs.     
4. On-Demand jewelry Production 
Requires minimal assistance, with print-on-demand jewelry production you have the flexibility to upload your designs on the print-on-demand app where your designs will be 3D printed or created using steel, wood, plastic, gold, or silver by the third party and delivered to your customers directly. Though it is an individual production technique, it is quite possible that the production cost is high.

Owning a Jewelry Production House
If you wish to start your own jewelry production you will need a dedicated workplace where you can preserve the raw materials, equipment, and finished masterpieces. While clearing up a space for your production house make sure you think about the storage, safety, and location.
1. Storage – An area that is organized, well-shelved and is capable of preserving fragile jewelry pieces. Take care of ventilation and safety precautions.
2. Safety- There are precautions you need to take while working with the jewelry-making equipment and storing them. Make sure you or anyone collaborating with you has a keen knowledge of the manufacturing process and how to use the equipment to their best.
3. Location – If you are willing to start an online e-commerce jewelry business – which is indeed a wise step in 2021, make sure you have a robust delivery process. You are likely to get higher perks on delivery if your warehouse is fairly close to the local market you are dealing in.  
Jewelry Photoshoot 
Holding an online e-commerce store for selling your jewelry pieces is worth a deal in 2021 than owning a physical store. BUT, there is this old saying that prevails- "what looks best sells best". If you are willing to own an online store, then stress on the photoshoot of your jewelry pieces to make them look their best on the catalog.
Though the design says it all, to illuminate that design you need a simple lighting setup and fair camera lenses. In fact, nowadays even smartphones come with those camera specs that you need to bring out the beauty of your products.
Even if you are going for DIY shoots, take note that every angle is a must for customers to assess the worth of the product. It is important to give closeups as well as take pictures from several other angles and views.
Key points: 
1. Keep the background subtle as this will highlight the details of your designs. 
2. Go with light and complementary background colors. 
3. Think about the creative setup you can pose to do a jewelry photo shoot. 
4. You can use the background to reveal your business type, niche, and goals. 
5. Go with a lifestyle photoshoot on a model. Create various scenarios where girls/women are donning your style and nailing their overall looks.
 Apart from your e-commerce site, these photos can go on your social media handles or other promotional sites that can fetch sales for your business. Registration on the third-party marketplace is profitable only if it is a side-gig, while you are most likely to get unheard on such platforms (as competition is high), it restricts you from trust and brand building. This is one of the various reasons why you should own a dedicated online store.
Explore: Reasons to start your own online store over other third-party online marketplaces.

How to Sell Jewelry Online?
So far we have dealt with production, branding, and photography, now is the time to catalog your work, organize them, and categorize them on a single platform. Owning an e-commerce website is a boon for every business and with Vervelogic you can come with a fully functioning e-commerce website or app that is tailored to your business needs, giving complete control over your online presence. With keen insights from the dedicated minds and your ideas for the online jewelry business, you can come up with an advanced yet classy e-commerce store that will cater to all the needs and help you create a mark in the segment.
Unique jewelry designs, a fully-featured e-commerce site, a secured online payment mechanism, and the best user experience, altogether can help you distinguish yourself in your segment.
It is always a bonus to hold more than one skill set. If you have your hand in textile designing aside from jewelry designing then you can come up with a full-fledged online boutique to sell both contemporary dresses and jewelry sets on the same platform. Know more about starting an online boutique in 2021…
Dealing with a restricted investment budget? Outsourcing the web development tasks is your best bet here and Vervelogic gives you an option to own an MVP (Minimum Viable Product) with basic features and functionalities that is cost-efficient and can be trusted as a startup.
Know more about starting an online store in 2021
The website you are building to start your business should depict your standards, goals, and vision. To communicate well with your target audience and to strengthen those strings, you can tell your story, vision, and mission through the About Us page on the e-commerce site. Also carefully curate the content or hire content strategists to help you through the best content curators justifying your business. Grammatical errors are underestimated but could certainly affect the quality of your online business with prior judgment.
Content management helps you with brand building, trust-building, and influencing the purchase decisions of your potential clients. Go with unique product descriptions, web content, newsletters, and site blogs to create your online resonance and trust. 
Marketing Your Jewelry Business
As luminous as they seem to be, the fashion and jewelry industries are heavily saturated. So how will you be noticed in the crowd? Is launching an e-commerce portal enough for your online business? Whether online or offline, marketing and promotion are a must for every business to be known in their respective segment. You might want to reserve a budget for marketing your online jewelry business.
"It's expensive to work with PR but really, really valuable," she says. "It led to the best press I had to date. I sold $5,000 of one particular bracelet after it was featured." Corinne (entrepreneur and founder of Biko).

Popular Digital Marketing Methods
1. Social Media Marketing 
Everyone knows that social media is a widely used entertainment channel for people worldwide, but it is also a silent influencer showing people what they are most interested in. This is how brands earn sales from social media channels. Dedicated posts with relevant hashtags and incredibly amazing video or a photo in which a model is dining your piece. Also, there are small to big influencers who market for you via their posts on a commission basis. Know the long-term benefits of SMM for the Fashion Industry. 
2. Search Engine Optimization
As launching the site is not enough to sustain an online business, you need to enhance visibility by practicing the best local SEO for your e-commerce site and for your services. Know more about SEO (local and general) with Vervelogic. 
3. Content curation and management
Trust building and influencing is a constant process, content curation and management contribute significantly to enhance your authority, storytelling, and influencing your target audience to purchase from you. From web content to product descriptions, and blog posts everything has to be unique even from the copyright perspective. 
4. PPC Advertisement 
The sought-after method to get genuine traffic on your e-commerce site. You can use the Pay-Per-Click marketing model to make your products and services more visible to only your target audience. It is an online advertising tactic where the advertisers pay a fee for every click that hits their online ad on a third-party channel.  
5. Email or Phone Marketing 
Well, this remains a cliche when it comes to any sort of marketing (online or offline). It is as important for any business. You can convert your site viewers to your purchasers by creating an email or SMS list and sending them the most relevant offers or arrivals at your e-commerce store. Also, use these channels to give the most personalized user experience to retain your current clients.
Marketing to a new client costs twice than retaining an existing client. Follow these customer retention strategies to reduce marketing costs significantly. 
6. Product Packaging and Company Logo 
Though these are not direct marketing tactics, product packaging designs and logo designs play a vital role in representing your brand. An appealing logo or packaging designs are capable of grabbing every first glimpse making people keen about your brand and your services. Also in the fashion and beauty industry, the packaging is everything – as mundane packaging kills the mood in seconds. In fact, you can use logo designs to show your ideas and business objectives. Vervelogic is a step away from listening to your product packaging and logo design requirements.
Takeaway
No business is an easy journey and especially a jewelry making and selling business. Every venture has its own ups, downs, and challenges, therefore it is inevitable to plan your every move. The article is a source for you to get the knowledge on how you can start a jewelry business in 2021 and have a headstart in your journey. Make the best out of every segment mentioned above and turn all the tables in your favor.

Jewelry Making and Selling FAQs 
Q1. What is the cost of starting an online jewelry business?
Ans: The cost of starting a jewelry e-commerce business depends on various factors and thus cannot be estimated until there is a business plan or you tell your requirements to a professional IT Company. To minimize your cost it is highly recommended to outsource your E-Commerce web development tasks as it saves a lot of in-house costs. Still, if you are restricted by your budget you can give MVP a try and later upgrade the website/app as per the demand.
Q2. Are there any regulatory obligations on starting an online business?
Ans. Even before you start an online jewelry business it is mandatory to consult a local regulatory office managing small businesses. There are several cases when a business license is not mandatory to start an online jewelry business, if you are planning for a production unit make sure you abide by the legal requirements and safety measures.
Q3. What are the basic tools I can use for making jewelry? 
Ans: The answer entirely depends on the type of jewelry production you are aiming for. Even if you have less upfront cost and no equipment, you can still make it as a professional jewelry company in the market. You can take up a print-on-demand production approach that requires no equipment.
(Visited 109 times, 1 visits today)