Business From Home – The Ultimate Guide To Start A Candle Business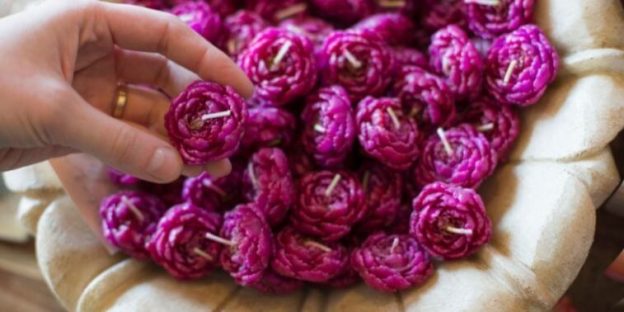 People for whom it is a passion more than a hobby – I am here to give you a ride from scratch on how you can start a candle business from home? If you are enthusiastic about candle-making, this business will give you a source of earning from your passion. The article is here to give you entrepreneurial tactics on how you can sell homemade candles online and monetize your talent.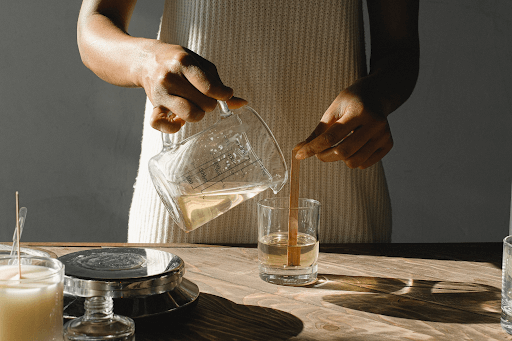 Highlight: You will never run out of ideas or motivation if you are living your passion every day.
Do you need a proper setup to start a candle business? No, you can start from a small home venture and make money online from this business. Candles are a culture more than a fad and so the time for beautiful and innovative candles will never fade out.
Your Roadmap To Start Selling Candles Online
1. How Candle Making And Selling Is A Lucrative Business?
2. Benefits of Starting A Home-made Candle Business
3. Kinds Of Homemade Candles
4. How To Start Your Own Candle Business?
5. How Can You Get Identified In This Over-Saturated Market?
6. Sell Candles Online – Tips and Tricks
7. Start Your Candle Making Business Today
How Candle Making And Selling Is A Lucrative Business?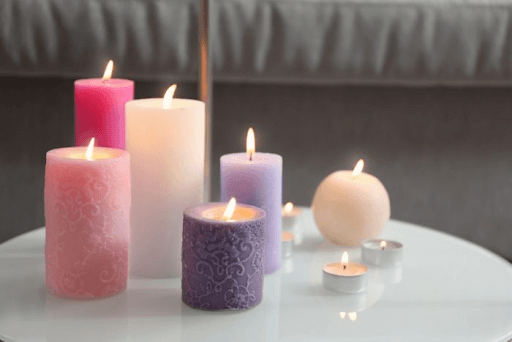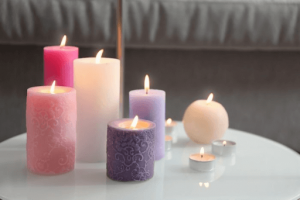 (source: home business magazine)
Candles are made and sold everywhere around the world so the market for candles is not small and is never going to exhaust for you.
Moreover, people cherish an assortment of candles from scented melts to designer pieces, simple church candles, one-of-the-kind candles or as gift sets, they like to decorate as well as lighten their homes with beautiful homemade candles.
Among the long list of homemade products that are sold in the market, candles are fun and easy to make. You can easily start a home business, side business or full-fledged production unit keeping candle making as the crux of the deal. 
Commercial Viability Of Candles 
The candle industry is expected to be a 5 billion dollars affair all because of people who love to decorate their homes with such assortments. 
In the past few years, the commercial use of candles has seen a steep rise with spa and massage centers using scented candles to create a soothing atmosphere, also restaurants promoting candle light dinners or musical nights with candles being the charm of the evening.
Not to stop here, customers buy assorted candle sets and use them to decorate the entrances or other focal points of their home for aromatherapy, relaxation or stress release. Taking to google trends the global interest for candles is increasing constantly.. 

   (source: google trends)
And while candle buying is a worldwide consistent trend, the countries that welcome homemade candles with zeal are UK, Australia, USA, Ireland, and New Zealand. These are certainly the hotspots for aspiring entrepreneurs who are looking for a market (national/international) to flourish their business.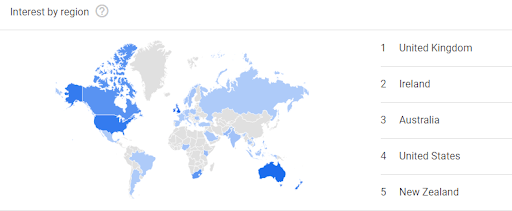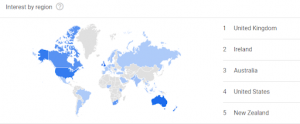 (source: Google Trends)
Market Analysis
No matter if it is candle-making and selling or any other home-born business, prior market, and trend analysis is your savior in fetching the most appropriate knowledge of what your potential audience likes. Spend accordingly, spend wisely.
You can rely on sources like Google Trends, Facebook Audience Insights, and Google Keyword Planner to get insight into what people search the most on these channels. While Google is the highly preferred search engine in the world, Facebook is the largest platform that binds the entire world together – with the help of the two you can come up with the best market analysis and concrete solutions.
Google Trends shows a different interest graph for different categories of candles – from scented candles to soy candles, there is a specific derivative on what entices the customers in the candle gene. This analysis is a great lead for you to start your own candle business.
Benefits of Starting A Home-made Candle Business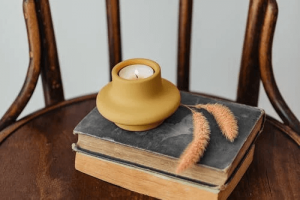 Not only in terms of demand but there are other aspects that highly favor an aspiring entrepreneur in terms of starting a candle business.
Here is the checklist of advantages for you: 
1. Low Capital Cost
It costs endless passion and a little initial upfront cost to own candle business. You can kick-start your candle-making business from home as there is no need for heavy machinery. This itself saves a lot in your pocket. Apart from that, most of the raw materials are cost-effective. Although, there are some candle varieties that require pricier and delicate raw materials but they can later be included as and when you scale in your business.   
2. A Worldwide Market 
Wherever you go there is a lucrative market for homemade assorted candles. You can easily get into craft exhibitions and various other local markets with your beautiful masterpieces. Above that, homemade candles can travel the world which gives you a clear advantage of expanding your business online and offline both ways. 
3. Easy To Learn
A couple of candle making courses or tutorials and you are good to turn your dream into a reality. 
Candle making is an easier process once you get the grasp of it. These tutorials will tell you the key considerations on how you can create commercially viable products. Also will give you a face-off on what's new within your niche. There are endless courses and tutorials you can see to grow from the point you were on yesterday.   
4. Easy To Scale 
It is easier for you to grow in the right direction with your candle making business. Starting as a hobby to a business and then to a brand – various small businesses have successfully achieved their dreams. 
5. Innovative And Fun 
With your passion for candle making you will never run out of motivation and every single day will be fun for you. The segment has a lot to explore and innovate – there is a lot of room for your imagination to grow and result in some exclusive high-end designs that will become the signature of your brand. 
6. Highly-Customizable  
As said above, you can become as innovative as you want and create some great masterpieces that will be the signature of your brand. As a USP (Unique Selling Point), you can come up with customized gift sets for various festivals and occasions. Personalize your products and give a variety of options to distinguish your business from your direct competitors.
I thought of it as a full-time/part-time business, candle making can be a big gig for you in the coming years. Above that, the aforesaid checklist contributes to the value of the business.
What else can you do sitting at home?
-> Start A On-Demand T-Shirt Printing Business 
-> Start A Dropshipping Business   
Kinds Of Homemade Candles 
When you are preparing for a catalog make sure you have a variety to offer. Clients are less likely to dart to your competitors if you have a variety to offer them. All in all the probability of converting the clients is directly proportional to the size of your catalog. Also, it gives you an innovative edge that catches every single eyeball.
You cannot afford to ignore the types of homemade candles that will contribute to the catalog for the homegrown candle business. Although these below-mentioned candle types have different raw material requirements, you can easily make them at home. 
Soy Candles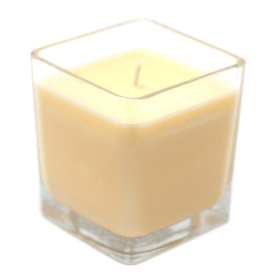 (source ancient wisdom)
Soy candles are in the limelight these days for their non-artificial contents, which makes them the preferred choice over the old-school paraffin-based candles. These types of candles are made of soy wax which is derived from soybean and other vegetable oils. People are more particular about their health and lifestyle, due to which the segment is expected to grow at a CAGR of 8.5% by 2025.
Quick Benefits
-> Non-artificial 
-> Made from renewable resources 
-> Burns longer. 
-> Paraffin free 
Scented or Aromatherapy Candles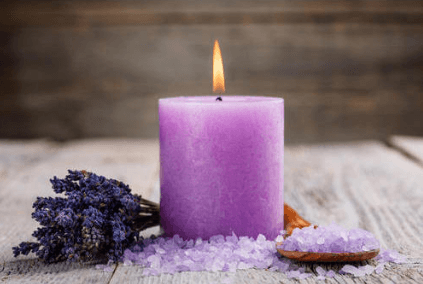 As the name has it, scented candles have an aesthetically pleasing aroma that gushes any foul smell from the room, creating a soothing aura and instantly relaxing the brain. These scented or aromatherapy Candles come in a spectrum of aromas that allures people with different smell preferences. So it is safe to assume that there is a fragrance for every person and occasion.
Aromatherapy candle makers make products in certain scents that have mental and physical benefits. The major ingredient here is essential oils that promote physical and mental healing. Like lavender is associated with relaxation and stress relief.
Quick Benefits
-> Variety of scents 
-> Comes in colors as well 
-> Good to charm up the regular evenings or occasions 
-> Gushes out any foul smell.  
-> Refreshing baths with a scented atmosphere. 
-> Has a huge commercial market. 
Vegan Candles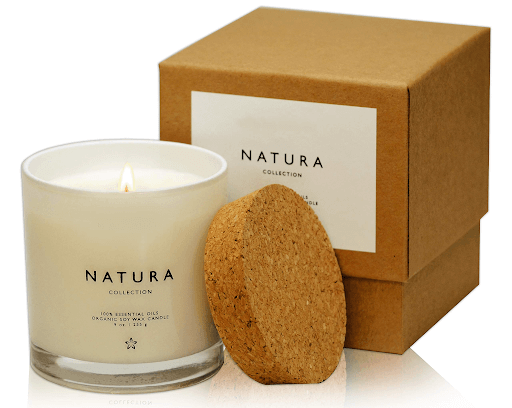 People are nowadays concerned about certain ingredients being used in the products they consume. The same goes with the candles. There is a category of people who buy only vegan products (without animal ingredients). Evidently, regular candles are made with beeswax and other animal byproducts which are not preferred by such people. These people are in abundance worldwide.
Quick Benefits
-> Made with soy wax, plant-based wax, fragrance oils, and other natural fragrance. 
-> Non-artificial product 
-> An advanced version of simple soy wax.
-> Growing consumer graph of people using vegan products. 
-> Comes in different fragrances.
Home Decor Candles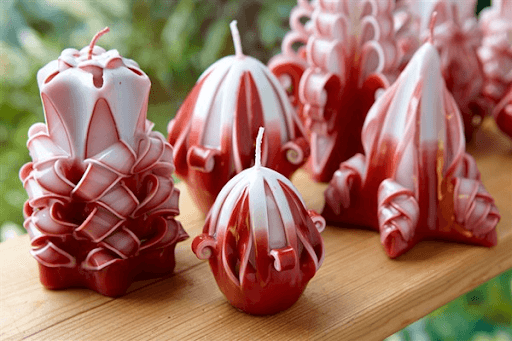 (source: creative candle art)
Available in almost every home decor store, the market for home decor candles is ever-increasing. Such candles come in various sizes, shapes, and colors making your home look beautiful without any limited edition artifacts in the house. Skies are a limit for innovation with such candle types you can bring in various designs, experiment with colors and fragrances.
Indeed the pocket-friendly way of decorating your home, these decorative candles come in unscented versions as well that can be enjoyed by people with migraines or allergies to scent.
Quick Benefits
-> Endless designs, colors, and flavors 
-> You can take inspiration from literally everything in this universe.
-> Magnificent yet complicated designs. 
-> Designs can be the unique selling point for businesses. 
How To Start Your Own Candle Business? 
It's been two years since the first worldwide lockdown and being at home has taught us many things to do remotely. If work from home is possible, then running a business from home is also possible.
Step-Wise Guidance To Start Your Own Candle Business From Home
Step-1: Market Research 
Step-2: Set Up Your Brand 
Step-3: Find A Business Name 
Step-4: Write Business Plan 
Step-5: Manufacture Candles
Step-6: Create Your Online Store 
Step-7: Make A Marketing Strategy 
Market Research
Market research is to find the scope of your product, its demand, target audience and competition in the market. A business started without a proper market analysis will not be able to survive for long. Know the intensity of the demand for specific candle types and channelize your investments accordingly.
Half the war is won if you know your target market. This is why we are breaking down your target market into three segments:
1. Prestige
Luxury candle concepts are new but we already have a fair demand for the segment in the candle market. This demand is giving clear motivation to brands like Louis Vuitton to make prestige candles. These candles involve high-quality raw materials, premium packaging, exotic fragrances and the brand's storytelling. Luxury candles are sold from $30 to $185 per piece. People with deep pockets and looking for high-end quality with trust are your target audience here.  
2. Mid-market
Such mid-tier candles already own a competitive edge in the market. These candles are made with fair quality ingredients and have typical and elusive scents like rosewater scent, grapefruit, basil. These candles go for $ 10 per piece. With company branding, you are most likely to sell your product to every type of consumer.
3. Mass market
These are the low-priced candles that hold quite a large chunk of the demand in the market. Made with basic ingredients and fairly common essences like vanilla, ocean breeze, etc, these candles go for $5 to $8 per head.
Decide which target market to go for? Do you want to sell candles through a physical store? Or create an online brand website to facilitate sales. For instance, if you want to own a brand and target the premium market, then prestige candles are your choice.
More than 80% of your endeavors depend on selecting the target market. This will help you with material sourcing, branding, pricing, marketing and packaging. Once you have decided on your target market, it will be easier for you to decide the type of candles you want to create and sell.
Take your time and perform more specific research on what type of candles customers buy – soy, vegan, eco-friendly, decorative, or scented and set your catalog accordingly. 
Set Up A Brand 
Branding is an inevitable part of starting your own candle business. It helps you with communicating and influencing your target audience and converting them into your loyal clientele. Plus, if we dig deeper, owning a brand will help you connect with prospects, let them recognize you, and relate on a personal note. Not to forget this saves a lot of your marketing efforts.
Until you are not selling wholesale products under other retail brands, branding is a must for you to be identified in the market. As the homemade candle making sector is developing exponentially, the brand keeps you afloat and visible in the market.
How Can You Get Identified In This Over-Saturated Market? 
=> Unique concoction of fragrances 
The fragrance is mostly the decision-maker while purchasing a candle. Therefore it is recommended to come up with unique concoctions of fragrances that people can't resist.
Moreover, introducing such unique concoctions as your brand's signature will help you get identified in your local as well as international market. With not much marketing effort. Always try to come up with complex yet sophisticated fragrances that buyers cannot find anywhere else. The other way to entice people is to create a sense of mystery and intrigue in your fragrance. 
=> Brand story 
Storytelling is the most influential way to connect with potential buyers. This is a narrative that shapes your brand, communicates with people and helps them relate with your business. To be remembered, it is a bridge that connects you with the world through a mission, vision, message and voice. The brand story you narrate holds the capability of striking hearts directly and therefore it should be captivating, human and honest.
If done right, storytelling has a never ending impact on the customers making them stick to your brand for a lifetime.
To create a striking story ask yourself these questions:
-> What made you start a candle business? 
-> Who are my potential clients? 
-> What impact do you want to leave on them? 
-> What are the benefits of your products?
-> How is your brand different from others?
=> Brand's Visual Identity
Brand's visual identity (logo, website, photography, catalog, social media presence and packaging) strikes every eye in the first glimpse. This is the most personalized way to interact and leave a mark on your product. When it comes to the candle business, you might want to drag all your attention to the aesthetics of your products. Consumers use candles for scents, designs, colors and decorations. Create a visual identity that compliments the purposes of the product.
It is often time-consuming and exhausting for people to gather experts for different tasks – logo designing, digital marketing and website. What if you get all under one roof? Branding is a quick process if you do not have to wander from agency to agency.
With Vervelogic you can get multiple Logo concepts designed and customized especially for your business. More than that, you are assured of getting expert guidance on e-commerce website development, testing, debugging and digital marketing – everything under one single roof.
Find A Business Name 
Every business gets identified by its name. By now you might have pooled some amazing candle business name ideas but now is the time to finalize one. With regards to the name you have decided, make sure that is simple, intriguing and compliments the purpose of your business.
In the run to keep some fancy brand name, people often get distracted from the major purpose of their business. More than appeal, the major purpose of the business is to convey the right message about their services. Still if you are stuck with a business name, seek help from Vervelogic experts who have been in the business for more than 10 years now. Discuss with us the purpose of your business and we will put our insights into finding professional, easy to pronounce and memorable business names that instantly strikes your clients.    
Write Business Plan 
Business plan is basically the paperwork that documents every aspect of a startup. From manufacturing operations to selling, marketing plans, goals, potential risks, investments, catalog listings, raw material sourcing, and so on.. This is the entire picture that is painted with context to starting your own candle making business. Writing a business plan is a must for every business and more than that it is important to write the complete business plan. What to include in a business plan? Click Here for info.
A perfect business plan helps you make wise decisions regarding your candle making business. Make realistic goals and keep in mind those goals, so that it could guide you with your future endeavours. Moreover, if you are seeking investments or business loans, it becomes mandatory for you to prepare a business plan that has graphs to predict the scope of your business in the near future.   
Manufacture Candles
As said above, you can create some beautiful melting artwork to allure and sell to your clients by simply being at home. Yes, you can turn a corner of your home into your small production house. Out of all the other small business ideas, candle business is one of the best low-investment startup ideas you can pursue with the intention to make it big in the future. 
So how to make candles?
Step-1: Get The Ingredients and Small Tools
You need to know which type of candle you will be making to order raw materials and other tools from e-commerce sites like Amazon, Flipkart or Alibaba. 
For basic soy scented candle making you will need:
a. Soy wax
b. Wicks 
c. Super glue
d. Non-toxic crayons
e. Essential oils
f. Moulds or jar
g. Wax container or double boiler
h. Spatula 
i. Thermometer
j. Pen
Step-2: Prepare The Containers and Moulds
Let's start the action. Now prepare the double-boiler to melt the wax. Fill the bottom part with water and put the boiler on the burning stove. Pour the wax into the boiler and stir it with the spatula until it is in its perfect consistency. Make sure there are no lumps in your melted wax.
As the wax is melting, meanwhile take the superglue and stick the end of it to the bottom of the jar – this will keep the wick fixed to the jar when you pour the wax.
Step-3: Customize The Wax Mixture
Once your soy wax is in the proper consistency, take your preferred essential oils and pour a few drops into the melted wax to give it a nice fragrance. Make sure to use only a few drops as these are concentrated oils and can damage the fragrance of your candles if used in larger quantities. Use non-toxic crayons to give color to your candle wax.
Once all the ingredients are poured into the melted wax stir them properly and let the mixture cool to reach 130 – 140 degrees F. Use a thermometer to check the temperature.
Step-4: Pour It In Moulds or Jars 
Pour the wax into the molds or jars whatsoever in your shaping container. Hold the wick up with one hand and with the other pour the solution gently out of the pan. Fill up a 3/4th of the jar or the mold with hot wax. To keep the wick straight, tie the wick to the pen and keep it on the top of the jar, or for molds go with toothpicks. 
Step-5: Give It A Finishing Touch
Once the wax cools down you can see a small sinkhole around the wick. Take the melted wax and fill it into the remaining quarter of the jar. Cut the excess wick with the scissor and your candle is ready for sale.
This is the basic way to make candles. There are advanced candle making courses and online tutorials that will tell you how to make innovative and minutely detailed candles. Leverage from such courses to create some innovative and best-selling candles.  
Create Your Online Store 
From market analysis to branding, business planning and manufacturing – you have almost completed 60% of your journey to start your professional candle business. Now the question is how to establish a market for your business? Where to sell them? With everything going digital today, take your business digital by owning a dedicated e-commerce store. 
How does this benefit? 
-> This reduces the cost of owning a physical store with upfront inventory. 
-> Reach out to new markets easily. 
-> The Internet knows no boundaries, you can get even outsiders to purchase your product. 
-> Visibility and marketing are easier. 
-> Digital marketing is relatively cheaper than hoardings and offline marketing. 
-> You can get direct leads from social media to your e-commerce site increases the chances of conversion. 
-> Build an online authority and increase your reach with the help of a dedicated e-commerce store.
Why create your own eCommerce store?   
Switching to third-party e-commerce sites like Amazon, and Flipkart is still an option for you but this will not give you an edge in your business. These marketplaces are already saturated with other small retailers or manufacturers selling the same products. Displaying your brand with that of your counterpart might reduce your chance of converting the client (the probability remains 50-50).
Also, owning a dedicated e-commerce store will contribute to quick SEO and SMO practices and you can customize your store as per your business nature which is still not possible with these third-party platforms. You get the complete benefit of branding and customization with your own eCommerce store. Get the complete guide on e-commerce web development for your candle business with Vervelogic.
Bonus Link: What Is The Cost Of Starting An E-Commerce Website? 
How to create an online eCommerce store? 
Leave something for the experts. The best eCommerce web development company takes care of your online store requirements. From web strategizing to designing, development, testing and debugging everything is under expert web developer's forum regarding your candle selling business. Web experts at Vervelogic leverage rich technologies like Magento and WordPress to create business-oriented e-commerce platforms for you. 
Make A Marketing Strategy 
Ok, you have a full-fledged business and a robust e-commerce store to sell your candles, but how do you let the potential clients know about your business? As discussed earlier the market for candles is huge and the only way to cover most of it is through online and offline marketing.
Product marketing is aimed at creating brand awareness, recognition, rapport, constant communication and authority.   
Online Marketing Strategies
Online marketing channels like search engines, social media, your e-commerce site and other third-party websites will help you expand your clientele. Almost the entire world is on Facebook, Instagram, and Linkedin. And use Pinterest, Email, Google and Snapchat on a frequent basis. Online marketing strategies involve all these platforms to analyze the demand and accordingly advertise your business to just the right audience.
Online marketing is my personal favorite as this is a cost-effective and highly efficient medium to reach thousands & millions only through the internet. Turn to us to know more about digital  marketing services and how we can improve the online visibility of your brand. 
Offline Marketing Strategies 
Both online and offline marketing can go hand in hand in increasing the reach of your candle business. Offline marketing includes selling the product face to face, getting direct feedback, verbal communications, word-of-mouth, friends and family networks, reaching out to resale business, attending exhibitions and trade shows, distributing flyers and brochures, etc.
Whether it's online or offline marketing, you need to find the perfect target audience and create relevant pitches to leave an impact on them and influence them to buy from your brand.
Bonus link: 103 Social Media Post Content Ideas To Increase Engagement (the most recent list).  
Sell Candles Online – Tips and Tricks 
(source: simply business)
-> Amazing Product Photography – Use correct lighting and lenses to capture some great candle clicks. As you are operating online, the customer's decision depends on the photos that you upload. Make sure the candles have clear shapes, colors, size, and appeal. Take high-quality photos to make customers feel the quality of the product.
-> Relevant Site Content –  Upload informative written content to guide the customers more with the product's quality and ingredients. This is mandatory as some people are allergic to certain scents and incomplete information might be misleading to them.
-> Always look for more selling opportunities – Retaining the customers is more cost-effective than marketing every time to new customers. Use customer retention strategies to retain your clients with a personalized user experience and ease to shop remotely.
-> Expand Your Premises – Why restrict your market to candles? Once your candle brand gets well known among your target audience through digital marketing, social media and e-commerce sites, you can use this popularity to incorporate other accomplishments that complement candles like soaps, bath bombs, lip balms, lotions, perfumes, concentrated essential oils, etc.
-> Give Holiday or Festive Discounts – Discounts and seasonal offers are two of the major reasons why people like to shop from particular brands. More than 35% of the yearly candle sales happen during Christmas and 76% of the candle buyers view the product as an apt holiday gift. Contribute to the happiness of the festivals as well as make double sales in the season by giving discounts on candle packages. 
-> Stay on top of trends in your segment – Staying updated is the only way to be on the top of your segment. Get complete insight into the current trends, likes and dislikes of the customers through Facebook IQ, and Think The Google – the platforms give you insights into new product ideas, fragrances and marketing campaigns helping you promote your brand effectively.
Start Your Candle Making Business Today  
If you are planning to start your candle making business, now is the high time to do this. This is one of the lucrative homegrown low-investment businesses that can help you earn a lot in 2021 and ahead. The article holds everything you need to know about starting and sustaining your candle business. Take this article as an inspiration for your big gig in 2021.
With innovative candle making ideas, online e-commerce sites and best digital marketing practices you can easily gain client strength (in domestic as well as overseas markets).
Looking to start your store today? Let's divide the work. While you are invested in other segments of progress, let Vervelogic take care of branding (business name, logo and product packaging), e-commerce web development, and digital marketing (domestic and overseas) of your candle making and selling business.
(Visited 1,098 times, 1 visits today)