Best iPhone Parental Monitoring Apps in 2021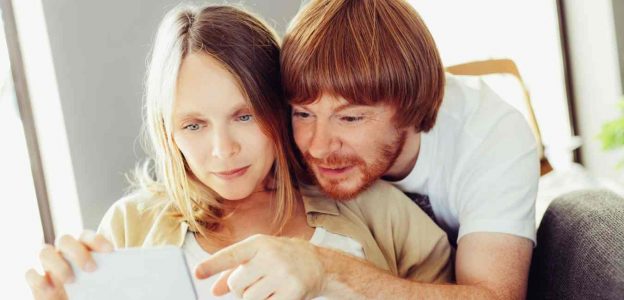 In this advanced era, crimes against children are also increasing day by day. So, it makes the security of the kids really important. Not only about the crimes, sometimes kids can find themselves in the unwanted situation which you can avoid as a parent by tracking their steps. Because of the internet too, the security of our kids from the threats that come from the internet is really crucial. Even cyberbullying is on the rise all over the globe. Among parents from all over the world, Indian parents have expressed that their kids were cyberbullied at least once in their life. We understand that kids can be kept away from these devices and thanks to Coronavirus we are going more and more digital day by day.
So, it becomes important for us to secure our kids from the dangers of the internet. Yes, it can be difficult to do if you do not have the right means. Moreover, there are many locations tracking mobile applications that can make things easy for us to track our kids every step. But knowing which app to install on your phones is also important. Nobody wants to invest in scams or the services they do not want. So, we have made things easier for our readers.

As the world is moving towards advancement why not use this advancement to keep our kids safe from all the things this world has to offer. We understand that you might not have enough time to search for the right parental control or a tracking mobile application by yourself. So, to make it easier for you we have come up with a list of the best iPhone parental monitoring apps to use in 2021. You can also have a look at the best phone tracker apps which contain the data for both android and iOS users. But this one is specific for iPhone users. Without further ado let us have a look at the best free parental control app for iPhone. 
1. FamiSafe iPhone Parental Control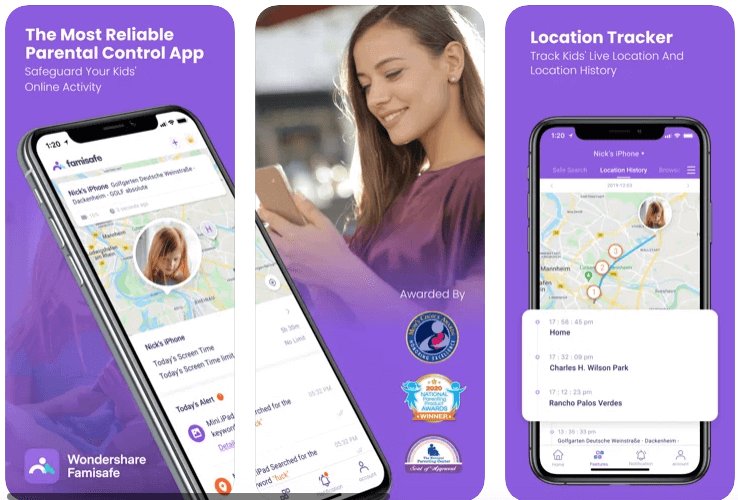 Famisafe is a very popular and one of the most advanced parental control apps for iPhone users. If you are also an iPhone user then it is a must-have application for you in your phone. It offers you easy access to content monitoring, web monitoring, screen time, remotely screen time schedule, instant block of apps, and much more. It is free of cost to use Famisafe but for some additional and advanced features, you need to pay $9.99 per month. The most notable features of the best child monitoring app are: 
-> Allows you to track your kid's current location along with their location history which makes things clear for you
-> Gives you an alert if kids break the planned zone
-> Filter websites to save kids from the threatening sites
-> Detect Social Media
Download the top child monitoring app in your iPhone – Famisafe
2. Find My Kids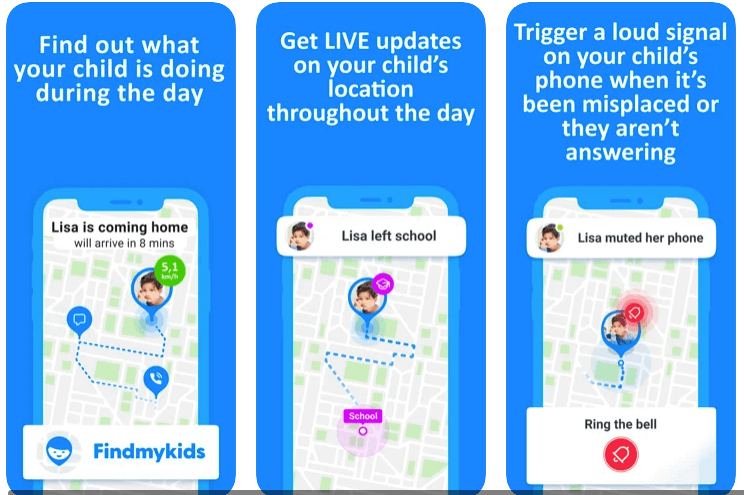 As the name suggests, Find My Kids is one of the best child monitoring and parental controlling apps.  By offering multiple features at a single place like the real-time location of your kids along with the exact path you have chosen. You will get notified once your kid reaches the school or home as you will also be able to know what's happening in their surroundings.
As a leading iPhone parental monitoring app, it also records the noise taking place near the child. It also allows kids to make emergency calls through the app or smartwatches they have launched. Find My Kids also offers statistics reports to download which contain your kid's activities and the locations they were earlier.
Download the best free parental control app for iPhone – Find My Kids
If you are a business and looking to create such an application that makes these things easier for kids and parents then you must have an idea on how to make an app for kids. 
3. Teensafe Parental Control for iPhone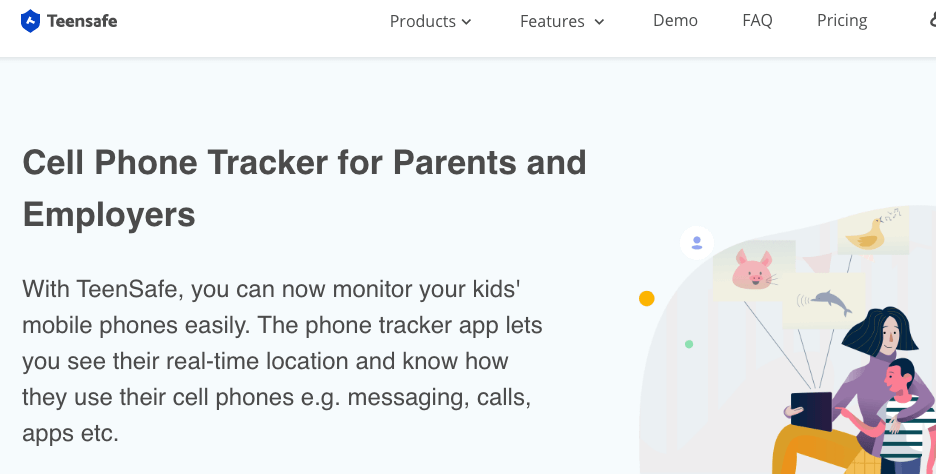 As mentioned above cyberbullying and online frauds are increasing day by day and because of which we need to keep our kids in control. Teensafe Parental Control for the iPhone is specially designed for such tasks and keeps your child safe from all of them. It allows you to track real-time location, text messages, calls, and most importantly social media app monitoring which you usually do not see in many parental controller apps.
Teensafe parental control also informs once your child reaches or leaves a place. It also makes the process easier by giving you the web browsing history and tracking of top messaging applications like Kik and Whatsapp. Teen safe Parental Control app is free of cost as you do not have to pay anything for this top iPhone monitoring application.
Download one of the best child monitoring apps – Teensafe Parental Control for iPhone
4. FamilyTime Parental Control for iPhone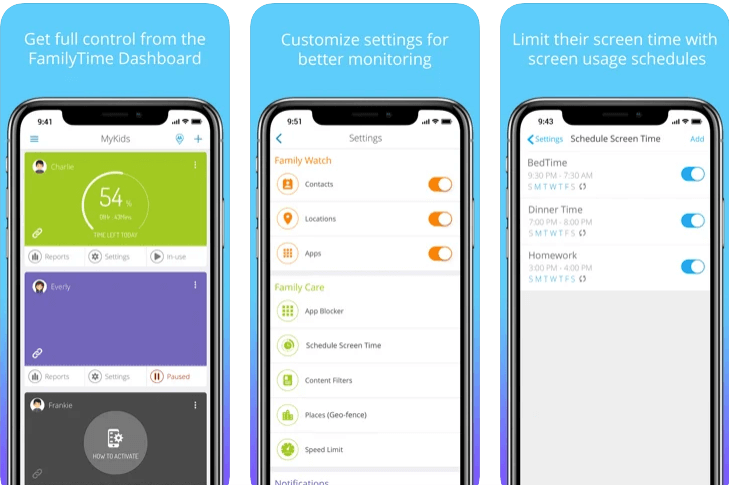 FamilyTime Parental Control App is among the world's powerful parental control apps which offer top features like monitoring and managing kid's cell phone activities like app blocking, internet, location, phone logs, geofencing, and much more. It also offers different modes like bedtime more, homework mode, and dinner mode. You can also track the kid's social media interests like Facebook, Twitter, Instagram, etc. Their monthly package is available at just $1.15 monthly. One of the best features of the FamilyTime Parental control app is its SOS facility which notifies you immediately of your kid's current location.
Download the top child monitoring app – FamilyTime Parental Control for iPhone
5. PhoneSheriff iPhone Monitoring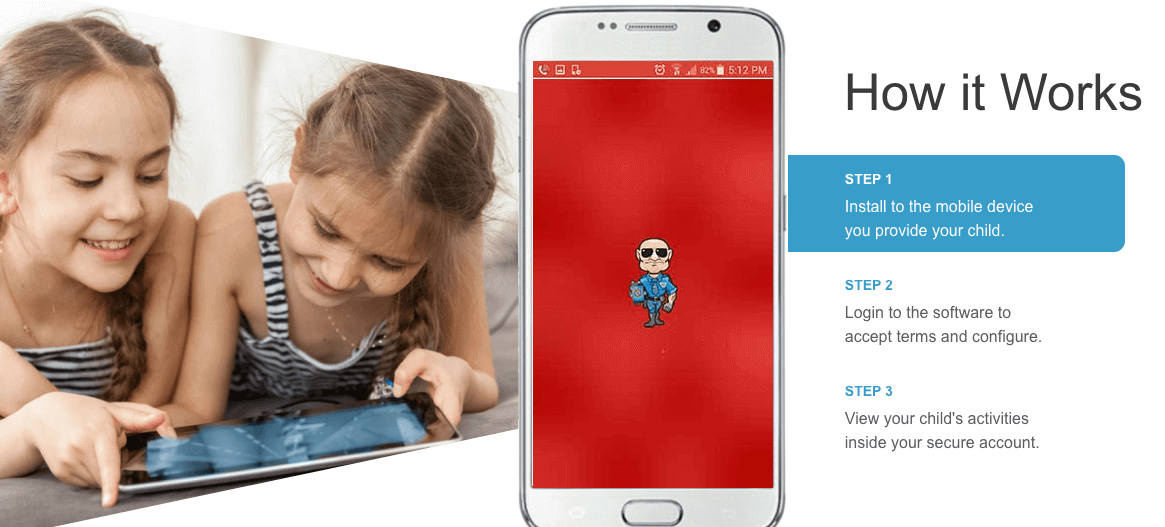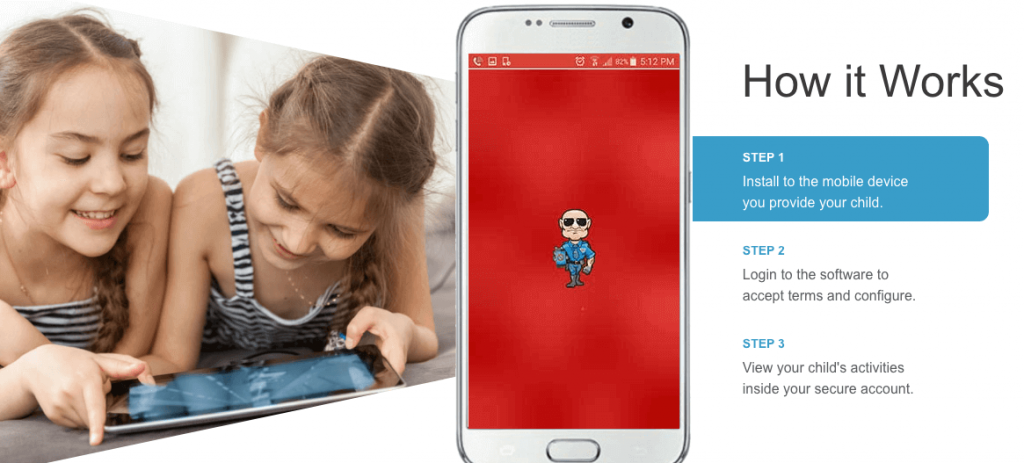 If you are also worried about your child's phone or tablet usage then you must use the next parental control app which is also known as PhoneSheriff. Let us have some amazing features offered by PhoneSheriff:
-> Real-time location tracking and lock commands along with previously visited location history
-> Block phone numbers from outbound or inbound calls
-> Allows you to monitor all the text messages
-> Offers app blocking services along with and custom time restrictions for tight control
As PhoneSheriff is offering so many services, it also makes you pay $89 which is very expensive for some honestly for me too.
Download parental control iPhone app – PhoneSheriff
Sometimes all you look for is location tracking apps so you can track your kids' exact location. But we can understand that it can be difficult to find the right app to download. So, to make it easier for you, we have a list of the best location tracking apps.

6. Ourpact Parental Control for iPhone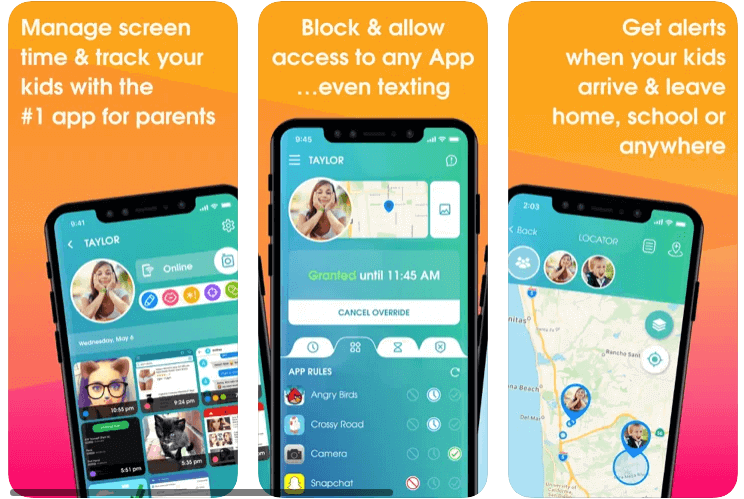 Ourpact Parental Control app for iPhones is another top-rated, complete screen time parental control app, family locator offering screenshot views of your child's online activity. The top features of Ourpact Parental Control for iPhone are:
-> Allows you to block text messages, the internet, and app at a touch
-> Receive alerts when new apps are installed on your child's phone
-> GPS geofences around specific locations and receive real-time alerts
-> Ourpact also allows you to locate individual devices like iPhone and iPad
-> Provides features like screen locking, adult images, web-filtering, video blocking, etc.
All these features make Ourpact parental app perfect for every family size. It only costs you around $2 which is very reasonable as compared to other apps.
Download the parental control iPhone app – Ourpact parental control
7. iPhone Monitoring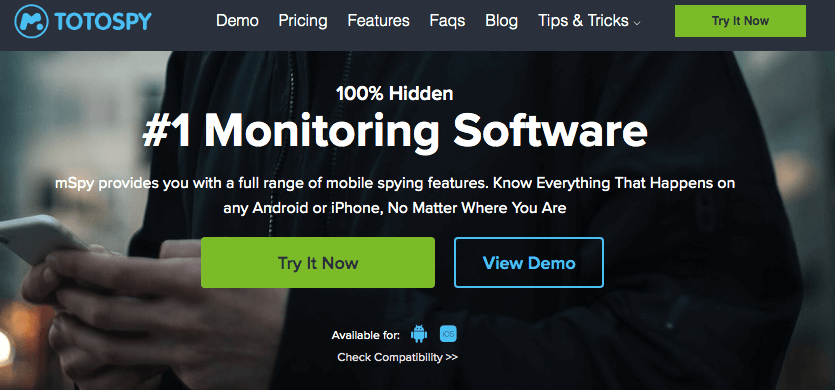 As we are moving ahead with the list of our parental monitoring apps, let us have a look at another top-class app known as iPhone monitoring.  It helps in creating an online space for your loved ones to ensure safety. With iPhone monitoring, you can manage your kid's social media accounts, real-time location, and much more. It uses geofencing to locate kids, offers screenshots of call logs, and past visited locations.
Its premium version costs around $33.33 per month which can be costly for some users. Download the best child monitoring app for iPhone – iPhone Monitoring.
8. Netsanity iPhone Monitoring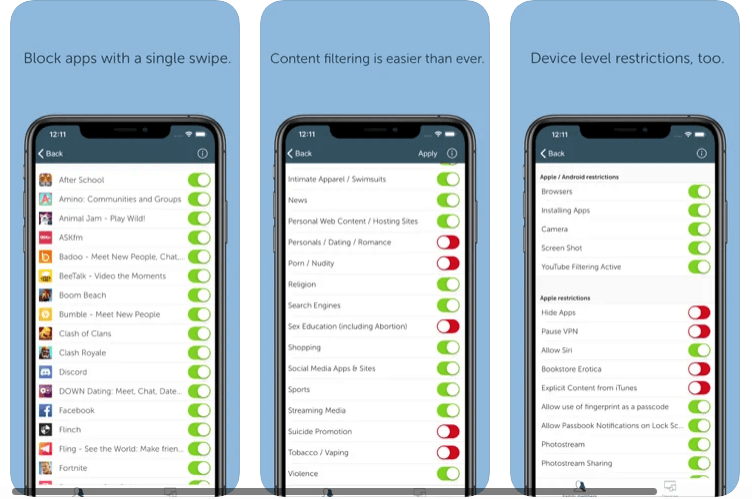 Netsanity is another high-level iPhone parental monitoring app that is an expert in kid's security and location. The best part about Netsanity is that it can work on several iOS devices including iPhones, iPods, iPad, etc. The top features of Netsanity monitoring are browsing filtering, content blocking, location, social media use.
Netsanity allows you to keep a close eye on your family no matter wherever you are in the world as you do not disturb them by calling again and again. It offers a 14 days trial period and costs around $59.95. You can also schedule screen time to restrict the usage of the phone at night which makes it one of the best mobile app development company which has also come up with a list of top image recognition apps which help you find more information about the products around you within seconds.
Download the top iPhone parental monitoring app – Netsanity iPhone Monitoring
9. Mobicip iPhone Parental Control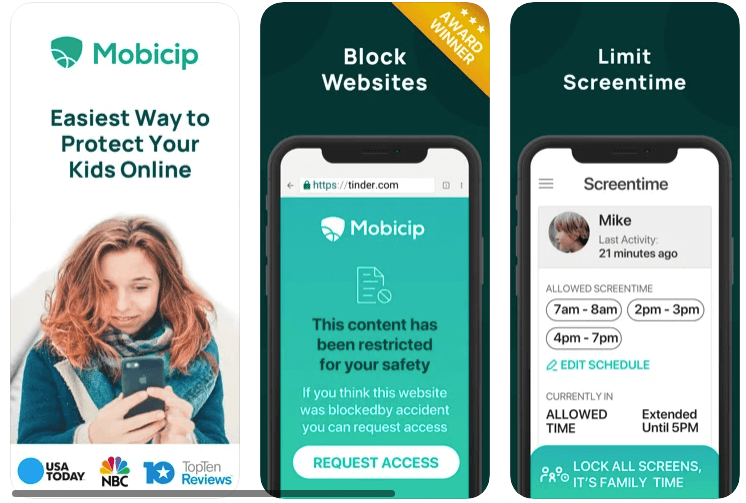 Mobicip parental control and internet filter app that allows you to protect your family from extra usage of the internet, manage applications, limit screen time, and track location which makes it a top iOS mobile app development company. It is not only available for iOS but also for Android, macOS, Windows, Chromebook, Kindle.
Using Mobicip you can also restrict the unsafe content, websites, videos on your kid's mobile. It can be downloaded in two versions, the first one is free and the second one is the paid version. Its paid version can be available at $39.99 which makes it affordable for everyone. Another top feature of this parental control app is that it works for 5 devices.
Download the best parental control app for iPhone – Mobicip
10. Netnanny iPhone Monitoring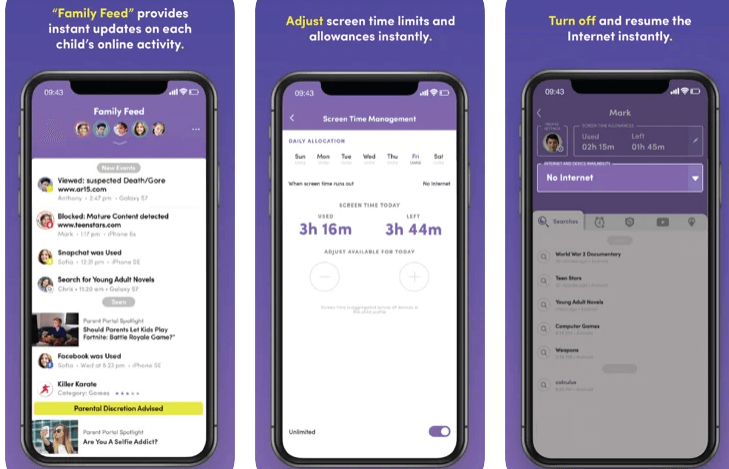 As we have approached the end of the list, let us have a look at the final iOS monitoring app which is known as Netnanny iPhone monitoring. With Net Nanny you will see the following features:
-> Updates on app used
-> Instant alerts if the phone has switched to drugs, pornography, suicide, and other inappropriate content 
-> Statistics on the internet searched 
-> Offers app block services
-> Gives you a list of apps your child has used
-> Net Nanny also allows parents to know and then allow or block the apps their child has downloaded on their device
Net Nanny also allows you to generate a report as per your need. This application is compatible with all iOS devices and you need to pay $12 per device.
Download parental control iPhone app – Net Nanny
With so many children's phone monitoring apps, we know what other things are important in our lives. While surfing through your phone we want to save something off the internet but not every website allows us to save or download the content. But many sites and mobile apps restrict the content. So, we have compiled a list of the best screenshots apps in 2021.
These are the top 10 iPhone Parental Monitoring apps available on the Apple App Store and make things easier for you. We hope you find the right mobile app to monitor your kids so they can never cross the wrong path.
Moreover, if you are planning to create one such application or finding 20 android app development trends to watch out for in 2021 then a top IT outsourcing company like VerveLogic is there for you.

We're VerveLogic and we've been serving our clients with our IT, designing, and Marketing services since 2012. Every day, our team of dedicated professionals works to make this world a little better through our premier solutions. Our exclusive services include Mobile App Development, Web Application Development, UX/UX Designing, SEO, Digital Marketing, and IT Consulting like "how to reduce android app size during the development" and Digital Marketing Services to businesses from all around the globe irrespective of your business domain.
(Visited 124 times, 1 visits today)