The Best Kids Tracker Apps for Parents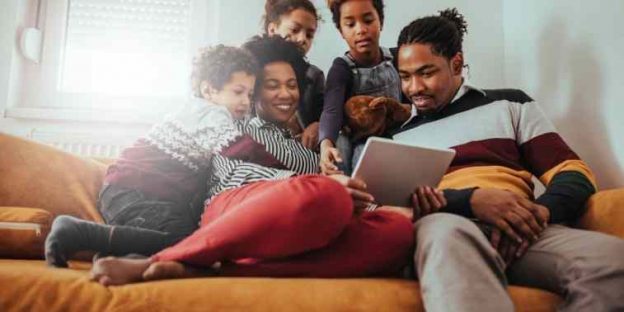 As responsible parents, we try to do anything possible to protect our kids from everything harmful we can. In this modern-day age, being online is a boon and bane both for us, especially for kids. As adults, we can't work without using the internet. But when it comes to kids they see the internet as an endless possibility in every way, no matter whether it is good or bad. Because of which it becomes more important for us to keep them safe so they don't get bullied, on the internet and while they are out in the real world.
As we are moving ahead with the new and innovative technologies. Today we have many free phone tracker apps which help parents from all around the world to keep track of their kids in real-time from anywhere in the world. These tracker applications can be integrated online with other electronic and effective gadgets like GPS smartwatches which are very well adored by kids and makes the task easy for the parents. Moreover, you must have an idea about the best family tracking apps to track your child's and family member's movement as well their online activity on their smartphone.
To make it easy for you we have come up with a list of the best phone location tracker apps so you know where you must invest your money to get the best results while tracking the location and steps of your kids. Before moving ahead with the top kid's tracker app let us understand what can trackers app do exactly?

What can Tracker Apps Do Exactly?
Tracker applications have many features which make tracking easy along with child's safety for both online and in the real world. For instance, the best tracker apps come with integrated GPS tracking technology which ensures you have a view of your kid's location in real-time. Apart from the real-time location you also get notified when they left and their location history so you can keep a close eye on their whereabouts. Whenever they enter an unfamiliar place you are notified through this app developed by a top IT outsourcing company which gives you peace of mind.
Also Read: 15 Best Phone Tracker Apps to find Lost Devices 2021
With top tracking apps, you get such features as internet search history, calls, and text monitoring so you know who they are texting and calling and at what time. Moreover, there are many tracking applications in the market that also allows you to set limits on your child's device which ensures they are not addicted to their phones, including social media and whatnot. If you are interested you can also have a look at our view on hybrid vs native mobile app development and which one is better for your business so you have an idea of which area of expertise would be perfect for you when it comes to mobile app development. Without further ado, let us have a look at the best apps to keep track of your kids.
Top 10 Kids Tracker Apps
The below child tracking apps can be found on both iOS and Android devices so every user can download and ensure the safety of their kids. 
1. Famisafe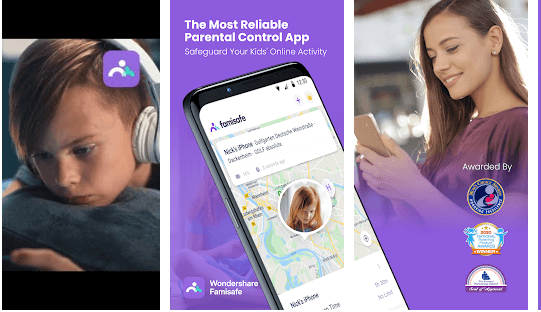 Famisafe is world-renowned and a high-quality tracking application available in the market. It offers some amazing features like tracking through geofencing for accurate results, selecting specific areas on your map so you can get a sound alert if your kid crosses the particular area. Being a top phone location tracker app, it also ensures that you are able to view text your child sends and receives, applications they are using the phone, and the websites they have visited earlier. The best part of Famisafe is that it alerts the parents with a notification if their kid is being bullied on the internet or in text messages and calls. Its unique filtering technology brings suspicious messages to your attention that may be threatening to your child. Let us have a look at some other features of Famisafe:
-> Full Parental Control
-> Cyberbullying alerts
-> Real-time location tracking through geofencing
Download the best GPS tracker for kids: 
2. Life 360 
Life 360 is another brilliant tracker application that helps you stay connected with your loved ones and kids from anywhere in the world and without knowing them. Let us start with some basic functions like real-time location tracking, place alerts, and location sharing with you. As every mobile app has something unique to sell, Life 360 lets you know the accurate time on how long it will take to reach a family member from your location. Well, you need to pay to get your hands on its premium version for some premium features like driver reports, roadside assistance which is perfect for concerned parents to know when their child can drive.
Life 360 does not come with any type of parental control as their major concern is to keep you connected with your kids and family when you are away. Let us have a look at the top features of the Life 320 which makes it a top-class android app development company. 
-> Help Alerts
-> Driver reports which contain data like braking, speed, and driving behavior of the driver
-> Location ETA
-> Driver Reports
Life 360 is also available for both iOS and Android devices
Also Read: 11 Best Apps for Parents in 2021
3. Spyzie 
As the name suggests Spyzie helps you spy on your kids through its unique and amazing features and ensures that your kids are safe when they are on the internet or step outside the home. It provides services like real-time location along with complete location history which helps you know about the places your kid has traveled. It also has to offer some amazing features which make sure that your child is safe.
Spyzie also allows you to take screenshots of your child's phone when they are using it. Another feature that makes spyzie the best family tracking app is its keylogging feature which comes up with a detailed report of all keystrokes which are made on your child's device. The other important feature of Spyzie are:
-> Real-Time Location Tracking
-> Keylogging Makes it unique
-> Allows capturing a screenshot of your kid's phone's screen
-> Detailed location history
Download the best family tracking app:
Spyzie has amazing animations in its app and if you wish to know how animations can help your mobile app then read which type of animation can improve the performance of your website and web apps to know better.

4. Find My Kids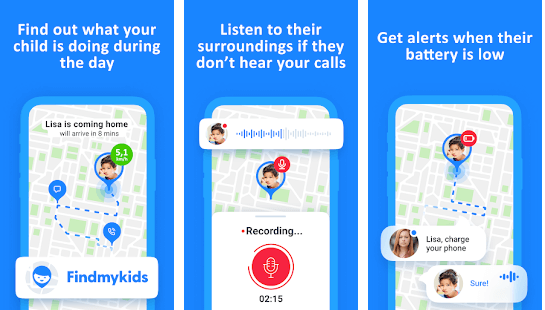 Find My Kid is another top-class phone location tracker app in the market that works efficiently and delivers results on time. It helps in locating your kids' location through GPS technology. But the best feature of Find My Kids is its amazing ability to record the sounds of your kid's surroundings which gives you peace of mind. Unlike Life360, Find My Kid offers a number of parental controls along with an option to view your child's activity on their smartphone. So you can make sure that your kids use smartphones wisely.
Find My Kids also offers some amazing GPS smartwatches for kids which can work as both location tracking and communication equipment as you can call and text your child and vice versa through the smartwatch. The other notable features of Find My Kids which makes it the best tracker app are:
-> Parental controls
-> Real-time location tracking
-> Notification if your child takes a different path
-> Smartwatch compatibility 
Download the best GPS tracker for kids on your android phone –  Find My Kids
Download the best phone tracker on your iOS devices –  Find My Kids
If you are also curious how the development of android and iOS devices functions and android versus ios users and why they behave differently when it comes to phones then you must read the next blog.

5. HoverWatch
Hoverwatch also works as your child tracking partner with a unique feature where it enables you to track multiple devices, basically 5 devices at one time. So, you can use this app to track the activity on smartphones and devices like tablets and laptops. So, you might have a question why multiple devices well in any case your kid uses more than one device. Hoverwatch comes with some basic features which can be seen in the top free phone tracker apps like location tracking, WiFi signals, and GPS. Let us have a look at the other features of Hoverwatch:
-> SMS and Call Tracking
-> Location Tracking
-> Track Social Media and Messengers
-> Monitor more than one device at once
The Hoverwatch is only available for android devices at the moment as you can also find it for Windows and macOS with their respective software versions so you can track devices from your PC or laptop instead of the phone.
6. Family Locator 
Family Locator is another top-class tracking app that is specially developed by keeping families in mind. It also offers some amazing features like tracking location with geofencing, location sharing, and also alerts when your family member enters an unknown or restricted area. The best feature of Family locator is an integrated messenger which makes things easy for you and your family members as it allows you to stay connected and update each other on your current location. It is the best feature when you and your family are traveling to a new country or place. Another top feature of Family Locator is its augmented reality feature, which enables you to use your camera on your phone in order to track your kid's location. Let us have a look at the other top features of the Family Locator App:
-> Geofencing
-> AR technology 
-> Location tracking 
-> Free Integrated messenger
-> Available for both Android and iOS
Download the best family tracking app for android
Download the phone location tracker app for iOS
In this modern age, we are using so many applications day and forth. Especially the banking app. Have you wondered how banks benefit from their mobile apps? If curious, read to find out how banks are benefited from mobile apps.

7. Bark 
Bark is a very popular tracker app that offers some amazing features to give you peace of mind once your child is exposed to electronic devices.  Bark allows you to view your child's activity, online behavior, and usage, SMS messages, and calls. It offers some amazing technology that makes it unique like it easily detects any kind of malicious content, harmful messages, and even if you are feeling depressed and suicidal. The other top features of Bark which make it the best GPS tracker for kids are:
-> SMS and call tracking
-> Distinct Email tracking
-> Check-ins
-> Social Media and messenger tracking
As a leading free phone tracker app, Bark is available for android here and for ios here
8. Glympse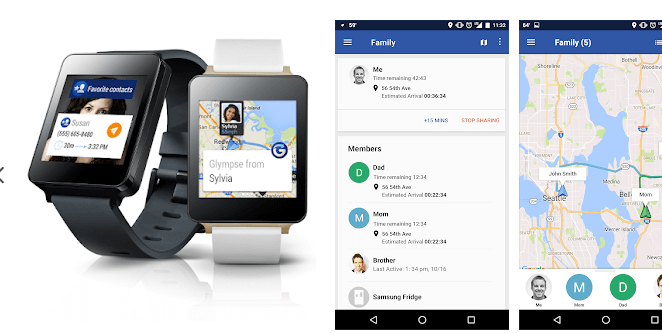 Glympse is another highly rated location tracking app on our list which is beautifully developed with a very engaging interface. Offering all of the location track essentials makes the process very easier to find more about your dear one's location. It also tells you the distance between you and another person and how much time is it gonna take you to reach them. As mentioned above every app has a unique feature that makes it a top-class iOS mobile app development company, similarly, Glympse has the ability to make a request from others to share their location without the other person having the app installed. All you need to do is to send them a request via SMS and they have to click on the link to share the location. You can download this best phone tracker app for both android and iOS. The other top features of Glympse are:
-> Real-time location
-> Temporary location sharing
-> Request someone's location without them needing the Glympse app
Download the Glympse app for Android
Download Glympse app for iOS
9. mSpy
mSpy is another amazing app in our list which works as your phone location tracker app. mSpay helps in finding the exact real-time location of your kid in no time along with timestamps of your child's location history which exactly shows where your kid was. The best part of using mSpy is that it allows you to use the location of up to 3 children with a single account. Above all, you also have the option to access your kid's social media accounts including social media giants like Snapchat, Facebook, and Instagram. Let us have at the features of mSpy which makes it the best GPS tracker for kids.
-> Time Limits on the usage of phone
-> Location tracking of devices using GPS technology
-> Social Media monitoring
Download the best location tracking app for Android
Download the best location tracking app for iOS
10. iKeyMonitor 

iKeyMonitor is the last kid's tracking app on our list which offers an all-around solution and makes your tracking worry go away. It is because it offers both parental controls as well as real-time location tracking. You also get some amazing features that ensure your child's safety from the online and offline world at the same time. You get real-time location tracking that too with Geofencing, moreover, it has other advanced features as well.
The best feature of iKeyMonitor is that you can receive email alerts when there's any kind of suspicious activity on your child's device. Another feature that makes it the best family tracking app is that it is able to record incoming and outgoing calls from your kid's device as it comes with an integrated call recorder. So the main features of iKeyMonitor are:
-> Geofencing
-> Call Recording
-> Location tracking
-> Scheduling and time limits on phone
-> Email alerts
Download the best free phone tracker app for android
Download the best phone location tracker for iOS
These are the best kids tracker apps that you must have an idea about if you are concerned about your kid's and family member's safety.  These apps are developed by a top mobile app development company and their developers who have efficiently round the clock to develop these amazing mobile applications. All these applications have a centered content so users can have a better experience and that is why they are top applications in their respective fields.
Moreover, if you are planning to create one such application or finding 20 android app development trends to watch out for in 2021 then a top IT outsourcing company like VerveLogic is there for you.

We're VerveLogic and we've been serving our clients with our IT, designing, and Marketing services since 2012. Every day, our team of dedicated professionals works to make this world a little better through our premier solutions. Our exclusive services include Mobile App Development, Web Application Development, UX/UX Designing, SEO, Digital Marketing, and IT Consulting like "how to reduce android app size during the development" and Digital Marketing Services to businesses from all around the globe irrespective of your business domain.
(Visited 147 times, 2 visits today)