20 Android App Development Trends to Watch Out in 2022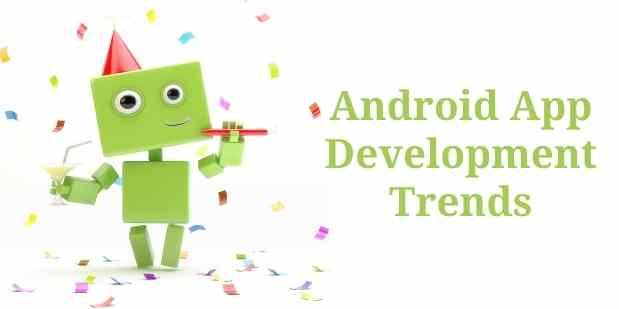 At the beginning of the mobile application market, Apple was the sole restrictive player that was running the commercial center with its own terms and conditions. Later, with the evolution of Android by Google, it has totally swiped in the mobile app world. Android is emerging in worldwide app markets, even in third world Asian, African and Latin American countries.
Android is still maintaining the top position as the leading mobile operating system in the whole world, controlling the mobile OS market with a 71.93% share as per Statista's latest reports. This number is about to reach 85% by the end of 2022. With more than 3 million applications on Google Play Store, Android OS is becoming bigger with each passing day. Even when it comes to mobile app development, the Android operating system leads the race. It is because of the reach of android among the people, secondly, it offers an amazing interface and experience to the users, and is quick to develop. With the growing popularity of android applications, you can surely see the surge in numbers of android applications on the Google Play Store.
Because of the above stats, Android app development always gets a priority from the business owners with a scope of launching the iOS applications at a later stage, mostly after the success of their android application. It is true that the android application solution is leading and will lead the app industry in forthcoming years. A user-friendly and consistent mobile application is the right approach to lead your business in a positive direction in this technological age.
Top 20 Android App Development Trends to Look Out in 2022
1. Android Instant Applications 
3. Integration of Machine Learning and Artificial intelligence (ML and AI)
4. Multi-Platform Development Makes Launch Easy
5. Inclusion of Chatbots and Google Assistant
6. APM(Application Performance Management) and EMM(Enterprise Mobile Management)
10. Use of Android Jetpack While Mobile App Development
17. Security and Enterprise Solution 
18. Accelerated Mobile Pages (AMP)
19. Cloud Based Android Application
Android app development has surely Introduced us to advancements, primarily in the user interface. Being a business owner who is planning to target a particular market, you need to illustrate the latest trends in the market to stay ahead from the competitors irrespective of your industry domain. We are sure that you are full of beans and high spirited to hire the top mobile app development company for your special project, but with a better understanding of the latest trends in this always evolving mobile app development industry will be extremely valuable for your business. So, let us dive into the latest Android app development trends that will help you metamorphose your app development in the most advanced and positive manner.
1. Android Instant Applications
Android Instant applications are part of our lives for many years and can be beneficial if you understand how to use it for your business. Instant applications are native android apps that can run without any installation and experience your services without any interruption to their standard task. In the Google Play Store, instant applications automatically enable the "Try Now" button.
Android Instant Application instant technology is perfect to try games and ecommerce businesses to showcase their amazing interface and ease of using their application. With complete access to Android instant applications you can have gains like showcasing your engaging UI/UX design, have more storage space and compatibility across all android gadgets.
2. Blockchain Technology
In this technological adolescence, the mobile app development companies need to find the ways to keep the data, transaction and complete application safe and secure. Blockchain technology bridges this gap as it boosts transparency along with eliminating unauthorised access by utilizing strong security protocols.
If you are planning for android app development in financial segments like banks, cryptocurrency, currency exchanges, and others then integrating blockchain technology in the mobile app development can make you smarter and secure from your competitors. Blockchain technology employs a number of advantages including reduction in data loss, better performance if there is a network failure, provides more data security and safer data transaction.
3. Integration of Machine Learning and Artificial intelligence (ML and AI)
Advancement in the technology has allowed us to provide more customer centric solutions through mobile app development. Automation of some features, image identification, data processing and even data analytics can be done through ML and AI. These technologies offer better efficiency to your android application as it can efficiently utilize the smart devices without consuming the processor.
4. Multi Platform Development Makes Launch Easy
The multi platform development of your mobile applications gives you application for both platforms i.e. Android and iOS and that too through a single codebase. Flutter is one of such technologies developed by Google as a free and open-source mobile UI framework. Because of the ease in understanding the concepts and developing amazing UI, Flutter is among the latest trends in mobile app development.
5. Inclusion of Chatbots and Google Assistant
Having Google Assistant in your android application is a MVP move as it combines with the services and makes it easy for the users to benefit from the application. The supreme benefit of using this integration is that you can offer quicker services through the assistant. You can also use a deep link to any particular functions within your mobile app. There are more than 500 million Google Assistant users and this number is also increasing day by day. Addition of the virtual assistant can help you target the interested customers in one of the most engaging ways.
6. APM(Application Performance Management) and EMM(Enterprise Mobile Management)
Both of these latest trends help in reducing the slowness in your mobile application. With the rise in the number of mobile applications it is really important for your app to be quicker and smoother than your competitor's. APM and EMM not only helps with the sluggishness but also with the security and safety of apps and allows employees a productive data exchange over mobile phones.
7. Beacon Technology
Project Beacon was launched by Google to send free beacons to businesses with the aim of improving mobile visibility and experience. Beacons are devices that transmit the signals to the mobile gadgets that can connect and get notification of your business. For instance beacon can connect with other mobile applications and notify them regarding nearby hotels, special offers and other such information.
For the businesses like restaurants and hotels which offer their android mobile application, this technology is highly beneficial. The use of such gadgets is perfect for marketing your business to the people and to convert them as your customers.
8. 5G Technology
No matter what fable is going on about 5G among the people, this technology is surely faster than 4G and most of things are untrue about it. It comes with high radio frequency and the internet speed of 100 GBPS, and makes the data transfer quick. Integration of 5G in your android mobile app development can improve your business performance immensely.
9. IoT(Internet of Things)
Smartphones have become a link between us and the important data that we possess. There are smart gadgets all around us and because of which data is associated with every device. Fusion of Iot in android applications makes the connectivity easy to keep the track of every transaction and other such data, making the customer experience smooth and seamless.
10. Use of Android Jetpack While Mobile App Development
Android Jetpack is a boon for the developers as it is a suite of libraries to help the android app developers in reducing boilerplate code, follow best practices and write code that helps in the development. You may handle the complete development from your side instead of outsource it to somewhere else.
It has 4 prime elements UI, architecture, behavior, and foundation. As it makes the development easier and quicker, it is listed as one of the best recent android app development trends.
11. Kotlin Multiplatform
As we have mentioned Flutter as a multiplatform tool above in the blog, Kotlin also provides some of the great features as it can be used as the replacement of Flutter. Kotlin is expected to get very big in upcoming years just like Flutter. Kotlin supports technologies and systems like Mac, Windows, JavaScript, JVM, iOS, Linux and Windows and also on embedded systems like STM32. It accelerates the development process and saves a lot of time and can be used in more difficult times.
12. On-Demand Applications
On-demand applications are very much in demand from the last 4-5 years, as more and more users have become dependent on these applications as they make our lives easy. With on-demand applications in your mobile phone, you have access to every daily life need like healthcare, grocery, taxi, retail, food and many others. With on-demand application development in the hands, the users can make their lives super easy by using the various services.
13. Mobile Wallets
With the integration of mobile wallet in your android application, you have the chance to enhance your user experience. With a safe and secure payment gateway, you can use a mobile wallet in your app to minimize the human effort by improving the interface and secure financial transactions.
14. Augmented Reality
Virtual Reality is the future, addition of the technology in the android app development can intensify the user experience of the customers. It is already very much in use in the gaming industry and it is forecast that it will reach $92.31 billion by 2027. It is improving day by day and amazingly creating an artificial world around us.
15. Motion Layout
MationLayout helps developers in utilizing for handling widget animation and motion in the android applications. It is a part of ConstraintLayout library and compatible with Android 4.0. It works as the bridge between complex motion handling and layout transitions with the addition of enriched choice of features.
MotionLayout not just explains the transition but also enables animating every layout property which makes it the biggest trend in Android app development to lookout for.
16. eCommerce
eCommerce mobile applications have taken all the market as the number of users is increasing day by day. People prefer online shopping and that is why eCommerce mobile app development is at its pinnacle. So with its development you must include safe payment gateways, customized experience, push notifications, greater client loyalty, higher conversion rate.
17. Security and Enterprise Solution
As above cited, security is paramount in the android mobile applications. As per the reports from Google, there were more than 3.2 million malicious applications on the Google Play Store in early 2019. Google tries to keep the users away from all such mobile apps, but the above number is a matter of concern. Hence, growing security and bringing enterprise level of tools to Android will be one of the most crucial android development trends in 2022.
18. Accelerated Mobile Pages (AMP)
AMP is an open source HTML framework developed by AMP Open Source Project. It was developed by Google in front of Facebook instant articles and Apple News. AMP boosts visibility in mobile search and also improves SEO so businesses can be visible among the users. As per Google, AMP websites load four times faster than a non-AMP website.
19. Cloud Based Android Application
Effective use of cloud has made the data storage simple and mobile applications faster. These are the two reasons why cloud based apps are in demand among the business owners, first it makes the data storage simple and easily accessible and second it decreases the load time. Such applications play a meaningful role in keeping a significant amount of data securely without using phone memory. It makes the use of application from any time from anywhere.
20. Wearable Applications
With increment in wearable gadgets like smart watches, bands and others there's a sudden surge in wearable applications. These applications also use the Android SDK but have exceptional functionality and design.
Final Thought 
In this advanced era, every year we see many new innovations, technologies and trends that indicate the right path to follow for maximum profitability. The above mentioned 20 trends in android mobile app development will surely help you achieve the unachievable with maximum profitability. With these trends you can offer a seamless experience target to provide on client demands. If you are planning to develop a mobile application then you must consider the above trends as these trends can help your business expand with gains and profit.
Also Read: 110 Mobile App Ideas
(Visited 904 times, 2 visits today)