Do you call yourself a pro gamer? Do you wish to uplift your gaming experience? Let's find the best game hacker apps for Android that you can download on your smartphone right now. Upgrade your overall gaming experience with this mobile application. This article will help all the gamers to break the barrier and look ahead to the game's limitations.
With these mobile apps for Android, you can customize your gaming experience and the way these Gaming Android apps operate. Before moving ahead, we must understand that not all mobile games are hackable. Only the mobile apps that save their data offline into mobile devices have the chance of being hacked. Let's get to our list of Android mobile apps that you must download right away to get the best out of your games.
The Ultimate List of Best Game Hacker Apps
All these game hacking apps are unique in their own way. These apps are ready to serve you with the best of experience and have different abilities. This comprehensive list of apps can help you find your perfect match.
1. Xmodgames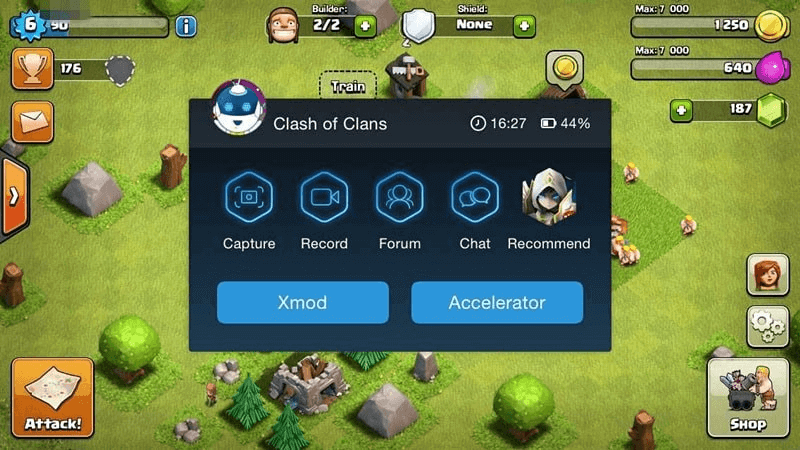 Many of us love playing games like Clash of Clans, Minecraft, Clash Royale, Asphalt 8, Mortal Combat, and more. If you are one among us, Xmodgames is a must download. After long gameplay most of the members become dull and one of the reasons is increasing difficulty.
This Android mobile app can be used to hack games from several app developers. Only the rooted devices will be able to use this mobile application to download a bug-free version. This app delivers a user-friendly experience to all the app users and is supported with all rooted Android smartphones.
Are you tired of swiping people right on Tinder? Get our Auto Like Swipe (Tinder) App and automate the task to get more matches. Find the tutorial in this YouTube video and download the mobile app today.
2. HackerBot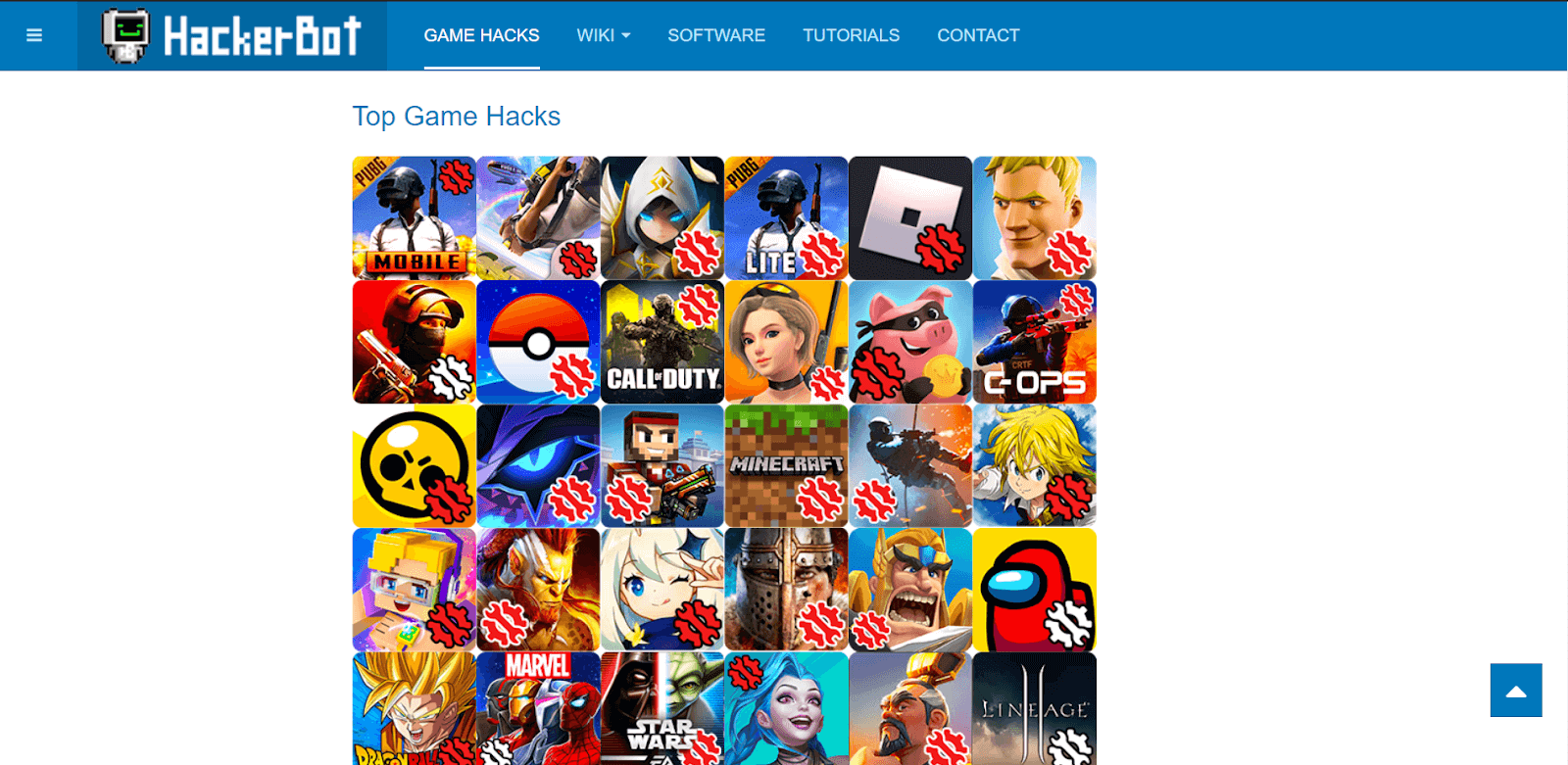 Started by Samuel Steiner aka 'Sammy' in 2013, HackerBot has been owned and managed by LittleSquid GmbH in Godlau, Switzerland since 2014. Finding and downloading clean and working game hacks and cheats are available with this Android mobile app. Among the many scams available in the market where you need human verification, this Android mobile app solves the problem for real.
The Search Engine platform powered by Google available with this mobile application saves your time and keeps your mobile safe from potential viruses. FreeFinder and ProFinder are the two available search engines. FreeFinder can be used on the while the latter one requires signing in and provides users with premium and paid cheats from authentic sources.
3. Cheat Engine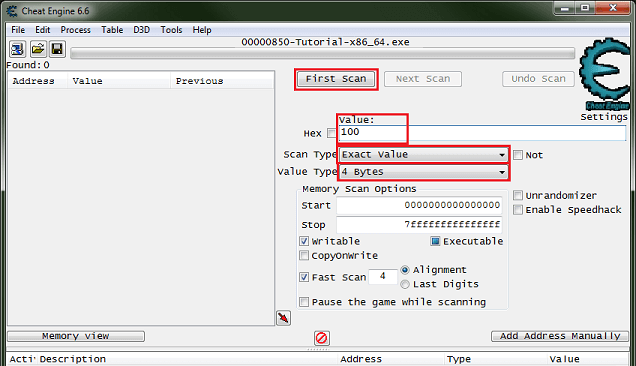 Source: Cheat Engine Wiki
A free and open-source memory scanner/debugger, Cheat Engine was created by Eric Heijnen for cheating in computer games. With this mobile app, you can modify single-player games without connecting to the internet. Tools that can help you debug your games and other applications protect you by allowing you to inspect memory modifications by backdoors.
Changing the game variables comes in handy with the use of this mobile application. Tools like direct 3D manipulation tools, debugger, assembler, disassembler, speed hack, trainer maker, and more are available to be used with this mobile application. You can start your journey with this one of the best game hacker apps with a simple tutorial available.
Do you own a gaming app of your own and getting less than anticipated downloads? Our ultimate List Of 7 In-game Marketing Mistakes To Avoid That Can Cost A Big Monetary Setback will help you find the common mistakes you might be making.
4. NoxPlayer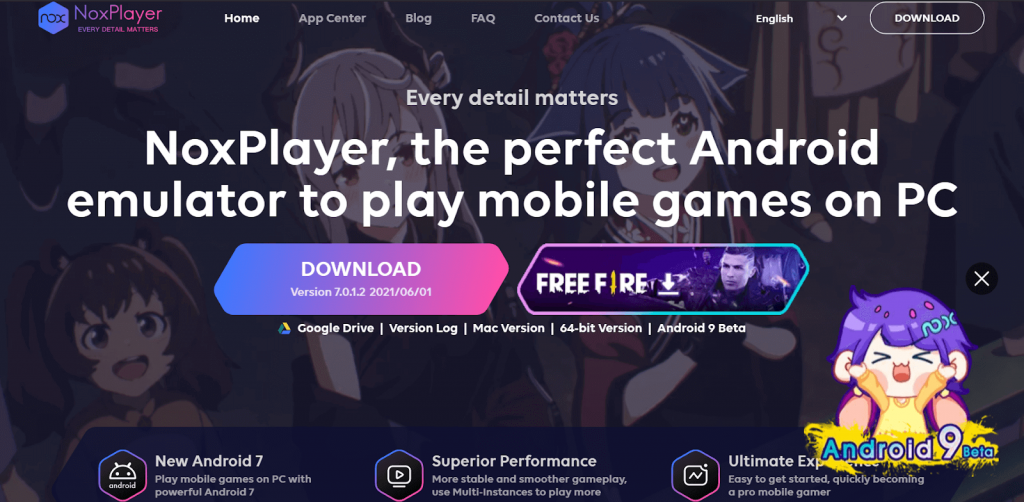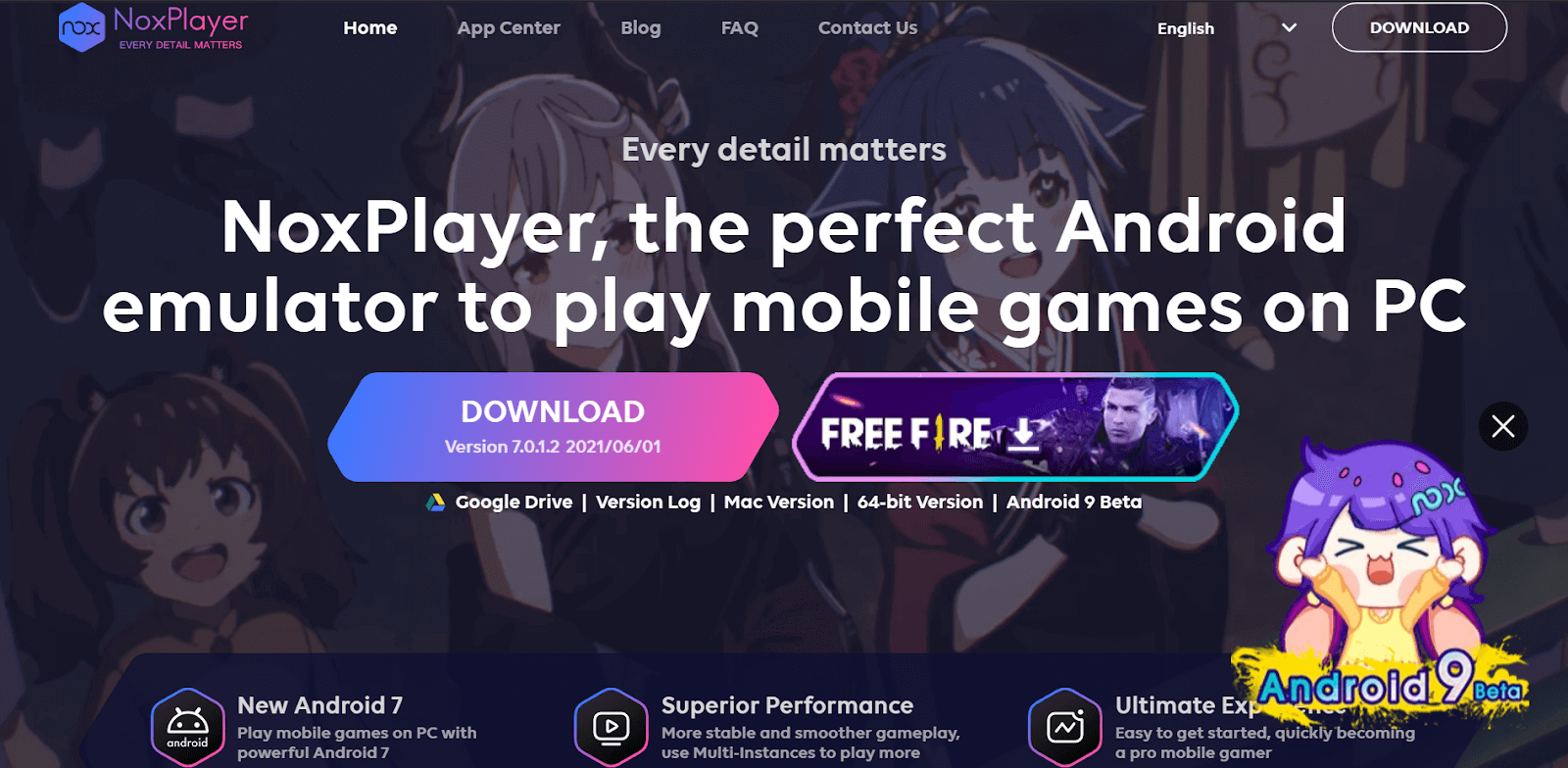 With more than 150 million users in over 150 countries and 20 different languages, NoxPlayer offers one of the best game hacker apps for Android. This Android app is based in Hong Kong and serves as an amazing games hacker tool for many players. Popular games like PUBG mobile, Call of Duty mobile, and Pokemon GO are supported by this mobile app.
Playing games more efficiently and faster is enabled by this mobile application. This Android app provides a stable and smoother solution for all your games and other mobile apps. Emulating the same gaming experience as PC and console gaming is the aim of this Android application. This app extends its support to the gamepad, script recording, keyboard, and multiple instances.
5. Bluestacks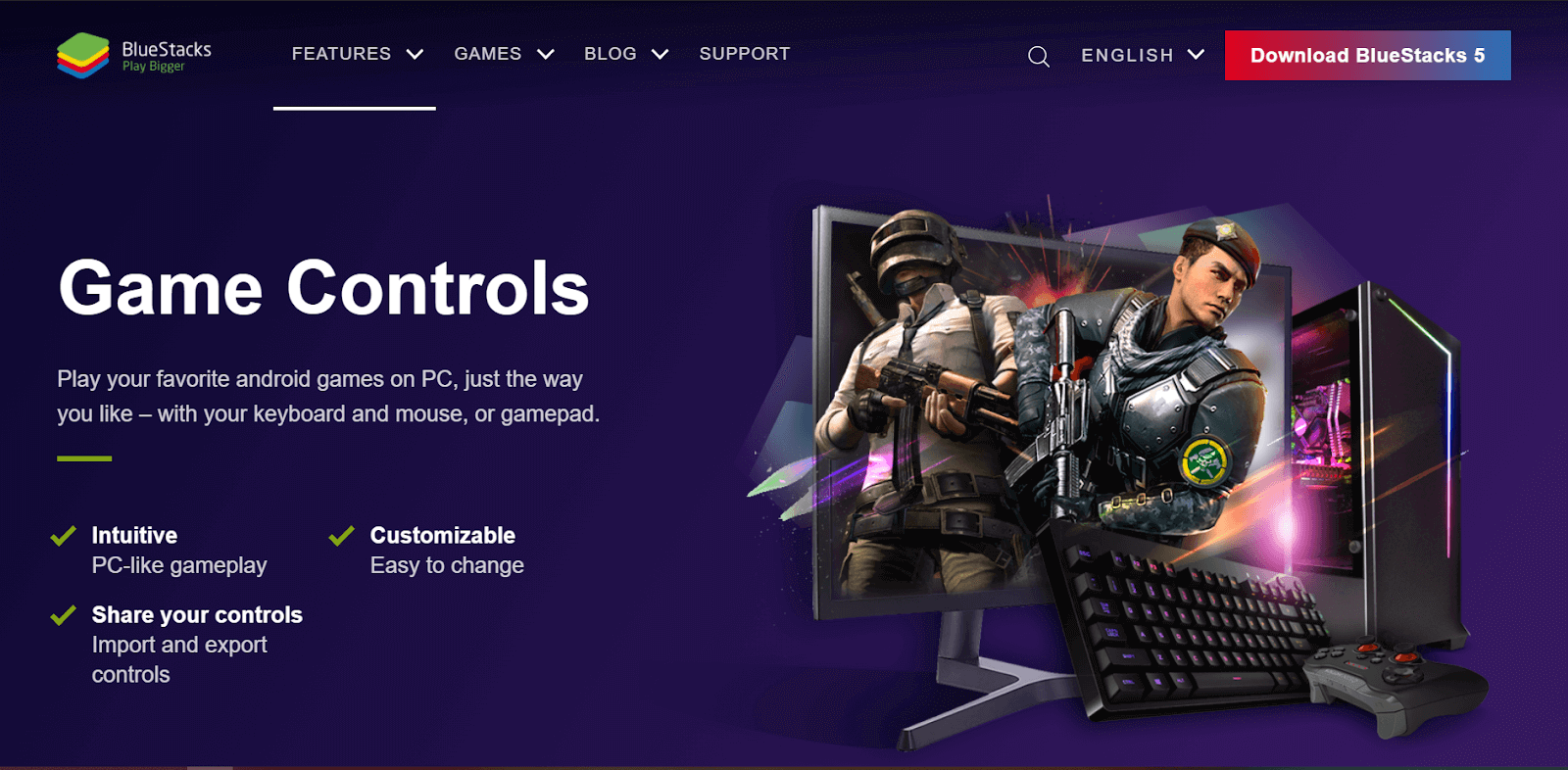 Bluestacks is software that brings your Android apps and games to your PC. This is a powerful app making your Android games easy to play with the use of a keyboard and mouse. Customization of your gameplay controls is available with this application assisting you in playing your games effortlessly.
Importing and exporting the control settings and sharing them with your fellow players/friends is also made easy with the use of this app. Advanced settings available with this one of the hacking apps for Android games help you create even non-existing gaming controls. Creating new controls is not only fun but also fast and easy.
Are you getting a gaming app of your own? Do read our comprehensive blog on How to build an Android Gaming App That Is a Huge Success to get the process done right.
6. GameCIH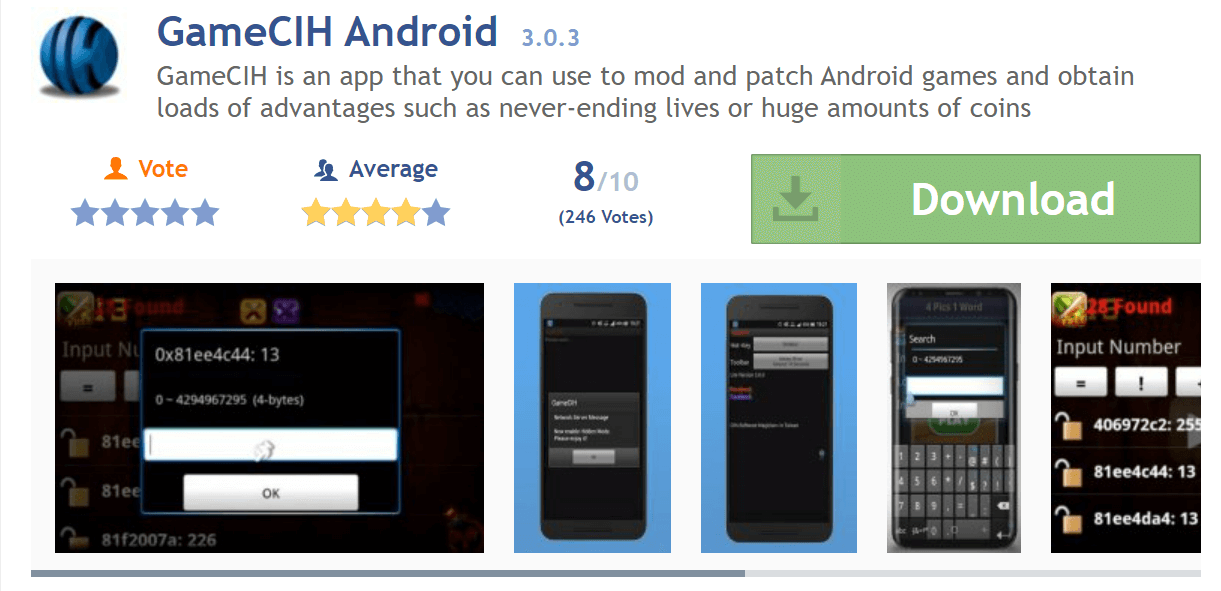 Are you looking for unlimited gold coins? Or do you just want to remove ads from your game? GameCIH is one of the best game hacker apps to help you be faster in the games without paying for the gaming apps. This Android app for hacking games requires rooting and requires an Android version 4.0 or above.
With this game's hacker tool, you can increase the speed of your games, get more coins, modify scores and get more extra lives when you are playing offline. You will not be required to extract a new APK with the use of this mobile app to share it on the web. This Android app will prove to be one of the best hacking apps for Android games.
7. Lucky Patcher
One of the best tools to hack Android apps and games, Lucky Patcher blocks ads, modify app permissions, backup apps, and much more. To learn about how to use the mobile app, you can make use of the available tutorial. Unlocking all the resources of the games including characters and levels for free is enabled by this mobile app.
From getting paid apps for free to increasing the available resources of your Android app, this is a games hacker tool that unlocks an amazing user experience. With this Android mobile app, you can increase the coins and gems you have, and unlock all characters and levels without paying any money.
Stay away from the slow and sluggish mobile app development process with the help of our write-up, How To Speed Up The Game Development Process? Some Quick Tips! Here we have 6 points to help you get the mobile app development done fast.
8. Creehacks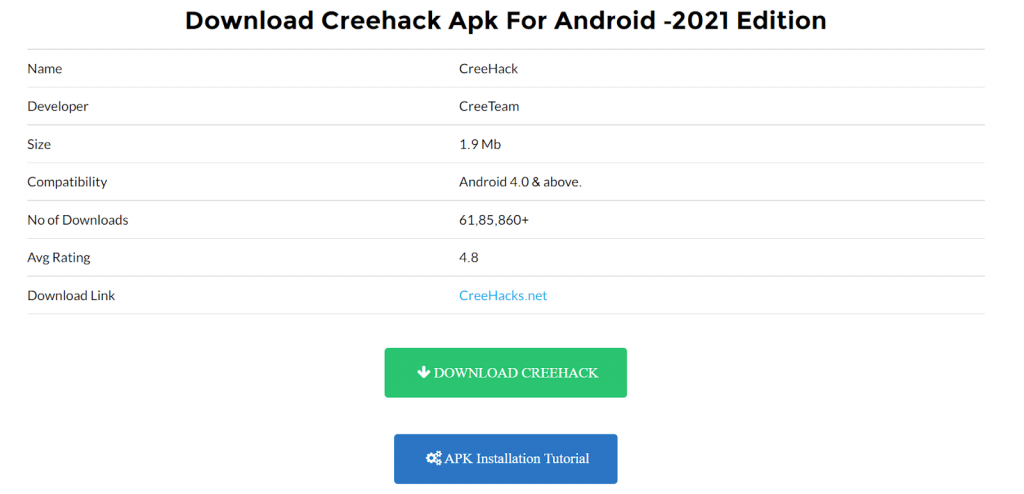 Creehacks is one of the game hacking apps that will make all your paid Android apps available for free. No root access is required to download this Mobile application and hack any of the Android gaming apps and other apps for free. It is one of the best Android app solutions which will make all the paid items in your mobile apps for free.
This mobile app is only supported with Android devices and requires no rooting to make your paid apps for free. Carrom Pool Mod, Monster Legends Mod, TikTok Mod, and Board Kings Mod are some of the popular Android apps and games that you will be able to modify with the use of this mobile app.
9. SB Game Hacker


One of the most powerful hacking apps for Android games, SB Game Hacker can be used to modify both, online and offline mobile apps. This tool is free to download and use completely. Being updated regularly, this game hacking app provides the best solution to all your gaming-related worries.
This mobile application can be a bit tricky. You can navigate this mobile app to the exact area where it requires hacking and from there the selected values can be modified. There is an in-built search function available with this mobile application that makes the app a little easier to use. Clash of Clans and Angry birds are some of the mobile apps that you can modify with the use of this game hacking tool for Android.
If you want to make the best of your marketing strategy, you must bookmark our blog, 5 Tips For Game Developers To Encash Profit From Mobile Game Marketing.
10. Leo PlayCard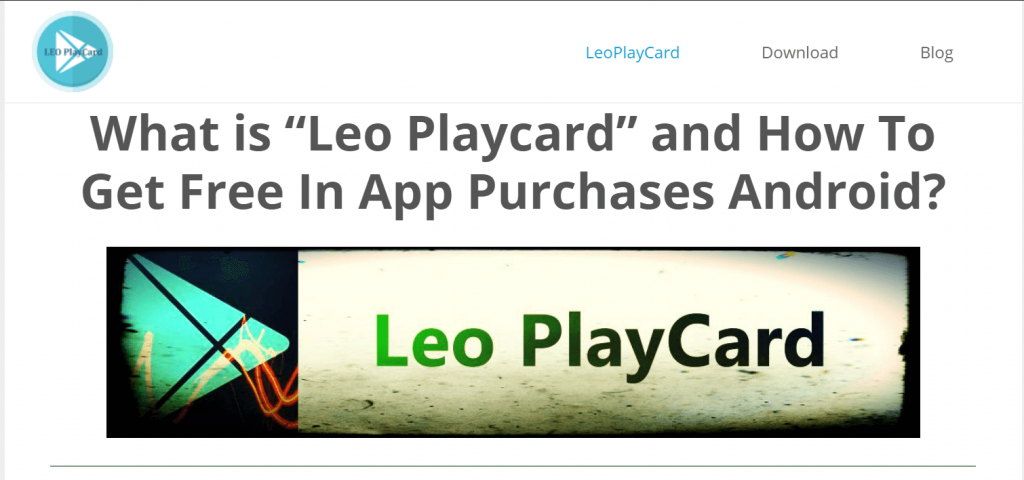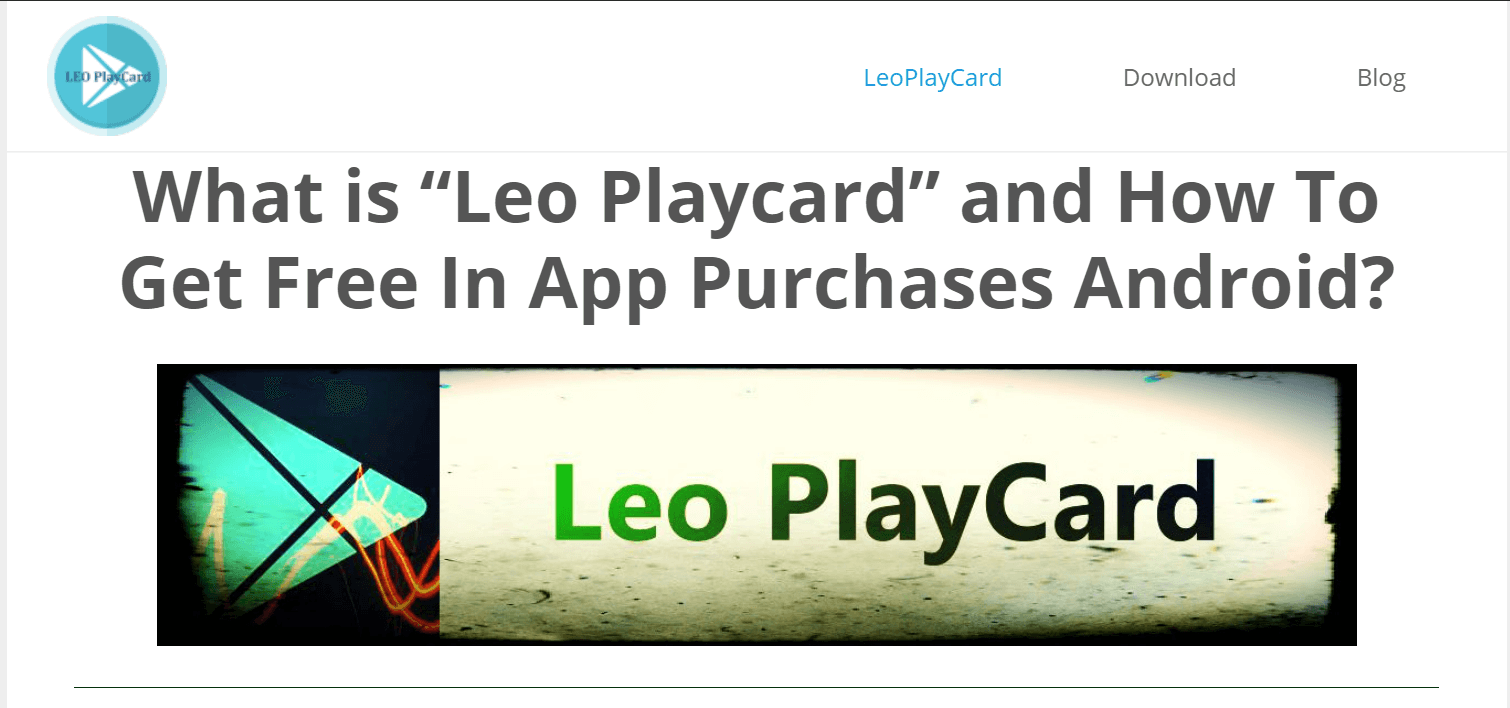 Leo PlayCard is yet another game hacker app that helps you play expensive Play Store games for free. Getting many lives, unlimited coins, and gems, and progressing to higher levels becomes easy with the use of this mobile app. This game's hacking tool requires no rooting making it easy to install and use.
Temple Run 2 and similar games are available to be hacked with the use of this mobile app. This Android app has the ability to control the objects in the game and can be synchronized with almost all the Android apps on your phone. This mobile app is easy to use. You just need to download, install and launch the app to start the hacking process.
11. Game Killer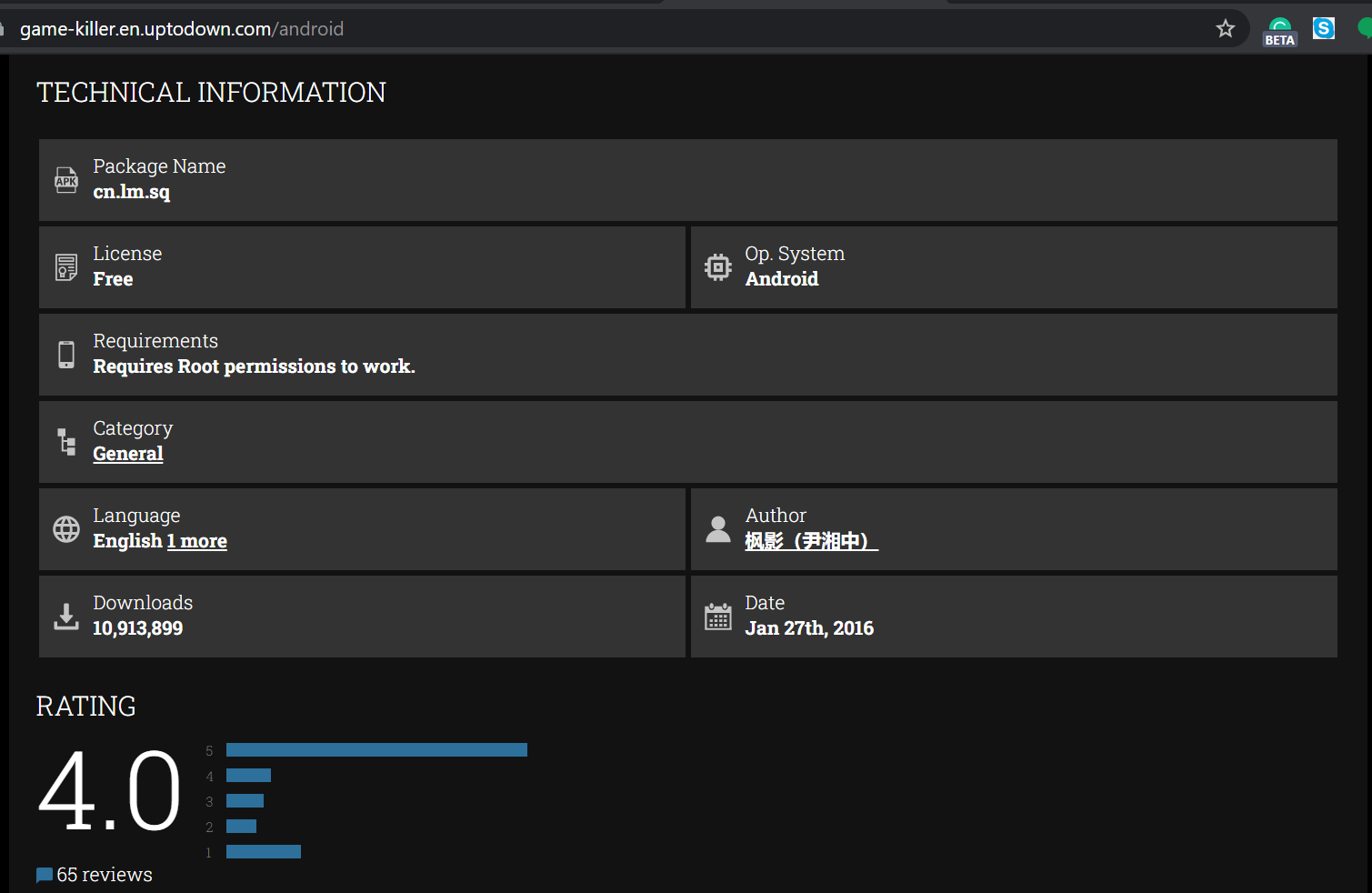 A free Android app to hack your games, Game Killer helps you modify and cheat your Android gaming apps. You can inject the code from the background while the game is running and modify the values on the go. This app is accessible from a semi-transparent icon after it is opened and can be placed anywhere on the screen.
From the list of running services, you can select the game you wish to access and use this game's hacker tool. Determine the position of the value, enter a new value and get it modified in just a few clicks. The built-in search feature helps you identify all the parameters that you will be able to change. This is one of the best game hacker tools you must download right now.
Monetising your games can be tricky. But we have got you covered with our blog on How Ads Serving In Games Bring Larger Revenue For Developers?.
12. Game Guardian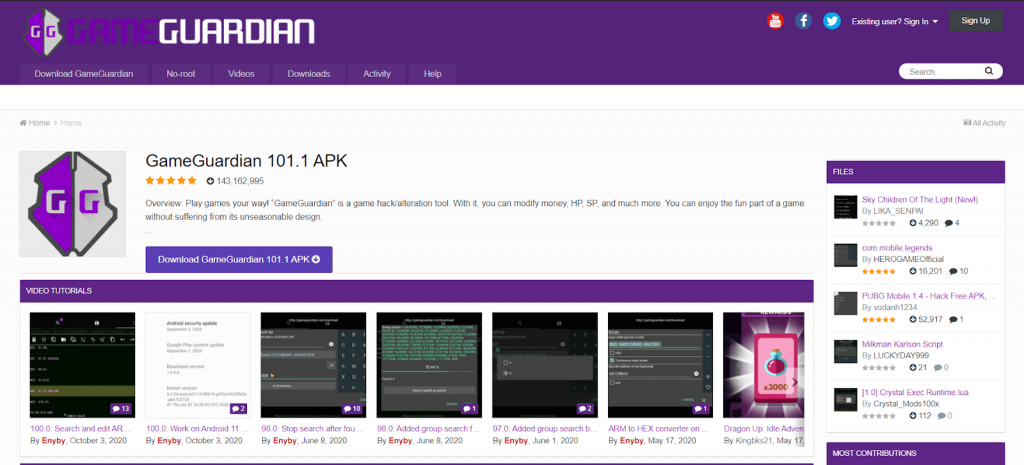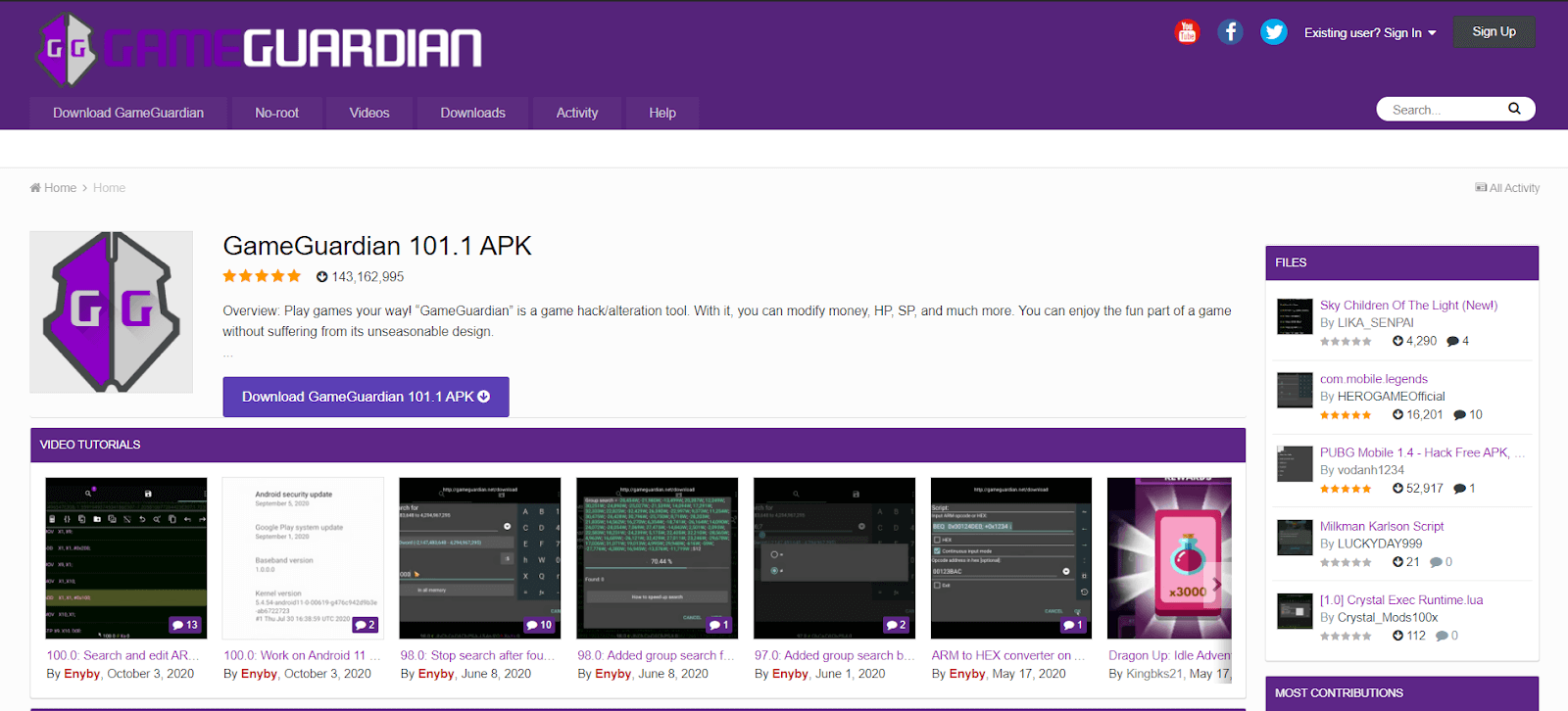 Modifying the content of your Android video games is easy with the use of the Game Guardian mobile app. During the runtime, code can be injected to modify the parameters of your choice. Leaving the app in the background running with a semi-transparent icon on the screen will make the modification process complete.
This is one of the best Android game hacking apps that get the numbers modified with just some clicks. The hexadecimal editor can be used to search the number you wish to modify, making it easy to use mobile apps. This Android app requires you to hold the floating icon down and increase or decrease the flow of time.
13. Freedom APK
Freedom APK is an Android mobile app that can be used to hack games of rooted Android phones. It is one of the best hacking apps that can be downloaded for free. Game cash, coins, next levels, and much more can be hacked with the use of this mobile application in no time. A minimum of 512 MB RAM and Android OS 2.3 or later is required for this mobile app to work.
More than 100 games including Angry Bird, Asphalt, Badland, Candy crush, and more can be hacked with the use of this free Android app. You can easily unlock the paid features of games available on the Play Store. This mobile app also works on a few server-based online games making it the best choice.
For all the readers who want a gaming app of their own but are confused about which platform to choose; do check out our blog, 'How To Choose The Right Game Development Platform?' and get answers to all your questions.
14. Bots or Macros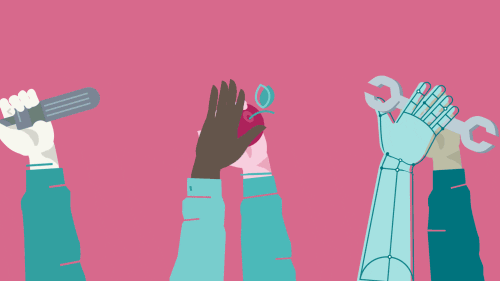 Source: Giphy
Today's Android mobile games make use of automation, especially online ones. Farming money, gems, collecting daily rewards, and daily quests becomes easy with the use of automation with online gaming apps. A bot will play games for you and automate the daily tasks.
You can create a bot for most of the games that are available in the Google App store. This is one of the best hacking tools to generate gold coins and gems. An automated bot works twenty-four hours a day and seven days a week to allow you to progress the game forward.
Best Game Hacker Apps for Android: In a Nutshell
There are many ways to hack your Android game, but these are some of the best game hacker apps that you must download right now. All the game hacker apps will help you progress through the game faster and with ease. Have you ever used any of these game hacking apps? Do share your experience in the comment section below.
Get Your Own Android Mobile App
VerveLogic is one of the best Android mobile app development companies that can help you build an Android mobile app of your own. Our team of expert android app developers have years of experience and deliver industry-ready mobile applications. Get an Android mobile app for your business today and stay ahead of your competition at all times.
Do not forget to read our blog on Best Android Apps Free In 2021. Here we have a list of mobile apps that everyone needs in 2021.
(Visited 312 times, 4 visits today)