The Complete Guide to Source Dropshipping Products from AliExpress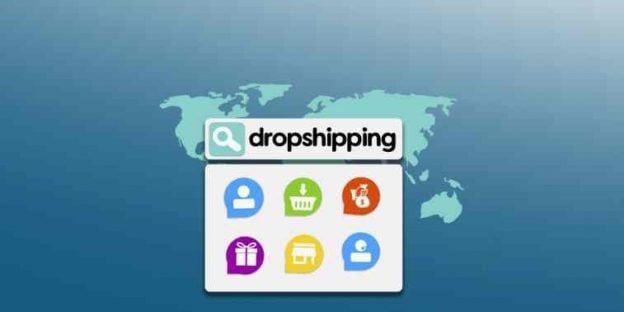 Dropshipping business is one of the wisest investments you can make with your savings from a 9-5 job.  If you are planning to be your own boss and need to start your own e-commerce venture with low investment and risk as compared to a retail startup, then Dropshipping is your best bet. Dropshipping is undoubtedly a lucrative opportunity for you in 2021, but the question is how to start a dropshipping business? And where will you find genuine dropshipping suppliers for your journey to the skies?
If you start on the right foot, Dropshipping is your ultimate ladder to success. And as far as suppliers are concerned, it is extremely important to find the best one for your business as they are the salient part of the dropshipping order fulfillment process. A supplier is your savior when it comes to everything from managing product inventory to facilitating shipments on behalf of your dropshipping store. Like sourcing dropshipping products from AliExpress.
Explore: What is dropshipping? How does dropshipping work?
Table of Contents
2. Can You Source Your Drophispping Products from AliExpress?
3. How to add products from AliExpress to your e-commerce store?
4. Advantages of Sourcing from AliExpress
5. Why would customers prefer your online store over AliExpress?
6. How to set up an online store using AliExpress?
7. How to dropship with AliExpress?
8. Handling Refunds and Returns with AliExpress
9. Growing Your Dropshipping Business with AliExpress
What is AliExpress? 
Managed and owned by Alibaba, AliExpress is an e-commerce marketplace that holds more than 100 million products for sale. With its roots in China, AliExpress is one of the world's largest e-companies dealing in products around the world. The portal deals with direct overseas manufacturers, you can get everything trending in your niche at considerably lower rates.
Whether you want to establish your mark in the apparel line or be worldwide known for your home decor items, AliExpress is your ultimate stoppage.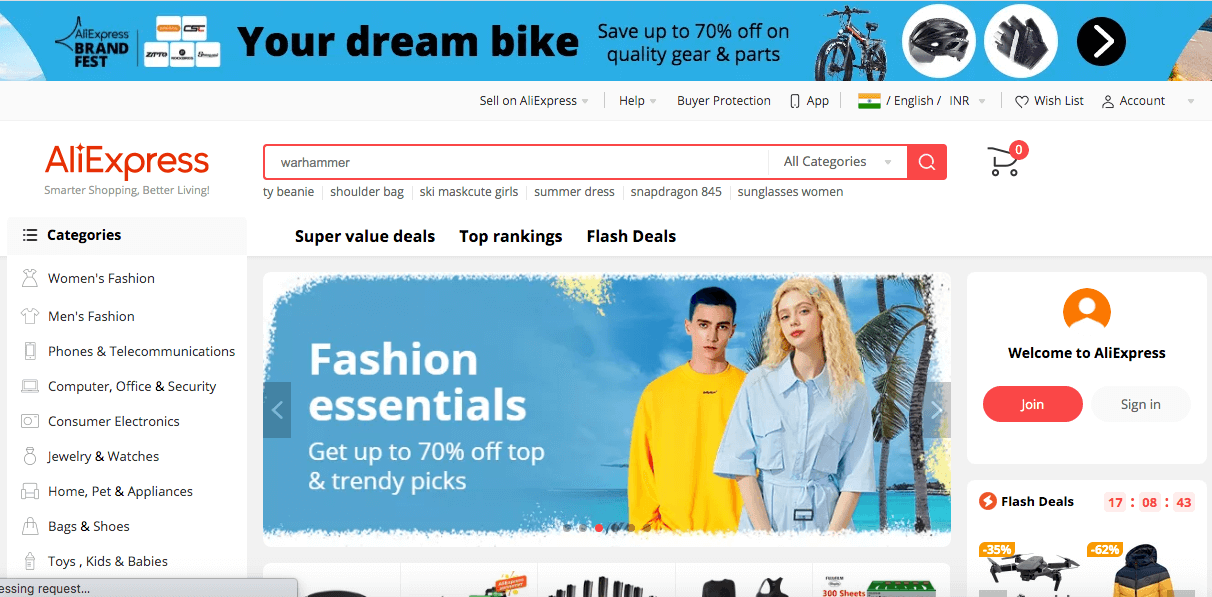 Can You Source Your Drophispping Products from AliExpress? 
Yes, in fact, AliExpress is a great place for you to source products and sell them online on your business e-commerce website. A full-fledged e-commerce website is the pillar of any dropshipping business, make sure you own a robust e-commerce store to serve your clientele.
How to add products from AliExpress to your e-commerce store? 
Step 1 – Find and Add your preferred product from AliExpress to your e-commerce store.
Step 2 –  Set and place the price against each product.
Step 3 – Upon receiving an order from your customer, purchase the product from AliExpress at wholesale rates.
Step 4 – The AliExpress seller directly ships the products to the consumer.
Advantages of Sourcing from AliExpress
Though AliExpress is an established B2C retailer website, it was noticed that most of the customers shopping from AliExpress are re-sellers and they are interested in dropshipping. This made AliExpress more of a B2B business platform. Also, the incredibly low wholesale rates played a key role here. Starting a dropshipping business is difficult but using AliExpress you can find thousands of products belonging to your niche from authentic suppliers. There is an initial workload, but as you grow with your business you will know which dropshipping supplier renders quality in products and services, which will make dropshipping from AliExpress ultimately easy for you.
Why use AliExpress for your online dropshipping business? 
-> Dropshipping with AliExpress is easy.
-> AliExpress doesn't ask you to purchase in bulk or has no Minimum Order Quantity.
-> Every product cataloged has a photo and description.
-> A purchase from AliExpress is as simple as buying from a regular e-commerce store and getting it shipped instead of your address to your customer's address.
-> AliExpress gives you the flexibility to order in small amounts.
-> The portal shows you the wholesale prices to which you can add an impressive profit margin.
-> It has connections from manufacturers around the world.
-> There are apps that let you import product details and images from AliExpress.
Though AliExpress has the most intriguing photos and the apt product description but to own authority and to influence your target audience, make sure to invest your time in the best photos and unique product descriptions. Any online business asks for quality content marketing.
Outsource your tasks to the best content marketing agency that will help you enhance your digital resonance, add value to your web content and give the most personalized product descriptions for your catalog. Content marketing always remains an elite when it comes to direct digital marketing and building brand awareness in the market.
Being in a dropshipping business, direct marketing lets you communicate with your target audience through direct marketing channels and inform them about your promotions and services.
Moreover, as your dropshipping business is a complete online venture, there is nothing other than digital marketing and SEO that can help you create an online resonance and authority of your dropshipping brand. Explore, Digital Marketing with SEO- Best Marketing Strategy in Virtual World. Without SEO, you are lost on the SERPs. Dropshipping through AliExpress is the best way to set your online business once you have a full-fledged e-commerce platform to serve your clientele.
Why would customers prefer your online store over AliExpress? 
Though AliExpress is an established e-commerce marketplace and we are relying on this site for our dropshipping business too, people are likely to shop from the store that is most visible to them. It is all about influencing your clientele with digital marketing strategies and content curations. It is sometimes about customer service and user experience, that counts. All in all, it is local SEO, digital marketing, customer service, and user experience that you need to focus on in order to get heard in the crowd. Focused marketing alone is a competitive advantage, this is how you pursue, evaluate and influence your customers to buy your products.
Marketing is also the activity that you do to build and present your brand online like building a website, getting a domain name, and positioning content that is informative, leading, and entertaining.
Do you wish to make a mark in your dropshipping niche?
Vervelogic – your IT Consultant helps you with e-commerce website development, digital marketing, SEO, Content Management, SMO, domain name, and logo designing – all under one roof. It is an incredible deal to outsource your IT management tasks to an Indian firm like Vervelogic as you get the best and the most cost-effective solutions for your requirements.
We focus on relevance and client insights more than general solutions. Moreover, communication is easier than ever to keep every client's confidence in our services throughout. Know the scope of IT Outsourcing Companies in India.

How to set up an online store using AliExpress? 
-> Picking the dropshipping products for your website catalog
-> Adding products to your e-commerce store.
-> Handling Refunds and Returns
Picking the dropshipping products for your website catalog
The very first step to start a dropshipping business and to use AliExpress is to find a profitable niche. It is a task to select from a wide array of dropshipping products, so AliExperss has categorized them for you. AliExpress has its listings open to what piques your interests or what niche you have selected for your business's sustainability.
AliExpress is an open portal to quality products from Authentic suppliers all over the world. Simply select the niche, the best dropshipping products and post them on your e-commerce website. It is still necessary to find the diamonds from the coal mines, here is what you need to keep in mind while selecting a product from AliExpress…
1. No Branding, Fakes, or Knockoffs
Skip the products with existing branding to avoid re-selling fakes or knockoffs. Moreover, you cant risk to re-sell products with another company's logo on them until you have a legal partnership with the said brand. This will ultimately restrict your choices, but this way you will easily sneak out of any future inconvenience.
2. EPacket Delivery with Free Shipping 
The target for products that offer free ePacket shipping. This way you will have the flexibility to display offers for your clients attracting them to your brand. As more than 60% of the products on AliExpress are delivered from China and Hong Kong, ePacket is not only economical but the quickest option to ship small-scale goods to the United States. Even at AliExpress, the seller that offers ePacket shipping is valued more than its counterparts as it is a reliable shipping option and is currently available for shipment to the US and Europe.
3. Purchase in hundreds 
A product in demand says it all about its quality. If the demand for the product (from a particular seller) is high means it is a good quality product, the supplier is trusted, and has re-orders from the end-customers. If you are new to dropshipping and are stuck with how to find the best dropshipping products then this can be the best criteria for you to pursue.
4. 4.5-star rating and above
It is another noteworthy criterion when it comes to selecting the dropshipping products that will be the bestseller in the market. The star ratings. Prefer to go with products that have 4.5 or above star ratings. It will give value to the end-consumer and will give you the satisfaction of knowing that your clients are happy with the product. For a seller check, you can use a Chrome extension called AliExpress Seller Check.

5. Low Price with High-Profit Margin
After all, every business needs substantial profits. Expensive products have a low-profit margin as compared to low-priced products. You have to take care of this fact while shortlisting the products to display on your e-commerce website. The products ranged in between $1 – $20, are more likely to fetch $20 – $50 easily. You can clearly earn more than a 60% profit on selling low-priced commodities. Moreover, consumers do not think twice before buying low-priced products they like – this will save you a substantial marketing cost. Most of the time, introducing yourself to potential customers is enough through a full-fledged e-commerce website.
6. Product Photos
It is a blessing to get your hands on the products directly from the manufacturers with no branding or company logo. You can actually come to know which product photo is uploaded by the manufacturer. With a quick Google Image Search, you will come to know if the product is uploaded by the real brand, the retailer, or the manufacturer. AliExpress is your one-stop solution to sourcing your dropshipping products provided that you have the eagle's eyes to fetch the finest from the catalog.
7. Easy to Communicate Seller
Being in a dropshipping business, it is mandatory to keep good communication with the sellers you are buying from. Build and maintain communication with them and do not withhold yourself from calling them for genuine concerns. If the sellers are not responding to your messages, then the deal is not worth fighting for.
Adding products to your e-commerce store
With the help of a professional e-commerce website development firm, you can develop a versatile and scaling e-commerce website for your dropshipping business. The experts at work take care of the product listings with order management and secure checkout payments. You cannot afford to run an e-commerce website that does not have a secure payment mechanism.
Vervelogic, helps you come up with a full-fledged shopping ecosystem where you can catelog the dropshipping products from AliExpress.
Here are few things to consider while adding the products from AliExpress to your online store:
1. Fresh Product Description 
Most of the product descriptions on AliExpress are not written with the intention to completely educate the buyer, rather they hold a simple description as it is mandated by the website. Having your own product descriptions will serve your business better, by giving some eye-opening plots to your end-consumers about the benefits of the products. Above that, there will be no copyright issue on your website.
2. Estimated Delivery Times 
It is always a good idea to give the customers estimated delivery timings. Extra facilities like Order tracking, estimated delivery timings, etc. always speak best in your favor letting you fetch more sales in your dropshipping business. Since you are dealing in AliExpress, where most of the suppliers are located in China, there are instances that shipping takes longer than average. Let your customers know the estimated arrival so that they are not frustrated by the delayed delivery of products.
3. Order Tracking app
Owing to some discrepancies like weather conditions or route issues, there are chances a product takes longer than its estimated delivery time. In such cases, it is the wisest choice to keep an order tracking app. The app will help you know the status of the delivery as well as keep your customers posted about product delivery.

4. Offer Free Shipping 
There are chances that your competitors are buying the same product from the same supplier, but in this competitive market, it is necessary to make a difference in order to fetch attention. This is possible with a highly dynamic website, the best customer support, and free shipping offers. You can certainly fetch attention and even retain your existing clients by giving them the facilities the competitors aren't giving them.
5. Product Pricing 
A considerable profit margin can lead your business to financial heights. Target the low-cost products, you can keep the profit margin up to 50%. Also, keep a reality check by scrutinizing your competitor's product pricing.
6. Add Products to Your Store
You can manually add products from AliExpress to your e-commerce store OR you can hire third-party automation apps to do the task for you. Whether it's marketing or bulk cataloging of the products, automation tools are the elixir for any budding business. Such tools save your time by taking care of repetitive tasks.
How to dropship with AliExpress?
At this stage, you have a full-fledged website and a complete catelog to sell to your clients. Now the question arises is what do you do upon getting your first dropshipping order?
AliExpress being your dropshipping supplier here, the platform works the same as any other dropshipping supplier. Upon receiving an order from the customer, purchase the item on AliExpress and enter your customer's name and shipping address. The shipment is a concern for AliExpress.
To manage the backend, it is advisable to maintain a spreadsheet of the products that are listed on your website with the link of the same product on AliExpress.

With the spreadsheet, it will be easier for you to track and order the product that your customer wants. Also, the spreadsheet listing helps you keep the track of the price change on AliExpress (according to which you can update your website listing as well).  Know more about starting your own e-commerce business.
On the contrary, you can always use Obrelo to import the catelog from AliExpress to your Shopify Store (the online store made with Shopify). Obrelo is another marketplace with millions of products to resell including products from AliExpress. For Shopify stores, it works as an automation tool helping the seller to check product listings, availability, and price change of the product on AliExpress. With Obrelo your order will automatically be fulfilled once you purchased it from the website, including the tracking status and you will know the customer has received the order.
Once the item reaches the said address, AliExpress emails you (the store owner) asking for confirmation that the order was received. Hold for some time, so that the customer can contact you if there is an issue with the delivered product. In case there is an issue, you can highlight the same in front of the supplier through AliExpress and sort it.
Handling Refunds and Returns with AliExpress
Many AliExpress sellers or Alibaba do not offer returns. One of the major concerns of the dropshipping sellers is that their customers didn't receive the product or worst they are not happy with the product. In that case, it is a norm to facilitate returns or refunds.
If the order didn't arrive…
In case the customer didn't get the order, you can highlight the issue with your AliExpress supplier. In fact, this is where opening communication channels will work in your favor. Contact the supplier to resolve the issue or use AliExpress' Buyer Protection.
If the customer is not satisfied with the product…
The product received is not what was expected by the consumer. For instance, in the case of apparel, there is a change in color, size, or quality of the end product. Then the seller must offer a refund and see if there is anything to be changed in the marketing of the product (like the customer didn't understand what he was buying).
In case the product is damaged….
In case the product from AliExpress comes out to be damaged then ask your customer to take the picture or the video of the product arrived and send the same to the AliExpress seller for returns or replacements.
Growing Your Dropshipping Business with AliExpress
Every person starts a business with the intention to sustain and grow in the market. Certainly, your expectations from your dropshipping business will be the same. Vervelogic is here to help you with e-commerce website development, SEO, SMO, and digital marketing or your dream business that you are willing to start. These are some initial investments that will help you start on the right foot. 15 Best ECommerce Website Examples might interest you for your upcoming dream project… You do not have to spend much time

Once you are well-versed with the dropshipping process from AliExpress and have made the first few sales, it is time to think about growing your business. As you start working with AliExpress you will come across a lot of deals. You will be able to filter out the authentic suppliers from the queue. One of the best dropshipping tips is to find quality suppliers and stick to them for your entire dropshipping journey.
Most of the suppliers on AliExpress use WeChat and Whatsapp, you can stay in touch with them, have real-time conversations and if you find yourself constantly buying from the same supplier then you can use these real-time messengers to develop a business relationship. For loyal customers, suppliers on AliExpress consider placing logos on the products or create custom invoices and branded inserts into shipping packages.
(Visited 135 times, 1 visits today)