How To Find A Profitable Dropshipping Niche for Your Business in 2022?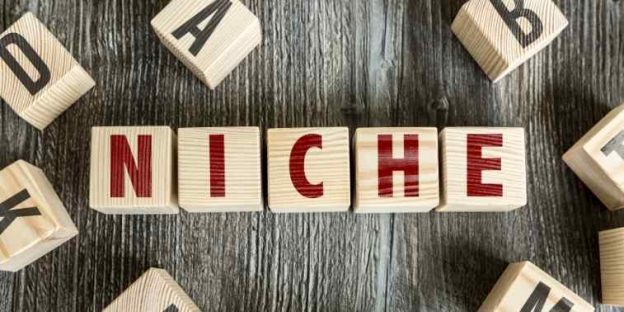 Dropshipping is undoubtedly a lucrative business idea with less capital investment, no management/storage cost, low risk, etc. but it is also tough to stand out in terms of margins and differentiation. Here comes the need to look out for the dropshipping niche that piques your interest and at the same time is "profitable".
Deciding on a niche for any business is important and dropshipping is no exception. Just like any other retail business, you have to give a deep thought to what you will be selling, where you are selling, and the market promising Like Various SEO strategies will your niche.
As far as it is important, selecting one single niche is tricky too. Will you pick up the niche that is limited to a native market or you are planning to go global? Selecting an area of interest and a market will help you with channelizing your digital marketing strategies and find just the right customers. Moreover, you can grow your business to more complementary products.
Here are the most common questions that need to be answered before you land on any conclusion regarding your dropshipping niche. Stay tuned till the last…

-> How to find a Dropshipping Niche?
-> What are the most successful dropshipping niches in 2022?
-> How To Know Your Competition in Your Dropshipping NIche?
-> How Can You Be Successful with your niche dropshipping business?
-> Can You Turn Your Passion Into a Dropshipping Business?

How to find a Dropshipping Niche?
All your marketing and business endeavors will lead you nowhere until there is a steady demand for your niche in the market you wish to deal in. Even if you are passionate about the niche, if the demand is low, the profits will be low and it is harder to create demand than fulfilling the existing one.
The sure-shot way to find a dropshipping niche and be confident about it is "Market Analysis". Here are the tools you might want to refer to:
=> Facebook Audience Insights
=> Google Keyword Planner
=> Google Trends
1. Facebook Audience Insights 
More than 80% of the world's population is on Facebook, no matter which country you trigger to spread your dropshipping business you can easily come to know if your niche is sustainable. FAI gives you aggregate information of people connected with your page, your custom audience, and people on Facebook.
Facebook Audience Insights is a great dropshipping research tool that will help you with shopping preferences and people's purchase behaviors to guide your dropshipping niche. It is a free-of-cost resource that is again a trait in your favor. The FAI dashboard helps you make mandatory settings and show you customized results.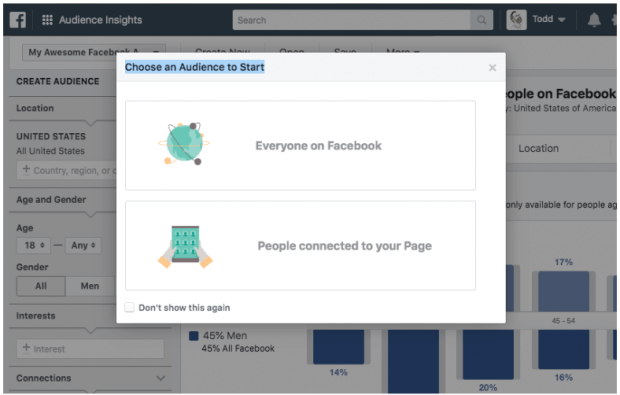 Use Facebook Audience Insights to get relevant insights into:
-> Geographical Information – The place of residence and what language they speak.
-> Demographics – gender, age, education, career choices, marital status, relationship status, preferences, etc.
-> Page Likes – which page do they like (this is a clear indicator of your audience's preferences).
-> Activities – Facebook ads clicked previous comments, promotional redemption, device usage.
How does FAI work for selecting a dropshipping niche?
Select the keyword belonging to your niche (for example health and fitness).
You will get the results of monthly active people who have liked such pages, commented on the posts, or are anyway associated with your field. To narrow down your research, FB tells you how many people are interested in a particular topic (for example gymming in fitness) with their likes and location.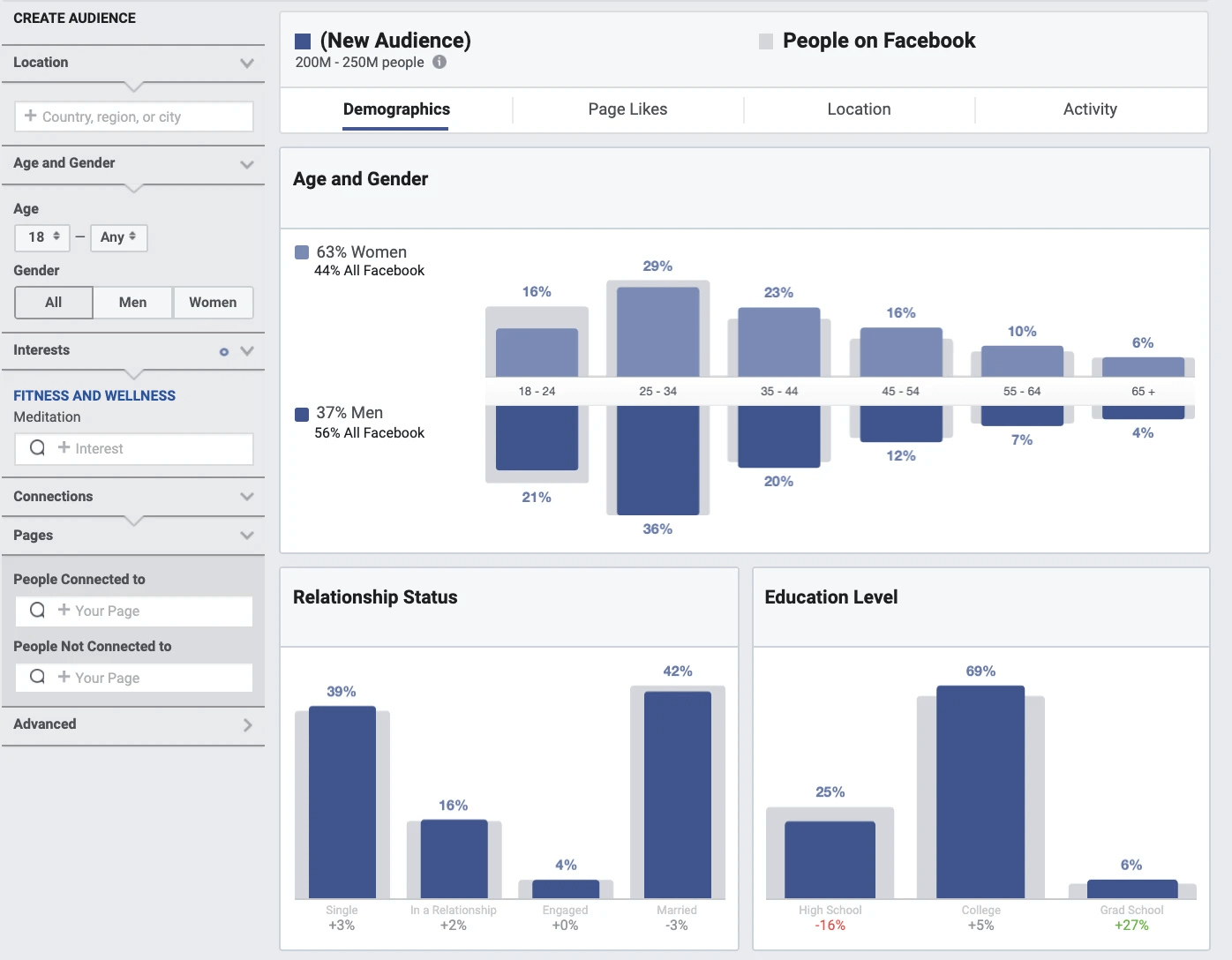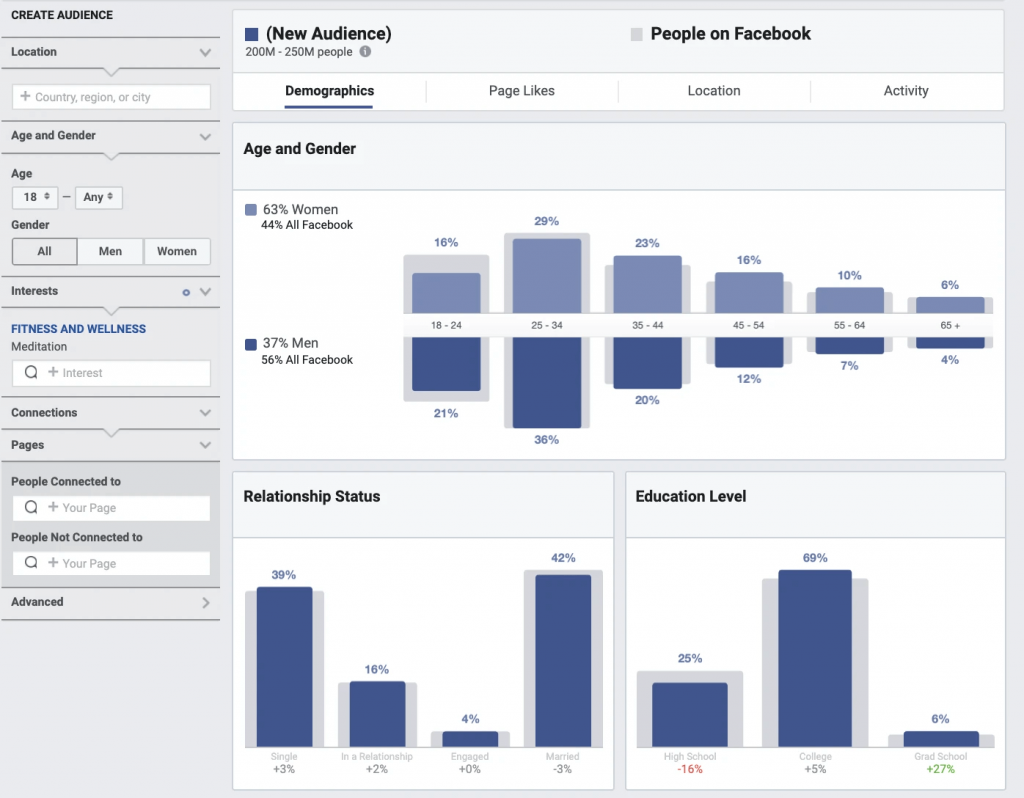 (source: Shopify)
From the above example, you can see that more than 200 million people are interested in Meditation worldwide. This is quite an impressive number for a dropshipping business. You can further narrow down your search to meditation accessories, convenient apparel, meditation music, etc to showcase for your dropshipping business. As you filter your search the size of your audience list will vary depending on the fields you include. Filter your search by location and you will have a more precise view of the number of your audience that is interested in your dropshipping niche. You can hire some help from an SMO expert.
2. Google Keyword Planner
Google is the highest referred search engine, people search on google for their various needs from shopping to education, healthcare, and entertainment. Leverage the utility to know your target audience. Google Keyword Planner helps you determine the online demand of the item seeing how many people are searching for the product on Google with relevant keywords.
The drawback here is the search volume for a particular keyword is publicly available.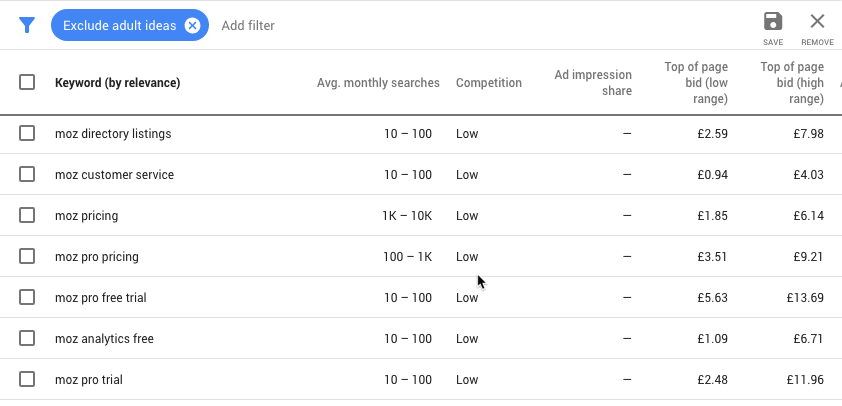 GKP is one of the best resources to know your market and to keep a constant eye on changing trends. But this is a wider pool for freshers.
Narrowing down to fresher interests, here are the three key metrics to keep in mind that will help you make the best out of this tool:
-> Match Type
Focus on the match type. Google Keyword Planner helps you choose from broad terms, phrases, and exact match types. It is recommended to go with the exact match option. This will give you a clear picture of the applicable search volume of the keyword.
-> Search Location 
Defining a location is a must in a dropshipping business. Make sure you are clear with your decision between local and global search volumes. decide your geographical premises and focus on the natives of that geographical location. If you are aiming for the US market you must focus on local search volume and ignore the global results.
-> Long Tail Keyword Variations 
It is easy to find the search volume for broad one or two-word terms, but most of your audience will reach you through long and more specific keywords. These detailed long search terms make "long-tail keywords" impacting the traffic on your site.
3. Google Trends
If you are seeking candid search volume results, then you can go for a keyword tool like Google Keyword Planner but for more insights into trends, you need to take advice from Google Trends. You can also seek help from a professional SEO specialist.
What Google Trends Tells You? 
-> Interest Consistency
Whatsoever niche you choose to start with your dropshipping business, you need that niche to be sustainable. Right? Interestingly, Google Trends tells you the same. For any given query search, Google Trend will let you know the growth or decline in the search volume over time. With the metrics in hand, you will be able to analyze the consistency of the demand in the market.
-> Top and Rising Terms
Google Trends gives you insights into the most popular related searches and the relevant queries on a wider scale. Not only selecting a niche, but you can also rely on the metrics with your future digital marketing and SEO efforts.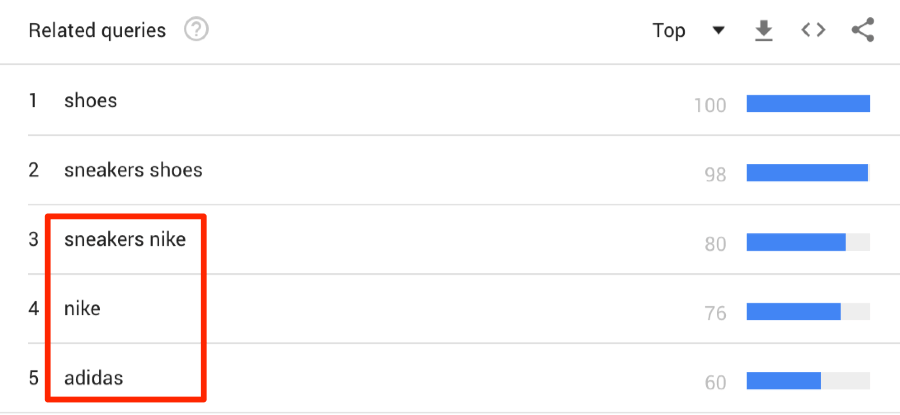 (source: Ahrefs)
-> Geographical Relevancy 
This life-saving feature lets you know which part of the world has the highest consumer base for your niche. It is the best for global businesses as it gives you positivity about the market even before you step in. Example: If you are starting a dropshipping business for horse breeches you will come to know in which part of the world it will be a financial success.
-> Seasonal Alterations
The demand for certain products changes with season keeping track of the same is a must. The keyword tool gives you the data on a monthly basis, this might mislead your path if the search volumes are fetched for the wrong time of the year. Google trends give you seasonal alerts.
Google Trends is undoubtedly your best bet when it comes to deciding the niche. You can leverage the trend to sell your products to a wider crowd. Also, the metrics will help you know the time's demand and accordingly customize your marketing efforts. You would want to start a business that has a demand.
What are the Most Successful Dropshipping Niches in 2022?  
30% of e-commerce businesses are processing on a dropshipping business model. They are putting all their energy, time, and resources into the dropshipping model. What made them confident about their business? If you focus on a popular niche there are higher chances of you attaining financial success in the field.
With high-demand products, you will only have to struggle with competition in the field and not with the thinning demand. Here are some of the best niches you can consider for starting your dropshipping business in 2022.
The Best Dropshipping Niches in 2022:
-> Health, Fitness and Personal Care
-> Clothes, Shoes, and Accessories
-> Kitchenware and Groceries
-> Camera and Smartphone Accessories
-> Office Accessories
-> Tools and Home Improvement
-> Home and Bedroom Decors
-> Gaming Equipment
-> Car accessories
Though these niches are lucrative, they have tough competition too. If you decide to choose one, then make sure you hold a firm edge by giving the best quality products, excellent user experience, and working on your digital marketing & online advertisement strategies.
On the contrary, if none of the above spikes the interest in you, here are some tips that will help you find the best niche for your dropshipping business:
1. Go for Accessories
Dropshipping merchants make as little as 5% to 10% on high-end products like TV, smartphone, or laptop. Moreover, these are the slowest moving items from the inventory. A person would take weeks in finalizing the Television or laptop and would highly consider buying it from the nearby store. Whereas he will easily shed $20 for a USB cable from the online store, it will be more convenient for him.
2. Peak the Passion
Aim for passionate customers to sell your product. A diehard biker won't think twice before buying the bike accessory he wants. Rather he would spend hundreds or thousands in getting the one with good quality. Similarly, a horse rider will spend hundreds and thousands on horse accessories, helmets, and apparel.
3. Products You Cant Find Locally 
People often choose online modes because they are unable to find the same product in their area. If someone wants to buy a soap he can easily get it from the nearby shop but if he wants the raw materials for the soap (to make a homemade soap), then he will purchase the entire list from the online store. Therefore it is advisable to choose the niche products that are hard to find locally but have a good demand in the market you choose to deal in.
4. A Niche with low product turnover
If you select a product line that is changing from year to year then you will soon end up with scarcity in the demand for your niche product with null sales. Selling a product with low product turnover will give your business stability. Also, you will be confident to invest in an information-rich website development that will go for years without any major changes.
5. Aim for Consumables or Disposable Product Genres 
Customer retention is necessary for every business's sustainability. The cost to market is less if you have a list of loyal customers who are already using your products and are adamant to come back to you once the stock is over. Moreover, if you sell a consumable or a disposable that needs to be re-ordered now and then, your business will reach heights.
Finding the correct product and knowing its demand in the market is not enough to select a dropshipping business niche until you know your competition in the market.
How To Know Your Competition in Your Dropshipping NIche?
Dropshipping business is as same as any other retail business when it comes to competition. If there is cracking competition in the market it will become harder for you to do SEO, SMO, and marketing for your product. And especially you will have to face the established players in the market.
Some dropshipping businesses rely on paid online advertisements but most of them look forward to fetching organic traffic to their products. So the best way to know your competition is to see the organically listed (no ads) websites on Google's first page (with similar keywords). These are the websites you have to compete with. For starters, you can do this by analyzing their ranking and visibility and following the best SEO practice for your page.
There are various SEO strategies that will help you identify your competitors and outreach them in terms of visibility on Google (the fight is all about).
1. Number of Linking Domains
Above everything, Google relies on links. The more links pointing to a site, the more publicity and privileges the site gets in terms of visibility. Knowing how many links are pointing to a site will give you a clear roadmap to outrank your competitor.
There are various SEO metrics but identifying the unique domains linking to the site remains the crucial one while identifying the strength of its ranking. The process is called "linking root domains" or "unique linking domains". The unique domain here represents the independent domain pointing to a site but without duplicate links from the same domain.
For instance, if a friend recommends you to try a special coffee at a coffee shop you will remember his suggestion, but if he constantly mentions it for a week you will end up trying that coffee at the same restaurant. The same goes with domain linking. A single domain can link to a site repeatedly but this will be considered as a "single suggestion". This might bother you while finding your competitors ranking strength on SERPs. Anyways Google emphasizes unique linking and so should you.
A way through this is tools like Link Explorer – you can use these to find some useful SEO metrics and linking root domains.
You need to explore the tool to find the link metrics of the top few organically ranked sites (#1 and  #2 on Google SERP) and the last link on the first page of Google SERP (#10 on Google). With this, you will get the idea of how much you need to toil to not only get on the top (#1 on Google) but also to simply rank on the first page (among top #10 on Google).
Here is how you will assess the unique linking domains:
| | |
| --- | --- |
| 0 – 50 linking root domains | With the lowest threshold, sites with quality content and proper SEO should be able to get 50 linking domains in a year. |
| 50 – 250 linking root domains | This is where businesses talk about being. 50 to 250 linking domains is the range for top-ranked sites. Reaching this number takes more than a year of constant SEO practices and association with the best digital marketing company. |
| 250+ linking root domains | This is a place where the established players are. It takes some serious time and constant efforts of years to reach here. You can aim for the figure but then you must wear your shields against the intense competition. |
2. Online Authority of Similar Businesses
SEO is all about maintaining authority. Authority is simply establishing yourself as an expert and influencing your potential customers. Though this is not the only SEO metric to stress on, it is a quick way to determine how important Google thinks the web page is?
Google uses PageRank to measure the authority of a web page. You can simply sense the competition by finding the PageRank for the homepages of top-ranked sites with relevant keywords.
The tool that will help you here is Check PageRank. Check each site manually for PageRank using the tool. Refer to the table for the results:
| | |
| --- | --- |
| PageRank 1 to 2 | As per Google, a site in this range has minimum authority. If this is the PageRank of the top sites that means the market is relatively small. |
| PageRank 3 to 4 | This is the most common range for top-ranked websites in the competitive market. Aiming for this position is practical but you need constant endeavors to reach here. Outsource your task to the SEO agency and focus on other deals of progress. The market in this range offers the best work to reward for individual dropshippers. |
| PageRank 4 to 5 | Impressive range of authority. To land here one needs to get a fair number of unique links from other individual authoritative sites. |
| PageRank 6+ | With this ranking, the site is crowned. If this is the level you are aiming for then you need full-time content marketers, digital marketers and the SEO experts. |
3. Other Qualitative Matrics
Google ranking will help you know the SEO work you need to do (to improve your visibility on the SERPs). But there are other important factors to consider too… These are rather qualitative factors that will bind your customers to you.
-> Site Quality and Functionality
This is the thing that matters the most to the customers. Is the top-ranked site worth it for the user? Visit these sites and judge them from a client's perspective. With this, you will come to know what you should and should not do with your website designing and development. Additionally, you can leverage the powers of the best web development company to get a feature-rich and robust website for your dropshipping business. Consider going with some advanced tech trends (2021).
Your product supplier is supplying the same goods to other sellers too, then what is the base of differentiation? It is the website quality and user experience. Check your competitor's site for information, site navigation, important tabs, dropdowns, loading speed, product availability, payment modes, etc.
-> Site Reputation and Customer Retention
A business serving for years with top-notch products and the best user experience might have a solid reputation with an outdated site too. On the contrary, a full-fledged and informative website might have negative feedback due to its product quality or user experience. This is where most of your analysis fails.
The easiest way to find out the site's reputation and loyal client base is to see customer reviews on social media sites and their own website.  Go for comments and concerns from the previous purchases to get an idea on do's and don't for your dropshipping business.
4. Managing Search Results
When you are examining your ranking competition, keep in mind that Google automatically customizes the results based on your geographical location, browsing history, long-tail keyword and other factors.
If you are aiming for a global reach, you need to get unbiased results to understand the real competition worldwide. And also the customized results your global audience will see. For Instance, If you are aiming for the US market and you are not a resident of the country, you still need to see the top-ranked pages your target audience in the US will see. As those are your real competitors.
What is the way through this?
1. Incognito Search
If you are a chrome user, Incognito is the best way for you to get unbiased search results of the top-ranked website. Your browsing history or any other personalized settings will be ineffective on incognito search mode.
All you need to do is access the mode by going to File > New Incognito Window. OR Simply select the New Incognito Window from the right-hand corner of your chrome.
2. Forcing Region Specific Results
Now that Google shows the customized results for your search, you can also add the extension "&gl=us" to the end of the URL to get country-specific search results.
For instance, if you are aiming for the US and not residing in the country, you can use "&gl=us" at the end of the URL and press Enter. The SERP will show you the results of top-ranked sites in the US for your niche.
Get the list of the country codes in which you want to deal.
How Can You Be Successful with your niche dropshipping business?
Selecting a dropshipping niche is just the beginning towards a bigger picture of becoming successful using this on-demand fulfillment channel. Mentioned below are the tips to be successful in your dropshipping business, follow at least one of them.
1. Know Your Customers Well
As said above you need to do market research not only to find the demand for a niche that fascinates you but also the shopping behavior of your potential audience. If you want to be successful in your dropshipping niche you cant be isolated from your customers.
To know your customers' shopping preferences you have to create a buyer's personas for each group so that it is easier for you to customize and market your products in the long run.
2. Manufacture Your Product
If you are manufacturing the product or have the suppliers to customize the products for you, you already own a certain edge. Based on this you can charge a premium price for customization from your customers. In the dropshipping business, we do not have the option for sole production but we hold a benefit of customization and branding that will lead to profit.
3. Exclusive Pricing or Distribution 
If you are able to fetch any exclusive deal from the manufacturer or a dropshipping supplier you can sell your product online with many profits. But that is a far-fetched deal as the suppliers are sending the same product to others at competitive deals. The way through this is if you are a loyal buyer or you are purchasing in bulk you may get access to some pricing privileges.
4. Sell At Competetive Rates
Selling the same product at lower rates. The strategy most often fails as it is nearly impossible to beat the pricing and policies of the e-commerce aggregators like Amazon and Flipkart. It is impossible to keep competitive rates without any considerable pricing benefits from the suppliers.
5. Give Complementary Information
If you are selling a healthcare product then offering some interesting and eye-opening information to your clients regarding healthcare will add value to your product. If your client relates to your piece of information, he will feel the need for your product and order it from you in confidence.
6. Add Value in E-Commerce
Adding value to your product is certainly not easy but this is not impossible if you look forward to some key characteristics that will enhance the value of your product.
-> Number of Components
The more components the product needs to function properly, the more searches are there on the internet for answers. Most people won't search for how to buy the pet product but will certainly seek the answers for how to install a home security system with multiple camera compositions and a mike. The more components a product needs to function, the greater your opportunity is to add value to your product by recommending the compatible products -a set.
-> Customizable Products 
People are often confused with certain products, though they know what to buy, they are stuck with what size, nature, or configuration will do best. You can leverage the opportunity by offering them precise guidance on what product best goes with their present situation and at the same time display your products in suggestions for search convenience. This will solve your customer's problem and add value to your product.
-> Technical Setups or Installation Guides
Offering expert guidance for products that are hard to install or assemble, will create your authority in your segment. Let's the example of security setup again, if the camera site provides a detailed guide to camera installation and other processing with troubleshooting tips, then that site is likely to make more sales than the one that doesn't give such facilities. Every if he has to give a few dollars more, he will go for the much more concrete option with all the facilities and the detailed guidance booklet. The same goes with complementary services with a product.
Can You Turn Your Passion Into a Dropshipping NIche? 
Only following your passion is probably the worst idea to start your dropshipping business. If you want your business to sustain and be a financial hit then you have to take care of other factors too like demand, user experience, competition, supplier availability, quality, seasonal issues, and much more.
There are times when your passion for something can take the form of a business but on the contrary, there are instances too where the passion is not practical enough to convert into a full-fledged business. Here you need analysis and market research. The answers to all your possible questions are in this article. Make sure you have a strong base/niche even before you start with your dropshipping business.

(Visited 149 times, 1 visits today)