Hybrid vs Native Mobile App Development – Which one is Better for your Business?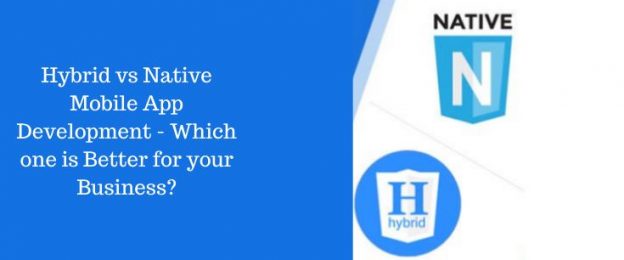 When you move forward with mobile app development for your business, then you come across major decisions which you need to take even before your app gets started developing by developers. There are many development methods that are the same & you have a couple different ways to approach. Similarly, hybrid vs native applications in the market from which you need to choose. You need to find which approach is better when you choose app development companies Chicago.
The native apps are usually developed for a specific operating system, bassically for better user experience, with easy navigation & making apps faster. On the other hand hybrid apps look & function the same way as a native app, but are built on the web using JavaScript & HTML5. But still you just can't choose from both of them & start building your app, you need to decide which path to choose so you won't face any problem in future. Let us have a look at the factors which will help you find the right direction for your mobile app development.
Drawbacks of Native Apps
As we have discussed, there are a few ways to develop an app which mobile app development companies in Chicago use, so we need to look at the drawbacks too. Here we have a few negatives associated with native apps.
1. When building a native app, you need to decide the operating system on which you are going to launch your mobile app. Either you can develop an Android app or iOS app. In order to have an app for both platforms you need to develop the apps twice for both the platforms.
2.You have to start from the bottom with coding & development if you plan to launch the app for both the operating system by mobile app development companies Chicago.
3. Your mobile app development budget will be double if you use native methods to get your native app launched & functioning on both platforms. We all know that apps take time for return & need investment from time to time. So, you need to consider it before hiring mobile app development companies Chicago.
Benefits of Hybrid Apps
Well, every method is not perfect to develop mobile app development but with hybrid methods have many benefits. First of all it works on every operating system whether it is android or iOS. As it works in both operating systems, you don't have to build the same app twice if you want your app to be available on both the platforms.
With hybrid mobile applications for your business you don't have to worry about the marketing techniques as you don't have different techniques for different platforms as both can launched at the same time with the same code.
With mobile app development companies in Chicago your business will grow & prosper as your app is available on both platforms. With millions of downloads you will have more ratings & reviews on each respective store and people will easily impact your search ranking.
Another best thing about hybrid applications are they are quick to code, build & easy to test. If we compare it with native apps then it takes just a fraction of the time to build an app in hybrid.
In hybrid applications it is easy to design the app, easy to change & the updates. Since everything is on the same platform, you don't have to write code twice for each OS which makes it easy to make changes. It also helps the user as you can quickly fix the glitch or bug and other updates for both the apps in one go.
Hybrid applications are much more affordable even when you hire app development companies in Chicago as compared to native apps. Isn't it amazing what all you can get in minimum investment.
Here's everything you need to know about hybrid & native applications. You need to decide which is best for your company/business. Because these decisions can break your business or make your idea. Native apps only work on one operating system, so you're forced to choose between iOS & android. On the other hand hybrid is much quicker, easy coding, modifying & designing, saves time, minimizes task & event ease in maintaining your app after development. Choose the right option & reap the benefit of mobile app development companies in Chicago has to offer for your business idea.
(Visited 119 times, 1 visits today)