9 Popular Chromecast Mobile Apps for Android and iOS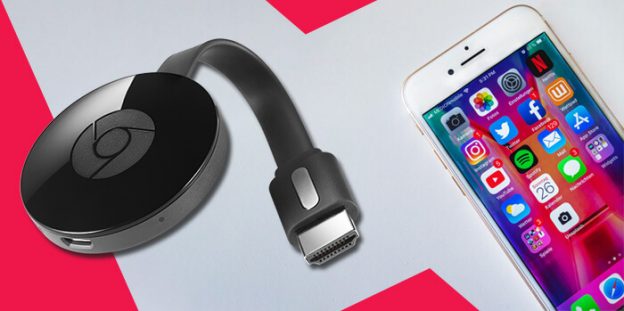 The other day I was too excited to watch the last episode of a trending Prime series, but then my phone's Wi-fi connectivity interrupted my streaming. It was so irritating. My sibling sitting in the same room recommended that I should connect my smartphone to the LED screen through Google Chromecast. Though being a non-technical person, I could not comprehend what he intended to say. After researching online, I acquainted myself with this advanced technology.
Google Chromecast enables users to enjoy their favorite shows, movies, and other content on a bigger screen. Yes, you read that right. This technology has been supported by a plethora of mobile apps. So, you are no more required to keep adjusting your smartphones in between ongoing shows or films. Also, you can transfer data or content from the Chrome browser to your PC. The video market is so huge that the estimated global streaming software market will increase by 21.1% CAGR between 2022 and 2028.
Everyone likes to exercise a little control over what they click and skip. Well, this tech provides you with this privilege. In consultation with our developers from mobile app development in California, we have compiled a list of some Chromecast Apps to make the task easier for you:
Netflix
Isn't it exhausting to switch on the laptop after every tiring day to watch Stranger Things or the Typewriter series? Well, that's what is in the news everywhere. Netflix offers access to limitless fascinating content along with flexible services. It is one of the few streaming platforms that interest every age group. Its compatibility with Google Chromecast is an alternative solution for limited smartphone or desktop spaces. Use your devices as the remote control and grab a bucket of popcorn and let the show begin.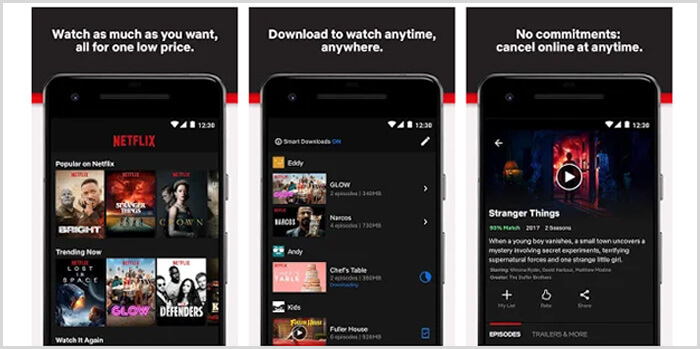 Google Photos
It is aptly referred to as the best cloud storage space for images. It is free of cost. Additionally, Google Photos lets you create a 'picture collection' in the app itself. When the TV is in idle mode, you can put up the wallpapers and refresh your mood. Though Chromecast is just another option for users who commonly use Google photos to back up their special moments. This advanced tech allows users to travel back to the good old days by browsing and viewing pictures from their comfort zone. No need to turn on the computer, plug Chromecast into your television sets. Nice way to keep private things like yourself?
Spotify
It is the largest music streaming app in the world. Its recent launch in India has proved to be a boon for music lovers. The basic version of Spotify is non-chargeable, however, if you want to access its advanced services, you need to shell out $9.99 every month. It consists of more than 30 million tracks, radio stations, podcasts, and more. Chromecast support offers a unique music experience that even the best phones fail to deliver. Cast your most loved tracks to TVs and plugins for a melodious ride. Apart from this app, Google Play Music also supports this emerging technology. The Lite version is available, though it is incomparable to its full version.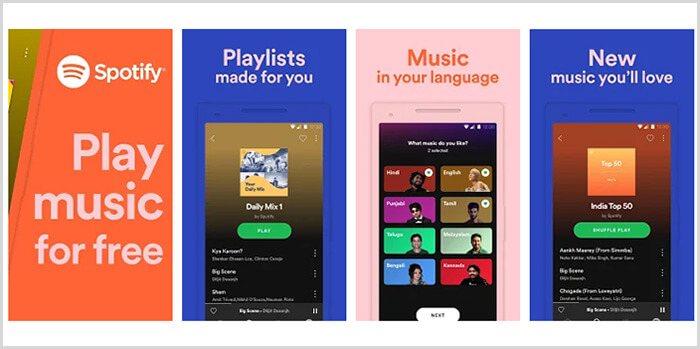 Pocket Casts
Considering that there is a swarm of podcasts out there, still, Pocket Casts is tops the list. Interestingly, it also supports Chromecast. The recent redesign of the app has attracted a plethora of users to it. Some common features of Pocket Casts include auto-download, dark theme, playlist syncing, etc. Though to test the authenticity of the app, you are liable to pay a subscription fee. There is no denying the fact that it has enriched the way audio is listened to.
TED
There is a TED app with a variety of videos that is easy to download and view. TEDTalk showcases videos from renowned personalities who have brought positive change in society. It covers different spheres from art to philosophy to life and much more. The Chromecast app takes your streaming to an advanced level. A hassle-free way to grasp knowledge and information from various TED conferences held around the world.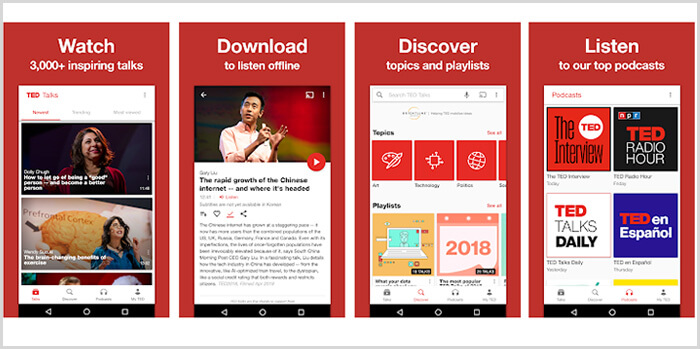 Hulu
It is widely popular amongst those who have a fondness for anime. Hulu has a variety of television shows and movies. Keep adding shows to the 'watch list' and stream them to your television screens through Chromecast. The latest update enables users to browse over 50 channels. However, you might feel that Hullu's User Interface is quite old-fashioned but it does not affect the streaming experience. Experts claim that Chromecast support is nothing less than amazing.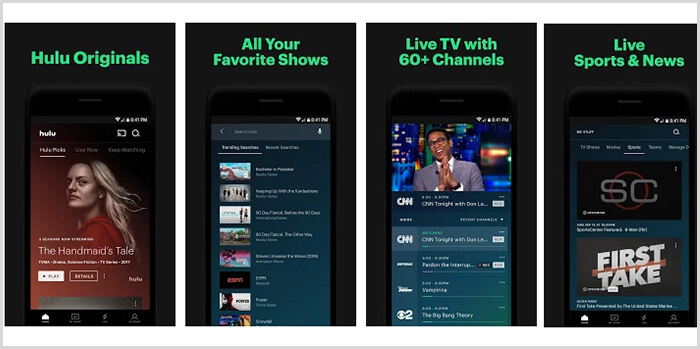 Plex
Plex has been one of the great Chromecast apps consistently. Though the installation is a little time-consuming, it is worth it if done in the right manner. Plex allows the streaming of video content from your PC to smartphones and others. You do not need to buy the advanced version to avail majority of its features. Moreover, it offers add-on services via its Plex Pass. If you are searching for the best way of transferring videos from your PC, then you must go for Plex without any second thought.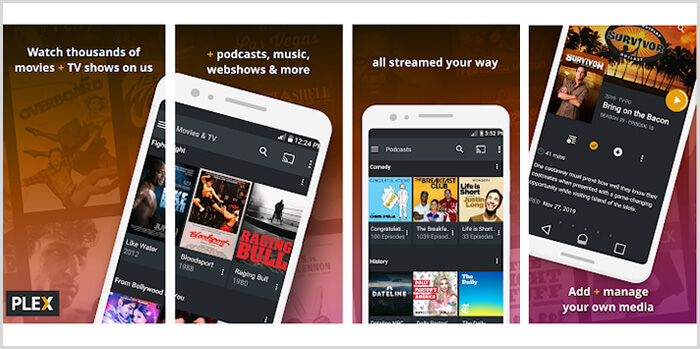 Though the list does not end here, some other Chromecast apps are YouTube, Youtube Music, Solid Explorer, Pandora Music, LocalCast, Twitch, Crackle, Vudu, and many more. This list has been curated keeping in mind the current trends in the mobile app world. Do you think we have missed an important app? If so, please remind us in the comments below.  We'll certainly cover them in our next blogs.
VLC Media Player
Now, VLV Media Player also provides Chromecast support with a user-friendly interface. The best part is that it s a free Chromecast app. It is very simple to use this app because you just have to connect your device and TV from the same wi-fi connection and then the cast button will appear you can easily surf your content on the TV.
It allows you to create a loop of audio and video you want to listen to or watch again. You cannot only download videos but also can change the format of the video. The best feature this app provides is to normalize the sound according to a place that protects your ear from damage from high volume.
YouTube
YouTube does not need any introduction. The cast feature is also very easy to find. When you connect your smartphone and TV from the same wi-fi then it gets appeared. You can easily stream content on a bigger screen. The best feature of this Chromecast app is its offline video streaming concept. You can download and watch videos offline. You can get suggestions of trending and latest videos and you can also watch previous videos you have watched on the feed.
Summing Up
Wondering where to find the best mobile app development in California? Connect with VerveLogic. We are a team of experienced and skilled developers who have been major contributors to the long-term success of many businesses in California. Whether it is a website or a mobile app, you can get it designed by professional hands. Do not keep waiting. Grab market opportunities and create a strong online presence for your brand. We also build brand identities. To know more about us, check out our online website. Drop a message there and we'll get in touch as early as possible.
Also, if you are looking for branding solutions or online marketing for your brand then you should check out VerveBranding and Verve Online Marketing today and make your brand stand out.
(Visited 88 times, 1 visits today)