What is the cost to hire hourly vs. full time mobile app developer?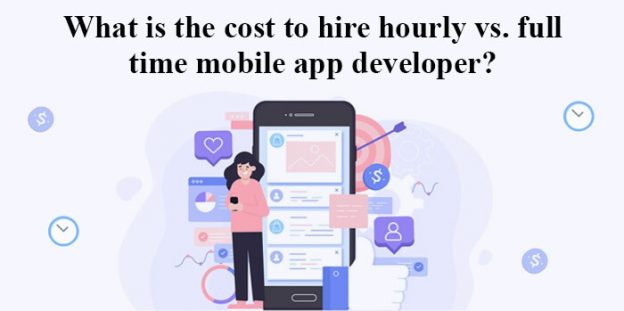 Mobile applications are becoming a clear choice for a lot of businesses thriving in the market due to their ultimate benefits and user-friendly nature. These are seen to come in handy when it comes to performing any of your daily chores like shopping, traveling, or even doing business.
Businesses are nowadays considering building mobile app development for many reasons like getting instantly connected with prospects, being in reach 24*7, sending notifications, and most importantly, because people demand it.
Business owners with little or no knowledge of how development works do not generally take risks taking responsibility on their heads or handing it over to an inexperienced person. It is important to hire a good resource to develop an effective mobile presence.
If you go into the market searching for a mobile app developer, there would be resources consenting to work full time whereas there would be ones who would like to go on an hourly basis.
So finalize what are your requirements and then understand which kind of mobile app developer is suitable for you. For the small business, you can go with hourly-based mobile app developers while if you are a big company you can probably need a much deeper understanding of the team. So you should hire a full-time team of mobile app developers.
Points to consider while hiring a mobile app developer
1. Type of application:
It depends greatly upon the type of application required at your end to make a choice between a full-time and hourly basis to hire mobile app development. If you are looking for regular assistance like developing an app that requires routine updates, then it is wise to hire a full-time developer who would dedicatedly work for your app.
For the apps that launch at once and do not require frequent updates, it comes in handy to go for an hourly basis developer.
2. Experience:
It is always good to go for an experienced developer even if you want to get a basic app developed. If you update the features in the future, you will at least have a good foundation to support it.
3. Cost:
Thinking to begin with any venture, the cost is the first thing that comes to mind. Businesses have to evaluate the budget in advance so that they do not fall short in between the process. If you have a low budget, you can go for freelancers rather than a sound mobile app development company. Going for freelancers, you can cut down a lot of costs that are incurred in the base of full-time or in-house developers.
Apart from offering a smart package, you will also have to give them additional benefits like paid leaves, bonuses, Insurance, overtime pay, training, etc. Hiring a full-time developer also brings you some of indirect costs that cannot be seen at first. For example, computers, maintenance, network, electricity, etc. Here are the major ones.
4. Communication:
The choice of a developer also depends upon the work culture you require. Freelancers are not generally as professional as a company. They would not take your money and just run away but yes, professional behavior, perfect communication, and timely delivery are hard to expect.
At the same time, if you go for a professional mobile app development company, you will get a dedicated manager assisting you throughout the project cycle.
5. Methodology:
Many companies now follow the Agile process in which client feedback matters at every stage. You will be involved with the project at every step and anytime you require a modification, you can get it done. There is no specific rule for the hourly-based freelancer. They might or might not be a good suit for you.
You should also read: 15 Reasons Why You Need A Mobile App for Your Business
Rates per hour depending upon the nature of the app
The cost of mobile app development majorly depends upon the type of application, its features, and the technologies used.
1. Basic App:
A basic app would be an app that does not have a back-end database, any API functionality, or any other integration like social media. You will be charged around $2000 to $10000 for such an app whereas if we talk about the US, it might cost you somewhere around $8000.
For such an app, the timeline can range from 1 to 2 months. To get a reduction in cost, you can consider hiring new developers or freelancers. Since it is going to be a basic app, even a new developer can work on it efficiently.
2. Moderately complex app:
A moderately complex app will have backend support and little complex functionalities with API integrations. It will cost somewhere between $10k to $40k. This is an average cost that might vary according to the location, as well as the platforms, chosen.
In India, the same app might cost you half the price as compared to the US. The timeframe for such applications generally ranges between 3-6 months.
Also read: A Complete Guide to API Development
3. Complex app:
A complex app would be an app with APIs, social media integration, backend support, and yes, complicated functionalities. To develop such an app, you need to hire an experienced developer.
These apps would be definitely expensive to develop, and the cost may range from $40k to $80k. In India, it might cost around $35k. The average time might be 4-8 months.
Rates of mobile app developers depend upon the type of app
A. Native apps:
Native apps are specific platform-based apps that have natural look and feel. It required an expert mobile app developer to create native applications. The top native app platforms are Android, iOS, and Windows.
According to one of the largest freelancing platforms, Upwork, the hourly cost of a native app developer lies between $20 to $99 an hour, with an average project cost of around $680.

B. Hybrid apps:
Hybrid apps are apps that run on multiple platforms. The mobile app develops to share the same codebase and runs the single application across multiple platforms. They are lightweight.
If hybrid technologies are taken into account then Xamarin developers and PhoneGap developers charge anywhere between $10-$60 an hour which also depends upon location.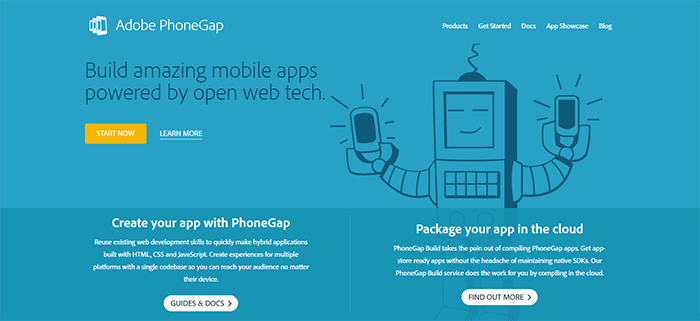 How to find good mobile app developers? 
Finding a full-time developer depends upon various factors like tenure, experience, platform, technology, etc. You have to first evaluate the time period for which you require that developer's assistance. Experience is another thing that keeps utmost importance and would affect your future goals and user experience offered by means of your application.
You have to see which platform are you going to launch your app on. Would it be iOS, Android, Windows, or some other? Going for all at once also gives you two choices. You can either go for native apps or hybrid apps.
If you go for a Hybrid app, you will have to hire only one resource because hybrid apps are coded once, and the same codebase runs on all the platforms. Hybrid application developers would also bring a significant drop in the cost and moreover, the time of development reduces to half.
Also read: Why you should choose Hybrid Mobile app: Overview, Native versus Hybrid, Advantages and More
After you decide on all such things, you can find for best firms out there by searching on Google and reading reviews. Consider connecting with people in your professional circle in order to take an idea of which mobile app development company is performing well at this time taking into account a good grab on the technologies.
Conclusion
The above-mentioned is a set of average costs based on our experience and the studies carried out by various technical bodies. The actual cost is variable depending upon various factors. Feel free to get in touch in order to receive more assistance on mobile app development.
VerveLogic can be your one-stop solution for mobile app development and web development because we have a team of experts and market experience. You can get your app or website developed at the best price possible.
Also, if you are looking for branding solutions or online marketing for your brand then you should check out VerveBranding and Verve Online Marketing today and make your brand stand out. We hope we have solved your every query regarding the app icon and how to create an amazing app icon. Let us know in the comments and questions.
FAQ:
These are the list of the most frequently asked questions by the users.
How much does it cost to hire an android app developer in 2023? 
The cost to hire an android app developer depends on the nature and app complexity. On average the cost for an android app developer is $25 to $50 per hour.
How to hire an android app developer? 
before hiring the android app developer for your app development you should emphasize on following things.
your requirements
take interviews and shortlist the candidate
find the developer which is most suitable for your app requirements
start the app creation process

How much does it cost on average to develop an app? 
Due to app dependency on many variable factors, the cost to build the mobile app lies between $25k to $40k. And the entire process takes around three to four months.
how much does it cost to hire an ios developer?
There are different costs to hire an ios developer. It would lie somewhere around $30k to $45k. although the cost depends upon the nature of the app like basic, intermediate, and advanced.
(Visited 131 times, 1 visits today)