Oyo Business Model | How Does Oyo Work & Earn| Marketing Strategies of Oyo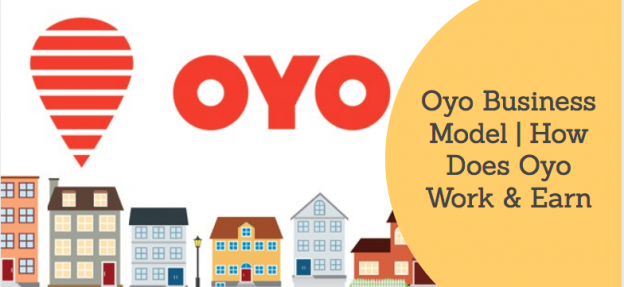 The largest branded network of hotels, Oyorooms started off its preambular actions around an aggregator business model in 2013. With its shatterproof trials it has now become an abode to 450,000 rooms globally operating in over 500 cities in India, Malaysia, China, Nepal, the United Arab Emirates, the United Kingdom,  Indonesia, Saudi Arabia, the Philippines & Japan. Visiting the history, Ritesh Agarwal hailing from Orissa started Oravel Stays for listing and booking of hotels. The company used to establish partnership with different hotels, lease some of the rooms and sell them under its own name. It still works similar but there is a slight change in the business model.
They are putting their main focus still on quality. They have made the partners provide services at predetermined standards to maintain the brand image. The business model of Oyo rooms was much like Airbnb but the focus is not only on discoverability but also on standardized quality. The services used to be sold by the name of OYO rooms and customers did not care who the partner was. It was a combination of aggregator business model and franchise business model earlier but now it is based on purely franchise concept.
Oyo Rooms Business Model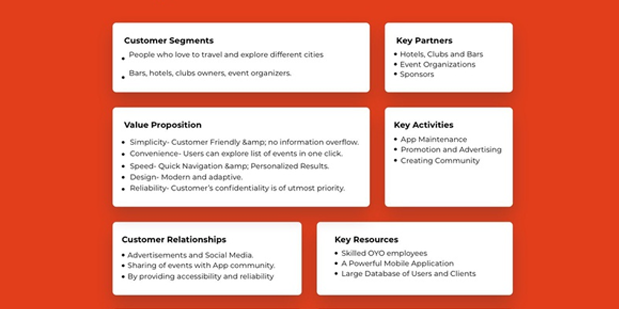 OYO is basically a network of budget hotels which is completely different from the famous hotel aggregators like Goibibo, Yatra and Makemytrip. These hotel aggregators generally list hotels and other travel related services on their website. In return, they get a commission on bookings as their revenue. They make a deal with the hotels by taking minimum order guarantee per month and hence discounts and offers are provided in comparison to the rates that hotels generally offer to the guests directly.
What about Oyo? It establishes partnership with non standardized hotels and purchases some rooms of the hotel for a particular time duration. Then, it resells those rooms under the branding of Oyo. Since the rooms are to be booked in advance, there is a huge capital required to initially book the rooms.
There are no direct competitors for OYO so far as it works on a different kind of business model. It partners with zero to two star hotels, give a makeover to the rooms and then bring customers to those hotels through their website and mobile app. Earlier, there was a fantastic marketing strategy OYO had adopted according to which OYO properties were listed on other hotel listing website but it got blacklisted then from the sites like Makemytrip, Goibibo, Yatra etc. There used to be a general problem faced by people. Firstly, there were two listings shown of one hotel- One under the name of the hotel itself and other with the name of OYO. As an enhancement to its strategy, OYO did not used to show hotel's names until you book. It was hard to locate the OYO properties at that time as the names were not disclosed.
Why do Hotels allow OYO to establish its own branding at their property?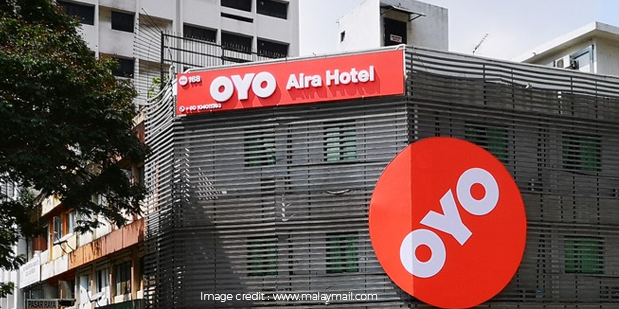 There is a mastermind behind the inception! Oyo basically targets zero to two star hotels which are very high in number. They do not generally bother about getting customers. They do zero branding and no marketing for their business.  So, if there is any money that can come to them without moving any muscle, why won't they love it. Moreover, while sending customers to these hotels, Oyo is not worried about the customer service as well because Oyo is the one which takes care of proper makeover of the unorganized hotels.
In the organized hotels and accommodation, Oyo books a number of rooms in advance by paying upfront after some bulk discount. Then, the rooms are listed on its website and other platforms to let the people make bookings in  luxurious hotels at much nominal cost. The other method of functioning is for the unorganized hotels in which Oyo gives makeover to the rooms and in return it gets as much money as the hotel owner gets for room booking. It is basically for the hotels which have not been recognized yet by the potential customers.
How does OYO Rooms work?
There are different types of properties listed on Oyo Rooms. If unorganized hotels are there then organized are also their winning the customers. Now, the question is why do organized hotels need Oyo and why there is a big difference in cost when you book directly, in comparison to when you book through Oyo Rooms. It is because Oyo Rooms book the hotel rooms by paying in advance for the complete month. Now, it depends upon the marketing and promotion strategies of Oyo that the particular hotel gets how many customers. Since, the hotels get booking for the entire month, they are free from the stress of sales of at least those rooms.
What is the marketing strategy of OYO Rooms?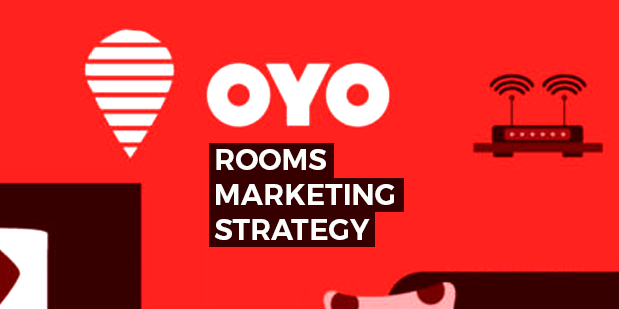 The basic concept Oyo is based on, is blocking the hotel rooms by paying the whole rent in advance, let's say for a month. If you will have a surface look, you will see a lot of difference in the prices of Oyo and prices of same rooms when you buy directly from the hotels or any other aggregator website. It is not something unusual and this is what most of the ecommerce companies are doing. They take the products in bulk and then sell the product on their sites while earning a decent margin. This is what Oyo is doing with the hotel rooms.
Most of the startups generally focus on getting and building a customer base initially but many of the Indian companies fail to understand the type of market in India. People always run behind what is being offered to them at cheapest cost. The day such companies increase their cost will be the day, they will lose most of their customers.
How it is going with the Indian market?
Indian market is not a pigeon hole but a big banyan tree. Even if you are coming up with an innovative concept, you will find hundreds of people working on the same concept the very next day. It is true that you can bind customers by providing them good service but if are thinking to increase the cost of service, you might lose more than 50% of them. The reason why Indian market is not a pigeon hole is you will get thousands  or lakhs of services working under the same domain. If you disagree to serve, then there are several other good services who are waiting for the customers.
Just not the users who book, even the hotels are not loyal towards Oyo. Oyo books the hotel rooms in advance for the whole month now if a seeker comes to a hotel and ask for rooms. The hotel will tell their normal rates but if the customer says that we can book the room through Oyo then they agree to provide room at that cost only because they have already got a whole month's money from Oyo. Now, they will focus on selling their other rooms even if they can sell them at a lower cost.
What concept OYO Rooms is based on?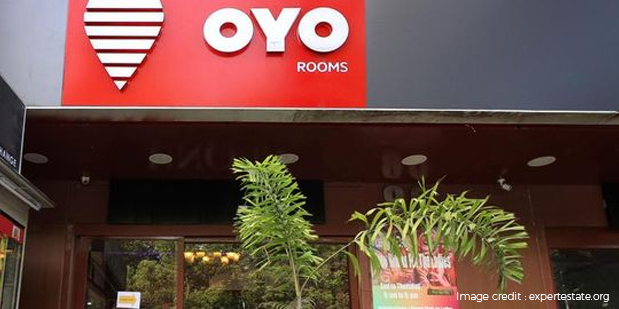 Oyo Rooms has blended technology with living spaces and aspires to shape up new low budget methods of how travelers searches for good services and make a stay in a completely new space. The OYO team is using technology and talent to fix the socio-economic problem. "(We are focusing on this) so that people and property are in perfect equilibrium. Our long-term vision is to standardize all forms of real estate such as budget hotels, apartments, guesthouses, and resorts," Agarwal argues.
"Globally, we've seen marketplace models pivoting from plain discovery to fully managed and leased services. The future is a brand with distribution and full management capabilities – OYO being a full stack hospitality company is at the forefront of this innovation," he added.
Talking about the year 2018, it was OYO's aim to target 180,000 rooms which amounts to capturing 5% share in the hotel market of India. Oyo has re-engineered the hotel and hospitality industry with a variety of products including  OYO Rooms, OYO Flagship, OYO Townhouse. Most importantly, Oyo does not only get traffic from people who are travelling to other places but also due to plenty of other reasons such as staying late at work and then avoid long way commute or even for partying out with friends. People generally do not wish to spend too much if it is a matter of some hours and hence Oyo is getting much popularity day by day.
About the superpowers of Oyo, we must tell you that the CEO claims to have 300 people on ground team including civil engineers, architectural, designers etc who transform the properties within 5-15 days. If we talk about India, there is a great number of 0-2 star hotels. Running such a hotel is generally a side business for the people to just show losses. While, there main business is running side by side. Now, if they are getting money and popularity through Oyo rooms then there is no harm for them.
Since its inception, Oyo has put its major focus on providing a fantastic user experience to the customers so that while they go to a next trip, they prefer Oyo rather than direct booking or booking from some other aggregator website. There is also a plan to offer the holiday packages with guaranteed standardized hotels along with appointing OYO captain for troubleshooting purpose.
He says that "We've built technological capabilities to overhaul tedious processes like transformation and asset on-boarding making them swift and agile while providing a structural detailing to the value chain. Our sales workforce uses Orbis which is a business intelligence tool and helps them in understanding demand patterns in the area and basis this intelligence offering the right quote to different partner hotels."
Why Oyo Rooms are so cheap?
Oyo is majorly focused over creating a huge customer base. It books hotel rooms in advance at an agreed cost. According to our assumption, the hotel owners might agree at a much lower consolidated cost if they are getting booking for a whole month at once. Now, it the Oyo has booked a room for Rs. 1000/month then it would be selling it for Rs. 1100. There is a lesser of profit here but if we see it from the perspective of a huge customer base then it is really great.
Since OYO is still as its growing stage, it offers a lot of discounts to its potential customers who book through their mobile app or website. There is certainly a loss for the company as it also has to spend in renovation, operations etc but since it has managed to raise a very huge funding from Venture Capitalists, we cannot perceive any losses yet.
Revenue of OYO Rooms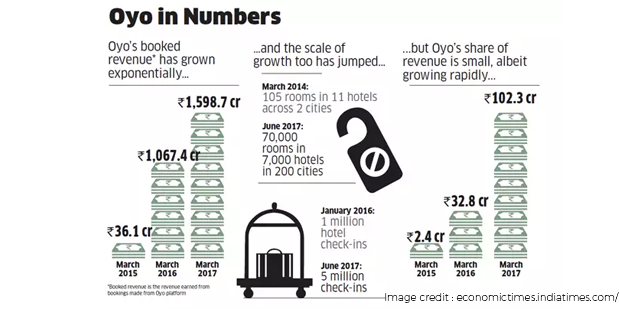 According to the Economic times, Oravel Stays Private Limited which is the parent company of OYO had a net loss amounting to Rs 312 crore in its standalone results for 2017-18. There is a 3% drop from last financial year according to Tofler.
A revenue of Rs 327 crore has been clocked by the company in its standalone results for 2017-18 which is around a 200% jump from last financial year.
According to the reports, "In fiscal 2017-18, OYO's employee costs went up to Rs 252 crore, up from Rs 197 crore in 2016-17, while total expenses rose 48% to Rs 638 crore in 2017-18 from Rs 430 crore in the previous fiscal."
The company is expanding even in the international markets. OYO announced that it has already launched in the Philippines as its seventh overseas market besides UK, UAE,  China, Malaysia, Indonesia & Nepal. The company has also planned to execute a digital register mechanism that will be allowing them to share with government the customer data. Though, it might impose a threat on the privacy as Oyo is more about the unmarried people than families.
Also Read: Whatsapp Business Model : How Does Whatsapp Work And Make Money?
##  How does Amazon Work: A Look into Amazon Business Model and Revenue Analysis
## Facebook Business Model: How Does It Work & Earn Money?
## Pinterest Business Model Analysis | How Does Pinterest Work & Make Money?
## Trivago Business Model: How Did Trivago Start & How Does It Work?
(Visited 1,006 times, 2 visits today)