How you can Earn Money Through an App?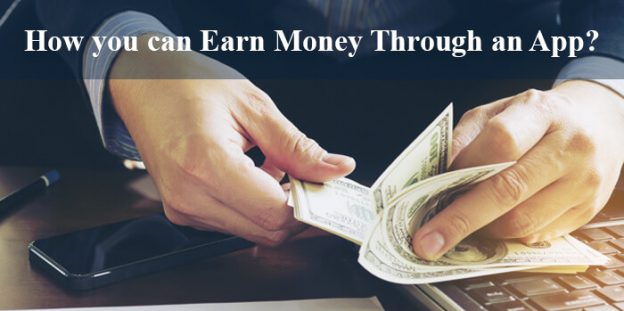 Many people consider building an app of your business is a gateway to earn millions in a very short span of time. And honestly speaking there is no denying this fact, no matter if you have android or iOS app development, on play store or apple store, you have the potential to earn huge profit out of it with correct specialisation of your business. Despite knowing this fact that an app can earn huge profits not every app development on the online stores are earning a huge lump of money or getting millions transferred to their bank accounts. 
There are more than 4 million apps in the world on the Google play store and Apple app store and most of them are in competition with each other for more customer usage and downloads. SO, it can be difficult to earn this much profit at a particular time if your app doesn't solve the people problem. So, let's uncover what things must be considered before making any effort into a money creating app development.
Things to Know before App development
There's always a secret behind everything. And with so many apps on the internet, you must have a secret ingredient to stand out from the rest of the others. Or you must know the secret on how to make the app go viral. So, you must have an idea of what features are making an app popular in the market. This will not only help in increasing the profit but will also cut down the cost of developing and maintaining an app. It's been observed that customer want an app that is fast, efficient and visually appealing.  And app developers have fun in creating such creative applications. 
Payment is another key factor for users. Most users are always worried about the secure payment and many times it prevents them from buying the products. So, a secure payment gateway integration like Google Pay, Apple Pay, Paypal etc. will make things better and will increase the user engagement towards your app.
In the initial time of your business, you need to choose which platform will be right to launch your mobile application. Android app development vs iOS app development is a very debatable topic and probably has no end. Most of the world population uses android apps over iOS apps due to various factors like accessibility, cheap, more applications. However, choosing one between the two requires some serious statistical support, especially when you are creating an app for money 
The average in-app purchase per user is 2 times higher for iOS than it is for android. But as we know that app users in android surpass iOS easily. But you need to remember that every third person in the World has a smartphone in his/her hand. So, choosing an android app development over iOS app development can be very beneficial if you want your app to get it viral in less time and make a good amount of money in less time. Let us dig deeper and see how payment methods in the Apple store and Google play store work. 
How are Payments Made in the Apple Store?
iOS app payments are usually made in under 45 days of the last working day of the month when the app purchase was made. You need to give the necessary information like bank, tax details, documents and should maintain the minimum payment level to get the payment, And there must be minimum threshold amount you need to earn before getting amount credited in your account otherwise it gets carries aways to the next payment date, till the minimum decided iOS app revenues amount is earned.
How are payments made in Play Store?
The amount that you get from the in-app purchase will be paid within the cycle of 30 days. Unlike the Apple store, there is no minimum threshold amount is required with apps in the play store. Even, if your android app earns $1, it gets credited to your account. However, the play store works on 70:30 payment distribution ratio. Whatever you earn from your android app development you will get 70% and play store keeps the rest 30%. 
How much Money do Apps make?
There are more than one thing which needs to consider to make your money. It's not just the idea of your business and android and iOS app development will make money rain in your bank account. The application needs exposure in the market in order to be more productive. Its functionality must be user-friendly for better user engagement. Let us have a better look at the points which needs to be considered to earn huge profits,
A. On which platform you have your mobile app
The platform on which you develop your app can make a major impact on the money earning capability of your app. More than 30% of the iOS app developers earn over $5000 from their app while only 20% of android app developers are able to make more than $5000 from their play store applications. However, the reach of android apps is far much than iOS apps. There are more than running 400M smartphones, outnumbering the iOS which only has 50M users all over the globe. w
B. In-App purchase option
Many application users strategy in-app purchase option. And mostly it is followed by gaming applications and this strategy is proved to be the best method to make money with an app for a number of app developers. Candy Crush has generated over 848 million Euros with the help of in-app purchase.
C. In-display add in the App
In-display advertisements is another sure-shot way of making money with apps development. For instance, you can ask the company to pay for every click. 
D. Use subscription Model 
Many applications on android and iOS app development use a monthly and a yearly subscription to earn. This approach helped with generating $258.3 million. And similarly, Netflix is able to generate $11B in revenue.
Mobile App Category Which Makes the Most Money
There are many applications which have the capabilities to earn revenue for your business. But there is some business that keeps you focused upon the amount you can earn from your app.
-> Music App
-> Social Media App
-> Entertainment Apps
-> Gaming Apps
-> Business Apps 
-> Finance Apps
Now that you know how to make money from mobile apps, you should get the benefit of knowing the future for mobile app development looks like. As the trend suggests that gaming apps are making millions. However, there are many new technologies like AR, VR and AI apps that can earn a huge amount and change the market with there app development. 
Frequently Asked Questions
1. Do free apps make money?
Yes. There are multiple ways through which applications which don't charge money from users make money. 
2. What are the most profitable apps?
 As we have seen that Music app, Gaming app, and video streaming app. People Engagement is very high on these apps and can help you earn huge profit. 
3. How much does the app store pay per download?
Apple takes 30% of the revenue made on the Apple app store and gives the rest – 70% to the developers. 
4. How much does Google pay per download of an Android app?
Google takes 30% of the revenue made on the Android app and gives the rest – 70% to the developers.
5. Do apps make a lot of money?
Apps can take some time to make earnings for you, you will have to wait for some time before the breakeven would end. The other thing that you can do is make multiple apps and publish them on stores to expand your earning ability.
6. How much revenue an app can generate?
The value depends entirely on the core functionality of your app, the platform considered, the expectations of the targeted audience, the monetization model is chosen, and more.
7. How much do mobile app developers make?
The value completely depends on factors such as platform, features, user expectations, monetization model, and more.
(Visited 152 times, 1 visits today)