How does Amazon Work: A Look into Amazon Business Model and Revenue Analysis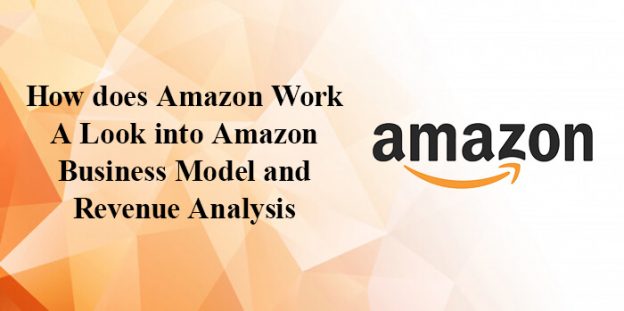 Amazon's success as the world's biggest online retailer isn't a stroke of luck, but genius. A genius that one could easily see in some of the earliest decisions of the company's owner; Jeff Bezos, predicted to become the first trillionaire of the world. Talking of his genius decisions, you can go back to the time when he changed his company's name from "Cadabra" to "Amazon" when his lawyer misheard the first one for "Cadaver".
Come 2000, and Bezos his company was all set for greatness as he called for a new logo, the  Turner Duckworth design we have today.
Today, the online seller is the undisputed king, and sometimes one of the kings, in many fields. Among all its titles, here are a few that tell us what makes Amazon a force to reckon with:
1. It's the 6th most prominent website on Internet,
2. It's  one of the  five most valuable companies in the world
3. It is the leading eCommerce in the United States, with 136 billion U.S. dollars in 2016 net sales!
4. It is the eighth largest employer in the United States
5. It has acquired some big companies over time, Whole Foods Market is one of their recent purchases.
A quick glance over these states would easily reveal that a lot of planning happens inside the walls of Arlington and Seattle, which has successfully turned this once "in a garage bookseller" into the world's biggest eCom giant. Given this fact, it simply means that Amazon has done some serious experiments with their business model, which has been a journey full of rewards.
Amazon Business Model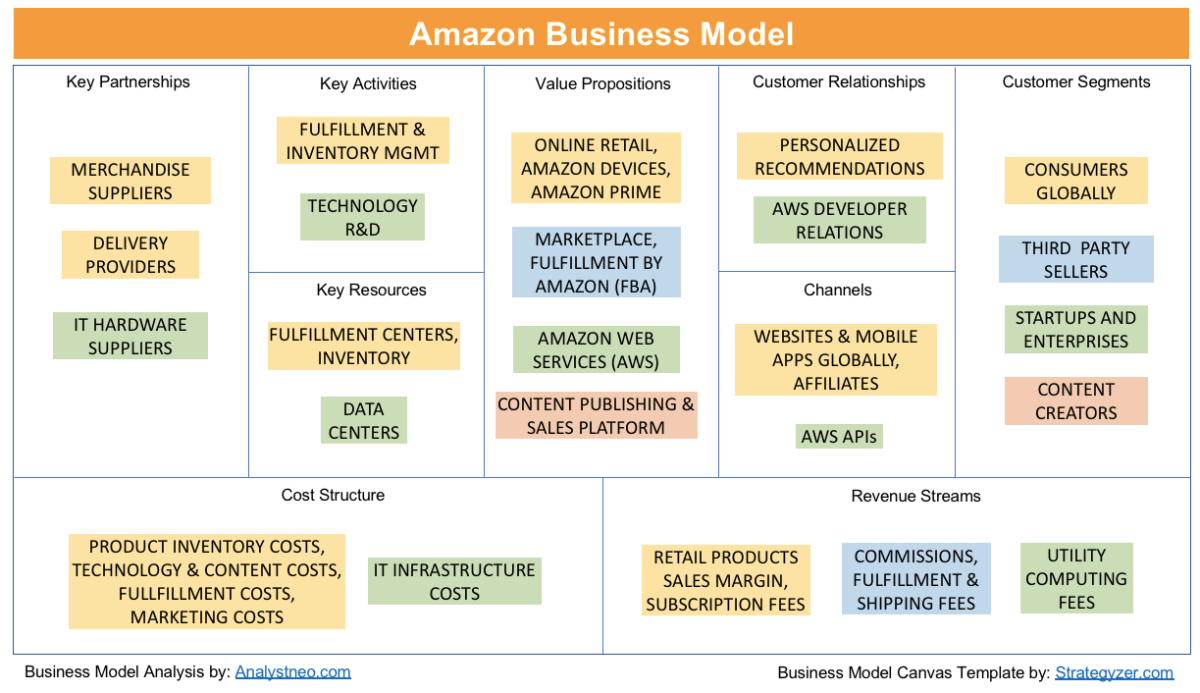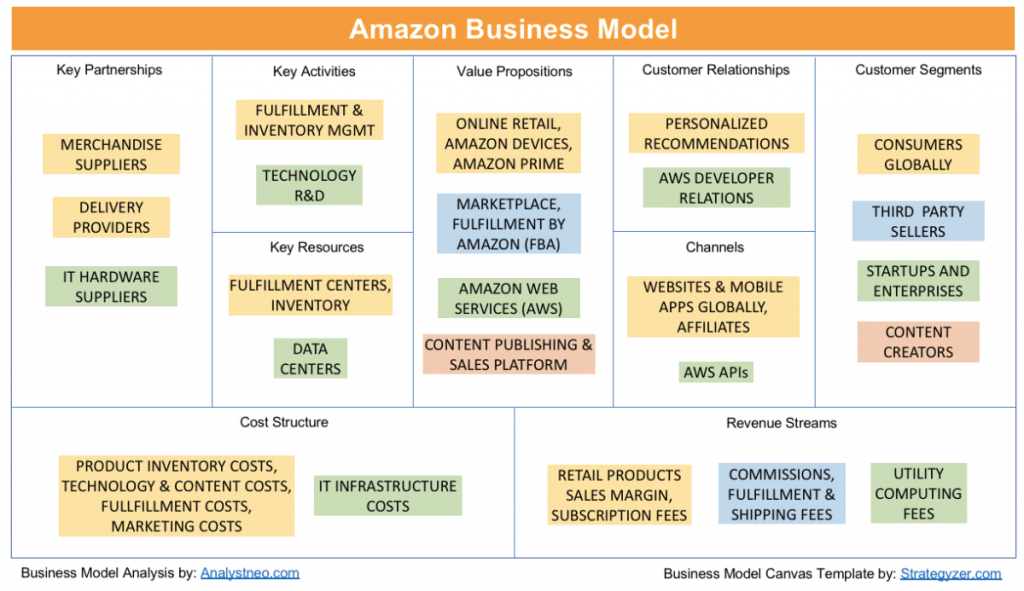 The success of Amazon has been its diverse business model, which entails not or two, but many moving parts. A plethora of products is directly offered to customers through Amazon's business model. All the products are offered for a very small markup by Amazon's business model, and the company stores its products in an extensive network of stockrooms. Customers like and approach Amazon and Amazon business model with the belief that the company offers products at a reasonable price. An add-on to Amazon business model is its retailers, that could easily list their products on Amazon's website and sell directly to purchasers. Amazon business model is also aided by its prime membership program, wherein the members pay a yearly fee of few dollars, in exchange for special discounts on various Amazon products. Amazon business model finds an additional source of generating revenue by selling Kindle, an e-reading device and mobile application.
Amazon Business Model Canvas
Amazon Business Model canvas here clarifies the key partners, customer relationship, customer segment, key accomplices, key activities, value proposition cost structure, and revenue streams of Amazon.
How does Amazon Business Model Affect its Revenue Model?
In an article named "Note on Business Model Analysis for the Entrepreneur", there is much said about steps that businesses and entrepreneurs should take when judging and identifying their business model. To quote, "In order to assess a potential business model, entrepreneurs must uncover the nature of its 'profit engine' which is often obscured by ambitious financial and market projections. Entrepreneurs must ask themselves whether their business concept can be translated into a viable, profitable business venture and how much cash it will take to achieve that result."
There are 3 factors that are responsible for the growth of Amazon business model.
| | |
| --- | --- |
| Factors | How does it affect the revenue model? |
| Investment | Amazon knows the cost for launching and sustaining business |
| Cost Drivers | Amazon identifies cost components having the biggest impact on its cost structure, and works to disaggregate the cost data to uncover key driving factors |
| Revenue Sources | Amazon identifies important revenue streams and sources and then dismantles the data of revenue to uncover important revenue drivers |
The success of Amazon's business model was not entirely dependent on the factors listed above. During its early years, the company heavily relied on old-school SEO and AdWords programs and targeted hundreds and millions of keywords to become the success it is today.
Vision and Mission of Amazon Business Model
Amazon described its vision in 2008 as
"Relentlessly focus on customer experience by offering our customers low prices, convenience, and a wide selection of merchandise."
And now, the vision has now turned into a humongous version of itself with the company's dream to become "Earth's most customer-centric company". and provide the biggest selection of customers. Repeated purchase and customer loyalty have been the key to the success of Amazon business model. Some of the key decisions that have proven to be an add-on to Amazon's business model are:
A. providing easy-to-use functionalities to users,
B. listening to their customers very well.
C. providing feedback and review section on their app and website, so they can focus on complaints and demands of their customers.
D. free shipping policy on expensive purchases
The aforementioned factors, along with many others, are responsible for bringing back customers to Amazon. The effects are undebatable, as the company, with its vision and rigorous steps taken in directions to make it possible has its data to show for them. In 2004, Amazon business model was given a score of 88 by the American Customer Satisfaction Index, which was the highest customer satisfaction score for both the online and offline service industry till that time.  A fun fact, to help themselves understand their customer better, every employee of Amazon.com spends two days a year on the service desk, taking customer calls. No one is spared from this drill, not even the CEO.
Marketing Strategies of Amazon Business Model
Amazon doesn't like to talk much about its advertising strategy in its yearly reports, but it is a no-brainer that focuses on internet promoting channels has always been a major part of it. In a bid to attract more and more customers to its website, the online retail king focuses on:
a. associates program
b. portal promotion
c. sponsored search
d. email advertising, etc.
But just focusing on the above channels isn't all that the company does to place itself on its customer devices. The company officials have agreed in the past that Free shipping and benefits offered through Amazon Prime services have been a major part of their every advertising campaign.
Who was Amazon's First Customer?
The reason behind the tremendous success of Amazon business model is definitely its customers, who keep placing their trust in the services of the company. But anything starts from one, and Amazon is no different. The company's first non-company customer was a California-based Australian software Engineer, John Wainwright, who purchased "Fluid Concepts And Creative Analogies: Computer Models Of The Fundamental Mechanisms Of Thought by Douglas Hofstadter " in the year 1995.
Who are the Competitors of Amazon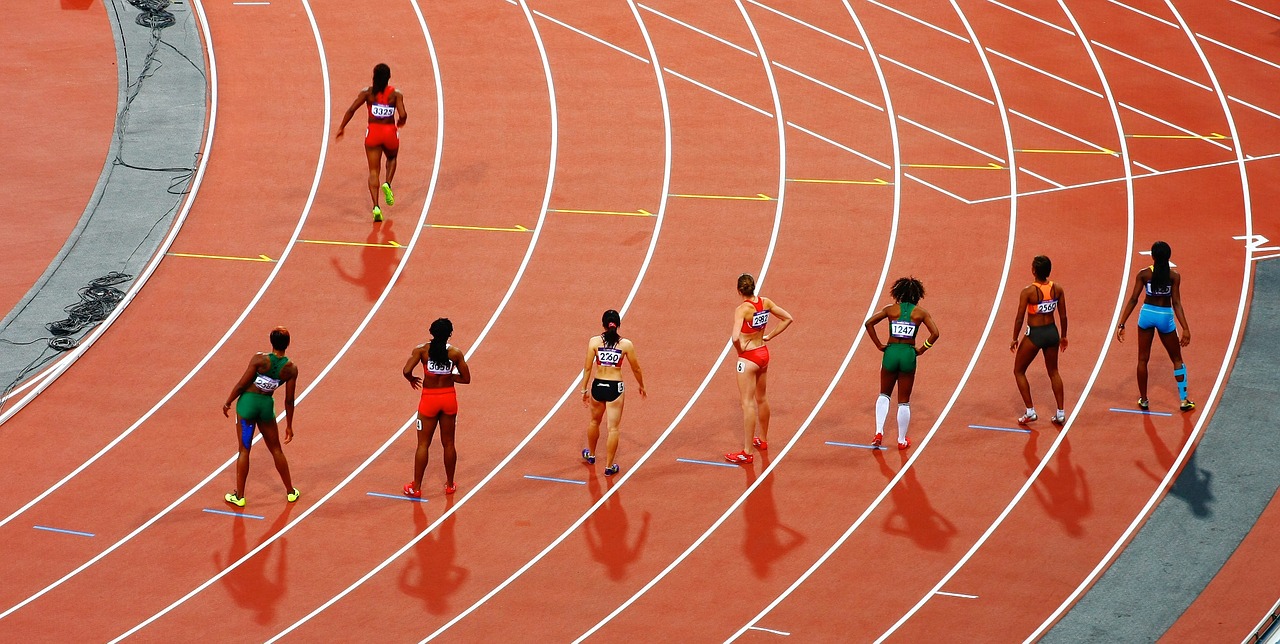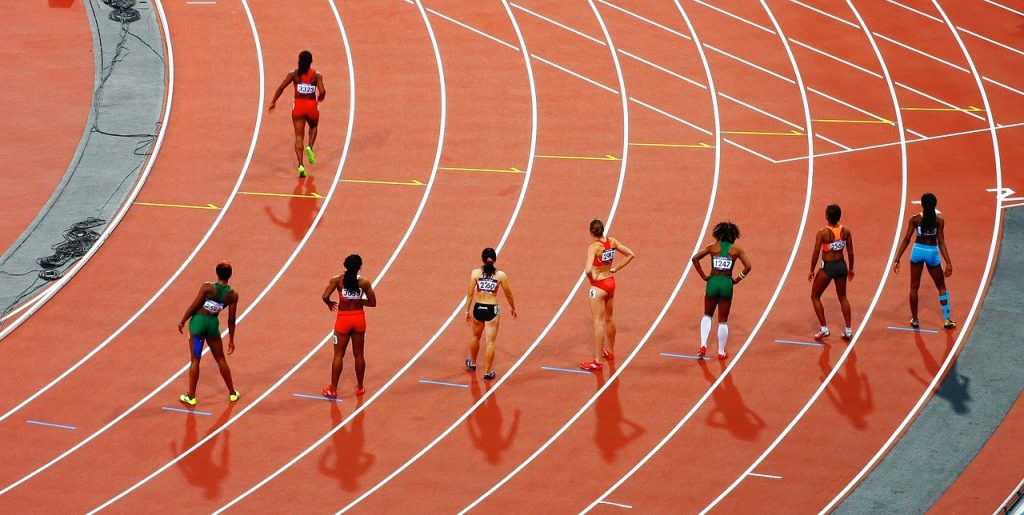 This is a list of Amazon's direct competitors in different areas.
eCommerce:
Alibaba, the Chinese multinational, is the biggest competitor to Amazon in the world of online retail. But if we talk only about America, then Costco and Walmart take Alibaba's position.
Traffic and online advertising:
In attracting online traffic and advertising, Amazon is sure a big name, but trails behind Google and Facebook. It's also notable that both Google and Facebook help Amazon get the majority of its traffic.
Cloud computing:
Microsoft Azure and Google.
Media segment:
Time Warner Cable, Netflix, eBay, Apple, and Google.
Amazon Investors
Two leading investors of Amazon
1. Kleiner Perkins
An American venture capital firm specializing in investing in early-stage and growth companies. It invests globally in internet start-ups
2. AOL
An American online service provider and global digital media and technology company, having a focus on mobile,  video, and ad technology platforms,
Valuation and Statistics of Amazon Business Model
Valuation Measures
| | |
| --- | --- |
| Market Cap (intraday) 5 | 568.19B |
| Enterprise Value 3 | 578.81B |
| Trailing P/E | 300.65 |
| Forward P/E 1 | 147.01 |
| PEG Ratio (5 yr expected) 1 | 33.68 |
| Price/Sales (ttm) | 3.53 |
| Price/Book (mrq) | 22.99 |
| Enterprise Value/Revenue 3 | 3.59 |
| Enterprise Value/EBITDA 6 | 44.75 |
Fiscal Year
| | |
| --- | --- |
| Fiscal Year Ends | Dec 31, 2016 |
| Most Recent Quarter (mrq) | Sep 30, 2017 |
Profitability
| | |
| --- | --- |
| Profit Margin | 1.20% |
| Operating Margin (ttm) | 2.01% |
Management Effectiveness
| | |
| --- | --- |
| Return on Assets (ttm) | 2.17% |
| Return on Equity (ttm) | 9.07% |
Income Statement
| | |
| --- | --- |
| Revenue (ttm) | 161.15B |
| Revenue Per Share (ttm) | 336.79 |
| Quarterly Revenue Growth (yoy) | 33.70% |
| Gross Profit (ttm) | 47.72B |
| EBITDA | 12.93B |
| Net Income Avi to Common (ttm) | 1.92B |
| Diluted EPS (ttm) | 3.92 |
| Quarterly Earnings Growth (yoy) | 1.60% |
Balance Sheet
| | |
| --- | --- |
| Total Cash (mrq) | 24.31B |
| Total Cash Per Share (mrq) | 50.45 |
| Total Debt (mrq) | 43.19B |
| Total Debt/Equity (mrq) | 175.14 |
| Current Ratio (mrq) | 1.03 |
| Book Value Per Share (mrq) | 51.16 |
Cash Flow Statement
| | |
| --- | --- |
| Operating Cash Flow (ttm) | 16.25B |
| Levered Free Cash Flow (ttm) | 10.67B |
Source: https://finance.yahoo.com/quote/AMZN/key-statistics/
How does Amazon Make Money?
General retail
Amazons buy directly from manufacturers and third, and sell at a slight profit. This strategy accounts for more than 80% of sales of Amazon's business model.
Third-party sellers
Amazon has a separate place for independent merchants intending to sell their products online via Amazon's online selling platform. Third-parties can sign-up for Amazon by simply listing their products on the platform. In return, Amazon promotes and ships its products to the doorsteps of their customer, charging a small commission for its services. This third-party selling makes up for 12% of Amazon business model and Amazon's total revenue. Of all the products sold on Amazon, 40% belong to the third-parties.
Amazon web service:
Amazon Web Services is the name of Amazon's cloud computing business. It offers back-end services to organizations ranging from private startups to government bodies.
Media and content:
The company has stepped into the online entertainment industry and now offers numerous web series. The content can be accessed and streamed online using the app "Amazon Prime"
Amazon prime:
Amazon Prime is a customer loyalty program that offers product discounts and other benefits to its members. Prime has around 97 million members as of 2018.
Amazon Kindle family:
The Kindle helps Amazon make money by tempting users into buying Amazon products and content. Kindle Fire comes with a free 30 day Amazon Prime trial. It doesn't take much time for users to get used to awesome 2-day shipping and a host of other perks, and they fall for the amazing Prime. So, Amazon business model doesn't make any money from Kindles directly. But by driving traffic to a prime membership plan.
Value Proposition of Amazon
i. Convenience, choice and speed, and. Convenience to shop from the comforts of home by making few clicks on website or app.
ii. Choice of going through a wide range of products, without spending even a fraction of time on what one has to spend when shopping physically in a store.
iii. If you know exactly what you want you can order it in few minutes. And the speed of delivery proves to be a real deal-breaker.
Amazon Business Model's User Segmentation
Amazon divides its customers into three groups based on certain characteristics.
Group#1 : Based on interest:
As Amazon collects critical data that tells it about the interests of its users, it becomes easy for the company to segment its customers based on interest.
Group#2: Based on engagement:
Given that Amazon is not the only player in online retailing, people have many options to buy their products from. SO the company focuses on loyal, revenue-generating customers, by tracking engagement metrics.
Group#3:Based on personal information:
This includes making data based on customer's age, language, geographical region, gender.
How has Amazon evolved over time?
This is how Amazon has improved itself over time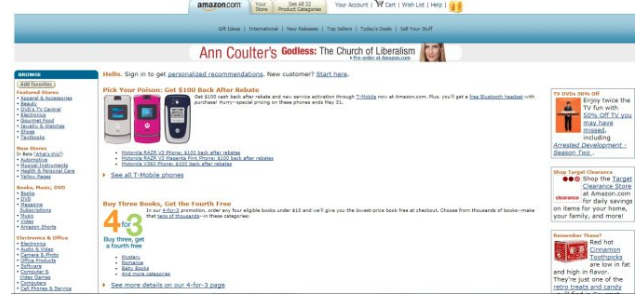 In 1998, there was just a simple listing of products on the name of the website. The left side had categories of product in a vertical panel, while the right  showed advertisements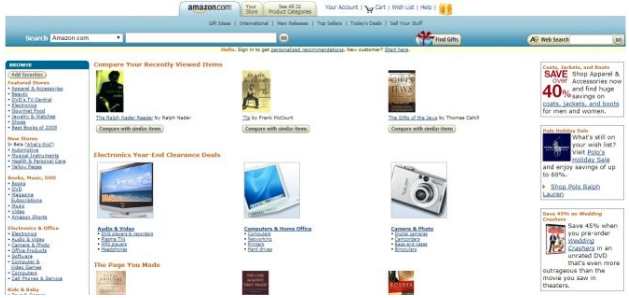 In 2005, things changed a bit, and the list view was replaced by the gridview.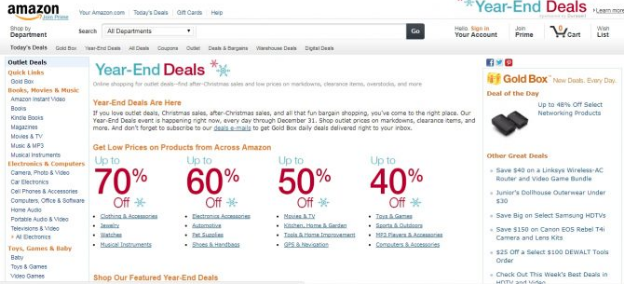 In 2012,  Amazon business model underwent a drastic transformation, and so did the website. Festival offers were displayed at the top, along with the normal plain listing. Many news was added to the menu on left. Social media were provided to take customers to Amazon's numerous social media handles.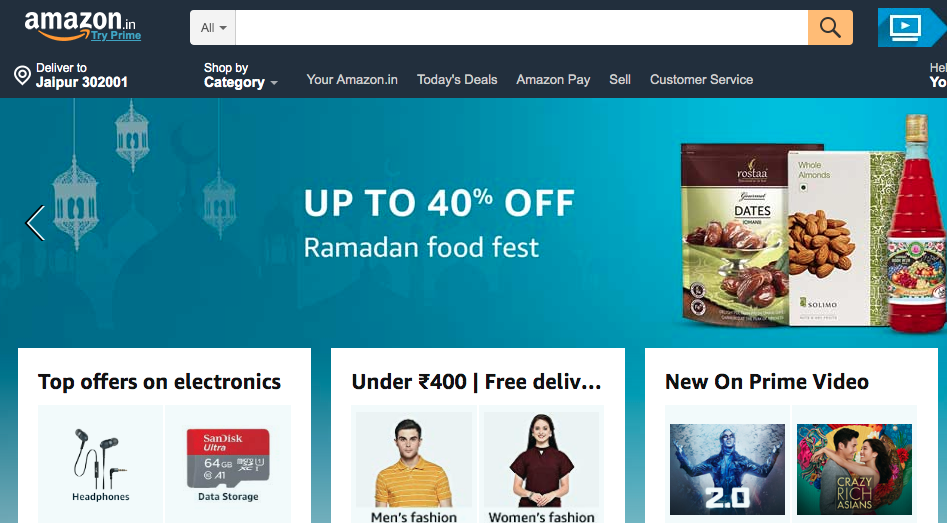 In 2017, we see an attractive view of Amazon's website. The banner can be seen being displayed at the top. Categories option under the name of departments has been turned into a drop-down list.
You can see all these pages of the past by visiting https://archive.org/web/
How to Start an eCommerce Business Like Amazon?
This guide helps you understand how to start a business like Amazon. There is no need for having rigorous know-how of coding. What we will see is how one can easily build a platform where others can list their products for sale.
Creation of multiple stores: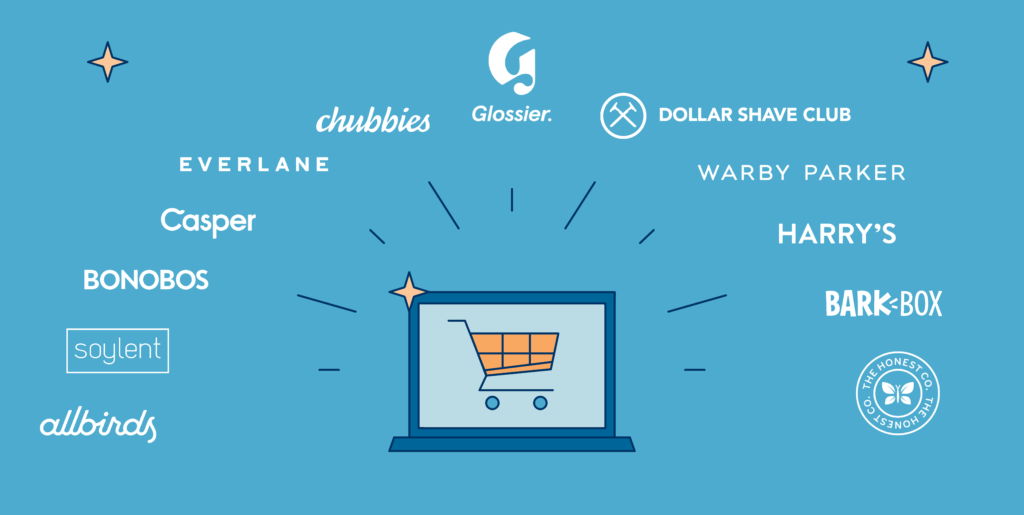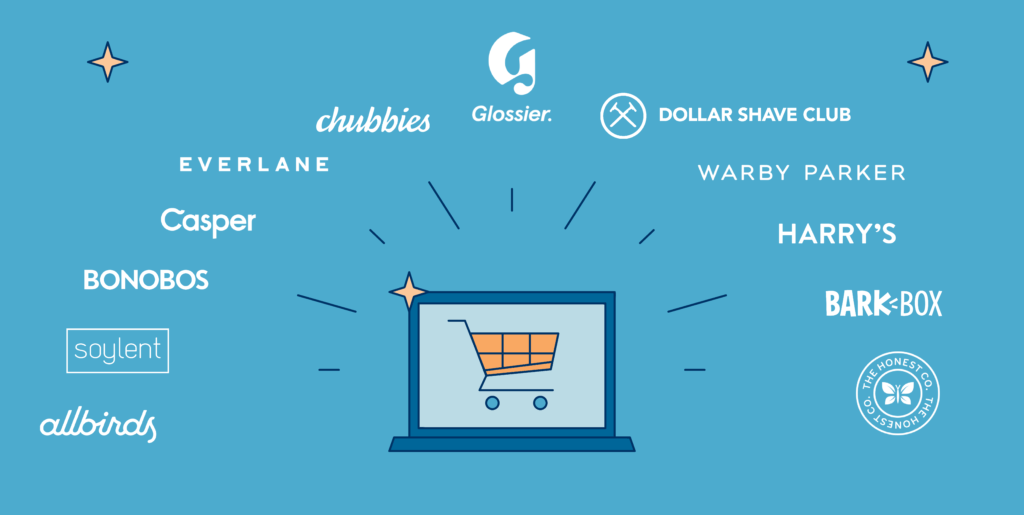 Merchant/sellers can be allowed to make more than 1 store on the website. The administrator, you, set a limit on how many stores a merchant/seller can make. For instance, one merchant should only be allowed to make two stores, like Jewelry and Watch, on your site. The choice of coming up with the combination of products to be offered on the two stores should be entirely left on the merchant/seller.
Expense Configuration: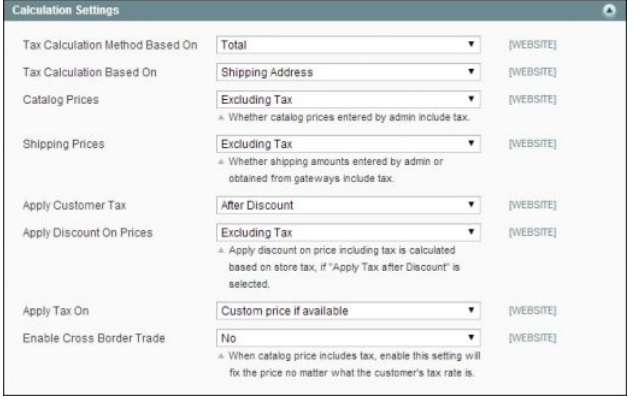 Taxation is important when you are conducting an activity to the level of online retailing.
So special considerations should be given when preparing a taxation plan. You can club merchants/sellers residing and selling in areas having comparative tax rules.
Transportation Configuration: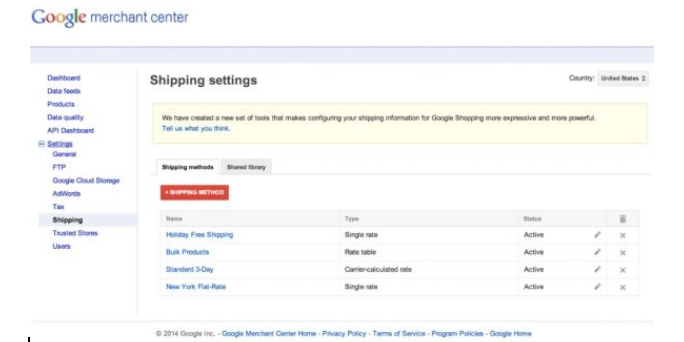 Robust shipping is an important part of this kind of business. Setting up zones is obligatory.  Strategies for product delivery should be made according to the transportation supplier. Grouping delivery techniques can make it less demanding for the store proprietors in keeping track of their products. You can choose to disable the transport option if you don't wish to get into that.
Numerous Product Attributes: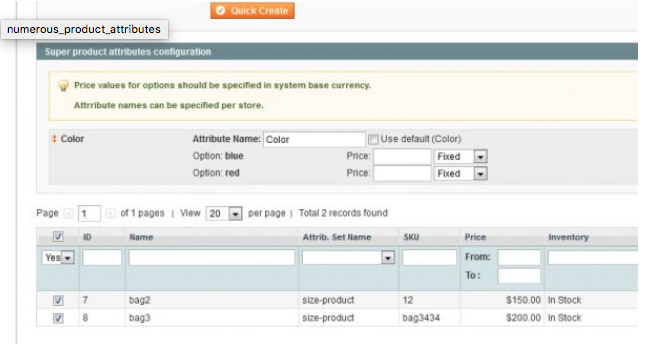 You can characterize any number of item attributes with a positive or negative impact on price. As an example, you can choose the following attributes: size, Color, Storage Capacity, and so on.
Stock Management:
Only stock available for sale should be listed on the website. A product should only be subtracted from the stock after a successful purchase.
Least and Maximum Order Quantity:
To avoid customers from buying an unnecessary quantity from your platform to secure it as their stock, you can set max. And min. Limit for every order
Also Read: Whatsapp Business Model: How Does Whatsapp Work And Make Money?
(Visited 1,698 times, 4 visits today)