How do you create an app for your travel business?
How do you create an app depends a lot upon the type of business you run and people you want to target. I still remember arranging trips a decade ago! It was a task for braves. Other people had travel agencies like yours to the rescue who used to research everything, do the paper work and make sure the customer enjoys a great experience. Though, there were certain problems people had to face. The agencies used to just showcase the options with whom they have tie ups. There were no credits, loyalty points or any such rewards on the bookings done. The cost charged by the agencies could be arbitrary due to lack of options available to the users. 
The time has changed! It is an era where people can make the world pretty much reachable by means of a few taps on their smartphones. Planning trips is not a difficult and time taking job then it used to be. Being a travel agency holding years of experience in serving the industry, you have to think about your mobile presence so as to target a huge chunk of audience. 
Travel applications form a perspective niche for investment. mobile applications are expected to generate 188.9 billion U.S. dollars in revenue by 2020. 
Benefits of Travel apps: 
1. One stop solution: Travels applications serve as one stop shop all the needs of your clients related to travel such as Hotels, Tickets, Sightseeing, Travel related shopping etc. They do have to move to any other platform for any of their requirements so if you do not give any chance to them to get distracted, you will not lose them. 
2. Get instantly available: By means of mobile app, you can remain instantly available to your prospects. If you expect people to come to your brick and mortar office for the bookings or reach you over call, then remember you have already lost half of the customers as people look for ease and quickness today. Moreover, business wise, travel apps are a plus as employees do not have to bother about managing bookings, billing, invoice etc. They can find all the information at one place.
3. Customization: People are used to everything that is being customized according to their choice and requirements nowadays. Travel apps give you an opportunity to promote customization expressed in the form of different packages such as for fun trips, corporate or family holiday. If designed according to customer's needs, mobile apps can turn a major source of conversion for your business. 
4. Brand recognition: You set up your branding by coming online as you are able to showcase your services publicly now due to which people would access you while being on the go. With the rising competition, it is important to be recognized by your target audience so that they keep coming to you and also recommend your services to others. Consumers are always more likely to go for a brand that they recognize over the unfamiliar one even if they are not much aware of a lot of things about your company at that point of time. 
With above points, we can clearly see how beneficial it would be for you to develop a mobile app for you travel business.
Must-have Features for Travel application
Plan your app by jotting down the features you would like to offer to your customer. While you approach any mobile app development company, first thing they would be expecting from your side would be 'required features'. So, here we are bringing to you the list of some important features that you must have in your business application.
1. Map services: A travel app is incomplete without map integration as people generally use travel applications to plan a trip to a new place. Your in-app navigation services would help them locate their destinations quickly. If tourists serve as target audience for your business, then this feature becomes mandatory for you to offer a great user experience. Your travel application can use Google Maps SDK for iOS and Android; Google Places and Facebook Places APIs etc.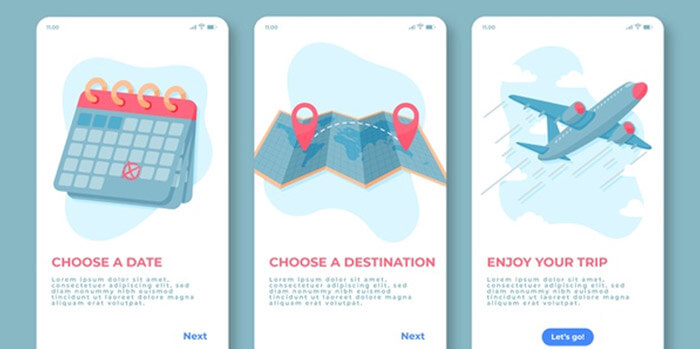 2. Booking services: Another important feature for a travel application is to offer booking facilities to the users. Users should be able to buy tickets, book hotels, cabs, sightseeing and other important things related to their trip. A travel app is nothing without booking functionalities. Think of the things or facilities a traveller might need while going to a new place, staying there, roam around and returning back. Allow them online payment options through multiple methods such as Credit card, Debit card, Digital wallets etc. You need to also assure secured payment to the users by integrating a trust worthy payment gateway such as PayPal, Stripe etc.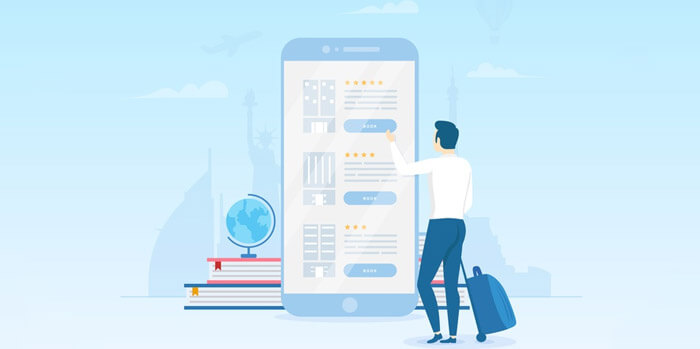 3. Travel overview: Allow users to have a look at the complete arrangements from conveyance and accommodation to sightseeing. Present thing in a structured manner so that they can view their trip from start to end and get a whole picture. 
4. Weather forecast: It is important for travellers to know the climatic condition of their destination places so that the unexpected happenings do not ruin their trip. Moreover, they are able to better pack their clothes and stuff according the predicted climate. A real time climate forecast is a great companion for users to do the bookings without getting concerned. Moreover, they do not have to leave your app to look for weather predictions when you become one stop shop for you. 
5. Language translation: People have to travel with vocabularies and phrase books in order to understand different languages associated with new places. Allow users to translate words and phrases through your app. You can use new technologies such as augmented reality for users to quickly translate everything around them. 
6. Currency converter: Do not let users to leave your app for any reason. Think about things they might want to know. One of those things is the currency exchange rates. Let them know everything in detail.
You need to approach an experienced mobile app developer or company in order to establish your mobile presence whereas there are certain things that you need to have before setting up your meeting with the developer. 
a. Feature list of your app
b. Designing instructions (If you want to give)
c. Technology stack (Any specific technology?)
d. Reference app (If any)
e. Target market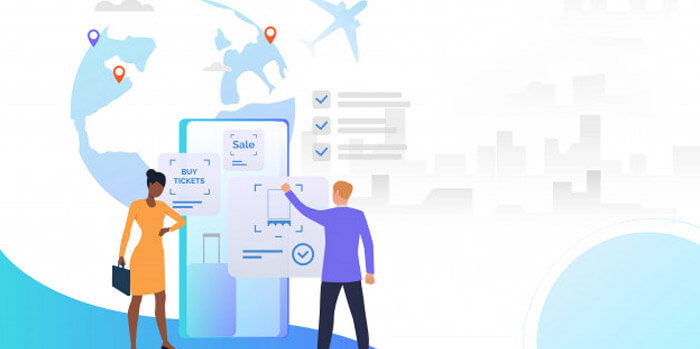 How to make money through a Travel app? 
To spend a fair amount in mobile app development, one needs to know the return. We are putting below some of the general ways through which travel applications make huge amount of money.  
1. Affiliate commission: The smartest model for a travel app monetization is affiliate commission i.e. commission coming from tickets, hotel reservations etc. If you include a particular hotel or cab service in your packages, then you are definitely eligible for a fair commission which frames one of the ways of how you earn from your app. 
2. Advertising: It is the most common means of earning money through any app or website. Allow relevant advertisements over your platform such as tour operators, hotels, airlines ads etc. Sell the advertising space to giants in the industry for making a smart amount of money. Get paid from the third-party ad networks by displaying ad commercials over your platform. There are various methods through which you can get paid. Brands might pay you per impression, per click or per conversion. 
3. Paid download: One of the simplest ways to earn from a mobile app is to make its downloading paid. But in this case, you have to offer enough value to the users so that they get willing to spend a nominal amount to connect with you at initial level. 
4. Premium features: Allow users to download your app for free and enjoy the basic features but in order to avail premium opportunities, they have to make in-app purchase. 
It is not just enough to develop an application for your business, you need bestow it with right amount of marketing and enough banding. People should know your USPs for which you might have to pitch them on social media and other places where they visit frequently. For tourists and travellers, travel apps have become an integral part of trips to plan things, bookings and guide them throughout their journey. Mobile apps serve as a great way to come closer to your target audience and hence increase the chances of conversion.
Today, you will find a range of travel apps with one telling you about just the hotels to another one planning everything for you from cabs to accommodation and sightseeing. Then, there is another category under which Trivago operates comparing prices given by various travel agents so that you can book things at cheapest cost. What's your idea? 
Mobile app development has a huge role in the travel industry nowadays. Such apps make it really easy and swift to communicate with travel agencies, get tickets, reserve rooms and look for good deals. The usage of mobile apps for tours and travel industry will continue to evolve in the coming days which frames a strong reason for you to plan your app including important and innovative features.
(Visited 36 times, 1 visits today)