How Does Netflix Make Money: Netflix Business Model, How Netflix Works, & Revenue Analysis
Founded in 1997, Netflix has come a long way from being the world's first online DVD rental store with 30 employees and 925 titles available to becoming one of the world's biggest online entertainment companies in the world, with revenue of 15.794 billion around +5K employees. It was all made possible with two things: an innovative idea that made Reed Hastings take the risk and the company's business model that continues to grow with every subscriber. It's the latter part, Netflix's business model, that we are going to discuss for now.
Netflix Founders
Founded on 29 August  1997 in California's Scotts Valley,  Reed Hastings and Marc Randolph was the force behind the Netflix establishment. Hastings previously had owned Pure Software, which was sold by him for a whopping $700 million. Randolph was a co-founder at MicroWarehouse, a computer mail-orders firm.
How Netflix Got Started?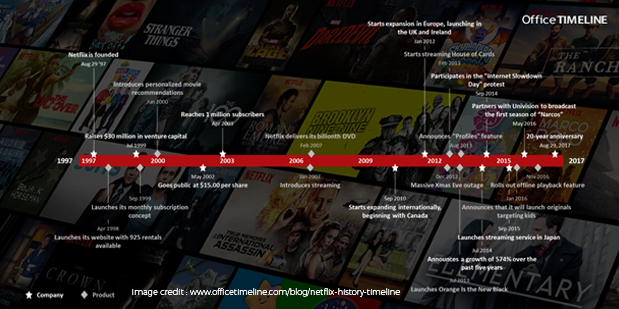 According to some sources, Reed Hastings, the co-founder, and CEO of the company came up with the idea of a DVD-by-mail rental business when he missed out on his return date for "Apollo 13", a videotape he had rented from a local Blockbuster video store. He was fined $40 for the same. Instead of making a fuss about it, he tried understanding the scope of the movie rental business. In an interview given Fortune Magazine in 2009 he said:
" [..]  I started to investigate the idea of how to create a movie-rental business by mail. I didn't know about DVDs, and then a friend of mine told me they were coming. I ran out to Tower Records in Santa Cruz, Calif., and mailed CDs to myself, just a disc in an envelope. It was a long 24 hours until the mail arrived back at my house, and I ripped them open and they were all in great shape. That was the big excitement point".
The Concept of Netflix – How does Netflix Work? 
Netflix enables its subscribers to get motion pictures, TV shows, documentaries, and more on a wide variety of devices that support internet connectivity. It works on a subscription-based membership plan model. That means people have to pick up a monthly plan to start and join the platform, after which they get access to both exclusive and non-exclusive TV shows, documentaries, motion pictures, and other content. The picture (pixel) quality, like (SD, HD, Ultra HD),  of the content, would depend upon the subscription plan.
Netflix also has its old DVD rental service operational, but it's nothing compared to its heyday when it operated 50 DVD shipment centers in the U.S
Netflix Funding
The company has raised approx $200 Million by the method of Equity Financing, which means by selling stocks for raising funds, and about $1.8 Billion by the method of Debt Financing. The primary reason behind obligation financing is to rub the noses of vast creation houses by putting resources into Netflix Originals like "The Crown" and "Stranger Things", which have been magnificent hits.
Image Credit: Crunchbase.com
Netflix Progress
About a year after its establishment, in 1998, the company thrived in its DVD via mail business. In 2007, it appointed Anthony Wood, a pioneer of early DVR technology, to build a device that would allow the streaming content to be played on TV sets instead of devices like PC or laptops, named as "Netflix Player". In 2019, members from 190 countries can stream Netflix by becoming its member. Today, it has a huge library built of both exclusive and non-exclusive content. The company now is neck-deep in film and show production, and many of its shows have amassed a huge fan base in very little time.
Netflix Business Model
Who is the Target Audience of Netflix?
The company targets both males and females falling in the age bracket of 17-60, and families with wage levels of $30,000+. Given the fact that the above base represents a  big section of the global population, Netflix further fragments its user base based on psychographics instead of its socioeconomics.
Clients are categorized in 3 fundamental groups –
1. People who are too busy to go out and search for motion pictures,
2. People who are movie buffs are rent  movies for their entertainment, and
3. People who want to get the most for their cash.
Value Proposition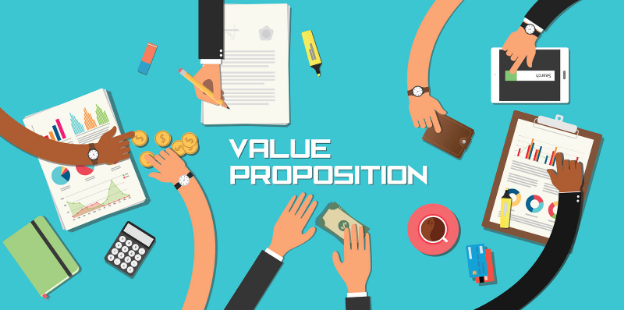 What makes people buy the company's subscriptions?
Netflix gives its subscribers access to an immense motion picture and TV shows database, along with the best content recommendation algorithm and an experience without ads. All the amazing content offered on the platform can be viewed on all major devices like TVs, smartphones, tablets, PCs, and laptops having internet access.
What also makes Netflix special is that it releases new and selective arrangements as full seasons, instead of scenes, at once which helps it keep the users captivated.
How does Netflix make money?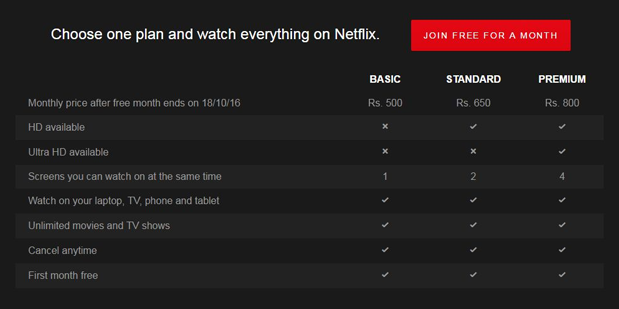 As seen above, the company follows the membership model,  where users pay for the content on the platform and get DVDs delivered to them.
The prime source of  income – Monthly Membership Fees
It has 3 distinct plans for its users:
A. Basic – TV shows/Movies available in SD (Standard Definition).
B. Standard – TV shows/Movies available in HD (High Definition).
C. Premium – TV shows/Movies available in UHD (Ultra High Definition).
The expenses of these plans depend upon the nation of the viewer.
A similar model is embraced for the DVD leasing business, where the month-to-month enrollment charges rely upon the number of Disk out-at once and Disks every month. The DVD rental model and memberships model are two distinct businesses and can't be clubbed as one.
The question "How does Netflix business model profit" can't be answered without expressing the cost of income. So let us have a look at that too.
1. Permitting Cost
So you could watch your favorite content online in a lawful manner, Netflix needs to shell out money to procure the right of content produced by others.
2. Creation Cost
Netflix Originals came in 2013 and had the goal of avoiding permitting costs while producing original content of its own with its exclusive rights. A huge amount of money is spent every year to create content under the label of Netflix Originals.
3. Cost of Promotion
Netflix isn't the only content-producing platform on the web. It competes with numerous n players like – Amazon Prime, Hotstar, Hulu, etc., and that needs big advertising campaigns on a regular basis.
4. Innovative Work Cost
Netflix is an excellent financial specialist in an innovative work office. This office is the direct reason why this giant has made it so far and continues to drive big-time with its membership-based business model.
5. Innovation and Improvement Cost
A large number of users stream Netflix at any given time. To deliver a smooth experience to every single one of them, the entertainment provider partners with the Internet Service Provider (ISP) of these users. This partnership costs a whole lot of money to keep things going like they are. Other costs involved for improvement purposes include costs associated with outlining applications for new gadgets and other infrastructural costs.
6. General and regulatory cost
This includes all other business overhead charges like human resources management, association charges, and other organizational costs.
Netflix Business Model Canvas
The business model canvas given below explains the key accomplices, assets, exercises, client relations, incentives, channels, and client portions of Netflix. Have a look.

Netflix Challenges – Potential Threats to Netflix's Future
After making it big in the online entertainment world and roaring bigtime on its success of past and present,  Netflix now faces multiple challenges that aim to dethrone the giant from its throne.
These are the three big challenges that have to be addressed by the people on the board to maintain their overwhelming status in the internet community.
1. No More Endorsers Left to Capture in the U.S.
Netflix, in 2018, had about 58 million subscribers in the U.S. There were about 128 million households in 2018 in the country and only 88 million broadband subscribers. When we match the three numbers we see that saturation will soon be attained by Netflix in its domestic market.
CFO David Wells explains the whole situation in this way, "It's only the following 50 million are somewhat harder than the initial 50 million." The company is aiming to hit around 90 million subscribers, but the efforts and the planning are nowhere close to that number, and looks like will wind up anywhere around 60-65 million in the coming years.
2. International Development won't be an Easy Walk
Near the start of the year 2018, Netflix was all set for an extension for every market outside of China. Before this decision, the company operated in around 50 nations and had about 18 million-strong subscriber base. But the numbers won't guarantee a cakewalk. As soon as the company started targeting international markets, local competitors operating in these nations were already employing quick thinking. They were already churning out content in local languages as their research and reach were always high. It took a while for Netflix to understand how things were, and then it went ballistic with its approach. Funds were literally poured out to either get exclusive rights to popular content like they did with television series Gotham and the political drama House of Cards. The originals also proved to be of help in getting a strong foothold in the abroad entertainment market.   But the fight is on, and neither the champion nor the contenders know when to stop.
3. Dependence on media organizations
A big piece of Netflix's esteem originates from the substance of various other organizations. And significant of those are contending with the company itself for the audience, making them more careful about giving their material to Netflix. Time Warner, for example, said it will think of adding some more time between their show's unique run, and when it appears on SVOD (Subscription Video on Demand) administrations like Netflix.
As Netflix gets famous and widely accepted for its services, it grows big on the radar. Procuring content gets more costly as media organizations now give away less. Nevertheless, Netflix's deep pockets are its biggest plus. It made CW give its content on Netflix only eight days after the end of their unique run. And all this even when the organization is in parts owned by Time Warner. Most likely, Netflix's checkbook had away with that.
(Visited 514 times, 1 visits today)