12 Best Health Apps for Android that Keeps you Safe
Health applications are improving our lives and well-being day by day and that is why people are installing more and more top health apps on their phones. There are about 318,000 health applications available in app stores worldwide. As per the latest reports from the Google Play Store, there are over 200 health apps added each day which is nearly double the number of apps available just two years ago.  Well, there are around 10 benefits of mobile apps for the healthcare and wellness industry which the business now knows, and reaping all the benefits from complete mobile app development.
With so many top fitness tracker apps on the Play store, it can be daunting for anyone to choose the right mobile application for their android devices. So, you must have an idea about the best fitness tracker for android and the 11 must-have features of fitness for mobile apps.
For instance, if you workout daily then you must be looking for the best workout tracker app android that can help you with planning a good diet, exercise, and Clomid 50mg so you can get the body you have always wanted. However many times people spend their time uninstalling unnecessary apps as they have no idea which is the best ones. Also, some health apps are free while others can be purchased at an affordable price according to your health needs. So, to make it easier for you, we have created a list of best health apps for android which are created by some of the best mobile app development companies in the world which can easily make your lives easier.
List of Best Health Apps for Android
1. My Fitness Pal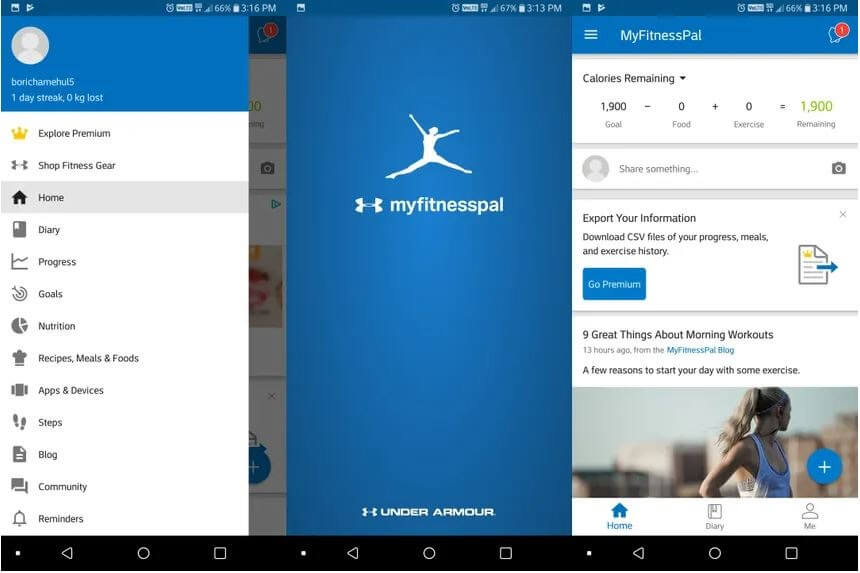 MyFitnessPal is a smartphone app and website that tracks diet and exercise. The best thing about this application is that this best health tracker uses gamification elements to motivate users which is something unique in this line of business but not something new.
If you are looking for an android application for your weight loss goals then we suggest you download this app right away. MyFitnessPal has a database of about six million foods as well as different recipes which take you towards your goals. As mentioned earlier, there are some apps for which you need to pay in order to use their service and this app needs a subscription. Premium costs $9.99 per month or $49.99 per year. Moreover, with a free account, you can track food and calories, activity, weight, and a few other metrics.
Download the best fitness tracker app for android – MyFitnessPal
2. Home Workout 
Home Workout is another best workout tracker app for android devices. It offers home workouts and provides daily workout routines for all your main muscle groups. As the app describes it working, in just a few minutes a day, you can build muscles and keep fit at home without having to go to the gym. The most notable features of Home Workout No Equipment which makes it one of the best android mobile app development company are:
-> The chart tracks your weight trends
-> Lose weight with a personal trainer
-> Warmup and stretching routines
-> Customize your workout reminder
-> Detailed video and animation guides
Download best workout tracker app android – HomeWorkout
3. Headspace: Meditation & Sleep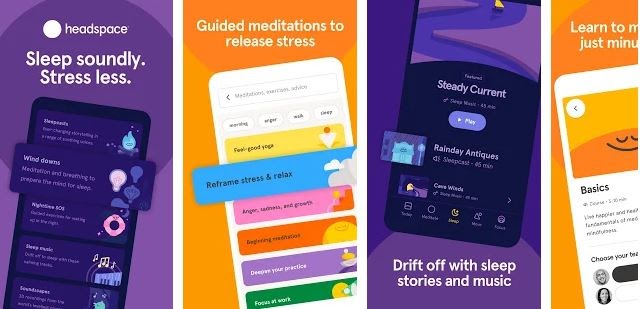 The best thing about this list is that it offers top health apps from every genre. When it comes to health, mental stability is as important as your physical health. Headspace helps you check the state of your mind, which is really essential in today's world. People do not take their mental health as a serious concern and usually ignore it.
Well, to be honest, most people do not even have the idea that they are mentally ill. But now you do not have to worry about anything as you can easily track your mental health using the headspace app which also includes emergency SOS to calm your mind and guide you through meditation exercises.
Download Headspace one of the top health apps in the world
4. JEFIT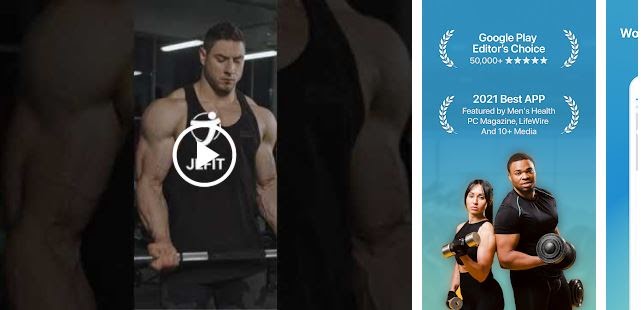 JEFIT is another best personal trainer android application that helps you get where you want physically. JEFIT consists of more than 1300 exercises along with demos in high quality which tells you how to perform these exercises. You can also use this top fitness tracker app to plan your activities and track your progress. You can sync the app with their website and interact with others who have the same fitness goals.  It is completely free to use as you can also buy its pro version to access some more features which can help you get an exceptional body.
If health application is your next business plan then our 10 tips to hire android app development companies will help you find the right IT outsourcing company for the development.
Download top fitness tracker app JEFIT to keep track of your fitness goals

5. FitNotes 
FitNotes is an amazing top health app in the market. It is perfect for your app to be important to those who go to the gym or take their fitness very seriously. This world-class application allows you to give freedom to do your routines as it keeps notes of everything you perform. You can later track whether you have been doing the right things or not. This best health tracker for android is completely free to use as it also has a database of many exercises that you can choose from.
Download the best health tracker for android – FitNotes  
6. Google Fit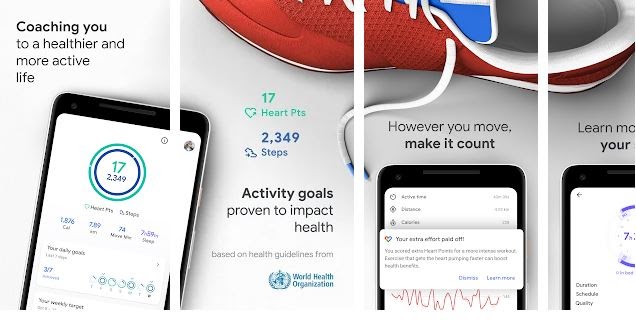 Google Fit is another top fitness tracker app that you can integrate with any android gears in order to track your workouts. The best part about Google tracker is that you are not restricted to use it only on smartphones and tablets, but you can also use it on a smartwatch. It allows you to track all your personal goals, track your goals, analyze the recorded statistics so you can plan your every workout according to them.
Google Fit is completely free to use which makes it a top-class android mobile app development company.
Download workout tracker android – Google Fit 
7. Progression Workout Tracker
As the name suggests, these applications help you to exercise more and break the record of what you achieved the last time you exercised. It is perfect for people who love to add their own workouts to their schedules. You can utilize this best health tracker android to train and track your progress. Progression Workout Tracker is absolutely free but also has a pro version for more features.
If you also own such a health application which you want to be successful? Our ultimate list Top 10 Marketing Strategy Examples will help you find the right idea on how to approach your mobile app.
Download one of the best fitness tracker apps – Progression Workout Tracker and follow a routine to get a fit body.
8. StrongLifts 5*5 Workout Gym Log and Personal Trainer
Just like Google Fit, you can also use this app with your android wear. The best part of using this best health tracker for android is that it is very friendly to beginners. It is perfect for beginners who are looking for strength training and it comes with all the features you need for your training. Just like any other world-class top health apps, it allows you to log all your stats, has a calendar, a timer, and videos for a demonstration. It has a free version and paid version which unlocks many new features.
Download StrongLifts 5*5 which is one of the top health apps in the market which keeps you fit
9. Runtastic Running and Fitness Tracker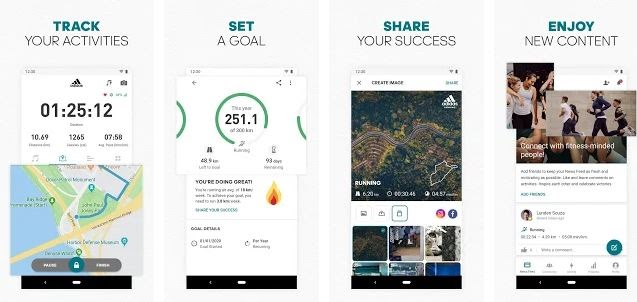 This top fitness application is offered by the shoe giant Adidas. The top reason to love Adidas running app is it is free to use. The app comes with built-in GPS tracking, tracking duration, calories burned, monitor heart rate, virtual races to compete globally, goal setting, score activity records, and helps in maximizing your motivation with targeted challenges. You can also connect it with your own fitness community and increase your followers and newsfeed.
This best fitness tracker for android comes with music app integration so you can listen to your favorite songs during the workout. You can easily use its free version but it also has a premium version which has more fitness features.
Download Runtastic Running and Fitness Tracker that keeps you fit and healthy through its services
10. Strava
This application encourages socialization and competition in keeping it. You can use the application to set targets against yourself or other people who are doing workouts to keep fit. This helps to gauge your efforts against your fellow peers, which can be motivating to keep 
exercising as you learn new things from them.
Download best health tracker app  Strava 
11. Fitness 22
As the name implies Fitness22 is a distance tracker app that tracks your distance when you are walking or running. Fitness 22 comes with some standard features, like total distance, pace per mile/km, a run log, average pace, and other useful features which you usually don't find in the run tracking apps.
You can also pass through the app for some motivation as it allows the third party music app integration as you will also know about when you have completed a mile and what your pace was during that mike. All these unique features make it a fantastic android mobile app development company. Most of the basic functions in the best health app are free but a variety of workout routines require either a subscription or a lifetime purchase.
Download the best fitness tracker for android – Fitness 22
12. Strong: Exercise Gym Log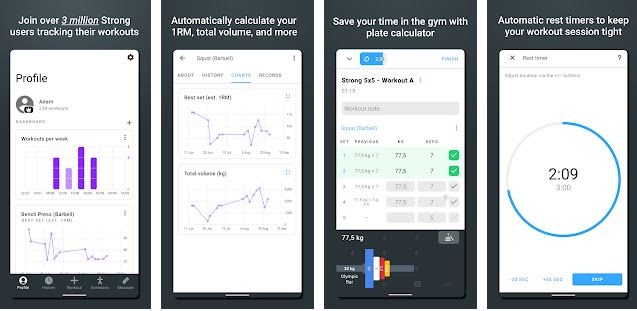 A strong exercise gym log is very similar to the above-listed Fit Notes. The benefit of using this best workout tracker app android is that it allows us to input all your exercise routines and track them over time. Moreover, Strong offers some unique features like a warm-up calculator and tips on how to improve strength from your previous numbers. It comes with an amazing UI which makes it very straightforward to use. There is a subscription cost with this one, as you need to pay $4.99 per month, $29.99 per year but for just $99.99 you can get the whole app with a lifetime license.
The most notable features of Strong are:
-> A comprehensive range of cardio and strength exercises
-> Tag sets as a warm-up, failure, or drop sets
-> Warm-up calculator tells you which weights to warm up
-> The simplest interface of any fitness app on Google Play
-> Detailed exercise instructions with a growing library of animated videos
Download Strong one of the best fitness tracker app for your android phones
These are the best health-related applications for android in the market that will keep you safe in the market. These top health apps will help you achieve your dream, keep you fit physically and mentally. The above listed best workout tracker apps for android can be downloaded directly from the Play store as they offer maximum convenience to the users.
Moreover, if you are a business and looking for a top IT outsourcing company like VerveLogic for IT consulting or you would like to know the 8 Steps to understand the mobile app development lifecycle or complete mobile app development for your business then we can help you with it.

We're VerveLogic and we've been serving our clients with our IT, designing, and Marketing services since 2012. Every day, our team of dedicated professionals works to make this world a little better through our premier solutions. Our exclusive services include Mobile App Development, Web Application Development, UX/UX Designing and Digital Marketing Services to businesses from all around the globe irrespective of your business domain. If you are looking for the 20 Best Web App Ideas for your Startup Business then experts from VerveLogic can offer some dedicated services to make your dream come true.
(Visited 652 times, 1 visits today)