10 Tips to Hire Android App Development Companies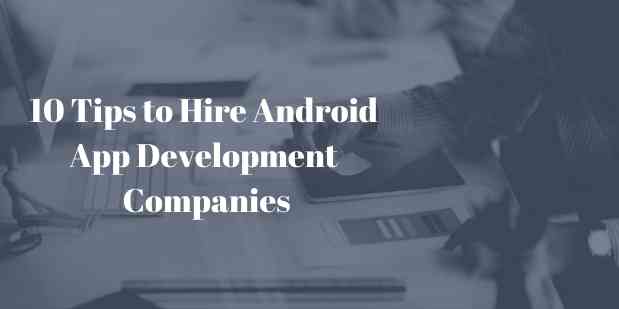 HIGHLIGHTS
Top 10 Tips to Hire Android App Development Companies
3. Cost is Not the Primary Focus
7. Business Perspective Understanding
10. Know About The Team Of Developers
Are you looking to Hire an Android App Development Company to create a Google Play Store app for you? 90 Billion Android apps were downloaded in the year 2016 which is a much higher number as compared to 25 Billion on iOS. Paid apps on the Android platform generate more revenue than the iOS counterparts. It is expected that mobile apps will generate more than $ 935 billion in 2023. If you have a business or a business idea, it is time to get an Android application developed for you. The best option to get your mobile app created is to hire a mobile app development company.
Android mobile app development companies know what they are doing and can make the app that you will fall in love with. Get for yourself the app of your dreams that runs smoothly and has all the latest functions. There are countless options available to hire but which one works best for you is the question. In this article, we will help you how to shortlist the best Android app development companies to hire. This is a list of tips that will allow you to know which mobile app development company can work best for you.
1. Innovation
Before you hire an app development company for your Android app, you must know that innovation is crucial. An Android app development company you are hiring must understand your needs. Understanding the needs and adding in the innovation can make your app better than the others. App development companies create a lot of apps day and night and keep up with the updates. This quality makes the companies add features you don't know. Uniqueness is what people are looking for when downloading an app. If you have an idea and can put it forward uniquely and innovatively, nobody can stop you from succeeding.
2. Experience
Another thing that counts to create an app worth downloading is checking the experience the Android app development company has. This helps you get delivered with your product on time. The more experience the company has, the more they know how to manage unwanted errors, and you will have to not face unnecessary delays. You can check the portfolio before hiring the android app development company. The portfolio tells a lot about their previous work, and you will be able to know what kind of projects the company is handling.
3. Cost is Not the Primary Focus
Most people, when hiring a mobile app development company, will look at the cost they will have to pay to get their app developed. The cost of developing must not be the key component of deciding which company to hire. An inexperienced company will cause delays in delivering the product, and your app might have a lot of bugs that you are unable to detect. In the end, you will have to pay a lot more than you thought you had to. Instead of taking risks, you must hire an Android app development company that has the potential to give life to your ideas. After all, your business idea is your baby, and it needs nourishment.
4. NDA and Agreement
NDA or Non-Disclosure Agreement is an agreement between the android mobile app developer and the person who is getting the app developed. You are hiring a mobile app development company, and you would not want your idea to be leaked even before it reaches the Google Play Store. An ideal NDA should include the parties involved in the contract, commit to the timeframe of non-disclosure, and explain what information the parties can and cannot use.
5. Get Feedback
Before hiring a mobile app development company, you must ask for feedback from their previous clients. Feedbacks are available online and can be easily found with a simple search on a search engine. Else you can visit the feedback page on the company's website and read all the feedback other clients have to share. Even if you reach out to the people, most entrepreneurs are very happy to help. This way, you will be able to get a clearer idea of the working of the company.
6. Post-Development Support
Most people do not consider this factor or do not know that app development companies provide post-development support. Even if your app seems perfect, it may have some bugs that will appear after days. Most of the freelancers do not provide post-development support making Android app development companies a better choice. When hiring an app development company, make sure it helps you even after you get delivered with your product. Many companies provide 24/7 technical support to help you operate your app without a pause.
7. Business Perspective Understanding
Your app is your business and generates you money. While hiring an Android app development agency, you must make sure they understand your business. Understanding your business needs and developing an app that suits your ideas is crucial. The downloaders give only a few minutes to judge your app, and every second count to make them stick to it. Your Android app must comply with the business perspective that is in your mind.
8. Technical Efficiency
Another crucial factor to look into while hiring a mobile app development company is to check whether they are technically sound. Many clients do not know the technical part of creating an app, but companies must know the details. Find an Android app development company that is technically efficient with JAVA and coding principles.
9. Quality Matters
While looking in the market to hire an app development company for your Android app, search for someone who can deliver quality. The world is growing very fast, and it is very important to keep up with the pace. To know the quality of the company you are planning to work with, preview their previous works. As mentioned earlier, you can also connect to their previous clients, and most of the people are happy to help. If your Android app development company maintains consistent quality throughout the project, they are good to hire.
10. Know About The Team Of Developers
Many brands and companies hire Android app developers without prior information of the clients. If the team is not proficient enough, your business app might not be competent as well. Learn about the people who will be developing your app. You must talk to the point of contact about the previous experiences of the people working on the app. If you get Android app developers with adequate knowledge, you can hire an App development company for your Android app.
Conclusion
If you are keeping all these tips in mind, you will be able to find, for you, a perfect Android app development company to hire. People are looking forward to developing their app, and the number is increasing every day. It may seem a little difficult when you start, but eventually, you will understand the whole process. Do not consider the cost of the app but the proficiency. If you end up with a firm that is not proficient enough, you will end up spending more money than required.
Also Read: Your Ultimate Guide to Hire Mobile App Developers
Tips to Hire an iOS App Developer
(Visited 137 times, 1 visits today)