Instagram Business Model : Best Revenue Analysis and Working of Instagram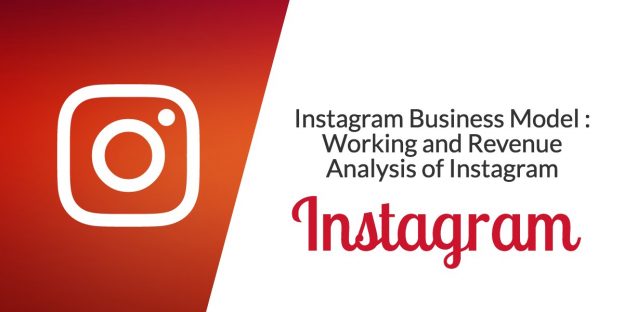 Facebook (Meta) can be on a lot of mouths but still, it is only Instagram which quenches my all-time photo-sharing psyche. It is less likely that you are not aware of what it is all about. If it is so, then we would like to tell you Instagram is a photo and video-sharing website / mobile application which can be used for free by anyone. It is a Facebook (Meta)-acquired model now. Let's look at what it used to be before.
History of Instagram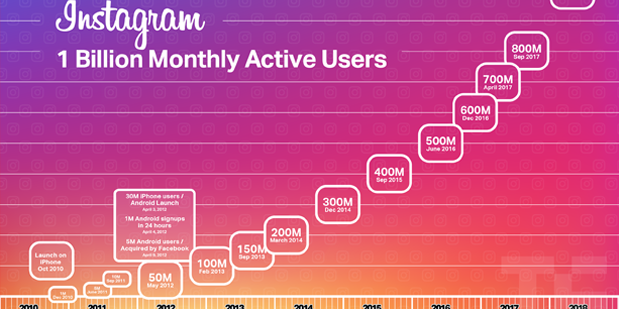 You will be amazed at the fact that this big affair got ready to use in just 2 months. It all started with the efforts of Stanford University graduate Kevin Systrom. He was working with Nextstop and previously worked with Google and Odeo, now known as Twitter.
In March 2010, Systrom went to a social meet-up at Hunch which was a startup situated in Silicon Valley. He met two investors there who viewed his model presentation and afterward decided to have further meetings regarding this. Meanwhile, Systrom decided to leave his workplace and in just a period of two weeks, he figured out how to bring $ 500,000 up from Baseline Ventures & Andreessen Horowitz. Instagram got launched on October 6, 2010, and went on a great velocity for becoming the best photo-sharing app.
It can be analyzed through the revenue generated in 2021 which is 47.6 billion and the number of active users are more than 1 billion every month.
Instagram Business Model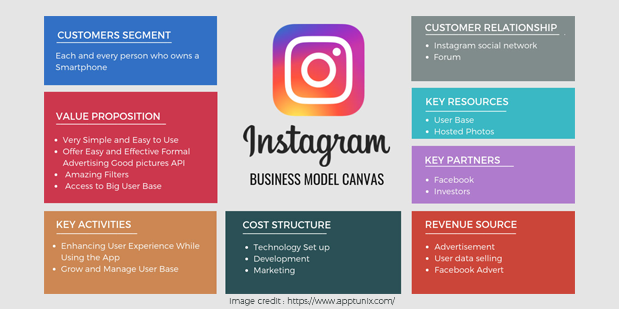 Instagram is based on a picture-sharing feature that has been seen expanding at a two-digit rate every year. Its inception was marked with an aim to become a portable picture-sharing application. Now, after some years it got indulged in some productive ways of monetization like sponsored posts, stories, and carousel ads.
Just like other social media sites, Instagram too strives at becoming an application for social interaction. It has got a number of amazing features like photographs/video uploading & sharing, geo-tagging, stories, adding songs to your pictures, reels, filters, stickers, bitmojis, and more to serve the purpose.
Some Important Facts about Instagram
Key partners: Facebook, Sequoia Capital, Baseline, Greylock partner, Benchmark Capital, and Andreesen Horowitz
Key Resources: Network, Platform, Technology, User base, and Advertisers
Key Activities: Web development, Maintenance, App development, Maintaining user data
Value Propositions: The value propositions include some of the great features like Instant photo/video sharing, geotags, hashtags, filters, great photos API, access to a big user base, and more.
Channels: Website, Internet, App Stores, and Developer's APIs
Customer Relationship: Instagram accounts can be connected to other social media profiles, community forums, business profiles, and celebrity profiles.
Customer segment: Individuals and businesses
Cost structure: Platform development, server, data maintenance, marketing, and customer service
Revenue streams: Advertisement majorly, Sponsored posts, stories, brand collaborations, and carousel ads
How Instagram works?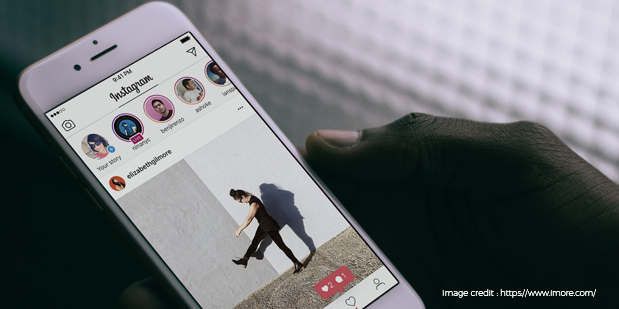 Photo/Video Sharing
Instagram is purely a photo/video sharing which gets mainly operated through phones and has limited functionalities over the web. You can share your pictures/videos as feeds or as self-vanishing stories. Instagram offers you a wide range of amazing filters and editing options. You can set your profile as public or private based on your preference. People have to send you a follow request and you have to accept it in order to show your posts to them. This is the case when you set the profile to private mode.
What Else You Can Do?
Instagram lets you like, comment, and share the feeds with anyone in your list of friends. My personal favorite is the search section over which I get to see a lot of random pictures and videos relevant to my interests. You can get a variety of search results by performing a search here like people, tags, places, and more.
Business Prospect
Nowadays, it is also used by businesses to connect with their prospects. Instagram offers businesses an opportunity to advertise themselves in the form of photographs clubbed with nicely written text and proper usage of hashtags to achieve a good reach. Along with Facebook, Twitter, LinkedIn, and Pinterest, we are also seeing a high demand for Instagram marketing.
Push Notifications
Depending on your comfort, you can enable various kinds of push notifications. You can decide whether to receive or not receive a notification when someone likes or comments on your photo, when a user mentions you, when your photo is posted on some other page or when you are tagged in a picture.
Be Selective
Instagram also lets you select your friends, with whom you wish to share your personal information or precious moments. This feature is known as "Close Friends." Through this feature, you can show your stories to those whom you want to from the list of your followers. The best part about this feature is that you can freely share anything and also its is available for both public and private accounts.
Apart from this, Instagram also lets you perform other settings such as setting your password, managing search history, setting your account private/public, switching to a business account, and more. There is much more to do with this amazing application. If you have never used it, there is a lot for you.
How Instagram Makes Money?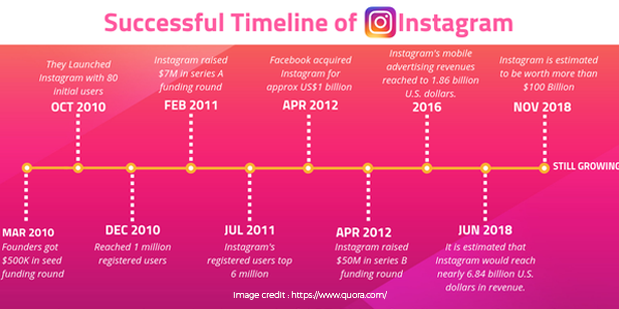 Through Advertisements
The major source of income for Instagram is Advertising, just like Facebook. The quality and commitment of Instagram was the reason why Facebook acquired it. In April 2017, Instagram had over 600 million dynamic clients day by day. 80% of the users are not from the USA.
Instagram's blog says that it "brings the capability of multi-page print battles to cell phones – with the additional advantage of taking individuals to a site to take in more." We will see the promotion on Instagram advancing now with varied options for advertisers.
Right now, Instagram gets money by letting the users advertise their brand page, and images and putting sponsored brand stories. Instagram has become one of the five major advertising websites for business owners. Over the explore tab, some of the pictures are featured which serves as a great opportunity for business owners to promote their products/services through it.
Apart from being a highly engaging application for users, Instagram serves a lot of opportunities for new brands to connect with their prospects. Once marketed or advertised over Instagram, users can connect with the business owners through messaging or commenting. Stories have become another point of engagement for users on which Instagram has also started showing sponsored ones so that while users browse through various posts by people they follow, your story might catch their eyes.
Meta's Instagram generated around $ 8- $ 9 billion in revenue in 2018 but it could definitely soar to $ 14 billion in the year 2019 according to estimates and according to most recent statistics revenue of Instagram is $47.6 Billion.
Last Words
VerveLogic can be your one-stop solution for mobile app development and web development because we have a team of experts and market experience. You can get your app or website developed at the best price possible.
Also, if you are looking for branding solutions or online marketing for your brand then you should check out VerveBranding and Verve Online Marketing today and make your brand stand out.
Also Read: Whatsapp Business Model: How Does Whatsapp Work And Make Money?
##   How does Amazon Work: A Look into Amazon Business Model and Revenue Analysis
##  Facebook Business Model: How Does It Work & Earn Money?
##  Pinterest Business Model Analysis | How Does Pinterest Work & Make Money?
(Visited 1,273 times, 2 visits today)