Shopify Business Model: How Does Shopify Work And Make Money?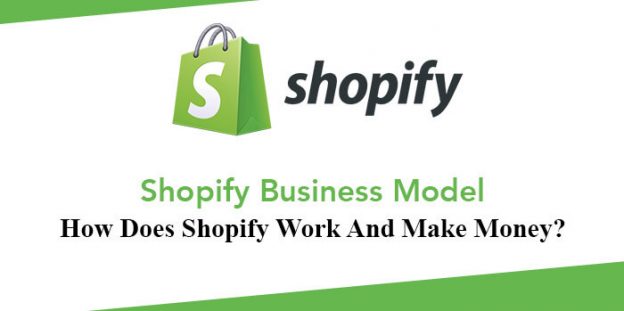 We are surrounded by technological enhancements transforming the way we shop, travel, learn, live and perform all the day-to-day chores. Online businesses are augmenting across the world breaking into all the industry lines. You do not need to have any kind of real estate to start up a business today as you do have access to the internet which lets you sell your products anywhere around the globe.
We are blessed with the genesis of eCommerce websites through which we can manage our unlimited products online, connect with prospects, offer value, and carry out sales. What if we say that you do not even have to research any core development because you have a readymade plug-and-play module? Shopify does that for you!
Shopify offers you an amazing platform on which you can not only create an amazing website but also use their shopping cart solution in order to manage, sell and ship your products. In short, it is a blessing for all those who do not want to spend too much on website creation and want to try out e-commerce models.
There is a limited free trial offered by Shopify, though a monthly subscription costing $29/month is required to continue services. Shopify is often referred to as an all-in-one e-commerce platform where you can develop an online enterprise, get hosting services, determine shipping rates, set up online payment methods, and also for website search engine optimization.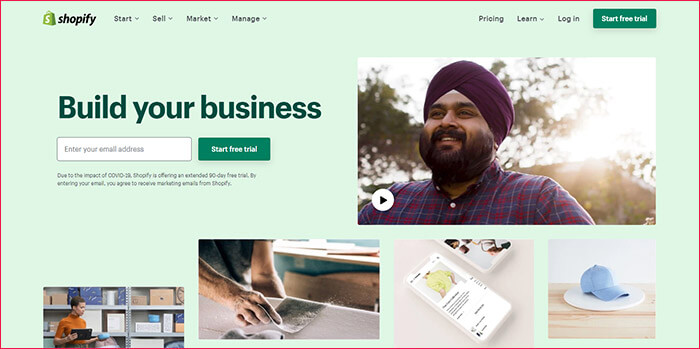 How does Shopify work? How to Launch your own Shopify store? 
You need to follow a set of steps in order to launch your own store using Shopify. There are plenty of options that Shopify provides to you including thousands of themes and a non-ending list of features to support your e-commerce goals. Let's see how you can kick-start the process.
1. Sign up:
To sign up, you need to visit shopify.com and click the 'Start free trial' button. The website will ask for a few more details such as your name, your store's name, products, inventory, etc. If you are just checking how Shopify works, you can select 'I'm just playing around' under the 'Do you have products?' section and 'I'm not sure' in the 'What will you sell?' section. Click 'I'm done' once you complete the form.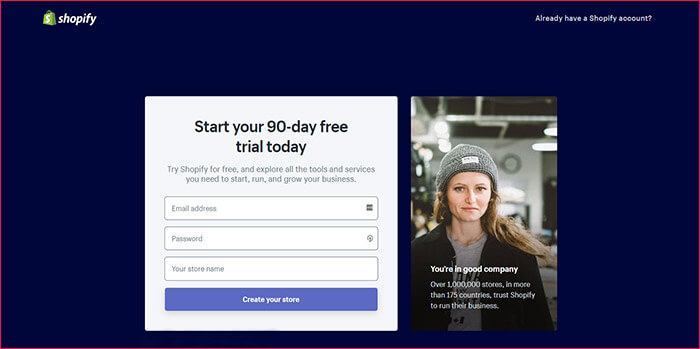 2. Set up your shop:
Right after you sign up, you will be taken to the backend of your online store from where you can manage everything. You are ready to customize your store and set the shipping and payment methods.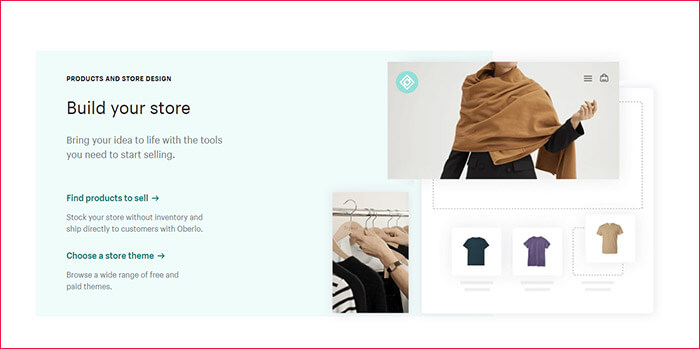 3. Choose a theme:
Shopify lets you choose from a wide variety of themes which can be free or paid. You are also allowed to customize the themes as per the level of customization they allow. You do not have to alter any code, you just do it by drag and drop.
If there is anything that needs to be changed over HTML CSS, you do not have to learn these languages, Shopify has 'Shopify Experts' You can hire these designers to get any level of customization done.
To browse through the themes, you need to visit themes.shopify.com. You will get around 70 theme variations there. You can even go to marketplaces such as TemplateMonster in order to purchase themes. The results can be filtered based on category, features, and industry line. Once the theme is finalized, check its functionality and reviews.
You can also view the demo in order to how the theme is going to look while it goes live. Once you have finalized the theme, Shopify will ask you to confirm that you want to install the theme. Click Publish as my Shop's Theme.
4. Editing and Settings:
Most of the Shopify themes do allow you to make several changes so that your website does not end up looking like some already existing websites made over Shopify. From the top navigation menu of your Admin panel, you have to select 'Themes'.You can see your live theme on this page in a box. Looks at the top right corner, there must be two buttons.
The first one is an icon of three dots It lets you perform some of the basic setting changes. You can also create a duplicate of your theme. We suggest you do this as if you make changes over duplicate and you do not like them later, you will be able to delete them. Through the second button, you can customize the theme. If you click on this button, you can reach to a page that controls the basic functionality of your website.
You can play around with the settings and understand which function reflects how. From here, you will be able to upload slides, and logos, choose how many items will appear in one line, font choices, and many more things.
5. Add products:
After you have made the necessary settings, it is time for you to add products to your online store. Select 'Products' from the sidebar menu and click on 'Add a product' from the top right corner of the page. You can add as much detail as you want along with the products.
Take special care of SEO-related things such as URL, name, and description. You can then add product pictures and while adding the same, do not worry about the order as you can rearrange them later also. Make sure that there are good quality product images uploaded so that it can be helpful for the prospects to know whether or not your products match their expectations.
Click on 'Save product' to upload the product. Once products are uploaded, you can set up collections. Collection means grouping the same kinds of products under one category. The collections are usually displayed on the homepage.
6. Choose payment gateways:
The platform offers you to choose from various Payment Gateways. You need to take into account the service cost they take and the features they offer in order to make a choice.
7. Shipping and Tax:
Once you are ready to go live, make sure all your business information is filled in, and also do not forget to use the Google analytics feature as it would give you a complete insight into the visits made on your website. When you go to the product page, make sure the Charge taxes and Requires shipping checkboxes are marked if you want to include them with your products.
8. Purchase a domain:
When your website is ready to give, you need to have a domain on which it would be made live. So, you have two options. You can either purchase a domain from Shopify itself or can also go for some third-party domain provider like Godaddy.
If you do not have any knowledge regarding the domain or hosting of a website, it is better to go with the first option. If you take a domain from Shopify, it would automatically add up to your website whereas if you take it from somewhere else, you will have to add it in Shopify, update the DNS record, remove the storefront password and set it as primary.
After getting a domain, make your website live.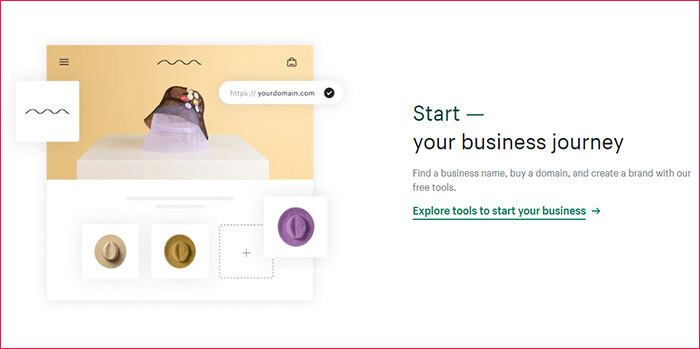 Shopify Business Model
There are a lot of things you need to know in order to understand the business model of Shopify. It is a huge platform giving the opportunity to entrepreneurs to make their websites at a nominal cost.
a. Customer Segmentation:
Shopify offers its solutions to a variety of customers from individual retailers to commercial ones.  The same consists of large retail businesses operating in various sectors and having no personal online sales channels. The other category is made by independent retailers which include individual designers, online sellers, or resellers.
b. Price Structure:
Shopify applies its cost to the development and maintenance of IT and communications. The cost aids to maintenance associated with technologies and different platforms It has to manage partnerships and apply the cost to improve its services. Advertisement campaigns and promotions are another part of the cost structure.
c. Key partners:
There is a network of partners Shopify works with. It includes the sellers and suppliers, affiliated partners, development partners, and strategic and marketing ones.
d. Value propositions:
Shopify provides a lot of value to its customers in different ways. It is a simple-to-use and easily accessible platform over which business owners can create an online store. The mobile app development company maintains and adds technology and innovation to its solutions so as to serve the customers with what's new and trending in the market.
The cost-effectiveness of the platform is one of its major USPs. Businesses do not have to think a lot about investing a nominal amount monthly. The platform offers a wide range of modules, tools, and functions which enable businesses to establish and regulate online stores of various genres.
e. Channels:
Shopify majorly operates through its website i.e. www.shopify.com. Businesses or individuals can easily opt for any of the plans and start their online stores. Also, it allows customization over design and functions so that people can establish their stores according to their choice and preferences. It also operates through Shopify Mobile i.e. the Android and iOS applications.
How Does Shopify Earn Money? 
After getting to know, what exactly Shopify is all about, you must have guessed one of its Revenue streams already. Let's see how this platform makes an immense amount of money.
a. Subscription solution: There are three different plans which customers can choose over the platform. The first one is Basic which lets you create an Online store with basic functionalities such as a discount code engine, selling unlimited products, a card reader, etc. It costs $29/month.
The other two plans include a Professional plan and an unlimited plan costing $29/month and $179/ month respectively. Through these plans, the platforms manage to get a fixed money revenue.
b. Merchant solutions: Shopify also earns money through merchant solutions which are different than the subscription mode. Through the merchant's solution, we mean that the android mobile app development company brings revenues from various payment processing fees coming from Shopify Payments, referral fees, transaction fees, etc. If any of the businesses are using another payment gateway, they are charged 0.5% to 2% transaction fees.
c. Shopify Plus: When Shopify was launched, it impressed a lot of businesses to a great extent. It became the choice of not only the new businesses but also the existing ones. With its ever-increasing level of success, Shopify came up with Shopify Plus which has several useful added functionalities. Shopify Plus provides unlimited scalability and extensive APIs which makes it a productive and good investment for business owners.
Advantages of using Shopify
a. Easy to use: Shopify is pretty much easy to use as you can effortlessly build your online store through its great features. You have gotten three plans giving you various features through which you can create your store as per your preferences.
b. Appealing designs: Using Shopify, you do not have to appoint any creative designer who can work on making your store appealing. Shopify is a platform offering you a plethora of themes that you can also customize.
c. Security: One of the major concerns of online businesses is security. Shopify offers to you a secure and safe platform that takes special care of the confidential and financial information of the consumers.
d. Fast loading: Shopify is a globally hosted solution that has reliable infrastructure along with optimized software. The same enables super fast loading of your online store so that you do not lose customers due to low speed.
e. Mobile Responsiveness: The number of people who access your products through a mobile device is increasing day by day. The themes that Shopify offers are extremely mobile responsive so that you do not miss any single prospect. Even if you are not using Shopify, it is really important for you to make your website mobile responsive.
Shopify has continuously won the hearts of its customers by adding value propositions to its model. The user base of the platform is increasing at a great pace.
Conclusion
In this blog, we have discussed How important the e-commerce retail market is for businesses. Shopify is the top commerce seller and buyer platform with the best commercial storefronts where sellers give their personal shopping experience to users. The platform has different options for merchants and users.
VerveLogic can be your one-stop solution for mobile app development and web development because we have a team of experts and market experience. You can get your app or website developed at the best price possible. Also, if you are looking for branding solutions or online marketing for your brand then you should check out VerveBranding and Verve Online Marketing today and make your brand stand out. We hope we have solved your every query regarding the app icon and how to create an amazing app icon. Let us know in the comments and questions.
(Visited 144 times, 1 visits today)