Important Features to Have in Your Food Delivery Application
If you are planning to enter a productive business stream and considering Food delivery mobile app development for the same then here is the important information to look at. You will be amazed to know that Online Food Delivery Segment has a total Global revenue amounting to USD 95413 mn in passed months of 2019. It is also reported from the same source that the revenue will increase at a 9.3% growth rate yearly and reach $134,490 Million USD by 2023. Now that you know Online solution for Food delivery is worth a spent, let's have a look at the current revenue stream of popular apps in the industry.
A deep study of Swiggy & Ubereats figures revealed that they have experienced an increased revenue in every quarter of 2018. Grubhub which is another popular food delivery platform posted the revenue it has generated in the fourth quarter of 2018 which is USD 288 million. This is the reason such apps have been seen continuous with their operations & efforts. Before you dive deep into the figures, it's important for you to understand the features important for your app to be a sales mill for your business.
1. Easy-to-use UI:    
Your app should be so simple that even a child does not face any difficulty in ordering the food. When the user logs onto your app, the landing page should be helpful enough to let him/her know from where to find popular restaurants, specific dishes, local restaurants and more. For example, your mobile app development company can create a powerful and smart Search bar located at the top of every page so that the food lover can search for anything even if he/she is stuck in the inner pages of the app. You can make use of diversified grids and video tutorials to let users understand the easy way to reach their choices. Your app is not restricted to merely food delivery instead, you can also be open for online reservation, event management or more.
2. Safe and Secured Payments:
Every now and then, we hear news of hacking which has made people rethink their expenditure through online mediums. Online payment security is a big concern today and hence you should ensure that you have secured payment methods over the app. You need to keep customer data safe right from the start so as to maintain long-term relationships and trust. Also, consider keeping the Cash on Delivery option so that even if the user does not have any means to do an online payment, he/she does not switch over your competitor's site which allows cash on delivery.
3. Live tracking of order:
Live tracking is important for both the buyer and the seller. The person who is ordering the food must know whether the order has been accepted, food has been dispatched or not or how many minutes would it take for the delivery boy to reach you. On the other hand, it is also important for the restaurant owners to know whether the food is being delivered on time or not. In order to survive in this highly competitive restaurant and food industry, it's important for companies to achieve customer satisfaction. To make the services streamlined, most restaurants are leveraging the ultimate power of real-time tracking. With real-time tracking, kitchen staff also becomes able to notify the fleet managers to assign the route for the next orders. Through this, the fleet managers may know where their vehicles are at present and what they are doing through which they can provide exact information to customers about service time and expected delivery.
4. Offering Rewards & Offers:
No matter how popular you get, customers are always looking for more value propositions and hence you should make such an announcement prominent on your app so that the user immediately makes a decision rather than moving to your competitor's platform. If you are able to attract people with discounts and provide an ongoing fantastic service then they would surely choose you over others even if you do not run any offer in future. But yes, it is important to keep coming up with offers so that the interest that people have shown on your platform remains the same.
5. Multiple mediums to order:
You need to have both Android and iOS apps to capture the market. iOS apps are definitely on the costlier side to develop and maintain but with hybrid apps taking over the market, it has become simple for business owners to afford both android and iOS apps. Along with mobile presence, your business should also have a desktop version so that people do not feel restricted if they are not in access of mobile.
6. Use the power of push notifications:
Push notifications enable you to attract customers at certain touchpoints by sending reminders and real time updates. Mobile apps generally have a lot of downloads but only 40% of people use them. Push notifications serve a good way to activate these potential customers. You need to take care of the type of notifications being sent to the users according to their behaviour. The notifications should be personalized as per user's interest buying frequency. Timely messages are a good way to increase the conversion rate as these can notify customers and create a sense of urgency. It helps businesses to target the right users. For example, if the users grant the app permission to access location then businesses get an opportunity to personalize the experience of customers with the location specific notifications.
7. Order Scheduling:
It is one of the exciting features of the popular app Ubereats. You are able to order food in advance, even for the complete week. It is handy if the user wants to set the complete week's meal and do not want to waste time everyday in deciding. By this way, as a business owner, you will be able to  retain your customers & grow your business.
Once the development is complete, you need to promote and market the application so that the users come to know about your app's USPs and start using it. Here are some of the important marketing tips for a quick and wide reach.
8. Spend time in defining the target audience:

You need to collect information about your potential customers such as their interests, location, lifestyles, demographics and more. With its help,  you will be able to create buyer's persona and with an understanding of the same you can create your message, content marketing strategy and communication channels. For example, you can target working people who are too busy to cook.
9. Work on your USPs:
USPs are the unique selling points means the features that are exceptional in your model. In this competitive arena, it is very important to come up with something different so that your potential customers choose you over your competitors. Let's talk about two of the biggest players in the industry. Ubereats which has emerged greatly in past years targets 24-35 year olds for whom the top most priority is the timely delivery. It delivers local food as well as food from big chains. Whereas, Caviar targets higher average incomes and hence delivers only quality food from big restaurants rather than fast food. Just like these two, you need to tell your customer what's unique about you.
10. Content marketing:
Content marketing is important for brand awareness as well as for acquiring good ranks on app search engines. It is a cost effective way to attract and make a reach to your target customers. It has been found out that 70% of the internet users want to learn about the services and products before making a purchase and 84% of the people expect  companies to provide content that provides solutions, tell stories and entertains.
11. Social media marketing: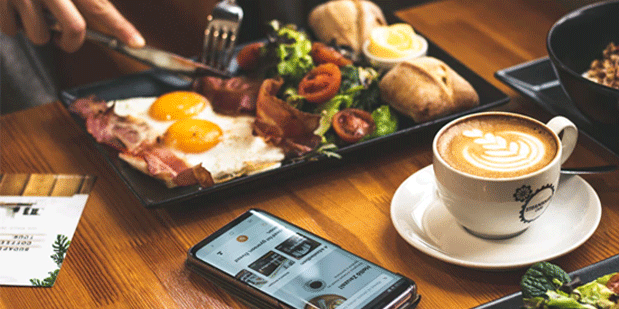 Social media can act as an effective tool for your business as most of the youngsters remain active on social media most of the time. It is important to choose the right platform for marketing like Snapchat and Instagram are helpful if you want to reach out Young people while Facebook is better if your target is old generation. You can consider approaching influencer like in your case, you can approach Food bloggers who have a great following. Ask them to share the link of your app along with its USPs on their account so that their followers can reach out to you.
12. Blogging:
From individuals to big businesses, everyone makes use of blogging for marketing purposes. There are a number benefits of blogging including increased website traffic, customer relationship improvement, more help in SEO and hence more sales. It gives you a good opportunity to create unique and relevant content for your audience so that they can feel more connected with your brand.
There are more ways to market your app like Email marketing, Paid marketing and more. You just need to be consistent with your efforts and then wait to see the wonders. Digital platforms are becoming powerful day after day which is the reason behind why we should include them in our marketing strategy.  
Also Read: Whatsapp Business Model : How Does Whatsapp Work And Make Money?
##  How does Amazon Work: A Look into Amazon Business Model and Revenue Analysis
## Facebook Business Model: How Does It Work & Earn Money?
(Visited 30 times, 1 visits today)