10 Ways to Pay With your Smartphone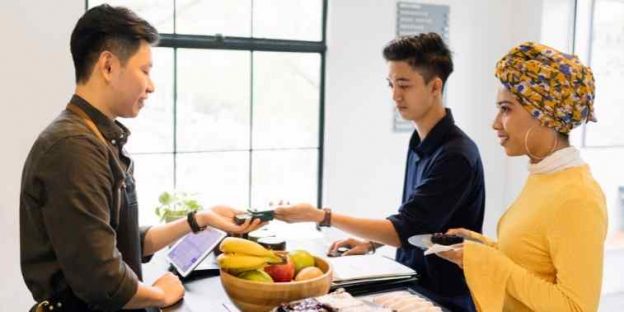 We are living in advanced times where we have an app for almost everything. Some of these apps make our life easier, some of them keep us scrolling over the images and videos shared all over the internet and there are some which are very useful to have. Today we are talking about one such category of apps which are also known as payment apps. Paying with a phone has become a hell lot simpler nowadays. With mobile app wallets, you can add money directly from your card and transfer the amount to shops, medical centers, or anywhere to make the payment for the things you are going to buy. Thanks to payment apps you can even use them to transfer money to foreign countries using our phones.
Digital Payments have evolved amazingly in the past year. More and more consumers are becoming tech-savvy and want to use their smartphones to their full potential. As of now, you do not have to keep your wallet with you all time and that includes your debit and credit cards as you can easily make the payments through the payment apps. If we only talk about the Euro countries then the cashless payments in the Euro area have increased by 8.1% to 98.0 billion. Mobile wallets are quickly gaining popularity from all over the world as the industry is set to reach $1 trillion in 2021. Without further ado let us have a look at the top smart ways to pay with your smartphone.

10 Apps that Makes Online Payment Easy
1. Venmo 
Venmo is a very popular mobile payment service that is owned by our very own PayPal. It allows the users to transfer funds to other people on Venmo through its payment app. It has become very popular among the millennials in no time because of its intuitive design, super easiness to use along social aspect to it. Venmo allows you to send money to mobile numbers or the contacts in your phone list. You can also send money to email addresses or Facebook accounts. Venmo is completely free to use as it directly debits amounts from your bank account. However, you need to pay a fee and if you use a credit card. Let us have a look at the top features of Venmo which makes it a top mobile app development agency for making payments.
-> Send and Receive Money
-> Get 3% cashback on your eligible to spend category
-> Create a business profile for your side business and pay and get paid in the same account
-> Use Venmo QR codes in almost every store to pay touch-free
-> Pay in apps like Uber, Zola, StockX, and many more
-> Stellar customer support Team for all your money related problems
Download the best payment app Venmo for Android | iOS
2. Google Wallet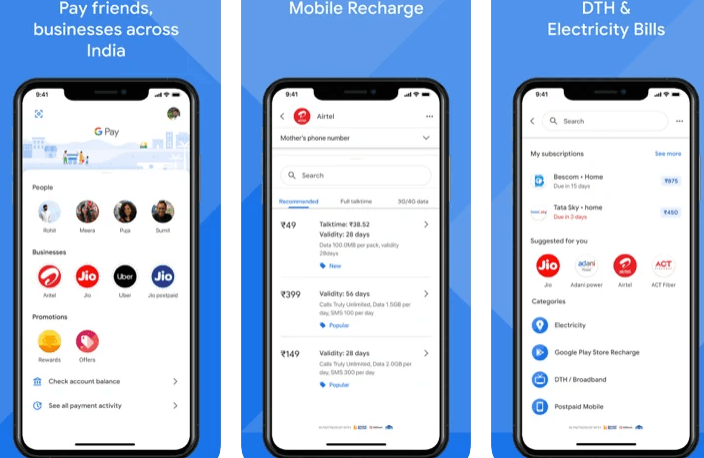 If a new technology is getting a huge response then how does a leader like Google will resist itself from stepping a foot in the field. As Google has an app for everything then why not a payment app. Google Wallet has the same kind of services as Venmo with the difference that you send people money to their emails or phone numbers. The receiver gets notified once they receive the payment and then they have to go through a process to verify their identity to accept the money. Well, not an easy and fast way to make a payment right? Yes, it's true the mighty Google is slow in one of its services as other payments apps in the USA are way faster to pay with your smartphone. The top features of Google Wallet are:
-> Smart Shopping
-> Encrypted and Secured by Google
-> Pay for everything with just with your phone
Download Google Wallet for Android | iOS
If you are also looking to run your business online then having an app is inevitable as you will be one step ahead of many other people already. If you wish to hire mobile app developers to create your app, you need to take care of certain steps to hire the best developers. So to make it simple for you, we have an "ultimate guide to hire mobile app developers" which will help you further in taking your business online. 
3. Square Cash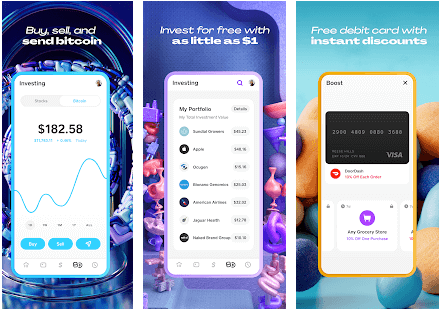 Square Cash which is also known as Cash App is a mobile payment service developed by Square, Inc. This application makes the transfer of money very easy using your smartphone. As of now they are available in the US and UK only but have a recorded 36 million active users. 
Compared to Venmo, it is much easier to use and also includes an "Auto Cash Out" feature which makes sure that your funds will go straight to your account instead of just sitting in the app. However, you are only allowed to keep a feed of your transactions online but its amazing interface and intuitive features may convince you to download Cash App for free. Top features of Cash App which makes it a top android app development company are:
-> Fast and Free
-> Send and Receive Money Instantly
-> Allows you to invest in Bitcoin
-> Buy and Sell stocks commission-free
-> Provides a free customized VISA debit card
-> Receive your paycheck up to days early
Download one of the best payment app in the USA and the UK Cash App for Android | iOS
4. Chase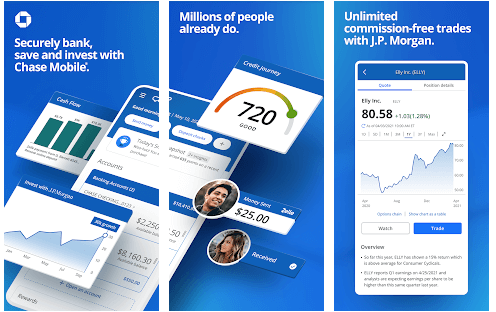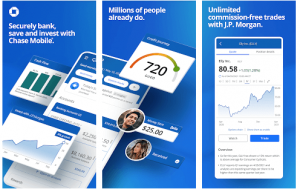 As we are leading with the latest technologies, more and more banks are developing mobile apps of their own so their customers do not have to go to a branch or even use ATMs in order to make transfers. Similarly, the banks have many mobile apps that can take care of most day-to-day banking tasks in just a few clicks. Some of these mobile applications also allow you to cash cheques by taking a picture of them. Just like that, we have Chase mobile app from JP Morgan Chase and Co. Let us have a look at the top features this application has to offer:
As everything seems to be online, as a business leader you need to make sure that your app also stands out from the rest. In order to be the best, you need everything perfect in your application. So, here we have 5 tried and tested ways to integrate payment gateway in a mobile app so you can create a fast and secure payment gateway for your users. 
-> All accounts at one place savings, credit card, checking, auto, business, etc,
-> Allows depositing a check
-> Get commission-free trades for stocks
-> Send and Receive Money
-> Transfer money between accounts
-> Credit Report for Free
-> Daily spending insights at a glance
-> Autosave for better savings
-> Track and Redeem your Chase rewards
-> Schedule a meeting with a banker
All these features in one app surely make it a top-class payment app from the best mobile app development company. Chase is available for both Android and iOS devices with a total of 40.1 million users.
Download this world-class Payment app Chase for Android and iOS
5. Transferwise
Transferwise which is also known as Wise is a London-based financial technology founded in 2011. It helps in transferring the amount to your friends and families all around the globe. It charges you a very much lower fee than a bank along with a much better exchange rate which is up to 8X cheaper. Transferwise way of delivering results is quite different from others. When you make a transfer, the money never leaves its country of origin. So, your deposit is matched with another in your recipient's country and sent out domestically which makes it one of the best payments apps that are used by users globally. So, now you can make international payments around the world in just a few minutes. Let us have a look at the other notable features of Wise.
-> Send money to over 80 countries
-> Payments arrive in just one hour 
-> Secure payments with two-factor authentication
-> Keep up to date with instant push notifications for every transaction
-> Pay invoices and bills faster at a better exchange rate
-> Connect  your Wise account with supported platforms like Stripe, Amazon, Xero, and more
Download the best international payments app Wise for Android | iOS


6. Level Up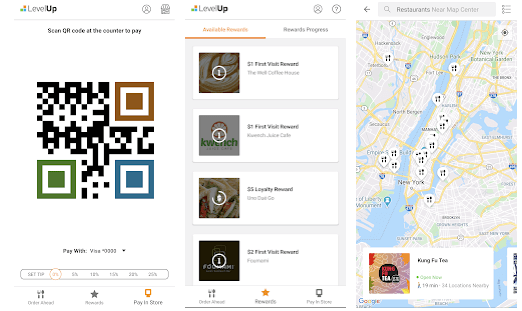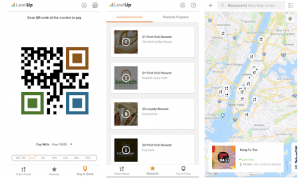 Levelup is another people's favorite app to pay easily, get rewarded, and earn loyalty points. This mobile payment platform utilities QR codes to allow users in order to make a fast and secure payment. As mentioned to make payment quick and easy for the users and businesses alike, LevelUp offers loyalty programs and various rewards to keep everyone engaged. As a new user, you can obtain discounts when shopping at a business for the first time, or alternatively unlock monetary credit after spending a described amount at a business.
The best part about this payment app in the USA is that it is free to use and only requires a link-up of your debit or credit card for future and present transactions. There is no fee for the customers to pay and a low credit card transaction fee for businesses makes it a top payment app in the market. LevelUp only takes 1.95% credit card fees which is very low as compared to other payment apps.
Download Levelup for Android and iOS
When it comes to payment applications then nothing can beat the top NFC payments apps as they offer fast and secure payments. This huge technological advancement has made (NFC) Near Field Communication more applicable in terms of mobile-based payments. So here we have the top most NFC payment apps that you should start using now.
7. Square 
Square is another unique and distinct mobile app that makes online payment simple and easy. Well, when we said unique we meant that it turns your iPhone or iPad into a cash register as you need to insert a tiny card reader in the headphone jack of your device. It was very successful when it was launched as people still adore and use Square from time to time. Currently, it sits on 30 million monthly active users, about 7.5 million of whom use the app daily to make any kind of transactions.
Square has invented the proper cashless payment via the Square Wallet App. While checking out after making the payment, the cashier confirms their identity and the Square payment system takes care of the rest. The other notable features of Square Wallet App are:
-> Send and Track invoices from your device
-> App discounts and issue refunds
-> Allows tracking inventory in real-time
-> Accepts top cards like MasterCard, American Express, and Visa
-> Allows customizing your products with photos, names, and prices
Download the top payment app in the USA Square for Android | iOS
8. Tabbed Out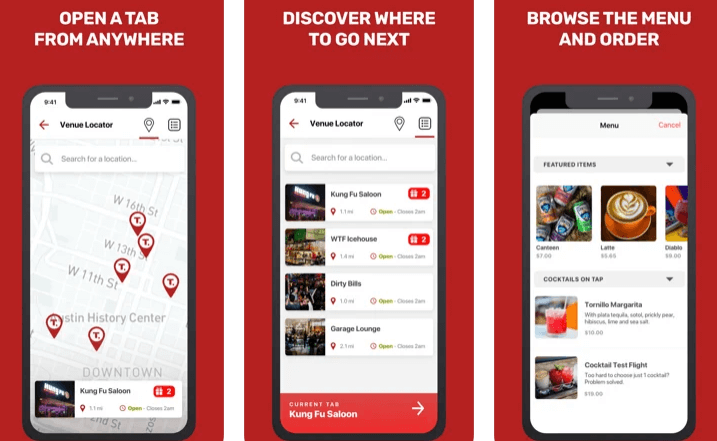 Tabbed Out is another addition to the list of top payment apps. Tabbet Out helps you pay with your smartphone at the stores and shops which supports the payments through the application. Moreover, Tabbed Out has partnered with Google Wallet and has been working out like this since 2013. Tabbet Out also allows you to make the payment at your favorite eateries, once you have paid the bill you will get a chance to give feedback and the vouchers for the next time. Let us have the features that this iOS mobile app development company has to offer.
-> Watch your Tab in real-time
-> Add a tip to your favorite server
-> Pay straight from the app
-> Split the bill with fellow diners and friends
Download this high-performing payment app on your android and iOS devices to make your next payment simple.
9. Samsung Pay 
Samsung Pay is only available for android devices as it is another top-class payment app that makes things easier for the user on the go. Samsung Pay allows you to load your credit, debit, gift, and loyalty cards into its app to make the payment easy in stores. The best part of Samsung Pay is its global reach as it is available all around the world so even if you are traveling to a new country you can easily pay from your Samsung App.
Another top feature of Samsung Pay that makes it unique is that it makes your phone a virtual card so you can swipe it and make the payment. It means that even if you do not have your debit or credit card with you, you can still make the payment from the same using your Samsung Pay App. Because of these two features, Samsung Pay is way ahead of its competitors with only one limitation that it is not available for iOS users.
Download Samsung Pay for Android –  A leading mobile payment app
Cashless payment is the new trend in the market. Thanks to smartphones, more and more payment apps are being successful in this online market. Moreover, it is also helping the businesses in increasing the revenue. Cashless payments appealed to billions of people across the globe even before the pandemic. But as a business, you also need to take care of the latest trends, and to make it simple for you we have the 8 top digital payment trends for 2021.
10. Gyft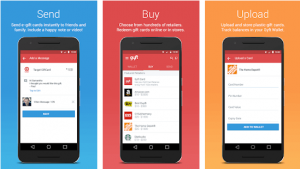 As most users say, here's a payment app you didn't know you needed. Since we have a lot of applications in the field this is very unique from all of the above-mentioned payment apps. Gyft allows you to upload any plastic gift cards and manage them from your phone. Now you never have to worry about the gift card for your favorite restaurant. It also allows you to send and receive gift cards, pay in-store and even track your balance once you have made the payment. The top features of Gyft top payment apps are:
-> Purchase gifts cards for yourself and others
-> Send and receive e-gift cards
-> Redeem your past gift cards and track balance
-> Manage all your gift cards in one place
Download Gyft for Android and iOS and have fun with these best payment apps
These are the 10 ways to pay with your smartphone using mobile apps. We hope you will find this helpful and find the right mobile application on your phone. If you are a business then we have come up with the 25 best programming languages for mobile apps which you will find helpful to create your next application.
Moreover, if you are planning to create one such application or finding 20 android app development trends to watch out for in 2021 then a top IT outsourcing company like VerveLogic is there for you. 

We're VerveLogic and we've been serving our clients with our IT, designing, and Marketing services since 2012. Every day, our team of dedicated professionals works to make this world a little better through our premier solutions. Our exclusive services include Mobile App Development, Web Application Development, UX/UX Designing, SEO, Digital Marketing, and IT Consulting like "how to reduce android app size during the development" and Digital Marketing Services to businesses from all around the globe irrespective of your business domain.
(Visited 120 times, 1 visits today)