Top Most NFC Payment Apps: You Should Start Using Now!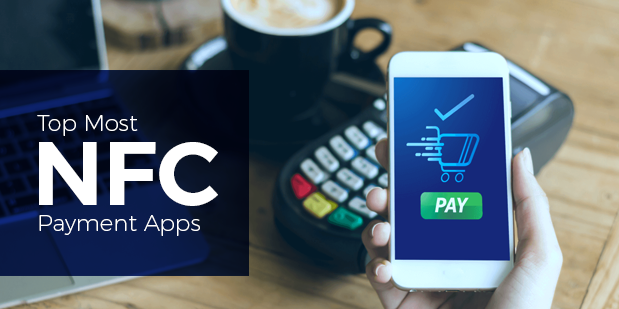 From health apps to personal mobile banking, we all are well acquainted with the increasing use of technologies made for mobile devices. That helps us in managing our day to day lives with just one click. This huge technological advancement has made (NFC) Near Field Communication more applicable in terms of mobile-based payments. You must have seen in retail outlets, in cash counters or in shopping malls that two local devices sharing the data among each other during the sales. These devices work on the smart card's printed lines, commuter card technologies, etc. but now it is placed on Windows phone, Android or even iOS devices. So, there is no surprise why mobile-based payment making apps like NFC payment apps are gaining popularity among the people.
In simple words, "Near Field Communication" is the technology that allows two devices i.e. your payments terminal and phone to exchange data when they're close with each other. It is a technology that permits contactless payments.
So, How Does It Work?
a. When you install an NFC app on your smartphone it will instantly connect with your credit card terminal as soon as the phone will get into contact with it.
b. After that simply you have to enter the passcode or scan your finger to approve the transaction.
c. The transaction that you had made will be validated via a small separate chip which is known as a secure element, this passes the control rearward to the NFC modem.
d. Now you will notice that the payment is done just like the traditional card swipe transaction.
List of Top 9 Tap and Pay NFC Payment Apps 
1. Samsung Pay

If we talk about Samsung Pay, it was fairly congenial with the magnetic stripes terminals. The user can easily make payments by just waving a Samsung device near the cash counter instead of providing the relevant payment information or by swiping the cash cards. The swipe and pay option was introduced by Samsung after its rivals like – Apple and Google launched its NFC payment app. 
It was found that the tap and pay option works well with the Samsung models like-  Galaxy S9+, Galaxy S8, Galaxy S9, Galaxy S8+, Galaxy S7 Edge, Note 5, Galaxy S7, Galaxy A7, Galaxy S6 edge+, Galaxy A5, Galaxy A7, Galaxy A9 Pro & Galaxy A5 along with all the compatible tablets, Gear S3 smartwatch based on region. It uses tokenization,  fingerprint, biometric authentication, secured PIN services to watch any suspicious activity and to make contactless payments. 
2. Square Wallet
       
Square works is an application which works on both Android and iOS platforms. It is just similar to Lemon Wallet. It is capable of being linked with different cards and works as a location-based. The app Square Wallet works surprisingly fast, as it knows the location of the store from which you try to make payment and then it directly links you up with the Square account. A allows a hands-free checking out option which comes up with the application. This allows the user to mark their prefered merchant as their favourite one. Also when you make your next payment it will make you eligible for the different offers and discount on your next visit to the store. 
3. Google Pay

When it comes to payment apps – Google Pay comes across as one of the most convenient payment options. It does not share your actual credit/debit card information, it works to set up a virtual account number which represents the card information that helps in securing card details. The apps make it pretty easy to earn, purchase or even redeem loyalty points also in getting personalized suggestions to save money, effort and time. 
Android Pay which is now renamed as Google Pay is an application which works to make NFC payments and designed for all the users who use Smartphones and iOS. It is the part of tap and pay Google Wallet which is used to make payments at the sale terminals in malls or at the retail stores. The card details (Debit/Credit) of the NFC app user will directly be shared to the sale's device, as soon as your Phone will get connected to that device with the help of a signal the payment will be made.
4. PayPal 

PayPal comes up with clear terms and conditions through which you can make and receive online international payments this makes it more convenient to use. With the help of Pay Pal app, users can make worldwide online payments just like the national payments. UT is compulsory for both sender and receiver to have a PayPal account if they wish to make a transaction among themselves. In this, it is not necessary to have a balance in the user's account to transfer funds the user must be credible. All you have to do is to install the application in your mobile this makes the transaction easier. 
5. Apple Pay 
The Apple Pay is just similar to other NFC pay apps like Google Pay, Samsung Pay etc. As the NFC payment app for iOS users, the Apple Pay is the best. With the help of this, you can easily make payments via loading it to your Apple Watch or Apple iPhone with your debit /credit cards and tap after that you can make payments at any tap and pay outlets. 
Passcode or Touch ID will be used to authorize the payments. To protect the data of the payment card tokenization or additional 6-digit code and can be enabled.
6. LifeLock Wallet

The Lifelock works as an "identity theft protection service", which launched its own transaction making service which is known as Lifelock Wallet. This was done earlier before acquiring Lemon Wallet. It allows the device protection and also saves credit, insurance, debit and many other loyalty card details at the same time. In the rare case of theft, an identity restore specialist will come to recover for the same. 
7. Visa PayWave

Visa payWave is another contactless payment making application that integrates with a computer chip, this helps the user to receive and send payments. It has a magnetic tape technology which gets transacted via the payment network. This makes the process more reliable and easy for the user.
8. Venmo

The Venmo app works just as well as Google pay, Samsung Pay, Zelle, Apple Pay and has become one of the most convenient options for the payment. By combining it with Google Pay or PayPal it facilitates the users to split payments, send funds to family and friends or even shop online. It also offers social media features where users can create personalised notes which can be sent along with payments and transactions with emojis or even a plain text.
9. Mastercard PayPass

With the MasterCard feature, the Peer to Peer is also included in it. This allows the users to make payment to the merchants who have the PayPass terminal. As users have got their own payment making card or smartphone it makes every encryption unique for every payment that remains data secured from any loss or theft.
So, above are some of the famous NFC payment making apps which are used by numerous people worldwide for making day to day transactions. Although the NFC payment apps doesn't touch the higher number of people but it was believed to get a growth in its demand as people face the demand of it. The improved change in security configuration in smartphones like the biomatrix configuration on smartphones. Like – Apple introduced face-scanning 3D technology or LG introduced voice recognition security tech. In their new devices, Samsung introduced Iris scanner in "Samsung Galaxy Note 8". Also, mobile payments have been raised as the major adoption among the US customers which suggest the vast majority of technological change. 
Below down we are mentioning a few points that must be expected out of mobile-based payment making apps in 2021. So, let's take a look…..
>> The growth of mobile payments during the sales is shown less than usual. But due to the presence of numerous payment options like Samsung Pay, Google Pay, Apple Pay, PayPal etc had undercover the retailer's specific payment mode offered by various companies like Starbucks, Walmart etc. and had interrupted the market. Therefore it subsequently left the NFC payment mode in front of the customers in terms of payment mode.
>> Many big brands like-  Walmart, Starbucks, Dunkin's brands have influenced mobile payment making by the power of loyalty program and combining a habitual purchase of the customers. Which increases the cashless payment system and makes it as easy as possible. One of the P2P payment platforms "Zelle", has quickly acquired over Venmo which is owned by PayPal in terms of users. It performs its task more frequently as compared to the Venmo which includes the cashless transaction, this catches the customers and makes it their first choice.
The mass installation of NFC payment applications and the making of mass transit stations brings the cause and indulges the people in the cashless payments easily. This type of system doesn't entertain the use of a smartphone to complete any transaction, the user can easily make the payment via tap and pay interfaces. 
(Visited 119 times, 1 visits today)