Top 10 Mobile Development Trends In 2022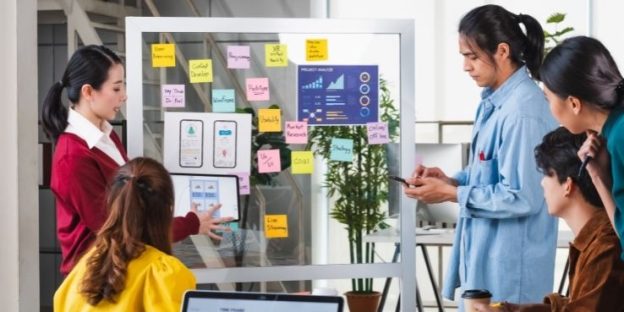 Do you know that we spend almost 90% of our time spent on mobile devices is actually dedicated to different mobile apps? This has especially happened after the emergence of the Covid-19 pandemic. As a result, we are getting increasingly reliant on mobile devices or applications for all our needs. These needs could be food, medicine, shopping, dating, gaming, and so on. This is the reason that at present the world has over 5 million mobile apps with the demand for the new apps facing an upward direction. If you ask a mobile app development company in USA, you'll know how tremendously the demand for both iOS and Android apps is rising.
In a dynamic scenario, where technology is evolving at a fast pace and new mobile trends are emerging before us, it has become inevitable to keep up with these trends. By moving neck to neck with what's trendy in the market, app developers can gain numerous benefits. These perks include developing competitive mobile apps, offering dynamic solutions to customers, delivering an elevated app experience, and combating competitors effectively.
So if you're looking to keep yourself abreast with the most popular trends in the mobile app development domain, the following section will be your lead.
Top 10 Mobile Development Trends In 2022
The pathway to becoming the most successful mobile app development company in USA starts with comprehending the popular trends of every year. Let us closely know and understand the top 10 mobile app development trends of 2022 to effectively achieve the above dynamic objectives.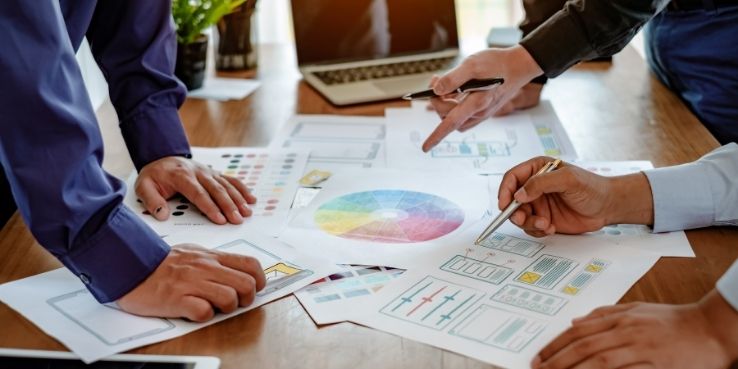 1. A Boost In 5G Technology

Compared to 2020-2021 mobile app development trends, 5G stands even stronger this year. Being like 100 times faster than 4G, 5G has greatly helped mobile apps function faster and with high efficiency. Besides, 5G offers the following advantages to the apps and app developers:
Extraordinary rapid speeds of up to 319 TB per second
Minimal to zero waiting time
High bandwidth
Excellent connectivity
Ease in integrating augmented reality and virtual reality into apps
Rapid transfer of data between devices
Ease in offering new and dynamic features without adversely impacting the performance of the app.
Improvements in the video streaming apps, due to high speed, resolution, and low latency factor.
Effective, smooth, secure, and quicker mobile payments.
Not just that, but 5G has also opened the scope for innovation, enabling app developers New York to transform their dynamic ideas into a reality. While it is also estimated that by next year, around 47% of all smart mobiles will support 5G connections.
2. Integration of Augmented Reality(AR) & Virtual Reality(VR)

The AR and VR technology-enabled businesses to effectively showcase their products and services, particularly during covid. Moreover, these have helped customers by allowing them to see the product before actually buying it. Hence, by incorporating AR and VR, both retail and eCommerce companies have achieved the most out of their businesses.
Besides selling and purchasing, both these technologies can also enhance the learning experience of the users. This will boost the appeal of mobile phones as well as improve engagement. Brands like Ikea, L'Oreal, Lenskart, Google, Meta, Apple, etc. have effectively used AR and VR to enhance their user experience.
It is expected that this year, these technologies are going to shape the mobile app development industry. Moreover, more users of AR and VR will come to life, hence a great chance to incorporate these into the apps and give users a game-changing experience.
Read to Know: How Much Does A Mobile App Cost?
3. Mobile Commerce

Mobile commerce is nothing but a by-product of eCommerce. While eCommerce simply denotes the online sale and purchase of goods and services, mobile commerce refers to the same transaction but using mobile devices.
The advent of the pandemic made forced users to switch from local retailers to online sellers for their shopping needs. This made sellers jump to online platforms to sell their products and services. And this also enabled both of them to adapt and be savvy with mobile commerce. The amazing experience that users had during this time has made online shopping a significant part of their routine life. Therefore, trendy for the last three years, mobile commerce is a trend this year too and is not ending anytime soon.
4. Mobile Payments (Via Mobile Wallets)

In addition to mobile commerce, mobile or digital wallets have been among the most popular trends. Since digital wallets are a secure, easy, and convenient way of making payments, customers of today prefer them for making a number of payments. You can guess the popularity of famous payment modes like PayPal, Google Pay, Paytm, Apple Pay, etc.
Besides, even the banks offer their own mobile wallet to make easy customer transactions, be it a bill payment, online/offline shopping, venue booking, etc. Rose during covid 19, this trend is highly satisfactory and will soon become a standard feature of every app that contains transactions. Hence, while hiring app developers New York customers are predicted to be increasingly particular.
5. Artificial Intelligence & Machine Learning

Artificial Intelligence and Machine Learning, both have become significant features of smartphones long back. Especially when it is about better user security, functionality, and experience. The AI features include the following:
Face detection
Image recognition
Speech recognition
Sentiment recognition
Text and image classification, etc.
Even online payment modes such as Google Pay, Apple Pay, and PayPal make use of facial recognition and biometrics to recognize users and safeguard them.
Both artificial intelligence and machine learning help developers in reducing the time of app development and even mistakes that may otherwise occur. Moreover, they will be used in providing geolocation, effective software development, and an enhanced gaming experience. Hence, a mobile app development company in USA should be able to use these elements and incorporate them into the app.
6. Blockchain

Blockchain has been in existence since the emergence of cryptocurrency but is among the most recent trends in mobile app development. Blockchain-based decentralized apps remove the need for centralized managing intermediaries and give users additional control over data. Hence, if you're a developer of apps for security, finance, governance, or other social categories, a Blockchain wallet can be a beneficial feature for that app.
Since blockchain wallets allow users to make secure their bitcoin currency, it will influence reliable information sources about crypto and apps for its management. Today there are 70 million blockchain wallets, among which mobile wallets are the most chosen.
7. Beacon Technology

Industries like retail, eCommerce, hotels, healthcare, etc. have been using Beacon technology since its inception in 2013. However, it has recently become a trend in the app development domain. Among these trends, the most common are beacons for mobile payments, artificial intelligence, machine learning, and AI-enabled chips.
Beacons allow a better understanding of customer behavior when they are at a store. It detects how much a customer spends on a specific aisle, and then later sends a push notification encouraging a sale of the same product to the customer. This technology improves the customer experience with the app.
8. Apps For Foldable Devices

In the last many years, we have witnessed smartphones getting entirely touchscreens. However, the trend of foldable phones has been rising too for the last few years. Motorola Razr, Samsung Galaxy Fold, and Huawei Mate X are examples that provide larger screens to the users without changing the size of the device. Also, when the user folds or opens these mobile devices, the app undergoes interface changes. App developers New York can consider these elements and interface requirements to make apps for foldable devices.
9. Wearable Devices 

2022 is also a year of wearable mobile application development. Wearables are those devices that can be worn on a human body or affixed to the clothing. These devices include smartwatches, smart jewelry, fitness watches, display devices, etc.
Wearable devices make it easy for customers to use, carry, or see information. And these can be easily monitored and managed remotely using mobile apps. This reason has made it more trendy in the last few years.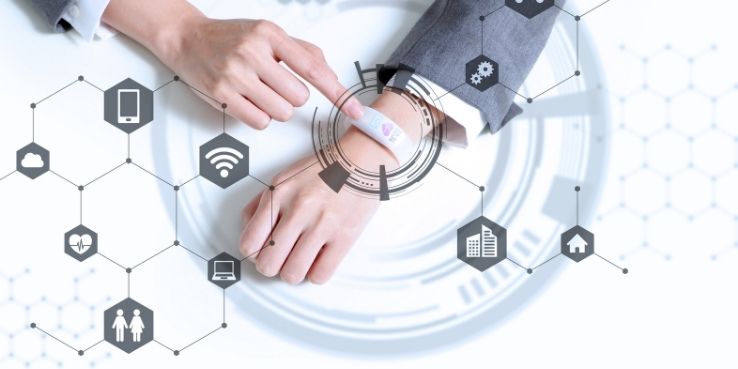 10. Mobile App Security

The last many years have witnessed a tremendous rise in mobile cybercrime, making the need for mobile app security inevitable. Being a mobile app development company in USA, you can't take any chance when it comes to securing the app. App users are well aware of the security risks and hence refrain from sharing passwords or any other sensitive info with third parties. Hence, the implementation of security features, for example, Sign in with Apple, Sign in with Google, two-factor authentication, etc., can safeguard user information.
Conclusion- Top 10 Mobile App Development Trends In 2022
The mobile development industry is dynamic and shall continue to witness rapid changes in the time that follows. Unless an app developer is abreast with the latest trends in mobile app development, he won't be able to leverage them to deliver a successful, dynamic, and powerful mobile app. Hence he must take this as his responsibility to keep up with the trends as much as he followers the app development guidelines.
VerveLogic is a leading mobile app development company in USA that excels in accomplishing the dynamic app requirements of clients. Get in touch to share your Android/iOS mobile app requirements today.
For more learning on the trends and topics of mobile app development, keep visiting our official VerveLogic blog page. Moreover, if you'd like to share some other app development trends of the year, the below comment section is all yours.
(Visited 111 times, 1 visits today)