Top Mobile App Ideas for Restaurant and Food Businesses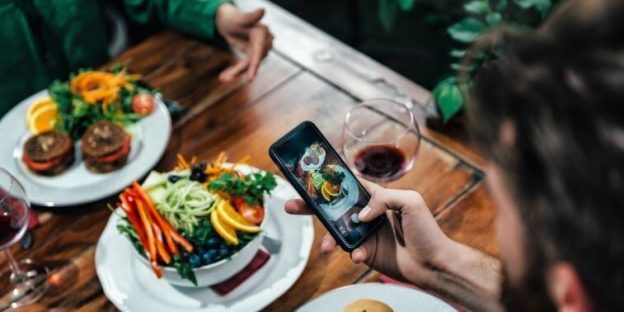 There's one sector which I think is never going to see loss and that is the food industry. And the best part is the food business is evolving with every passing year. This offers a chance for you to put your foot in this sector and earn huge revenue by reaching out to the right customers. Another highlight is people love to spend on food which means with constant hard work you can't lose your appeal at all. Now all you need is a robust mobile app idea for restaurants that can serve the current tech progress and market trends to achieve success.
Fun Fact – The global food and grocery retail market size was valued at USD 11.7 trillion in 2019 and is expected to grow at a compound annual growth rate(CAGR) of 5% from 2020 to 2027.
These days nobody wants to prefer waiting in a queue for availing food delivery service or ordering food. You, me and I think everyone is guilty of this. So why not take this opportunity to use this as a business tactic and earn huge revenue as changing the habits of billions of people is a really tough job. As mentioned earlier, the food industry is one of the biggest things in the market and with this development, your food business must consist of the latest food app idea.
Why is the Food Business the Next Big Thing in the Market?
The food business is one of the markets that has benefited from covid 19. And since we are getting more cautious towards moving out, this industry is going to reach new heights with each passing year. If we particularly talk about the food delivery business then it has gained immense growth in the last two years.
As you can observe in the above chart, the industry's gross sales roughly double from 2018 to the start of 2020. The most important thing which needs to be perceived is it doubled again as the pandemic began. What is perhaps more captivating is that food delivery may not yet be as widespread as one may think. Only 40% of the overall food ordering market is being placed online as the rest 60% is yet to order food online. But with the annual growth of food delivery, we are going to see more of this particular field.
Fun Fact – 33% of US consumers say they would be willing to pay a higher fee for faster delivery service and 60% of restaurant operators say that offering delivery has generated incremental sales.
Now that if we zoom out then we have many different ways to offer this industry. For instance, you can have a wholesale meat delivery app that is impressively built by a mobile app development company and restaurants from all around the globe can order meat from your mobile app eventually leaving you earning a huge revenue out of this.
According to the World Health Organization, the annual meat production has roughly increased to 72% as we have seen an increase from 218 million tons in 1997-1999 to 376 million tons by 2030. Surely this one is a great idea to move ahead with.
Benefits of Launching an App Idea for your Food Business Startup
Thanks to the internet and the easy availability of smartphones, more and more people are using mobile apps for food-related services. These food apps make our life easier by eliminating the time to visit restaurants and wait for your food. Moreover, restaurant owners also love these food app ideas as it helps them increase their sales growth. Let us have a look at some facts and figures which will clear the idea of why a food business is advantageous:
-> Food and drink manufacturing contributes more to the economy than all other manufacturing sectors, including automotive and aerospace.
-> The average volume per person in the Food market is expected to amount to 338.9 KG in 2021.
-> Grocery stores hold a 92.4% market share in traditional food store sales.
-> 74% of restaurants believe that their guest appearance has been enhanced due to technological advancement.
-> 90% of the users who use food delivery services agree that it makes their lives easier.
As you know the facts and figures revolving around the food industry. We are sure you must be looking for mobile ideas for restaurants which you can use to increase the standard consumers and also earn more returns from it. And since we are living in a technological era, why not give it a try? So, without further ado, let us have a look at the top mobile app ideas for food business startups.
If you are planning to enter a productive business stream and considering Food delivery mobile app development for the same then here is the important information to look at. Before you dive deep into the figures, it's important for you to understand the features important for your app to be a sales mill for your business. Here we have the important features to have in your food delivery application.
Top Mobile App Ideas for Food Business Startups

1. On-Demand Grocery Delivery App
Our first idea is very common but one of the brightest ideas that you can incorporate at the moment as building a grocery shopping and delivery app will surely help you grow and thanks to the pandemic it will definitely grow. Let us have a look at some facts and figures for online grocery stores:
-> As per GroceryDive, more than 30 million users will prefer to use mobile apps for ordering groceries in 2022.
-> The online grocery sales were around 22 billion in 2019 which is expected to cross 30 billion by 2021.
-> Online grocery sales just doubled in just four years
-> When doing online grocery shopping, people spend a minimum $40 or more.
You can hire a top IT consulting company that will guide you in the right direction with the app development process. It will allow people to search for your grocery delivery services using real-time locating systems and can get the doorstep delivery of the items they need.

2. Food Delivery App
As the name suggests, a food delivery app is used to deliver food to your customers. For your consumers, it is the only way of getting your amazing food at their door store just by enabling their location in the app. If you own a restaurant, then it will one the best idea to increase your sales. And if you already have a food ordering app but can't provide the delivery service then you can hire a third party for the delivery services.
Benefits of Having a Food Delivery App
-> Makes the ordering process easier
-> Efficient customer and order management
-> Monitor your expenses incurred in real-time
-> Free Marketing
-> Convenience of Mobile Ordering
-> Better customers data
-> Stay ahead of all the competition
-> Better Reach
-> Convenience of Mobile Ordering
3. Food Coupons & Discounts App
Generating food coupons and discounts for mobile apps is one of the most distinct mobile app ideas you can ever have. Because users always look for discounts while ordering food so the probability of this idea reaching success is really high. What you can add in this app with the help of a mobile app development company is sending alerts when a restaurant is offering a good discount on their food items.
You see many restaurants provide promotions throughout the year and many times food is sold at half price for attracting new customers. so, your mobile idea for a restaurant will be to create an app with the help of an android app development company and inform people about these discounts and coupon codes so they never miss such amazing deals on food.
4. Recipe Apps 
As per the Recipe Apps Market Report, the worldwide recipe app market will be maximized to reach multi-million dollars by 2024. Isn't that outstanding? A sub-field in which you can make a huge profit.
Everyone wants to learn how to cook these days and thanks to quarantine as it has woken up the chef inside all of us. But not everyone knows how to cook a decent meal. As much as it sounds frustrating to hear, it gives you a chance to teach people how to cook with your recipe app.
What all to Include in your Cooking Recipe App
-> Thousands of recipes categorized appropriately
-> Easy step by step instructions to follow
-> Offer tutorials in both video and image format
-> Multi-tasking functions when preparing multiple meals
-> Allowing users to share pictures and recipes on the social media platform
-> Communicating with users on the app.
Fun Fact – There are more than 450 million users of the iPhone and iPad. Now if 10% of only 20 million users make an in-app purchase of $1 you can still generate $2 million in gross revenue. Now you think how much an iOS app development company can help you earn?
5. Nutrition Food App for Gym Freaks 
Nutrition food apps are perfect for people who spend their good quality time in the gym or keep themselves fit. It can work in two ways. Whether to offer information about meals and diet charts on how to keep yourself healthy, fit, shred weight or gain weight. But the one thing which is difficult for the users is to follow that diet because of their strict schedule or they do not know how to cook. So along with this crucial information you can turn your nutrition app to nutritious food delivery app and increase your business and grow your sales.
Many customers find such applications convenient as they get food as per their diet plan, along with a diet chart. If you already own a restaurant then this food delivery app idea can increase the number of visitors and help you earn a good profit out of it.
6. Restaurant Table Reservation App
To be honest this is not a new mobile idea for restaurants as there are a plethora of such mobile apps that allow the reservation of tables at restaurants. But we added it to our list by keeping the perspective that you own your restaurant and do not prefer losing your valuable consumers in the weekend rush. Nobody likes to lose their single customers, and the table booking app idea is great for a restaurant as it works seamlessly as your customers can book seats as soon as they are available or as per their convenience.
Since you are offering a number of services like reserving table location, time slot, date, favorite food order, etc. you are leaving them satisfied which will keep your way ahead of all your competitors. And another effective part of having a restaurant reservation app developed by a mobile app development company is that it eases several day-to-day jobs, helping you keep track of other businesses as well.
7. Food Wastage Reduction App
Now, this is one of the most unique app ideas for your food startup business. You can start a company that can be launched for supplying the leftover foods of its restaurant for homeless or poor people off and on the streets. It is obvious that food makers always make foods in massive quantities and there is always a very good chance that some of them will be wasted and dumped. So, instead of dumping that food, restaurant owners can contact you via your mobile app and you can distribute it in the hunger-stricken areas. You might be thinking what is in it for you?
Apart from humanity, such ideas can easily team up with big enterprises for operational expenses. For the beginning investment to develop such an app or crowdfunding can also be a great way.

8. Calorie Tracker App
Aforesaid, whatever we eat determines our health. In this overeating era, allow people to track their calorie and other food consumption by offering a calorie tracker app. Tracking and counting calories have become very simple and there are many mobile apps that are helping users to track everything they eat.
9. Reviews and Rating App
Another great food app idea is to create a food ordering app that allows the users to rate and review the restaurants where they have eaten earlier. It helps both the consumers and the owner of the restaurants as consumers get to decide which restaurant to visit and owners get a checklist on which sections they require improvements. There are many food ordering and delivery services that utilize this type of feature to receive client feedback for the service and food quality by particular restaurants. It also forces owners to keep a good reputation in the market if they get better ratings.
10. App to Explore Restaurants using AR Technology 
AR is also known as Augmented Reality is one of the latest technologies that every business is trying to figure out to use in their app and make the customer experience better. We understand that food is all about its deliciousness but when you are using a mobile app then you need to find ways to make customers happy and engage them in your services.
For instance, many travelers select dine-out places as per the lively environment of several popular restaurants across travel places and cities. The inclusion of AR in the app can meet this need easily. Here are the following ways to include AR in your food business.
Quality Service – Deliver information about ingredients and the perfect food to maintain your quality service standards
Entertainment – Entertain your guests and keep them engaged using AR while they wait for their food.
Augmented Menu Cards – It will take your food menu visualization to a whole new process. It will also allow you to add images, videos, and other multimedia that immediately make a custom AR experience.
11. E-Menu or Digital Menu App
As we are living in a highly competitive era, owners are finding new mobile app ideas for restaurants. For the same reason, we bring you the next idea. E-menu or digital menu app is replacing physical menu cards and providing the online list to the consumers with their images and pricing. This menu app offers unique features that not just help a restaurant but also the users to order food online with ease. They can choose, make payment online and complete the order as the waiter brings it to the table once it is cooked.
Consumers can scan the code on the table to get the entire menu on their screen like a food ordering app, choose the food item and place the order. They can have a better look at the images, videos and descriptions of food items for a better understanding of the food list. It saves time and makes things easy for customers as well as for the restaurants.
Also Read –  Top 13 food delivery apps  in India and the features that make them best in the market.
12. Experimental Cooking App
There are many people from all around the world that like to eat genuine cuisines using their cooking skills. It gives you scope to build an experimental cooking app with the help of a mobile app development company. Using this app your users can choose their favorite ingredients and have them prepared by an expert chef. As a restaurant owner, it will help you make your customers feel special.
With this unique concept, you can also stay ahead of the competition with this type of food delivery app. Moreover, this app will not contain any normal dish but all the dishes made by top chefs using ingredients and cuisines. It will also build unique brand awareness and also increase the business's authenticity.
13. Customized Food Ordering App
This is another unique idea in the list which is also for food ordering purposes. The waiters can use this app for taking orders from the consumers and keep records of their orders for billing. This will eliminate the use of paper and you can also keep the record of the people digitally and remove all the human errors.
14. Calling Waiter App 
Since we are moving ahead let us use this innovation to make the food ordering more pleasant for the consumers. Calling a waiter app will need a system that can easily scan the QR code scanner. All you need is ask your waiters to keep smartphones or connect them with their smartwatches. The consumers will visit your restaurant, check out the menu, scan the QR code and the waiter will get notified to visit that particular table. This increases the convenience to your consumers and something new for them which will automatically promote your restaurants all over the town. 
15. Baby Food Suggestions App
These food app ideas for all the parents out there. As you can create an app that suggests food for babies from a certain age group. You can have many age groups to choose from so parents can find which food is perfect for their child. A restaurant can easily launch this app with the help of an IT consulting company for gaining more visitors to their restaurants. And if you are able to deliver these baby food to your consumers then you can easily earn a huge revenue out of it. Because not only adults but you will also have babies as your clients.
These are some of the best ideas for people belonging to the restaurant and food industry. If you believe that you have a unique idea and are looking for a top mobile app development company then we can help you with IT consulting and point you in the right direction.
Uber Eats is one of the leading check food delivery apps in the world. Do you know how to develop a food ordering app like Uber Eats: Working, Features, Technology and Cost? If yes then read on. 
We're VerveLogic and we've been serving our clients with our IT, designing, and Marketing services since 2012. Every day, our team of dedicated professionals works to make this world a little better through our premier solutions. Our exclusive services include Mobile App Development, Web Application Development, UX/UX Designing, SEO, Digital Marketing, and IT Consulting like "how to reduce android app size during the development" and Digital Marketing Services to businesses from all around the globe irrespective of your business domain.
(Visited 288 times, 1 visits today)