How to Start an eBay Business: Ultimate Guide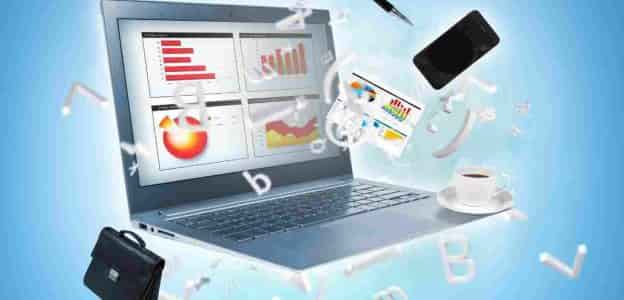 Are you searching to start an eBay business? This is the perfect blog to get an answer to this question. This is not just a step-by-guide to start a business on eBay but we will also help you to know the eBay business basics.
eBay was founded in 1995 and today it has emerged as one of the largest virtual marketplaces for selling and buying. Let's start with our comprehensive guide on starting an eBay business.
Jump to your Favourite eBay Business Topic:
=> What is eBay? How Does eBay Work?
=> How to start an eBay business: The basics
=> Best eBay Business Tips
=> Start an eBay Business: In a Nutshell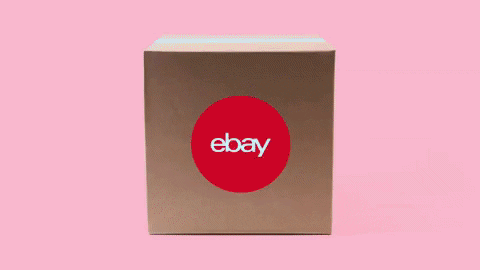 Source: Giphy
What is eBay? How Does eBay Work?
An online shopping site, eBay is known for the consumer to consumer sales and its auctions. You can enter the zip code and find the product available in your area. This is an online eCommerce platform that allows you to choose to buy as well as sell on its website.
This is one of the best eCommerce mobile applications to help you find products not just within the boundaries but across boundaries as well. Sellers on eBay are enabled to display all their products in one place. Looking more like a traditional store, eBay eCommerce online store assists businesses in communicating their brands with the help of customized web pages.
Easy-to-use eBay tools make it a popular choice amongst the app eCommerce websites. You can become a powerful eBay seller and gain a lot of traffic and a loyal customer base.

How to Start an eBay Business: the Basics
Starting a business on eBay is easy. The right eCommerce app practice will take you to heights you have never anticipated. Here is a step-by-step guide to starting your eBay business.
Step 1: Pick a Product To Sell
First things first, you must first decide what are products you are comfortable selling online. Look out for all the products you are comfortable with. Create a list of products you wish to sell. The products must fit you well, must be loved by people for the long term or short term and the product must fit your location.
You can start your list by asking yourself what you know and then answer the following:
1. Are people looking for this?
2. What do people look for before buying that specific product?
3. How can you best describe the product?
4. Why are people looking for that product?
5. Which category does the product lie in?
6. Can you sell that product at an affordable price, a price that is lower than the others?
-> Consider shipping and storage
While deciding your product keep in mind the cost of storage and shipping as well. Mailing small products is easier than large ones. Let's say, hard disk and a dining table, which is easier to mail? Fragile items such as glass attract extra costs as they need more precautionary wrapping.
-> Learn about all the restrictions
Know if there are any restrictions related to products in the particular area or on eBay. This eCommerce site does have a list of prohibited and restricted items. Do read the list before your start with the listing. Read out the items and see if you lie on the list.
Step 2: Set up your eBay account
Do you have a lot of products to sell? eBay store is the best-suited place as it can help you earn by spending only a reasonable amount. Listing items on eBay as a member do not require any monthly fees. An eBay store on the other hand requires some amount to send your eCommerce store.
eBay, at present, offers five-store packages with varying discount structures:
a. Starter: This is an entry-level option for all the occasional sellers. Charges are $4.95/mo with an annual subscription.
b. Basic: Best for people looking for lower selling fees. Charges are $21.95/ mo with an annual subscription.
c. Premium: Popular among people looking for more business tools and lower listing fees. Charges are $59.95/ mo with an annual subscription.
d. Anchor: Best for high-volume sellers looking for dedicated support. Charges are $299.95/ mo with an annual subscription.
e. Enterprise: Best for large catalogs and high transactional volumes. Charges are $2,999.95/ mo with annual subscription.
If you do not have an eCommerce website, eBay is the best solution. Reaching directly to the people, business on eBay is customized as per your needs. You can choose from all the available options and get the plan that suits you the best.
Are you new to eCommerce or wish to learn more about setting up an eCommerce store? Go through our blog on E-commerce Website UI/UX Design Mistakes to Avoid and get better engagement.
Step 3: Make your eBay business official and legal
Operating an online store does not exempt you from legal requirements. Just like an offline business, you will need to meet all the requirements. When you start making regular profits or start selling a lot on eBay, you qualify as a business.
Your eBay business account would require:
-> A registered business name.
-> Federal Tax ID number
-> Federal and state licenses or permits
-> A legal business structure
A business structure for your eBay business can be major of four types:
-> Sole proprietorship: A part-time or full-time business run by personnel is called a sole proprietorship. All the profits and losses are linked to you personally.
-> Partnership: eBay partnership with one or more people after considering all duties, restrictions, possible disputes, and provision for worst-case scenarios.
-> Limited Liability Company (LLC): Owner or owners' liability, in this type of company, does not extend beyond the amount they invested in the company.
-> Corporation: Taking money from the company bank account for leisure by an employee-owner is not available with this type of eBay business.
Step 4: Start Item Listing
Get to know the selling fees of eBay. And think about how you will be answering questions from the buyers. Also, learn about the payment methods eBay offers and determine your accepted payments.
-> Create a Seller Account: You can start by setting up a seller account. Before you set up know whether you will be having a personal account or a business account. Picking up a business account is suggested if you plan to sell a lot of items every month. For casual sellers, a personal account can be created. After step-by-step, easy eBay business account creation, get along with the seller dashboard.
-> Create Listings: In the top right corner click the 'sell' button after logging in to your eBay account.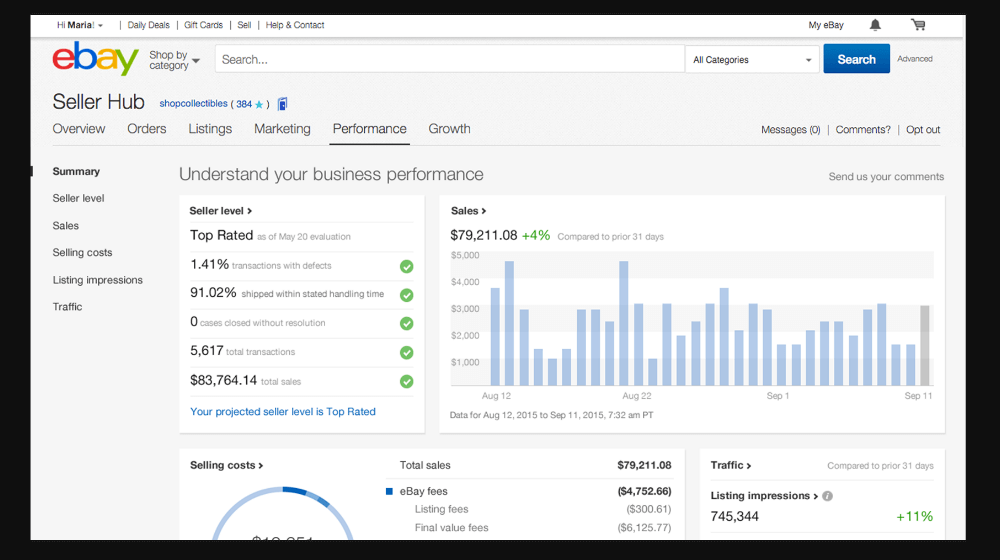 Source: Small Business Trends
The list of actions is stated on the left side of the page. Here, you can click, 'sell an item' button in blue. Further Process is simple on eBay.
We suggest you have:
-> A store item title and description.
-> Add all the additional information (like categories) specific to your product.
-> Upload clear pictures of the item you are selling.
-> Specify your selling format (auction or fixed price)
-> Duration of your listing
-> Starting price
-> payment methods you wish to accept (as specified above)
-> The shipping costs you have and accepted locations
-> State your return policy
Step 5: Price your eBay Business items
Search for similar items on eBay and get an idea of the right ballpark figure. Some of the times, prices vary largely, you may start at a lower price or sell your eBay business item with an auction.
An advanced search will help you know how much an item has been sold. This will help get a clear idea of all the items you are adding to your eBay business account.
Make sure your product is easy to find and list shipping price and list price creating a balance. A fair price will attract people and will make them buy your product.
Want to learn about the payment methods accepted in the USA. Bookmark our comprehensive guide on Top 10 Payment Gateways in the USA for Ecommerce Stores and read it when you feel calm.
Step 6: eBay legalese and other important information
To enjoy selling with your eBay business, you must know the rules. Learn about eBay values and keep your problems at a minimum. You must learn about items you can and cannot sell with your eBay account, what to do when your competition doesn't play fair, and handling a difficult bidder or a buyer who refused to pay.
Visit these eBay links to learn more:
Step 7: Offline eBay headquarters setup
While you are still growing, keep in mind how you will be functioning offline. Where will you have your inventory? Where can you pack your items for shipping? Do look ahead but don't complicate it. You can also have a record-keeping system to manage your inventory.
Keep all the items in hand including bubble wraps, shipping tape, Styrofoam, envelopes, and boxes. It is always advisable to keep a track of your inventory, whether by pen-paper method or with the help of software.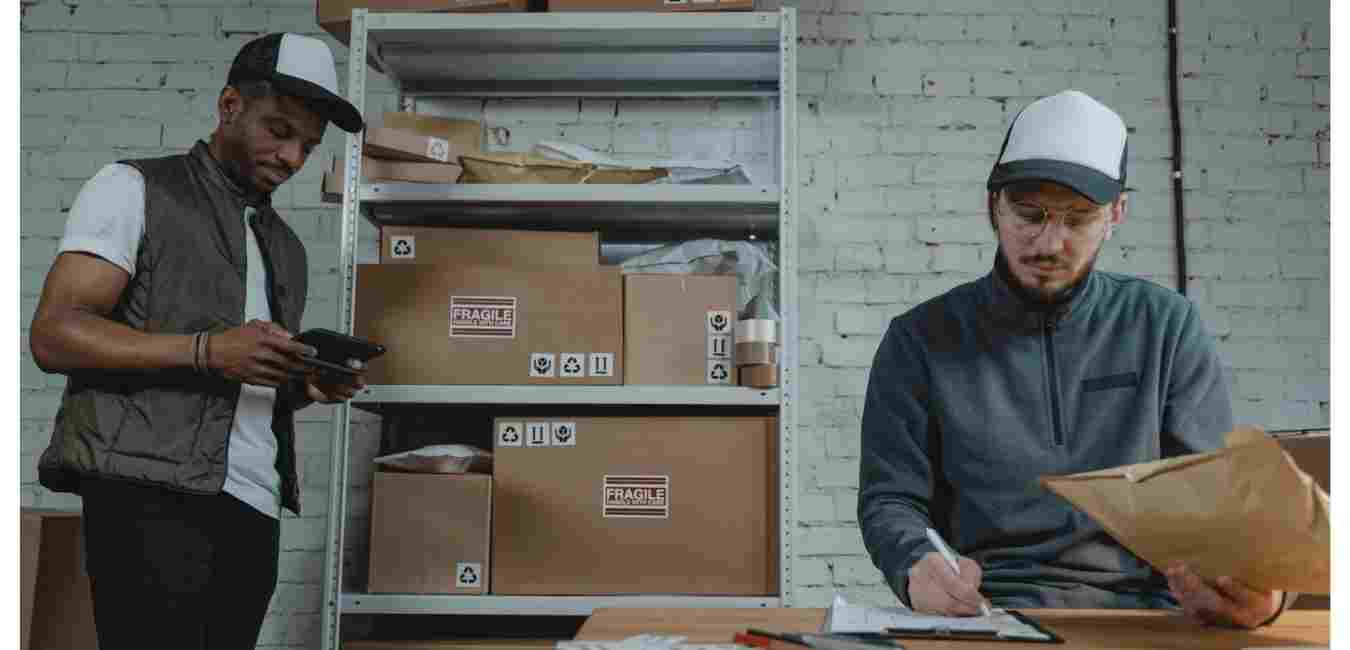 Best eBay Business Tips
Now that we have set up our account and we know the basics of eBay, it is time to kickstart your selling with the help of our eBay business account.
1. Start Small
When you are first learning to sell on eBay, do not invest a huge amount of money. Find a few items you would like to sell and research those products. Learn about why people are buying that particular product? How much money are they ready to pay? And, how to interact with your buyers? Dedicating time to it every day will deliver the real results to you.
2. Have a niche
Identify your niche. Specify which particular kind of product or service you wish to deliver to your buyers. Start an eBay business with a specific niche and reach greater heights faster. Specialize in what you are selling.
3. Take Good Photos
To make people trust you and your product, you must add good pictures. Your eBay business will kick off when you are able to attract audiences. A picture clicked with good lighting and a high resolution will help buyers make a decision. eBay's picture service tool can be used to click a picture with your mobile phone. You can also read eBay's Blog on how to click better pictures.
4. Never cut down on the details
A detailed description of your product will be much appreciated by your buyers. People wish to know everything before they buy your product. They want to compare your eBay business product with other ones. Give them the power to make a choice.
In the description, you can start by specifying the category your item belongs to. In the title use keywords people are searching for and other important details such as brand name, size, colors, model number, and everything else that people must know.
Optimizing your listings for SEO and matching with eBay's algorithm will help you fetch more buyers. Learn about Optimizing your listings for Best Match with the help of a blog by eBay.
Do check out our blog on Ways of increasing your Ecommerce Sales and be the master of your eCommerce listings.
5. Actually, Work Starts After Receiving an Order
You might think you got an order and it is time to relax. In that case, you will lose the existing order as well. The moment you receive an order, act fast and ship it as soon as possible. Create a good customer experience by sending out the right product. You can print labels, calculate postage and pay for shipping from your home with the help of eBay tools. Free supplies from U.S. Postal Service, UPS, and FedEx can also be received with this.
On your eBay business account, go to the home page and click on 'My eBay'. Next, move to sold items and select 'Awaiting payment' to know about the status of your payment. Feel free to contact eBay customer service in case you face any issues related to payments.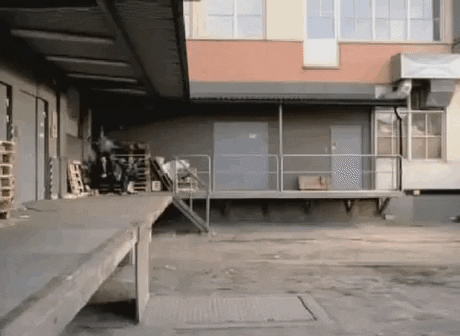 Source: Giphy
6. There will always be some returns
If you want to be competitive with other eCommerce sites, you must always offer easy returns on your eBay business. Customize your return options and keep your customers happy. Specify who will have to pay for the returns, you are the buyer?
Clearly mention the return policy in your description to avoid any discrepancy. Using clear pictures and a detailed description helps you in informing customers beforehand of the product details and hence reduces returns.

7. Get ready to solve all the issues by facing them
Is your product lost in the mail? Or is there a problem with the product the customer received? Solving issues promptly and professionally is expected out of you. Do check out eBay's blog on Manage returns, missing items, and refunds for sellers for better understanding.
8. Make friends with eBay seller hub
eBay seller hub allows you to create promotions, discounts, and other marketing messages. It will be available to you if you are an eBay Stores subscriber. You can also see how your listings are doing with the help of the dashboard. Easily view the status of orders and returns. Make a habit to check the dashboard regularly to improve your listings and in turn your sales.
9. Your Seller Profile Matters
Your eBay reputation is displayed by your seller profile. Receiving positive reviews and ratings will not only boost your confidence but will also make your eBay business look better. Positive reviews appeal to your customers. Your listing limits will also increase if you become a reputed merchant.
One of the best technologies to develop an eCommerce website, you ask? We say Magento. Why? Scan our blog on 15 Best Magento eCommerce Website Examples. Which answers all your questions like Why Magento and Who are using it?
10. Seek Feedback
Since feedback will help you grow exponentially, you must always look out for receiving customer feedback. Be proactive and deliver excellent customer service. A pleased customer will be happy to leave positive feedback. During the course, you will also receive some negative reviews. Keep up with them too and reply to those. You can seek a revision of feedback and you can also ask eBay to remove it for you.
11. Make use of the eBay app
eBay mobile apps for Android, iOS, and iPad can help you manage better on the go. All the platforms allow free downloading of the eBay mobile application. With the eBay app, you can create, edit and monitor your listings, provide tracking information, respond to customers and relist items as well.
Thinking about why I must have an eCommerce mobile application. Our detailed guide on Why Your E-Commerce Project Needs an App – Benefits of E-Commerce App Development can help you learn better.
12. Connect eBay and your own store
If you already own an eCommerce site, connect it with the eBay store you have. Your eBay account must be well connected with your eCommerce website to help your customers learn more about your brand. Free eBay integration is offered by many eCommerce websites including Shopify and BigCommerce.
13. Know other sellers
There are thousands of sellers on eBay and every single seller has their own strategy. Get along with these sellers, know them with the help of the eBay community. From starting to know how to start an eBay business to growing it, marketing strategies, buying inventory, and everything in between, all the data is available here.
Start an eBay Business: In a Nutshell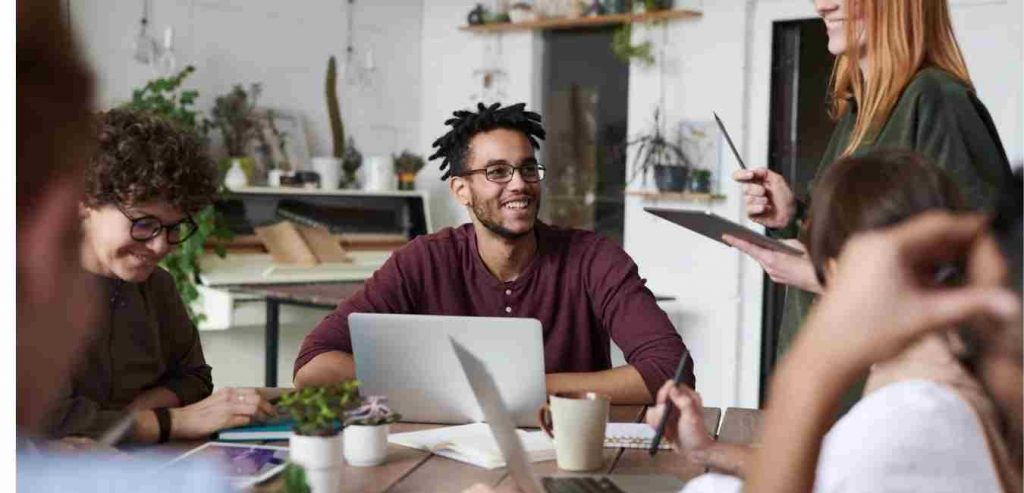 Your business on eBay can help you grow as a business person from scratch. Take the right steps and start small. Your success can be defined by the steps you take. Choose which plan suits you among Starter, Basic, Premium, Anchor, and Enterprise and start earning money.
You can also get your own eCommerce website development done and sell the items there too. Do consult an expert mobile app development company to help you with the development process to reach greater heights.

If you are considering getting your own eCommerce website, we suggest you read our blog on A Complete Guide to Ecommerce Web Development.
(Visited 196 times, 1 visits today)