Top 10 Cloud Computing Service Providers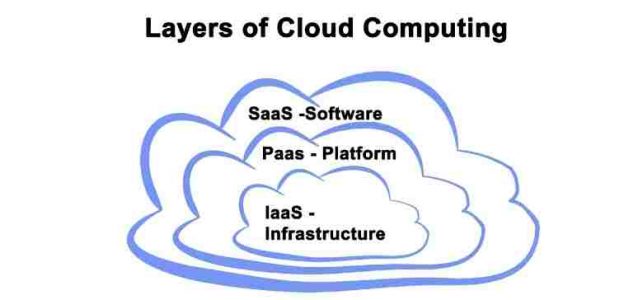 There are many new technologies in the market like VR and AI which are going to upscale the whole market but still in my mind, we think that it's cloud computing that has the greatest potential of all them. We understand that this concept emerges from the late 90s but we are still yet to even scratch the surface so far as unlocking its true potential. The latest features of cloud computing are really going to make it an interesting and must-have service for businesses. And when Steve Jobs said "I don't need a hard disk in my computer if I can get to the server faster carrying around these non-connected computers is byzantine in comparison." then you need to understand that it is the next big thing.
Many researchers in the industry believe that cloud computing has had a very slow development all over these years which makes it less popular among the audience. The slow development is due to a number of complex factors, as many of them are still not resolved and that is the reason why the cloud has so much potential. One of the biggest reasons is, businesses still fail to see the full potential of integrating the cloud into their IT Solutions and mobile app development. And even the cloud providers themselves are still unable to offer full compatibility of their platform with other cloud services and applications.

As per the latest study, 50-85% of businesses in the US have adopted cloud services in several ways. The cloud services are integrated into our phones, PCs, laptops, and almost everything we rely on so we can say businesses and most people are now dependent on cloud services in one way or another.
Why are Cloud Services Essential?
One of the top benefits of cloud computing services is cost-effectiveness which is a top priority of businesses from all around the world. Cloud computing is a technology that offers services to companies on-demand, which means you pay for what you use. This allows businesses to optimize their budget more efficiently and use only the services they'll need to remain competitive or to grow and develop their company further. 
=> A lot of businesses today engage in digital transformation. The digital transformation includes a complete digital migration of business operations. Which means companies will migrate everything to the cloud.
=> Many tech businesses like VerveLogic today create custom solutions and mobile app developments in order to sell them to clients. Cloud computing also offers assistance and benefits in such matters.
=> Effective business scaling is of vital importance these days. Companies that are able to scale up and down quickly can ensure a competitive advantage in the market.
Types of Cloud – Service Models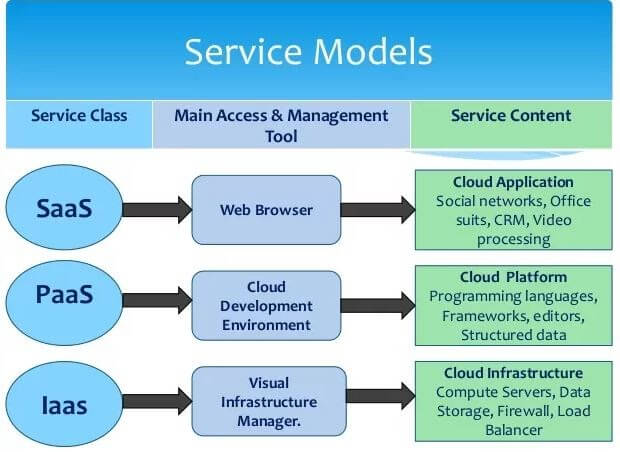 Infrastructure as a Service(IAAS) 
Also known as IAAS which is a pay-per-use system that allows the users to access remote computer infrastructure, which in effect allows them to scale up the size of their own system by using this powerful virtual infrastructure. This infrastructure also includes storage, servers, and cloud computing security risks protection all of which make IaaS an amazing tool to have for businesses and the individuals who use cloud service.
Platform As a Service(PAAS)
PaaS is a great application of cloud computing as it is amazing for application developers who can use it to develop websites and applications and easily deploy them on the cloud. Well, PAAS is very much similar to IAAS but along with Business Intelligence tools, data management tools, middleware, and other essential aids to allow for mobile app development and deployment. Even the small companies can benefit from PAAS to develop services and new revenue streams that would be out of bounds and ordinarily, making it a vital necessary tool for companies of app shapes and sizes.
Software as a Service(SAAS)
SAAS is another emerging feature of cloud computing. The main aspect of SAAS is it allows users to utilize cloud-based applications over the internet. The top example of Microsoft Office 365 is the most obvious example of a SAAS system which has every office package like calendars, email, and other such tools, and under one roof. It is also used to improve the user experience by offering a high level of conveniences like any time and anywhere access which also helps companies vastly reduce their upfront costs by removing the need for expensive services and data backup solutions.
In the World of Computing, Resources Are Power
The basic truth of innovation is that as it creates, it unavoidably turns out to be progressively mind-boggling. Take, for instance, Facebook, the main rendition of which was composed by Mark Zuckerberg in under a month. Contrasting this first form and the current one just goes to feature how the intricacy of innovation duplicates in a short space of time. My own affirmation is that it is extremely unlikely Mr. Zuckerberg would have the option to prevail with regards to delivering a cutthroat online media stage or anything same in the event that he was working out of his Harvard quarters today, for a similar explanation the Wright siblings, were they still alive, couldn't rival Boeing. Progressively, it presently requires groups of software engineers and designers to foster such new companies and to make them succeed. )
The colossal assets needed to even arrange the most fundamental cloud framework has consistently implied that in actuality, giving a cutthroat cloud administration has, generally, been restricted to set up organizations that have a lot of money available to contribute. Setting up and keeping up the security frameworks alone is a cost that can run into a huge number of dollars, and if not done as expected, could bring about a huge information break or disappointment that has clients escaping by the thousand.

The Most Common Use of Cloud
Despite the fact that the cloud was at first intended to permit far-off admittance to information and its safe stockpiling, the steadily extending employment of the cloud is the foundation of its new mass acknowledgment and will surely be its fuel for development. Having the option to safely access and store information anyplace on the planet, which would then be able to be gotten to by any approved individual all through the globe, has gigantic advantages to organizations and people the same. While the total loss of information for an organization could be adequately serious to make it bankrupt, the deficiency of indispensable information, for example, occasion pictures, for instance, is similarly horrendous for people. The possibility of such a disappointment on a separated and maybe inadmissible worker framework is vastly more noteworthy than with a refined asset-rich stage like the cloud.
Microsoft's effective marriage of their cloud framework with their leader Office program exhibits the capability of these new spaces of development consummately. What's more, they are no methods in confinement, SAP, Oracle, and numerous others are currently additionally running applications in the cloud, permitting them admittance to a developing base of clients who are pulled in to the be advantages of these new apparatuses. Once more, note that these applications are more secure than disconnected PCs and organizations on the grounds that any essential security updates to these projects would be quickly applied to the cloud stage, while their broad help reinforcement arrangements imply that the probability of absolute information misfortune is almost zero.
Why Picking the Right Cloud Services Provider Really Does Matter
Cloud Services are very complex these days as it is more than just a simple data storage solution, the services, tools, and performance they offer do differ quite considerably. With different cloud services, you can have various variations like upload and download speeds to the suitability of their cloud-based programs but it can have an enormous impact on the users.
Many companies are adopting the approach of using multiple cloud services from different cloud providers in order to give them the flexibility and coverage they need. The downside of this approach is that cloud providers are nowhere near to overcoming compatibility issues which are often havoc to overcome. There are three cloud services available which are known as public, private, and hybrid.
Top Cloud Service Available on the Market 
1. Amazon Web Services 
Amazon web services are also known as AWS among users and are the giant public cloud computing. Amazon is stepping into every field as they saw an enormous potential of the cloud so they invested heavily in cloud infrastructure as they offer the best and reliable service possible. AWS provides an extensive range of PAAS, IAAS services along with elastic block store, elastic beanstalk, simple storage service, NoSQL database, and relational database service. It also services like development, networking, data processing, and management which makes AWS the best cloud service provider in the market.
Amazon already has extensive investment due to its other business, as they always wanted to be ahead in the business. And we are sure their cloud services will only get better with time. However, the main drawback with AWS is that it is open-source, which frustrated many developers along with the restricted control that Amazon's internal management obviously creates. 
2. Google Cloud Platform 
Google's cloud platform is right next to Amazon's AWS services to deliver cloud services all around the world. Because of their Android domination all around the world they give their users access to cloud services through phones and tablets. There are many users who sync their phones with the cloud to upload important files like photos or PDFs and get them whenever you want.
Google's cloud platform is also well developed as it is included with reliable tools including, app engine, cloud storage, BigQuery, Container Engine, and Compute Engine. Thanks to the global internet, the huge issue of smartphone storage will completely disappear because of Google drive in a few years.
It is really a great platform that offers some extraordinary tools and services which are even better than AWS. Another thing to consider is that Google cloud services have prices lower than Amazon because of which they are quickly catching up with the market. 
3. Microsoft Azure
Since all the big giants are stepping into the field, why should Microsoft not use this opportunity to establish itself as a cloud computing giant? The Windows giant also tried its hands on the smartphones too. Well, this venture was not successful but they have managed to successfully integrate their other product, the Office suite onto the cloud, something that will guarantee a healthy revenue stream in the future.
Most of the people in the US use Microsoft's cloud because of their love of the office suite. Because of which it is Microsoft's strongest card has been its Windows operating system that like rivals Google, has allowed them to push their cloud services on its users. Microsoft cloud services are widely used by US Government agencies and a number of big companies, the main drawback of Microsoft Azure is the cost. It is much higher than other cloud services in terms of price and can be difficult for small and medium-sized businesses. 
4. IBM Cloud 
IBM always wanted to be in the limelight and the same they have followed with their cloud platform. IBM cloud services are focused on PAAS and SAAS cloud systems, and it is received by many software development communities, as they offer some of the most powerful cloud platform as a services because of which they are tasting success.
The IBM cloud has a few unique offerings which their competitors do not currently have. For instance, they are the first and only bare metal servers, which is great as performance or security requirements. They also offer a lot of flexibility and customization options which is amazing for the company. However, the drawback is that it can take up to several hours to configure and deploy a custom server, which is why many users finally turn their back on IBM.

5. Oracle Cloud 
Oracle also offers cloud services in a wide range including IaaS, PaaS, and SaaS services. Oracle has also included some demanding features like chat, email support, case management, virtual assistants, and much more. Their PaaS services are perfect for data management, business analytics, and android mobile app development have all attracted a growing number of users who prefer Oracle's approach. Because of this, Oracle reported a generated income of $1.2 billion for the first quarter of 2017 which is an increase of 75% from a year earlier. 
6. CloudStigma 
CloudStigms is the first company which is dedicated to cloud services. Well, they are a small company but it still has 10 data centers all over the globe as they provide cloud service in Europe, North America, and Asia. They are focused on small and medium-sized businesses because of their limited resources. However, because of this, they are not able to offer greater services like IAAS, PAAS, and SAAS services which are very much in demand and that is why they lag behind in the list.
If you are looking for a personal touch with your cloud service provider then CloudStigma is the best company for you. They also manage security at an extreme level. CloudStigma also offers competitive prices as their most basic package starts at $14 per month for a single-core and so on. For larger hosting requirements they offer a range of packages that offer some serious cloud power, like the 20 core, 640 GB SSD with 5 TB of data transfer, which is currently available for $677 per month. You also get a 7-day trial which is perfect to test their services. 
7. GoDaddy
GoDaddy is a very popular platform for buying domains but they are also into cloud computing for small businesses along with web hosting and domains. They are an IAAS focused cloud system for easy web development. They have some amazing reliable time, excellent tools, and low costs then GoDaddy is a perfect choice for you. They offer their services in three versions: GoCentral, Online Store, and WordPress. 
8. VMWare
VMWare vCenter Server is a cloud system that allows you to manage the virtual infrastructure by centralizing it all under one roof. Designed to aid businesses of all sizes to improve system integration by enabling complete overview and control of what is going on, VMware is a powerful tool when it comes to improving the efficiency and effectiveness of your company.
This cloud platform is without question the preferred choice of many developers because of its overall approach and high levels of support. This model clearly works wonders, so much so that it really is hard to find customers who report having a negative experience with them, which might be something that some of the top cloud providers on this list could learn from.
9. Digital Ocean 
DigitalOcean is another top platform that offers cloud services. Two important areas that they have concentrated on are giving developers exceptional cloud performance and making their entire platforms as simple to use as possible. They provide step-by-step processes at every stage which also help new users to speed up the process they can get into web development and managing their websites and applications. Sadly, DigitalOcean does need to address the issue of their customer support, which is not only frustrating users but is also damaging their otherwise strong brand image.
10. Hyve
Hyve Solution is an exceptional platform that offers 100% reliable cloud services with a personal touch. They also offer a range of web hosting services which includes public, private, and hybrid cloud hosting. Their main focus is to work along with the customers in order to develop mission-critical solutions for all types and sizes of businesses as they offer scalability, reliability, and top-level security.
Conclusion
The response to which is the best-distributed computing supplier truly relies upon what you need it to do. Huge suppliers have the assets to give the best by and large stages, yet for the most part, need client assistance with the terrifically significant individual touch.
Limited scope cloud suppliers compensate for their inconvenience by focusing on their specialty market and ensuring they give them precisely what they need. The undeniable downside is that they can't give bigger customers the full variety of instruments and capacities that they need to hold their administrations totally. Later on, these more modest organizations are likewise substantially more prone to need to rely upon the bigger cloud suppliers for AI and information preparing capacities, which are just too costly to even consider creating in-house.

The straightforward reality is that there is no widespread arrangement that fits all cloud suppliers; they all have their advantages and disadvantages, so which one you pick ought to just involve what turns out best for you. All things considered, in the event that you are searching for the best general cloud stage, Amazon's AWS is it.
(Visited 142 times, 1 visits today)