How Much It Costs To Develop A Bike Sharing Mobile App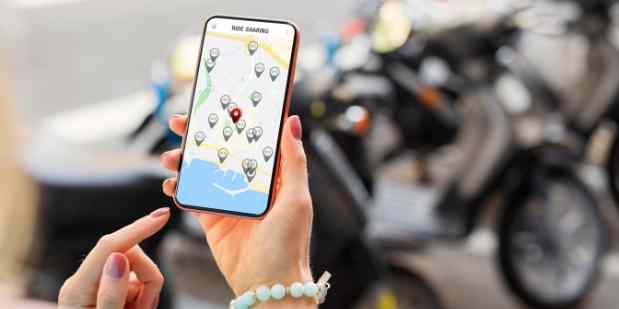 Who doesn't love bikes and bike riding?
Having the ability to find a way in between congestion and feeling the cool breeze hitting the face, bikes have their own advantages. The comfort and affordability a bike owns are unmatched, and it also adds to your better health. Keeping all the advantages in mind and matching with the changing times, it is time to hire an expert mobile app development company and develop bike-sharing mobile apps.
A bike-sharing app allows the customer to pick up the bike from nearby and park at their destination. From there, any other customer can pick it up. With all the other apps that provide carpooling, motorcycle hire, and food delivery in the market, the new trend is leaning toward developing bike-sharing mobile apps. People across the globe seek an easier way to commute. Plus, augmenting health benefits to the commute can make a lot of a difference in the lives of many.
Why People Are Looking Forward To Using Bike-Sharing Apps
⇾ Cost Effective
Besides its health benefits and easy commutation, one of the major reasons people want bike-sharing mobile apps is due to their cost-effectiveness. Reaching the destination at affordable rates has increased their popularity.
⇾ User Friendly
The apps are user-friendly and require easy-or-no mandatory registration. Customers love the ease of their use, which is one of its prominent unique selling points.
⇾ Low Maintenance
People are able to ride premium bikes. Premium bikes are low-maintenance, and this quality makes premium bikes a perfect match for a bike-sharing app. On the other hand, customers love riding premium bikes and their ease is incomparable.
⇾ Extensive Network
An extensive network of bikes available at several stations makes it furthermore popular. Being able to pick up and drop off a bike from anywhere provides ease to the customer.
Bike Sharing Apps – What Does the Stats Say?
Biking is a popular activity and plays an important role in the lives of many for transportation.
As per Statista:
In 2021, around 51.4 Million people were riding bikes in the USA.
The number of users in the bike-sharing domain is foreseen to reach 960.7 Million by 2027.
The revenue in this segment is expected to reach USD 7.96 Billion in 2022.
User penetration is expected to rise up from 10% in 2022 to 12.1% in 2027
The stats clearly show the increasing likability of riding a bike/bicycle. People also love the fact that the cycle is more eco-friendly and costs less. The trend of bike-sharing is increasing with each passing day. An enormous rise has been noticed in the bike-sharing service lately, and it will continue to grow in the coming years.
How Does An e-Bike Sharing Mobile App Work?
The features of a bike-sharing app are what make it a popular choice amongst the populace. From finding a bike to unlocking it and friendly customer service, every feature is special and makes the user fall in love with the experience. The following is a step-to-step guide for every user to find their bike and help them reach their destination with ease and on time.
Step 1: Trouble-Free Availability:
One of the main features of creating a bike-sharing mobile app is the availability of bikes. As soon as someone installs the app, the first impression is the availability of bikes. If no ride is available nearby, it might be a turn-off for the user, who in turn might not give it a second chance. This makes readily available rides a mandatory element.
Another feature the app offers is the tracking of their bike. GPS location tracking helps in finding the nearest available bike for the customer.
Step 2: Unlock with QR Code:
Unlocking the bike with a QR code is one of the features that make the experience hassle-free. Scanning the bike QR code unlocks the bike, letting the customer start his ride in no time. As soon as he clicks the "Unlock" button and scans the code, he is ready to start the thrill. Going to the mall or their homes and offices becomes easier than ever.
Step 3: Knowing the Trip Details:
A bike-sharing mobile app allows users to know the best route and all the alternate paths they can choose. With the help of a map view, they can see the areas that they need to cross and also get an idea of where to begin the journey. Tracking the entire route lets the customer not worry about getting lost, as they may be new to the town or country.
Did you know there are many vehicle tracking apps for android devices? Check out the best ones here.
Step 4: Lock Bike via Bike Number:
As soon as the rider reaches the destination, they can find a safe parking place and lock the bike. Locking the bike is also effortless. The rider would just need the bike number, and they will be able to lock the bike manually.
Step 5: Pay with the Option you Like
With the help of this mobile app, you can pay with the help of one of the multiple payment options available. This is a really important feature of a bike-sharing mobile app. It enables users to easily pay after their trip comes to an end. It must be as easy as possible and should be just a few clicks away on their mobile screen.
Securing the user's sensitive information such as debit/credit card details is equally important. If there is a promo code available, it should be auto-applied.
There are several other services that make the bike-sharing app a popular one. These services allow the customer to have an experience they will cherish. Some of the features that are a part of this app are listed below.
A book-in-advance feature ensures that the user gets their bike when they need it and that too near them. It also makes certain that they will not have to wait much and in turn arrive late at their destination. Morning and evenings are heavily packed, and a book-in-advance service guarantees the availability of a bike for such users.
Polite and Friendly Customer Support:
The chat option in the mobile app is as important as all the other features. This bike-sharing app feature gets their issue resolved almost instantly. It helps the app users to get directly in touch with the service provider to listen to their queries.
Free-Floating Bike Sharing or Station-Based Bike Sharing:
The app can be both free-floating and station-based. When free-floating, users can pick up the bike from anywhere and drop them off anywhere, with no specific stations. They can find the nearest parked bike and make payments with the mobile app.
When station-based, there are specific stations to pick up and return the bikes. The payment in this option can be made at the terminals or via the mobile app.
The Most Popular Bike-Sharing Mobile Apps
There are several available apps in the market that compete with each other. The topmost apps were able to add 9 million monthly active users in four months alone in the year 2016.
The largest and most successful bike-sharing companies are in China, named Ofo & Mobike.
Ofo, founded in 2014, gained 20,000 users within a year of its establishment and sold 2000 bikes quite quickly. In the year 2017, it raised USD 450 Million.
Mobike, launched in 2015, raised USD 600 million till 2017. They are valued at more than USD 3 Billion and also own a secured spot on the list of unicorn companies. Mobike is China's largest dockless e-bike company.
Jump Bikes, launched in 2013, raised USD 1.1 million in seed round funding in its first year. It is partnered with Uber in San Francisco and offers an e-motor-assisted ride to its users.
Citi bike, founded in 2013, owns 750+ service stations and is a major brand in New York and other cities. They opened with 332 stations and 6000 bikes in May 2013, and as of 2018, they own a whooping count of 1000+ stations, 17,000 bikes, and a daily ridership of 48,315.
Also Read: Trending Ridesharing apps for social commuting
Technology That Makes the App Advanced
The bike-sharing mobile app needs to be secure and user-friendly. Developing a robust mobile application is of great significance.
Twilio and Push.io can be used for push notifications.
Nexmo Twilio is responsible for SMS, Voice, and Phone Verification.
Braintree & PayPal, Stripe, EWallets are used for payments.
MongoDB, Hbase, Cassandra, Postgress, MailChimp Integration are used for the Database.
AWS, Google, Azure creates a cloud environment.
Hadoop, Spark, BigData, Apache Flink, Cisco, IBM are helpful in creating real-time analytics.
Development of an eBike-Sharing App
Who do you Require to Develop a Bike-Sharing App
To develop a bike-sharing app, one needs professionals like Project Managers, Mobile App Developers, Back-end Developers, UX UI Designers, and QA/Testers.
What is the Cost of Developing the App
The bike-sharing mobile app development cost depends on several factors. To develop a user-friendly app, it takes on an average of:
70 hours to design, 110 hours in API Development,
170 hours for Admin Panel, and
350-400 hours per platform for User Panel Development.
All this adds to a cost of around USD 13000- USD 15000. The cost of the bike-sharing app development increases with the increase in features. The more advanced the features are, the more it is likely to cost.
Also Read: How Much Does It Cost To Develop An App In 2023?
Conclusion – How Much It Costs To Develop A Bike Sharing Mobile App
The overall benefit of a bike-sharing mobile app is humongous. Not only it makes the users happy but also helps to save the environment and generate revenue. With the increasing popularity of bikes, it is time to create an app that lets users feel they own one. Numerous features including advanced booking and searching for the nearest available bike make this app a popular one and attracts a lot of users in no time. So, if you're looking for an expert mobile app development service by your side that can build such an app for you, connect with Verve Logic today. We develop apps for both iOS and Android devices.
What's more fascinating about us is that you do not have to wander anywhere else for logo designing and digital marketing needs. Our segments Verve Branding and Verve Online Marketing are committed to providing top-notch services to clients worldwide.
Let's discuss your project.
(Visited 73 times, 1 visits today)