GPS Tracking & How Can It Help to Transportation & Logistics Business?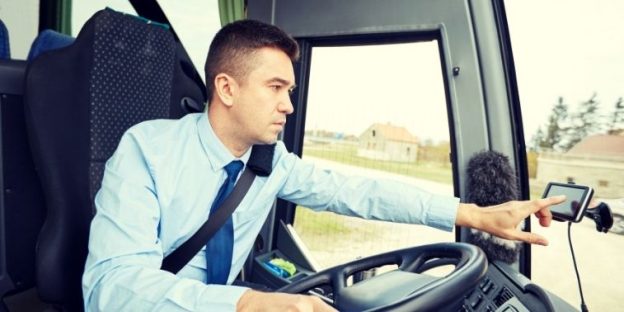 GPS technology has come a long way since its inception and to be honest it is one of the most useful technologies which millions of people use every day to make their lives easier. More and more businesses are solely relying on this technology to offer better services to their customers like food delivery apps, grocery delivery apps, on-demand taxi booking apps, and many others. It is safe to say that with the advancement in mobile technology and mobile apps for logistics mobility solutions.
Global Positioning System is a satellite-based navigation system that has completely transformed the industry. With the help of an application development agency, you can also get your hands on advanced GPS vehicle tracking systems which will help you offer smooth services and listen to your customer needs. Especially if you run a logistics business then tracking your vehicles becomes really important as you need to deliver the products from one place to another in the desired time.
GPS tracking is one the leading and always improving technology at the moment that can really do wonders for your business as it offers countless benefits. All you need is the service of a top mobile app development company that is home to an exceptional and talented team that can offer you the integration of GPS mobility solutions along with a seamless and aesthetic mobile app so you can give your logistics business the best mobile experience.
Since you are also planning to use GPS technology in your mobile app then it is important for you to know about the 10 best real time location tracking apps of 2021. As calling every time may not be available with the user but you can definitely keep a silent check on them with the use of these real-time location tracking apps. Learn more about them.
Understanding Basic Tracking Solutions for a Logistics Business
If you have a business that uses a number of vehicles for a seamless operation then it becomes quite important for you to have regular information about these vehicles and their location. That's what makes basic GPS integration in your business quite important. GPS vehicle tracking software can be used to record your vehicle's location on the map. This makes things easier for you to see which vehicle is in motion and whether moving in the right direction or not.
With the latest advancements in the technology, it also allows you to monitor vehicle's speed, their routes, engine startup and shut down, idling, etc. As mentioned it enables you to monitor these vehicles as you will know whether they are moving in the right direction towards the assigned destination or not, what route they have taken, etc. Along with all these benefits, GPS tracking can help you track or locate your stolen vehicles. All this control right from your home is a key element to achieve success in the transportation and logistics business. All you need is a mobile app development company that can integrate that latest GPS module in your mobile app or software that makes things easier for you.
Benefits of Vehicle GPS Tracking
Thanks to new innovation in the technology, GPS tracking app development brings many benefits to your transportation and logistics business as it helps with getting information on shipping, back office procedures, performance and a way to communicate with the vehicle. As mentioned, modern mobile transportation tracking software from a mobile app development agency can make you offer excellent customer service, calculate critical cost assessment and improves efficiency.
1. Resource Optimization 
As a business owner you can't travel with your drivers but you still need to keep an eye for your peace of mind. With a GPS monitoring system you can increase the transparency in communication and other ways between you and your drivers. The GPS system allows you to track any kind of improbability from the drivers.
Moreover, you can also find out the exact cause of delivery delay if there is any. It will also establish a sense of trust between you and drivers as there would be no scope for any suspicion. 
2. Fleet Management
Another top benefit of modern GPS solutions is to allow you to have constant 2-way communication with your fleet. Using GPS management you can assign a new pick on the same route they are traveling, or assign a new route to any particular driver going in the wrong direction. Comprehensive app development from an application development agency also allows you to notify drivers who are going the wrong way or warn them against misconduct while on duty.
Using a mobile app with GPS you can have effective planning and organization every day giving you the opportunity to give the best services to your customers. A mobile app will also consist of features like cancel delivery or reprogram a route as well as make other informed decisions based on the vehicle's location. In order to achieve efficiency and flexibility on small budgets all you need to do is to build your own GPS tracking system.
3. Unmatched Efficiency 
A GPS vehicle tracking system is fully automated and offers real-time updates on your mobile devices. This makes things easy especially when you are in a difficult decision as it helps in quick decision making. With an efficient mobile app, you get more time to focus on other business duties and increase your revenue in return. Not only for you, but it also makes the process easier for drivers with no worries about the mileage as a result of road works.
We also understand every business has different needs so you can also have your own custom GPS-based software so you can quickly and efficiently handle any kind of failure. For instance, if any vehicle carrying products get vandalized or stopped working then you can immediately allocate the next nearest vehicles for maximum efficiency.

4. Driver Safety & Performance
While running transportation or a logistics business you also need to take care of your driver's performance. Their safety must be your paramount concern and with GPS technology you can also do that. You can learn about your driver's behavior, and keep them away from overspeeding and brash driving. Using GPS technology you can also learn about the drivers who have good driving skills and can offer rewards or incentives accordingly.
5. Cost Analysis 
Using GPS technology, you can also analyze fuel cost for business-related assignments and also track your control drivers from consuming fuel for personal gains. However, you can also identify the vehicles that are consuming more costs and eliminate drivers' bad habits which could lead to more fuel consumption.
As responsible parents, we always try to find out ways to keep our kids safe. And in these harmful times, we really need to do it. Our kids are exposed to the internet and not-so-good friends because of which it becomes more important for us to keep them safe so they don't get bullied, on the internet and while they are out in the real world. So, we have come up with the best kids tracker apps for parents.
6. Reduce Administrative Resources
When it comes to running a business you need to find the best ways to increase your efficiency. Using an efficient mobile app you can compile stats like mileage reports requiring deploying employees on the road. This will help you increase the manpower on the road which eventually increases the cost. But on the brighter side, it also increases employees in the office to complete the remaining desk job. GPS technology reduces this number at large as it makes things possible to receive stats directly from the vehicle.
7. Quality Customer Service 
Quality customer service must be your paramount concern if you want to run a successful business. By incorporating technology like GPS in your transport business you can have a better planning of the deliveries per day. The faster you will be able to deliver better your customers will like your services. It also allows you to accurately update clients on the expected arrival time and in case of any delays.
8. Minimal Theft Risks 
When you are in the transport and logistics business, you need to invest a lot of money. Makes this important for you to take good care of your vehicle with costly consignments many times stolen. It will be a massive loss for your business and have an adverse effect on your business reputation. However, with more a GPS system helps in sending an alert in case of any such event. It will help you catch the right perpetrators and take action against them. When your kids have a smartwatch phone in their hands, you will be in constant contact with them which eventually gives you peace of mind even if you are at work. So, here's your guide to the best Kids GPS smart watches for 2021.
Conclusion 
GPS technology is very advanced and arrived at the right time as it is helping transportation and logistics businesses. As mentioned GPS comes with many benefits and also has an amazing potential to transform your business in the most amazing way. All you need is a top-class app development agency and give them some money to deploy GPS technology in an effective mobile app so it will be of worth in the end.
Geolocation is used to find the geographic location of any object, place, or person and that is why it helps businesses to achieve success in no time. The ingenious development of geolocation in the line of technology has opened many gates in the field of mobile app development. If you also want to be at the top using this latest technology then learn How to Create a GPS App for Android & iOS.
If you are planning a similar kind of app or inclusion of GPS technology in your already developed mobile app then a top mobile app development company like VerveLogic can help with ingenious development to make your business more effective in no time. We are a top mobile app development company that caters to all your native, hybrid and cross-platform mobile app development needs along with comprehensive digital marketing, website designing and development, and logo creation needs.
(Visited 100 times, 1 visits today)