A Practical Guide on When you Need to Redesign your App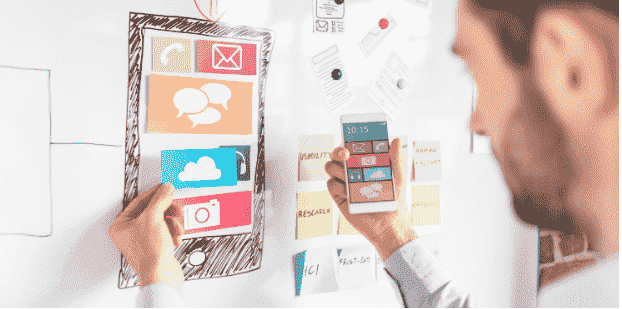 The article guides you about when you should redesign your app, how to do it, and what to consider during its release.
Human passion and fashion are growing beyond the technological aspects. The main reason behind the success of humans has little appreciation for growing technology, mainly the mobile and mobile applications that set the trends with various applications. Mere app development doesn't set the trend. There are so many facts that set a trend in the market, attract the user, and keep them engaged with the app. One among those is always being updated. Whether it is humans or apps, everything needs to update to have the stand.
Redesigning of apps comes under this crucial necessity of staying updated. Therefore, we've prepared a simple guide on when you should redesign your app and how to do it properly. But first, let's understand why redesigning an app really matters.
Why is App Redesign Crucial for a Company?
This goes without mentioning that there is an enormous variety of apps with many categories in the world. And, with the rising and shining mobile app development technology, the number will only increase in the future.
Now that there are so many apps, in order to allow constant app reviews, an app must undergo changes at a gradual pace. Such changes include adding new features as well as enhancing its performance and quality. Only then it will be able to benefit the company's goodwill.
An updated app increases app engagement and customer retention. Such customers can quickly become the brand ambassadors of the app. As a result, they spread the word about it, onboard more users, and drive greater sales.
Now that we know the necessity of redesigning the apps, let us learn when should we do it.
When To Redesign an App?
Redesigning the app is as crucial as the app development itself. We have already understood its importance in the above section. Let us now pay attention to when is the redesigning time.
1. When your app conversion rate is poor
Every application aims to produce a high sales conversion rate. However, when you realize your sales aren't that impressive, users are rather unenthusiastic. As a result, there's weak growth in the user base. App redesigning helps increase its download rate by 34%. By redesigning your mobile app's UX, you can end up not only with a higher conversion rate but with more satisfied customers.
2. ​When you want to improve your audience reach
Once you make the huge decision to attract or focus on a new audience, you should prepare a new product vision and marketing strategy. This might also give you a new audience to reach and improve your conversion rate.
3. When you are rebranding your company
If you're planning to incorporate new ideas into the application, show them to the audience too. This way, your audience can decide if they are able to resonate with it. This might also allow your new audience to reach you and improve the app's conversion rate.
4. When your competitor's app is performing better than your app
The market consists of numerous apps belonging to different categories. In each category, there can be similar apps from similar kinds of companies. Hence, the audience has multiple options to choose from. So it's mandatory to look over the progress to keep the better market results of the application.
Also Read: The Ultimate Guide to Mobile App Development
How To Redesign The App?
A. Analyze App Performance
From top surfing to deep routing, analyze the defect in the app and also check the major features where you can find some reviews.
⇾ Conversion rate
⇾ Content consumption rate
⇾ Drop-off rate
⇾ Active users
B. Examine The Customer Feedback
Customer feedback can be both good and criticizing. Consider this feedback and improvise the application according to customer satisfaction. Make use of social platforms to find out more about it.
⇾ Read reviews on the play/app store
⇾ Surveys – Link to an online survey, Email, or app pop-up
⇾ Social networks
⇾ Evaluate competitors
Compare and analyze the product of the same category to surpass and increase the quality of the product.
C. Understand the User Journey
Try figuring out the app from a user's point of view. Have a flow diagram of the app and analyze it. It will show you the loopholes that are stopping users from using the app.
D. Define a List of Improvements
To-do lists are very important. It guides you if you're missing out on things while redesigning. It also makes sure that all the improvements are properly updated.
E. Redesign the App
1. User interface look and feel surface should be enhanced with better UI/UX pattern designing. This can be achieved by using highly technological frameworks with better programming and a widget in a better way.
2. Select a design pattern for each business problem you want to solve (even if the pattern never existed before).
3. Compare it with other patterns to solve the same problem.
4. Check how many among the top 10 apps in your industry are using this pattern and see if it really works for them.
5. Create wireframes, then create high-fidelity design screens.
6. Prototype an app with the chosen design pattern and test it with users.
Also Read: How Much Does It Cost To Develop An App In 2023?
F. Test New Mobile UI Design
Before proper market distribution, it is better to test the app with a few users and get feedback. This will help you know if there are any bugs and ensure the functionality of the application.
Once the mobile app designing completes, and it gets ready for release, remember that just the release won't make any sense. This is because users won't get to know any of the app updates. There are some major things to consider during the release of the product.
1. Graphics update
Users are always amazed at new things. Hence, when it comes to applications, they get very eager to explore and find out what's better.
⇾ Structured release note – Give the complete information on updating, i.e., what's been added, removed, modified and how it would benefit the users.
⇾ Be creative in release notes – No one likes to read a paragraph, rather, everyone wants a precise look, so have keywords and define the status of the app.
2. Implement changes gradually
Adding a complete look change would be a burden for the people who run the app continuously. So updating the app in bits gives the patch of the update to the app. This would help users to be friendly and gradually adjust to the app. They will even feel good about new features and enhancements.
3. Never stop experimenting
A redesign is a great chance to bring new technologies to amaze your users and serve them more effectively. Even if there is a failure in the first redesign, never back up. Instead, keep up with changes in users' demands and make good use of advanced technology to cater to ever-growing user appetites. After all, trends are dictated by needs.
4. Respond to feedback and wait for the settle down
Sometimes the app redesign might completely be wrong and put the user with bad intentions. In such times make the user understand, respond to them and take a breath to update the app with feedback. Wait for the settlement in the market.
Some Examples of Companies Redesigning their Apps
Here are a few most popular mobile apps that benefitted from redesigning.
i. Instagram
Launched in 2010, Instagram is one of the most popular social media apps. It came into existence with an app logo and interface which is very different from how it looks today.
Instagram redesigns its app very often to provide a premium experience to its users.
ii. Facebook
Launched in 2004, Facebook became a massive trend among the youth by offering high-quality UX. The application has redesigned itself self-multiple times catering to the ever-changing requirements, tastes, and feedback of users.
iii. Spotify
Spotify is an online music-listening app, which has redesigned itself various times. The Home Page UI changes were the recent ones in the app.
iv. Google
From search engines to adverse technology of Gmail, images search, video search, and voice search it has been redesigned with one of the highest search engines.
Even websites need redesigning. Click here to know when your website pokes you for an immediate redesign.
Final Thoughts – A Practical Guide on When You Need to Redesign Your App
This goes without mentioning that several updated or redesigned mobile apps have enjoyed extraordinary app downloads in the previous year.
A redesign journey can be either an undue risk or a big success, depending on how you approach it. If it's an upgrade decision resulting from careful consideration, then a redesign will bring better app performance, a higher retention rate, and more sales. This will help your app perform much better in the market, regardless of your company size.
Meet Verve Logic, an expert mobile app development company, if you're planning to redesign your company app the right way. Also, get associated with our other segments, Verve Branding for logo and branding needs, and Verve Online Marketing for digital marketing. We are a team of highly trained professionals catering to the dynamic needs of businesses across the world. Drop your inquiries today.
(Visited 84 times, 1 visits today)