WordPress.com vs WordPress.org – Key Differences To Help You Decide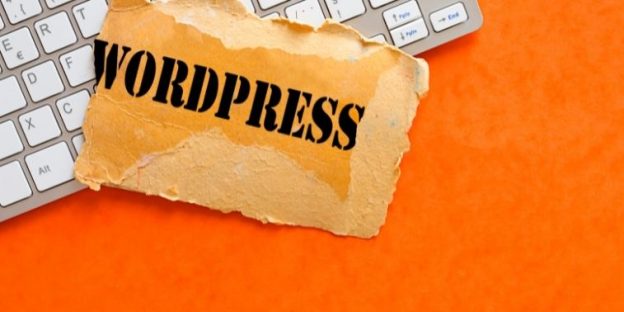 Even if you have decided to go with WordPress technology there is yet a decision to make. WordPress.com or wordpress.org? Which platform is good for your website?
WordPress.com and wordpress.org, despite starting with the same name hold different potentials, have different pros/cons, hold different applicability cases, and come with different usage conditions.
Moreover, the difference reflects in the cost, type, hosting, and architecture of the WordPress website that you will acquire. A professional WordPress development company will highly recommend you not to overlook the difference between wordpress.com and wordpress.org.
WordPress.org or WordPress.com? 
What else about WordPress you cannot afford to skip…
1. What is WordPress? A beginner's guide
2. Read about the cost to get a WordPress website built by professionals? Or "Request Quote"
3. Know the immediate pros and cons of building a WordPress website. Sort Your Business goals
4. WordPress Vs Other CMS (Drupal, Joomla, Squarespace, and Wix)
WordPress.com vs WordPress.org – Difference At A Glance
Although both the technologies – wordpress.com and wordpress.org are built on similar software. The visible difference here is web hosting. While wordpress.com includes hosting and works more like a website builder, wordpress.org is a self-hosted CMS that requires you to buy the hosting before you start developing the website. However, wordpress.org holds an edge in advanced features and customization.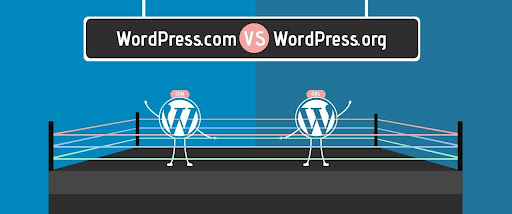 Some more differences at a glance:
| | | |
| --- | --- | --- |
| Judgment Parameters  | WordPress.com  | WordPress.org  |
| Hosting  | Hosting is provided to you with different subscription plans. | You need a third-party hosting provider. |
| Customization and Branding  | Limited customization and branding capabilities. | Highly customizable |
| E-Commerce  | Ideal for MVP e-commerce portals. | This leads to smart yet scalable e-commerce websites |
| Website Cost | Starts from $3 per month. | You can acquire the plan at the minimum value of $55/year. |
| Plugins And Extensions  | A huge catalog of free and paid plugins | A huge catalog of free and paid plugins. |
| Technical Skills | Beginner's coding skills plus the knowledge of customization and integration solutions. | The platform is ideal for beginners to create a website |
| Blogging  | It is easier than ever to build a blogging website. | With .org you can come up with some authoritative and powerful bogging sites for premium content. |
| SEO  | An array of security and SEO plugins are available to use. | An array of plugins plus more hands-on controlling the site. |
| Backend Support  | You get an in-house email and live chat support – chatbot integration, etc. | You require and get extra support from external forums and expert WordPress developers. |
In-Depth Difference Between WordPress.com and WordPress.org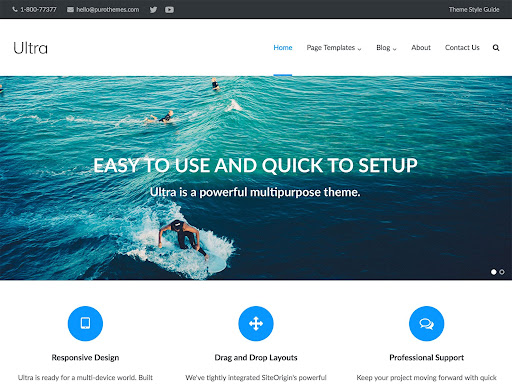 (WordPress: Ultra Theme)
-> Pros And Cons
-> Ease Of Use
-> Themes And Customization
-> Pricing
-> Plugins
-> E-Commerce
-> Blogging
-> SEO (Search Engine Optimization)
Why go to other reference sites, when you are about to have everything you need to know about wordpress.com and .org. Here is a detailed comparison of wordpress.com and wordpress.org that will help you reach a much-worthy conclusion. Moreover, you can easily reach out to the best WordPress development agency near you.

1. Pros And Cons
Both the technologies are efficient and thus have their own set of pros and cons.
WordPress.com
| | |
| --- | --- |
| Pros  | Cons |
| Have free of cost basic plans. | Adverts on all the free versions of the website. |
| It is an amazing platform for beginners who are willing to start a website. | With wordpress.com, you cannot post external ads making the website hard to monetize. |
| An amazing platform to create blog-centric websites sharing knowledge and building influence. | Though WordPress comes with a free plan, you need to upgrade to a paid subscription once the website size goes beyond 3GB. |
| | Has limited SEO and monetization control |
Thereon, you are required to purchase a domain as well that costs between $10 to $20 per year. Do not forget WordPress holds an edge in blogging and content management.
WordPress.org 
| | |
| --- | --- |
| Pros  | Cons  |
| Holds an edge in customization and branding | You have to get hosting separately |
| WordPress.org helps you make money by placing ads. | Does not support you with website backup. |
| Privilege to install your google analytics for free. | Comes with a regular expense |
| Comes with all SEO features | Involves deep learning phase. |
| All the plugins are allowed (known for better security). | |
2. Ease Of Use
Both web development platforms need a certain level of technical knowledge to handle design and development. But, which platform is easier to learn and use?
With wordpress.org being an extensive and advanced platform, you will face a steep learning curve while working with the software. On the other hand, WordPress.com is more beginner-friendly as it is easier to set up. To come up with the best website using WordPress, one needs to have a thorough understanding of the technologies or hire a WordPress development company to achieve an edge.
Verdict: While both the platforms are fairly easy to use, but wordpress.com is more organized and simple because it is just for blogs. That means you already have a draft and just have to modify it. Also, you do not have to worry about separate web hosting if you use wordpress.com. On the contrary, wordpress.com gives you limited features and flexibility than wordpress.org.
3. Themes And Customization 
Theme and customization are directly related to the aesthetics of your website. As you are making a business website, you will have to adjust themes that go well with the nature of your business. WordPress holds a wide array of business-oriented themes to use that make your website resonate with your business.
| | |
| --- | --- |
| WordPress.com  | WordPress.org  |
| Basic website builder with free and paid versions. | Open-source platform with incredible customization and branding facilities. |
| Holds a section of free themes and basic default features – you can use for primary blogging sites. | WordPress.org lets you build your own custom website of literally any genre. |
| With the paid version, you get premium access to more professional themes and add-on features that help you make a viable website. | Customization and branding capabilities can work in your favor only if you are well-versed with the platforms or hiring help from a professional WordPress developer. |
4. Pricing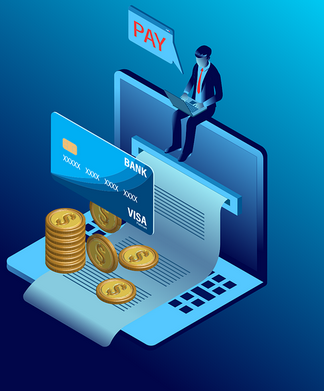 We all know WordPress as a free-of-cost open-source platform. But, is website development using WordPress completely free? Or it has some additional cost? How much does it cost to build a feature-rich business site with WordPress?
Pricing: WordPress.com
WordPress.com is more of a standalone platform with 6 simple pricing options. In fact, with WordPress, you can be relaxed on the hosting front.
The plans range from free to $45 per month. Although all the plans must be paid annually, so it is rather a wise move to weigh your decisions accordingly.
Free – $0
Blogger – $3 / month
Personal – $5 / month
Premium – $8 / month
Business – $25 / month
E-Commerce – $45 / month
These are the basic plans for accessing wordpress.com. Apart from which you may have to get plugins and extensions to make your website more responsive.
Although, you do not have to invest a single penny for a WordPress advertisement, what is left to purchase is a domain. An online address of your business website. A domain name usually costs you around $10-15 per year. The amount is near invisible if you are planning big for your website. Browse and buy the domain from an online domain name registrar or reach out to Vervelogic for the branding of your site.
Pricing: WordPress.org
Same as wordpress.com, wordpress.org is free to download and work on. So what's with that additional cost to build the website using .org?
Mentioned below is the cost breakdown of web development using wordpress.org.
| | |
| --- | --- |
| Domain | $10 – $15 per year |
| Hosting | $30 – $300 per year |
| Security | $5 – $250 per year |
| Premium plugins | $10 – $1,000 per year |
| Premium Themes | $35 – $200 (one time cost only) |
We took an advanced idea on how much will it cost to build a wordpress.com site and a wordpress.org site respectively. The pricing given above is the basis of every web development using WordPress. What will cost you extra is the expertise, paid plugins, and extensions. The cost goes up with the quality of the website you are planning to build.
5. Plugins
| | |
| --- | --- |
| WordPress.com  | WordPress.org  |
| WordPress.com gives you access to plugins only when you have purchased a paid plan. Else there are default features you can use. | WordPress.org is advanced for a reason, it gives you complete access to the plugin directory. |
| WordPress.com comes with fascinating features for a blogging site, so you do not have to worry about the SEO factor. | The platform allows you to install any WordPress plugin and create a customized website. |
| For a great website and amazing user experience, it is recommended to go with premium versions. | When you get the opportunity to customize, you have to personally take care of the SEO factor. |
| | Some plugins are free, while some might cost you up to $1000 per year. |
6. E-Commerce
=> E-Commerce: WordPress.com 
For e-commerce development using wordpress.com, you need to purchase its e-commerce plan. The plan allows you to sell unlimited products using WordPress. You can also create a full-fledged website for your dropshipping business. Dropshipping being the talk of the town, the demand for an online portal facilitating dropshipping is increasing day by day.
=> E-Commerce: WordPress.org
Unfortunately, wordpress.org does not possess any e-commerce capabilities singlehandedly. Still, if you wish to create an online portal you have to install third-party plugins like WooCommerce, Ecwid, and WP eCommerce. E-Commerce web development is a big deal make sure you hold an edge in development or are connected to an e-commerce development expert.
7. Blogging
An engaging blog works as an attraction to your site or an informational piece that magnetizes internet wanderers to your site. Also, blogs are the best medium for advertising any product or service. Your intentions from a blogging website could be any but your choice is always WordPress.
Initiated as a classic blogging website builder, WordPress still holds an edge over other CMS platforms when it comes to building classic blogging sites. Now the question arises, which platform to choose – wordpress.com or wordpress.org?
| | |
| --- | --- |
| WordPress.com  | WordPress.org |
| WordPress.com is specifically designed to do blogging therefore it is a steller option for blogging sites. | If you have a website that serves more than one purpose and you want blogs as a different aspect of your site, WordPress is your go-to solution. |
| While both free and paid versions can be used to build a blogging site, what privilege you will get is some extra features and more storage capacity in paid versions. | There are ample plugins that will help you create a full-fledged multi-purpose site beneficial for authority building and revenue generation. |
| WordPress.com is comparatively cheaper than wordpress.org, plus you do not have to worry about hosting and security certificates. | WordPress.org leads to an organized site where posts can be categorized and tagged. |
8. SEO (Search Engine Optimization)
With the perspective of web development, SEO loosely relates to introducing changes in the site that leads to a higher ranking of the site on search engines. WordPress being an open-source platform with an active community is the most compatible platform to make SEO-friendly websites. Both wordpress.com, as well as wordpress.org, show similar SEO capabilities and offer advanced SEO tools. Also, the fact that WordPress is trusted by Google and other SERPs, even the lesser-known sites (built with WordPress) are likely to rank.
SEO Plugins
Just like E-Commerce, you have to install third-party plugins for concrete SEO control. The best example here is Yoast – an SEO analyst. The tool will assess your website and show you the perfect matrics for your site's SEO competency.
So, Which Technology Is Better? 
You cannot keep technology on a pedestal. WordPress.com and wordpress.org both based on an open-source platform are amazing web development tools.  Both the technologies have their own merits. The major purpose of writing WordPress.com vs wordpress.org is to inform you about the key differences so that you make a wise choice.
If you are still stuck with your decision or are willing to share your web development needs with us – Vervelogic is always there to have a productive discussion and give concrete solutions for your requirements. We are a Whatsapp Message away from you.
(Visited 144 times, 1 visits today)