Reasons Why Salesforce CRM is Best for Businesses From All Industries
Arguably one of the best CRM (Customer Relationship Management) software out there is Salesforce's CRM. With the approach of creating user-oriented and customer focus systems, Salesforce has developed a comprehensive ecosystem for companies, making it super simple to use the complex services. Salesforce was one of the first organizations globally that it's the customer-centric experiences that will define the businesses in the next few decades. We can say that their vision was quite extraordinary and paid them off amazingly. Apart from helping companies engage with the audience, the other advantages of Salesforce's CRM are simple.
First, it helps keep all the pre and post-campaign data in one place. Second, it makes it easier to manage customer relationships. The third and most valuable advantage it offers is that it brings the multiple departments together so the connected teams can work on the same data and fuel up the customer-centric experience for business benefit.
Fun Fact: Salesforce actually began as a Software as a Service CRM company. Moreover, today its services are expanded in several software solutions and as the platform for the users to develop and distribute custom software apps for their business needs. So, they have always focused on helping an organization with ideas and innovation rather than just managing their technology.
In a market with a fair share of CRM solutions like SAP, Oracle, Microsoft Dynamics, and many others. It is clear that presently among all the CRM solutions providers, Salesforce and Microsoft Dynamics have a fair share of the market and are the top 2 CRMs in the world.
According to the research from backlink.io. Salesforce is the most significant single player in the CRM market as it holds a 19.8% market share at the moment.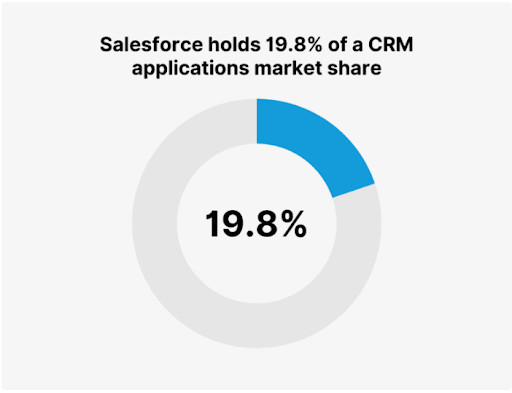 Salesforce generates total annual revenue of $21.25 billion, which has dramatically increased by over 24% over the previous fiscal year.
Also Read: Salesforce Trends
While the CRM services offered by Salesforce are focused on one aspect: creating better customer-centric experiences. They also provide customized solutions for the business as every organization's departments differ in delivering its services. In contrast, many features vary by department or industry. Here are the top advantages of using CRM for businesses.
A single place for cross-functional insight and reporting
Customizable Dashboard that visually showcases all the data in action
Customer-centric Automations
Optimized ProcessProcess for better results
Simplified Collaboration and Accessibility with other departments
Dynamic Services
1. Single place for cross-functional insight and reporting
Data is one of those non-degradable yet precious things which will last longer than the system itself. The valuable data for one business can also be beneficial for other companies. The goal is to turn data into information and information into insight. Since the data has become so essential, businesses gain data from various sources, including social media channels, apps, Google Analytics, and CRM technology.
But this data can only be helpful when analyzed, sorted, and most importantly, actionable for the business teams. With Salesforce's CRM system, the businesses can amalgamate a comprehensive analysis of the customer's online/offline to come up with the data to help the companies with their campaigns. Implementing Salesforce means maintaining the clean data and using the same platform to collate, tabulate, and customize the data in a way that every department needs. It also enables the systems making it easy for the teams to make customer-centric decisions and keeping them in the front.
2. Customizable Dashboard that visually showcases all the data in action
Using spreadsheets to manage your customer data can be tiresome and stressful, especially when the data is in huge numbers. With a customizable dashboard, you can quickly figure out what is essential, lacks context, and most importantly, gives you the complete picture of a customer relationship to derive proper insights. You can use the same data to create a graphical way to present the same data, and the best part is that Salesforce CRM does most of the work for you. Investing in Salesforce means leveraging the benefits of the software to the maximum extent as it helps in translating insights into action.
For instance, the marketing team in an organization would be interested in knowing email marketing metrics like the click-through rate of each campaign they pushed. Using Salesforce CRM, you can set up a dedicated dashboard that will immediately display how many people got the emails, how many opened it, the click-through rate, and other insights. Etc.
3. Customer-Centric Automation 
Customers are the king, and every business must focus on capturing the data to make services better for their users. If you are one of the companies that believe in the same, you continually capture data about insights into your audience, market, and industry to create relevant and personalized marketing campaigns that deliver each customer's unique needs. This is the power of dynamic content as it can be instrumental in putting the people's interest in a niche product through personalized campaigns.
Using Salesforce CRM, you can make the whole ProcessProcess straightforward. It helps you send a series of automated emails that speak to that audience that some specific actions can trigger.
4. Optimized Process for better results
Automation is pure bliss for companies in modern times, and it is one of the most significant advantages of CRM platforms like Salesforce. Let us have a look at some of the examples:
Cutting the time it takes to email and nurtures the incoming leads with drip campaigns.
Offers consistent, customer-centric interactions across commerce, sales, marketing through personalized automations.
The built-in AI makes it easy for custom parameters and better prioritize qualified leads.
Marketing can be time-consuming to create campaigns that resonate with its audience data and test different strategies based on analytics. Sales can be effective if done right and add a little bit of personalization to translate to revenue growth.
5. Simplified Collaboration and Accessibility with other departments
Your CRM serves as a record of conversations, interactions, needs, notes, and contact information. Salesforce CRM is a cloud-based system that is always up to date and lets you keep your teammates easily access records from anywhere. It also comes with an integrated built-in collaboration and communication tool, which makes it easy for the team members to work on the same task simultaneously, progress the same job quickly, and respond to the users rapidly in no time.
For instance, when a salesperson speaks with a customer and learns more about them, they can fill in specific fields in that person's records or make notes on their file. It makes the whole ProcessProcess faster and gives the ability to serve more quickly. Central departments like marketing, sales, commerce, and customer service can seamlessly work together without worrying about siloed information.
6. Dynamic Services and Customer Interactions 
The data in your Salesforce CRM platform can help you automate more personalized outreach throughout the different marketing channels. It can also improve a sales team's outreach efforts or easily manage customer relationships. If you have ever handled a sales team or been in a group, it adds a significant advantage for a customer service team. With all the required information filled in your CRM, you do not have to dig in any information as you already have to make the sales. It helps save your time and your potential and current customers and, most importantly, offers higher customer satisfaction.
Endnotes
These are the few reasons why Salesforce's CRM is the best for businesses from all around the world. We hope you will find this information useful. Keep Learning!
Also Read: Salesforce Journey To Being A Billion Dollar Business
(Visited 144 times, 1 visits today)