What is Geofencing?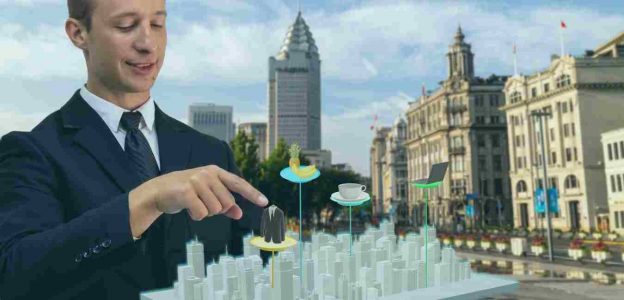 Being in a business, it is important to reach and communicate with the right audience and this is where Geofencing comes to your rescue. Shooting bulk SMS to an uninterested audience will fetch you very little to no results leading to the loss of time and money. Instead, you need to engage your target audience by sending them relevant messages and deals.
In this smartphone era, every business is privileged to have multiple channels of communication open to interact with the customers and bring them to purchase their products. And in today's high-tech world, an insightful strategy followed by a short SMS/ad sent to just the right audience is the clear-cut way to success.
Geofencing as the name has it is the location-based service that utilizes GPS or RFID technology to create a virtual boundary and send relevant messages as soon as the smartphone user enters the business location.
Using Geofencing, the business can send relevant messages with deals and offers when it spots a search in a particular geographic location, a mall, neighborhood, or store. Knowing the target audience's needs is undeniably the best digital marketing strategy a company could ever adapt to elevate its sales. 90% of the consumer service experts have agreed that on-spot and good customer service is the direct ladder to success.

What is Geofencing?
Wikipedia defined Geofencing as a "virtual parameter for a real-world geographic area".
From a business perspective, we can say that Geofencing is the best ever technique for setting a virtual business premise (say California) and shooting relevant messages of lucrative deals to your target audience as soon as they enter your premise. This increases the probability of them purchasing from your brand.
If nothing else, people always carry their smartphones to any part of the world they go and use them to search for products and services online. Geofencing is considered to be the best ever mobile marketing strategy as you can leverage the technology to show personalized mobile ads or shoot messages that will trigger the decision-making process of your customers.
Office of National Statistics declared that 58% of the internet users 'on the go' is through smartphones, this is one of the major reasons for an enterprise to invest in this technology. There are more
Also Read: How to Create a GPS APP for Android & iOS
Why Geofencing?
Customer is the King for any business and therefore they need to be catered with personalized offers and deals. Moreover, the bulk messaging with no specific target group is like aiming for your goals in the dark. It is always wise to outsource your tasks to a digital marketing company as they are well-versed with the utilization and implementation of all the tools and analytics. Communicate with one to leverage Geofencing technology to get the best out of your investments in online marketing.
A study by Bain and Company reveals that customer retention as small as 5% can lead to a profit increase of 25% to 95%, the numbers are enough to give you the best ROI for your investments in digital marketing.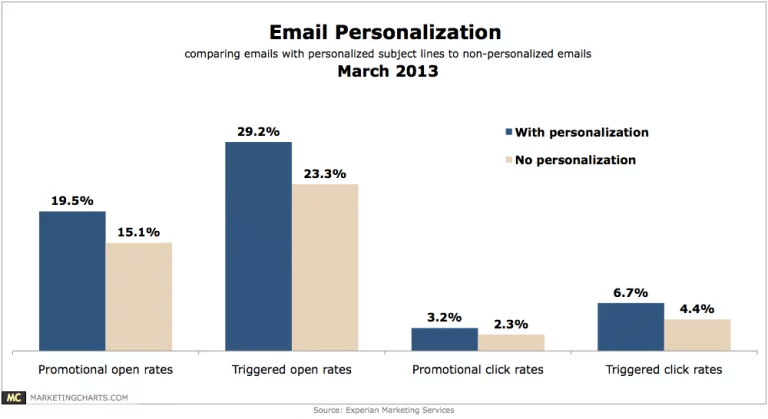 (source: marketingcharts.com)
The chart above clearly states the impact of triggered email marketing with personalized subject lines impacts the decision-making of the buyer more than a random email curation with no personalization.
Implement geofencing in your marketing strategies and customer service and you will be amazed to see the commendable hike in your sales and customer retention.
What Geofencing can do for your business?
If you are still not convinced with the idea of Geofencing, then here are the points that will show you what you are missing from your online marketing upfront.
=> Easy Customer Reach
Geofencing sets a virtual business parameter and reaches out to your customers when they are close to your business premises. So there are thin chances of your customers neglecting your deals. Geofencing gives quick, easy, and smart customer reach significantly increasing your sales.
=> Targets Potential Customers Only
You would like to target the ones who are already interested in your products and services. Though Social Media Marketing fulfills your marketing needs to a certain extent as the channels are densely populated. Geofencing narrows down your search to the users that are most likely to convert and especially the locals who have easy access to your store.
=> Quick Conversions
It is practically impossible for anyone to stand outside their stores and tell each and every passerby about the deals they have. Geofencing does it. You can trigger instant messages to pique a customer's interest while he is nearby your store studies say that 90% of the SMS are read within 3 mins resulting in quick decisions and conversions.
=> Increased Brand Awareness
Geofencing is a long-term investment for social media marketing companies and businesses that are striving every day for consumer attention. The strategy that relies on geofencing easily communicates and in fact relates to the potential audience (that is within close premises and use mobile phones). This way you connect well with your target customers and make them aware of your brand.
=> Gives Real-Time Analytics
Great marketing involves two-way communication between the customer and the seller and geofencing can help you with the same. It makes the process easier by informing you about your customer's arrival in your marketing region and you can prepare the best to bring them to your store.
=> Reduced Marketing cost
The ad campaigns launched using the geofencing model are most likely to fetch great results and profits will balance your costs for ad campaigns, in fact keeping the large chunk as your personal revenue. Geofencing is focused on local consumers and these consumers are more likely to buy from your store.
=> A Robust Security Mechanism
Apart from locating your potential clients, you can also track your employees and bar-coded products through Geofencing. The technology will notify you when an employee leaves the store or when the product is unethically removed or stolen. If you own a store, security against theft is the very first thing you need to focus on.
Also Read: How to Develop an Indoor Navigation Mobile Application?
Geofencing Success Stories 
Starbucks 
Starbucks sends push notifications to those who are nearby their business location – obviously tracking through geofencing. The absolute example is their happy hour specials on Thursdays 2-7 pm and BOGO Free with any grande. The consumers in their nearby areas are reminded of their special deals on Thursdays via push notification which leads them to the doors of Starbucks. The brand owns an app too and is using geofencing to its verge in converting their potential audiences into their active clients.  
Dunkin
Exploiting the advanced technology to its fullest, Dunkin is also attracting its potential clients via push notifications. The Dunkin App user will get the notification when he enters the Dunkin's geofence. More to that, the brand uses Snapchat to lure the youngsters to purchase food and drinks from them. The user within the geofence can take snapshots using Dunkin filters. 
Uber 
The hotspots for Uber are airports, nightclubs, hotels, restaurants, hospitals, and more such facilities, they create a geofence around those places through which they are able to send the notification to those who have installed the app and are nearby these areas. For instance, when the user gets off the plane, he is notified of the nearby uber drivers to take him to his destination.   
How Does Geofencing Work?
The surface functioning of the geofencing marketing tool is that it notifies you of the arrival of potential buyers in your business location(s) so that you can send them personalized SMS and attract them to your store. You can also track the people passing by your competitor's store.
The core functioning involves a mapping tool like Google Mapping – this is simply to trace the regions you want to geofence. The region looks like a circular shape or a polygon in some cases.
Once the location is set you are good to track your user's location via the GPS integrated into his/her smartphone. Then you can track your potential customers who will be interested in your offer and shoot a relevant SMS to them.
Geofencing solely cant be trusted, you can pair the technology with customer targeting and personalized messaging to get the most effective results.
Geofencing Tools
Just like local Search Engine Optimization is the solution to fetch a local audience for your website, geofencing tools are here to fetch local potential clients to your offline stores. Below are some best geofencing tools you can consider:
| | |
| --- | --- |
| xAd | There is no room for assumptions as the tool shows apt results based on the current location of the customer. It has an integrated platform to automatically establish boundaries and let marketers target ads to particular smartphones only.  |
| Koupon Media | Your potential customer is in the store and suddenly an ad pops up on his smartphone notifying the offers you have. Koupon Media studies the behavioral aspects of the buyers too, making it more feasible to send customized ads to them.  |
| Ninth Decimal | The tool targets the potential consumers who are nearby your store, also you can target your competitor's locations and shoot tangible media ads through phone calls, appointments, or couponing. A bonus is the tool has an in-built walking and driving map to easily guide your customers to your store's exact location.   |
Final Verdict
Smartphones have quite a buzz, they are for entertainment, online shopping, and business. You can reach heights if you know how to do mobile marketing and when to communicate with your clients. Geofencing one such technology you might want to excel in for your business's ultimate success.

The old-school marketing techniques are of no use these days, the times have changed and have the preferences of your audiences. Like geofencing, there are a lot many media marketing tools that are responsible to fetch just the right audience and increase the probability of conversions. Make sure you hire the best online marketing firm to get things right. Today's investment is tomorrow's profit.
Also Read- 21 Best Marketing Blogs You Must To Read
(Visited 95 times, 1 visits today)