Warehouse Management System – Its Importance In A Logistic Chain?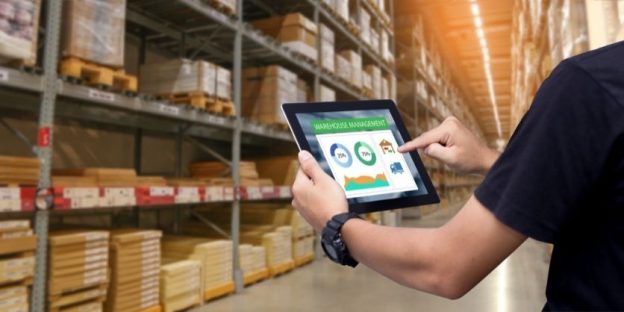 Gone are the days when warehouse management and tracking was manual task, today you can easily automate the process with a robust warehouse management system. Manpower no it's time for machine power… 
While people often see it as a simple storage facility, a warehouse has a lot going on behind the stage that needs proper management and real-time tracking. In the era of e-commerce, bulk freights and instant deliveries, you can never imagine a logistics chain working efficiently without a warehouse management system. WMS being the cornerstone of every logistic system, effectively tracks the storage, incoming and outgoing of the merchandise, accounting, sales and other operations in the warehouse in real-time. If chosen wisely, a warehouse management system significantly contributes to saving labor expenses, enhances customer experience, manages transportation. And Bonus? 100% accuracy assured.
From order tracking to fulfillment, supply management, stock counting, expiry detection and accounts and billing management, your every headache goes as soon as you hire the best warehouse management system to automate the processes. Moreover, the smart app integrated into the system helps you track your complete warehouse operations anytime and from any location in the world. Intriguing? Let's discover more about WMS and its significance in the new-age logistics system…
What is a warehouse management system?
A warehouse management system is a centralized virtual ecosystem (software and/or mobile application) that monitors and controls complete warehouse processes on a daily basis. Being a centralized platform, it helps in connecting dots by allowing people from different departments of an enterprise to access and update information, ensuring the efficiency and optimization of the entire process.
WMS is known to improve efficiency by automating more than 50% of warehouse processes ensuring complete accuracy and speed. Moreover, there is not a single day off for WMS.
Reach out to the best software development company for your customized warehouse management software
WMS – Crucial Management Processes
Logistics is the crucial element in warehouse management on which every secondary process depends, thus one needs to maintain a firm logistics network ranging from how you transform the raw materials to how you deliver the finished goods to your end-consumers. A lot goes on in between these two broad categories.
We define these two categories as "inbound logistics" and "outbound logistics". To establish a concrete logistic network one needs to know the in and out of both processes..
Let's dive into the logistics processes…
=> Inbound Logistics Processes
The process comprehends everything that an enterprise needs to make a finished product. It includes material purchase, inventory management, storage, product packaging as well.
Material Purchase
WMS effectively channelizes bulk material purchases. The system stores details of every single vendor along with their location and synchronizes them to the real-time inventory system to manage procurement. WMS effectively channelizes and automates the entire procurement system.
Arrival
WMS scans and processes receipts and then guides the merchandisers to shelve each item at the right place. Moreover, the efficient warehouse management system aids in the proper mechanism by putting away, slotting and optimistically utilizing the storage space helping you accommodate more in less space.
Reverse Logistics
Logistics is a recurring process. An efficient management system assures stability and consistency by updating the admin about the product arrival, availability and restocking – maintaining harmony and accuracy amongst each process.
=> Outbound Logistics Processes
Advanced times need advanced solutions. Today businesses are having a global reach, different e-commerce portals and instant delivery facilities – with so much on the plate, monitoring and controlling the outbound processes become more of a need than a luxury.
Outbound processes deal with the storage of finished goods, transportation and delivery systems that drop the goods to the final destination.
The outbound process incorporates:
-> Picking The Order
Manual management has its own drawbacks and what people are most afraid of is data insufficiency and inaccuracy – this creates chaos. Solution? A well-equipped WMS that uses Barcode scanners and RFID scanners assuring that the right product is chosen.
-> Product packaging
Product packaging varies based on the size, nature, fragility and delivery conditions that are associated with the product. How can a WMS help you with that? Before product dispatch, one can easily get Price Tags, Logos and other necessary documentation printed directly from the machine, eliminating the need for a human to input address or re-type tracking details.
-> Product Transportation and Delivery
When you have thousands of deliveries in hand, manual tracking becomes impossible. This is when the WMS comes to your rescue. System ensures timely delivery of the right product to the right customer. WMS helps you with complete order and delivery tracking nullifying the possibility of errors at the time of product selection and dispatch.
Being a software development company we think ubiquitously on all the tangents of the company and warehouse management, to build a platform that aids equally to inbound and outbound solutions.
Challenges With Traditional Warehouses That Latest WMS Can Solve
If you are running a home business or just a small startup, you can easily manage the inventory by yourself, but what are your plans when your business scales? People often open multiple supply channels, intercity or interstate deliveries without paying heed to their warehouse management solutions. RESULT? Inaccuracies, stock insufficiency, frauds, false supplies, product pilferages etc.
Businesses are advancing with their sales channels by involving an online e-commerce store, sales from social media platforms, online promotions, etc. then why leave behind WMS?
Today's cheap is tomorrow's expense. Inefficient and traditional warehouse management is more of a liability than an asset for any MSME. It might increase the labor cost, capital cost,  time to deliver the product and the possibility of wrongdoings (as there is no concrete management/proof). We do not own a magic wand that can manage all the warehouse processes in real-time and therefore we need a comprehensive and standalone warehouse management system
Challenges With Old-Fashioned Warehouse Systems:
| | | |
| --- | --- | --- |
| Parameters  | Challenges  | Solutions  |
| Barcode Inefficiency | Barcode scanners have their own limitations like smaller reading circumference, inability to read if the sticker is overlapped or folded. | Adjust printer settings so that the ink is distributed evenly, make sure to check the ink from time to time. Look for a wider place to stick the barcode (so that it is not folded or overlapped). |
| Time-Consuming Quality Checks | A product has to go through multiple quality checks which makes it a time-consuming process. This leads to delay in stocking or further order processing. | You can manually set defense tolerances in the wms and let the machine assess the quality of the product while the staff can do other productive tasks. |
| Product Pilferage | Silently sneaking the small products without getting noticed by the admin is what product pilferage is. This is common practice with the traditional warehouse management systems. | The efficient wms has the details of every single merchandise regardless of its size or nature – from the moment it enters the warehouse. Any pilferage case can be discovered within minutes with automated wms. |
| Time-Consuming Processes | Unnecessary and excessive product handling is what creates chaos. Like duplications and double entries. | WMS creates a sleek process asking for the approval for a single barcode and identifies duplicacy based on size, nature and barcode recognition. |
| Heavy Paperwork | You need to hire altogether a separate team that handles only the towers of paperwork. Also with manual processes, there are chances of discrepancies or receipts getting misplaced. | WMS lets you automate the entire forward/backward parcel picking for bulk orders. Moreover, it helps you maintain the sales velocity data that is needed to plan forward storage pick. |
| Human Errors | Manual process handling leads to mistakes and is also extremely time-consuming restricting the staff from another productive task handling. | Let the software do what it is good at. An effective WMS is an errorless and sleek system that is intelligent enough to automate most of the warehouse processes. The entire data here is safe from laundering and is optimistic. |
AI has opened doors to many possibilities and the warehouse management system is no stranger. You can integrate AI in the warehouse management system and derive various analytics based on the moment of the merchandise. Vervelogic is the place for you to find high-end warehouse management solutions.
Sure-Shot Benefits of Warehouse Management System
Warehouse Management Systems is an optimum platform that takes care of 80% of your warehouse processes…why not leverage the best today? Well-equipped WMS creates an ecosystem by handling multiple warehouses of the single enterprise all under one roof. Not limited to this, there is more to the direct benefits of WMS:
13 Immediate Benefits of Customized Warehouse Management Systems:
1. Faster Inventory Management
The robust inventory management system effectively channelizes the flow of merchandise leading to quick generation of reports, accurate inventory records and promoting a sleek warehouse atmosphere. A smart inventory management system easily detects the pitfalls in the system and contributes to your overall turnover by optimizing capital management.
2. Effective Storage Tracking
You can easily track slot locations, cubic capacity, open bin, profile characteristics, etc with a proper warehouse management system. Some sophisticated WMS systems are powered by directed put-away systems that can be edited based on the nature of the product. Some customized and strong WMS have pre-defined system rules, velocity functions and storage parameters.
3. Accurate Billing Management
When it comes to a comprehensive warehouse management system, there are various third-party integrated accounting and billing software that utilizes the data to create account reports, generate bills, supply receipts, etc. An automated WMS software can easily process credit card payments and helps you connect with major e-commerce platforms.
4. Cloud Access for Real-Time Updates
A professional app development company will advise you of cloud integration to your warehouse management system as it has no restrictions on data storage and software scalability. With extensive access functions and abilities, the involved companies, clients, suppliers and shipping agencies can track product status in real-time.
5. Updates and Scalability
The development of any enterprise depends on its sleek delivery practices and workforce. Successfully deploying WMS to any warehouse ensures consistency of the processes and on-time management. Moreover, WMS vendors keep on coming up with new features and functionalities aiming to reach the edge of perfection. These new features and functionalities can easily be added to the cloud that making improvements easier.
6. Complete Utilization of Warehouse Space
A warehouse management system helps you effectively utilize your warehouse space by slotting products in different areas based on their receiving, packaging and shipping stage. The managed and organized atmosphere leads to increased productivity and substantially reduces expenses.
7. Paperless Management
Shedloads of paper can be saved as the machine holds all the analysis, reports and records. A real-time warehouse management system can conveniently minimize the usage of paper, keeping the system organized simultaneously. You can easily fetch any information by just adding some credentials to the software. From tickets to bills, packaging lists, etc can now be managed digitally.
8. Improved Cycle Counting
The warehouse management system lets the company track the most relevant data like location and frequency of product movement. With such data in hand, one can easily schedule the cycle counts to maintain the accuracy of their balances and their inventory records for future referrals.
9. Sleek Customer Service
The well-organized and optimistic warehouse atmosphere makes you more and more confident with your customer service segments. With a warehouse management system in the scenario, one can solve any availability or delivery-based query within minutes by inserting product credentials in their computer systems.
10. Increased Labor Productivity
Most of the warehouse repetitive tasks can be automated and handled by the warehouse management system that the company adopts. This creates room in the schedule of the company employees to focus on other segments of progress.
11. Optimizing Warehouse Processes
A comprehensive WMS solution helps you optimize most of your processes easily and within no time. You can set various goals and achieve milestones by employing key performance indicators, aligning operations with other business objectives, implementing automation and using real-time intelligence, that eventually elevates your business.
12. Cost Reduction
The powerful inventory management system is your savior as it helps you reduce your operation cost which you can utilize in other productive deals. The cost depreciates as the system allocates the system efficiently, it streamlines merchandise movements and identifies wrongdoings/pilferages.
13. Promotes Transparency
You can completely rely on WMS with all your warehousing processes as it is accurate and promotes transparency. You can easily fetch information regarding product availability to shipment, delivery status, order fulfillment, etc. with the help of the WMS software application in your hand. Also, you can be confident enough to solve the queries of your customers based on the information shown by the employed WMS.
How to pick the right WMS solution?
After you are aware of the worth and significance of the best warehouse management system, you come to the actual dilemma – how can I find one? Picking the right WMS solution needs proper guidance and the eagle's eye.
What you need to do as a beneficiary?
-> Know your business size and scale.
-> Be well-versed with the distribution circumference.
-> Have an entire product listing
-> Have a list of all the suppliers you are dealing with.
-> Attend workshops to understand different solutions available at your service.
-> Know your product arrival and delivery chain.
-> Seek advice from the professional IT consultancy about WMS software development tailored to your business needs.
Roles of a WMS Software Development Company
-> Going to the roots of your business objectives and processes.
-> Project strategizing
-> Creating WMS solutions tailored to your business needs.
-> Fetching information that is to be entered by default in the system.
-> Communicating updates and asking for feedback from the clients.
-> Giving assistance regarding the software features and functions.
-> Testing and maintaining the software application if said by the client.
From right tech-stack implementation to feature guidance, usage, testing, – we have got you all covered. However, you can lay on us the queries that bother you regarding the warehouse management systems and we will discuss them with you.
Why do you need a customized WMS solution?
Sometimes you need more than standard features and functionalities – there comes the need to customize your WMS ecosystems. Moreover, the management solution that is completely dedicated to your business needs will optimize every process within no time and fetch profits for your business. Every business is different and so are their warehouse management needs – talk to the right software provider today and get your solutions customized as per your needs.
-> Increased productivity
-> Additional functions and features
-> Customized themes
-> Easy to use UI interface.
-> No unnecessary functions to hinder your way
-> Exclusive to your business needs only.
-> It scales as you grow
WMS contribution to maximizing ROI
Return On Investment is the ultimate aim of employing any asset in the business and the same goes with the warehouse management system. While picking the warehouse solutions for your business, make sure that it is favoring your investment. Efficient software is successful in creating dependencies and if your WMS is in no way contributing to your business, then this is the time to rethink.
Conclusion
A warehouse management system helps you grow substantially and the results will be visible to you shortly after employing one in terms of growth, process optimization, and stronger supply chain. The article poses the immediate benefits of a perfect WMS solution, provided that you get your hands on the right one. Moreover, the WMS is worthless for your business if it is not able to create dependency or fetch profits from you.
Evaluate all the critical factors of a WMS solution before making an ideal pick. Or discuss your needs with a software consultant.
(Visited 301 times, 1 visits today)