Complete Guide to Warehouse Automation Technology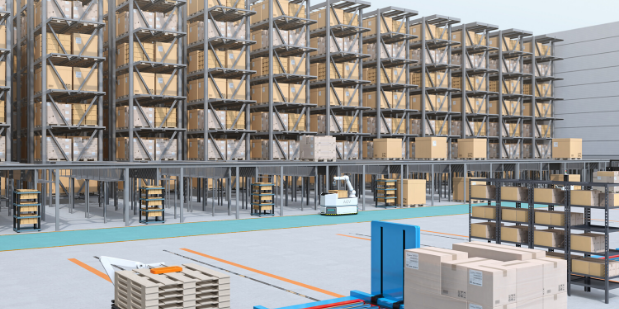 Over the past few years, 'Warehouse Automation' is said to be one of the most effective ways to optimize Return on Investment (ROI). Most of you must think of automation as of applying autonomous vehicles and robots, but it is more than that. From automatic data entry, storage and delivery of goods to retrieval etc., there are so many aspects which are covered by warehouse automation. In this article, you will get to know about all the layers that are linked with this concept including basics, hardware and software solutions along with their advantages, and featuring some real-life cases to check. Long term costs can be automatically reduced by warehouse automation. 
In this article, we will discuss;
a. Basics of Warehouse Automation
b. Why Should You Automate Your Warehouse?
c. Warehouse Optimization 
d. Laying the Automation Foundation With Barcode Labels
e. AS/RS Warehouse Automation
f. Software and Hardware Solution for Automation
Let's get started…!
Fundamentals of Warehouse Automation
Warehouse automation is all about uncovering repetitive tasks (from manual data entry to picking, storing and shipping of goods) and finding ways to automate them. The success of a huge part of retail companies lies in their ability to create effective supply chains, and expenses cutting. Most of the warehouse operations include:
a. Inventory Management
b. Back-office management
c. Picking and delivering goods
d. Barcodes scanning
e. Handling charges, and more
Speaking of warehouse automation, well there are 4 layers to it.
i. Basic automation which use specific scanners, applications, printed papers
ii. System automation which use of WMS, mobile radio frequency, voice-directed technologies
iii. Mechanized automation which use conveyors and AS/RS
iv. Advanced automation uses automatic sorters, palletizer, robotic picking, AGVs, and AGV software
Warehouse Automation is divided into two parts
Process Automation: Also known as system automation, this category of warehouse automation on an ecosystem of barcoding and wireless barcode scanners to input and track data. This tracked data is then communicated via software to a centralized repository (Enterprise Resource Planning (ERP) system). The communicated information is stored so that it can be retrieved in future. In process automation, the inventory data is converted into digital form.
Physical Automation: This form of warehouse automation refers to the use of robotic systems in the warehouse and is quite costly as compared to process automation. It only provides a reasonable ROI for larger high-volume warehouse and distribution center operations. For instance, physical automation includes driverless automated guided vehicles (AGVs) or Autonomous Mobile Robots(AMRs) etc. 
These two types of warehouse automation allows improvements in warehouse procedures. It takes the working process to levels not possible by human agency alone. The process of automation allows you to concentrate on activities which require human intervention. The most time consuming tasks are taken over by these two processes of automation. Over the years, plenty of modern warehouses have begun to use process automation. While bigger warehousing and distribution center enterprises may consider using physical automation.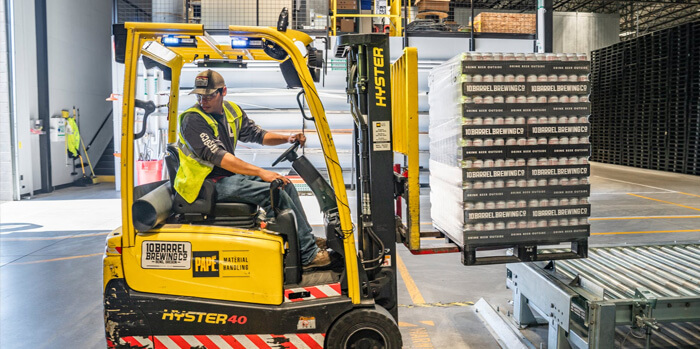 Why Should You Automate Your Warehouse?
Not just as a back-end operation to store goods, materials or other assets, 'warehouse' is one of the core components of logistics management such as supply chain. Any sort of delay in warehouse operation can negatively impact invoicing, cash flow or customer satisfaction.
This is the reason why over the decades, warehouse management has transformed into a complicated process. By using this technology of automation, warehouses can improve their work efficiency, performance, catalyze faster turnaround in supply chain process cycles etc. 
Look at the area of operations which can be improved by warehouse automation:
a. Reducing operating expenses and unnecessary costs from errors
b. Protecting the company's assets, brand and reputation
c. Increasing efficiency and productivity of human resources
d. Minimizing manual processes 
e. Handling of stock keeping units
f. Maximizing warehouse space utilization, layout and flow
g. Coordinating usage of material handling equipment like barcode scanners and mobile computers
Some of the benefits enjoyed by the companies who have introduced automation technologies in their warehouse are as follows:
i. Helps in cost-cutting: One of the best advantages of automation in the warehouses is it helps in 'cost-cutting' which is associated with labor, equipment and maintenance. Apart from these expenses, automation also pushes down spends for energy consumption, storage space and safety incidents.
ii. Workforce Productivity: Automation allows you to create a friendly environment at the workplace, which eventually helps in increasing the productivity of each worker. A safe and easy job is a dream of every worker which depends on the employer. 
iii. Profitable Inventory: Data collection and inventory transactions in the automation process can help reduce inventory loss,  misplacement and even depreciation. The automation leads to 99.99% accuracy by offering fewer shipping errors.
iv. Feasible Environment Friendly Practices: Minimizing your facility's impact on the environment is the best benefit which is achieved by automation. It also reduces waste and land use costs, making it extremely impactful for refrigerated or temperature-controlled facilities or warehouses that handle hazardous waste.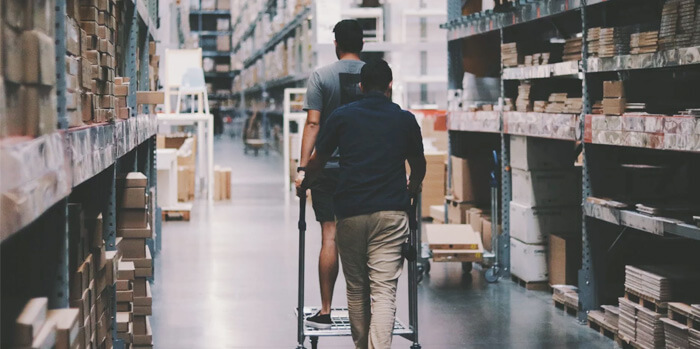 Warehouse Optimization 
The key to effective management of all-size storages is "Warehouse automation optimization". It is very important to free some space or create organic paths for machinery placement. To keep the excellent traffic flow, storages make use of vertical space. Layout optimization supports the primary functions of the warehouse, such as;
a. Cargo storing;
b. Incoming and outgoing processes related to goods
c. Other operations like labeling, applying price stickers and more.
Mention below are some of useful tips showing how you can improve your warehouse layout:
1. Change in alley widths: Move storage shelves to free a lot of space to place other goods, but make sure the aisle's width is wide enough for staff convenience and good safety.
2. Customize your stock: Instead of placing identical goods together, store them as per their demand. It is better to place fast-moving goods closer to shipping lanes.
3. Clear out unsold stock: One of the best ways to increase space in warehouses is by removing all the unnecessary goods which your staff know will not get sold. Save enough storage space for high-selling products.
4. Measure the travel time: Place the goods as per the time taken by the picker to reach them.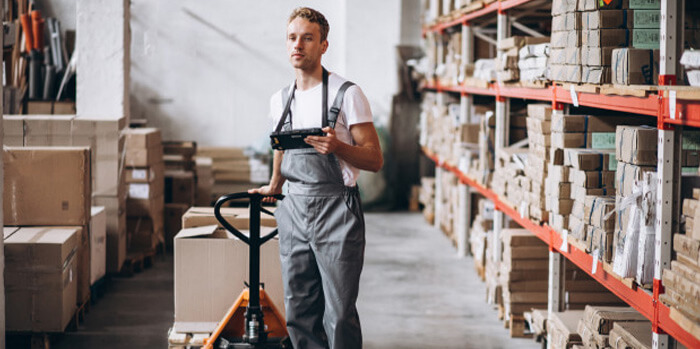 The average space utilization according to the 'Warehouse/ Distribution Center Survey' was 78.3% for 2018. Companies need to collect all the compatible data about the facilities. Then only they can choose the suitable layout depending on the collected data.
Laying the Automation Foundation With Barcode Labels
Out of numerous warehouse automation solutions, one of the easiest and cheapest tricks to do so is "Barcode Labeling". With the usage of labels, retailers can push down the number of errors which occur while tracking or shipping goods. These barcode labels also help in decreasing the errors that occur during entering their details into the system. Barcode labels are the basis of the whole automation process.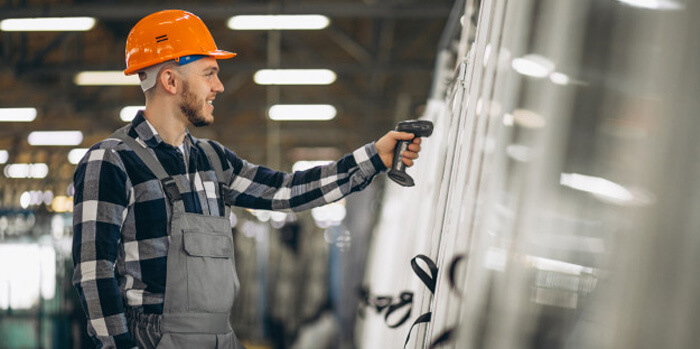 To make it more understandable, listed below are some of the advantages of Barcode Labeling technology. 
a. Stock tracking: Lots of chances can happen where goods can be lost soon after their arrival due to picking or ordering errors. Barcode labels therefore help the retailer to monitor the movement of each inventory from its arrival to shipping.
b. Better dock arrival planning: Automatic data collection allows the operators to easily check if the shipment inventory arrives at the dock at the same time cargo does or not. Labels help in better planning and planning.
c. More efficient picking capability: Operators ensure timely departure and delivery of every good as well as they also prevent delays due to staff shortages.
d. Boost in traffic: The barcode technology also helps in boosting the flow and helps workers to identify specific areas for unloading or picking.
e. Automating stock: As details of tracked goods by the software are synched with WMS, so warehouses do not face 'out-of-stock' issues. It is because the system will automatically reorder items before they get out of stock. 
Automated Storage and Retrieval system (AS/RS) 
Introduced in Europe, Japan, and the United States, AS/RS (automated storage and retrieval system) is widely used in manufacturing facilities, distribution centers, and, of course, warehouses. It has actually been around since the 1950s and consists of machines that move up and down storage aisles, placing or retrieving items. Automated Storage and Retrieval system (AS/RS) provide users with improved inventory control and goods tracking.
Some of the key components of AS/RS are given below;
a. Storage and retrieval machines
b. Rack structures
c. Conveyors like AGVs
d. Warehouse control systems (WCS) software
Again this system leads to labor cost deduction, increases workplace safety, and allows to remove personnel from difficult working conditions. According to Westfalia, these devices may serve for 25 to 30 years.
There are so many benefits of AS/RS such as;
a. Reduced space and labor utilization
b. Results in better storage density
c. Cost-effective by saving on inventory storage
d. Flexibility to operate as a stand-alone structure 
e. Ability to keep inventory fresh
f. Consistent and safe product handling
g. Consistency in following storage putaway roles
h. Maintenance of real-time product tracking and identification
i. Order picking and consolidation facilitated by automated replenishment
j. The ability to create highly-controlled storage environments
k. Ensuring regulatory compliance
l. Consumer protection
Software and Hardware Solution for Automation
No matter how advanced the technology is, hardware and software goes hand-in-hand with a warehouse label and warehouse signage solution. Speaking of warehouse management system softwares, there are a total of three options which are mentioned below. Find out the difference between three of them. 
a. Warehouse Management System (WMS)
A Warehouse Management System is a particular solution that manages inventory flow, i.e. to, within and out of a distribution center. It also regulates labor tasks and orders. But the main role of the WMS model lies in inventory management, tracking, and control across multiple channels and customers.
b. Warehouse Control System (WCS)
This warehouse management system regulates the flow of goods, cartons, etc. when they're being moved by automated equipment. This integrated control application is used for real-time communication exchange, processing commands, and material optimization.
c. Warehouse Execution System (WES)
The third one in the warehouse management system category is WES which is a one-stop destination for tasks like light task management, inventory management, goods picking, and shipping. WES is surely a combination of some WMS and WCS features and it works for small and mid-sized retailers.
Now you must be thinking which one is the best system for your warehouse. Don't get confused as the choice of warehouse management system depends on the way inventory moves through the warehouse. WMS is considered to be the ideal choice for non or low-automated facilities. While WCS or WES is the best solution for highly-automated warehouses.
We have talked about software automation, so now let's check what hardware is required for warehouse automation. Some of the most common devices are;
a. Portable data terminals
b. Barcode scanners
c. Label printers
d. Rugged tablets
e. Fixed mount computers
Focus on the compatibility and performance of these softwares and hardwares before you establish and set up your warehouse. Well-fitted solutions are fully compatible and work seamlessly.
Challenges of Warehouse Management
In this constantly changing world of warehouse management technology, the retailers are facing more challenges than ever due to increase in work pressure. For example, rising trends in omni-channel retailing, complex global supply chains etc. force warehouses to cut costs, and reduce inventory cycles. While the internal pressure on warehouse professionals are continuously managing the storage, handling of huge stock, raw materials and assets more effectively every year. That means professionals have to implement new improvement strategies to achieve these factors.
Few of the responsibilities which every warehouse professional has to follow are; 
a. Managing warehouse employees
b. High warehouse turnover
c. Driving higher KPI performance and goals
d. Meeting new growth targets
e. Upkeeping old equipment and technology
In short, your job as a warehouse professional may be getting more difficult every year, but with the help of warehouse Automation technology your life can get easier. Warehouse automation comes in many forms, shapes and sizes. It is up to you to choose the right types of automation for your company's individual needs. The innumerable benefits of this advanced technology has made thousands of businesses all over the globe to implement it in their warehouse. According to Westernacher Consulting, worldwide spending on warehouse automation technology is expected to reach $22.4 billion in market value by the close of 2021.
(Visited 154 times, 1 visits today)