Logistics & Transportation Mobile App Development Cost & Features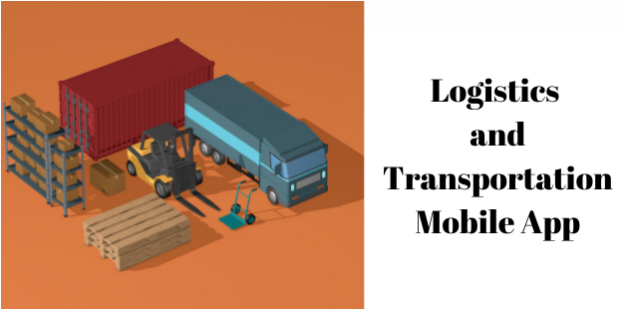 If you own a logistics company then we can completely understand the pain of monitoring all logistics and transportation operations, but the system demands for a 24 hour solution that can track all the constant running activities. Again with the advancement in technology a mobile app can do all these tasks for your logistics business. Today we will talk about how to develop a logistic mobile application for both android & iPhone and what all features would make a complete logistics mobile app that can manage your fleet, routes, shipping details, drivers, goods & everything that is needed from logistics mobile app development for a seamless process without any issue.
Logistics Market Size (In Billion U.S. Dollars)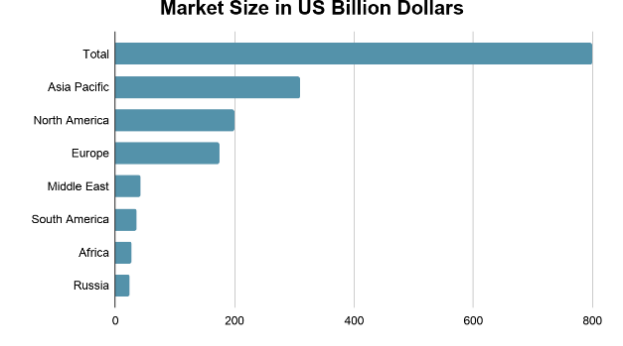 When it comes to logistics then there you might need many software of app development for different features like fleet management, warehouse management, vehicle tracking, logistics & inventory solution but now it is really a time for all in one solution of logistics app. An application that is equipped with all standard attributes to deliver quality services & can be done by one application. So, let us look at all the top features, possible solution, cost of mobile app development so people can be overwhelmed when using this service. Let us have a look at the different types of solutions in Logistics & Transportation.
Types of Mobile App Solutions in Logistics & Transportation Industry:
Fleet Management Apps:
In the logistics business you have to record all your fleet related data & all vehicle information. It helps in assigning the vehicle as per the requirement of all your drivers.
Logistics On-Demand App:
It helps in delivering the goods to the users whenever they require it. This application helps you keep connected with your customers with delivering the service by delivering all your needs.
Application for Warehouse:
A warehouse application can help get the live data in a simplified data. With no delays in the upcoming data you can be fluent while delivering & time schedules & help you in the logistics business.
Forwarding & Tracking Apps:
It helps in determining fleet & driver locations in just a few simple clicks. You can easily get real-time updates about the driver, the routes they are taking & even about the time of delivery making it easy for you to conduct business.
Core Features & Framework to work on On-demand Logistics Mobile App
Easy Registration: This is the first page on user will land on, allowing user to create the account or sign in from social networks or gmail account.
Selecting Vehicles: The companies can book vehicles as per their needs, capacity of the truck and also considering distance. This allows the companies to deliver all the goods in a single trip.
Managing all the Booking: According to the users requirements & interest, users can easily schedule the bookings for later or the date & time whenever they need.
Alerts & Notifications: All the alerts & other notifications can be easily provided by the deliveries, tracking, offers and other information related to their delivery.
Billing & Payments: This allows the users to generate invoices easily to get more information in incurred cost and easy transactions via different channels like cards, wallets, Paypal etc.
Rate Driver Performance: As per the driver behavior, the logistics companies can rate the services given by the driver, making it easy for the others to choose the right driver for them.
Track Shipments: Every single shipment that went out for delivery can be easily tracked by the user. This app allows you to check the path that driver has chosen on a real-time basis so you can see whether they are going in the right direction or not.
Estimate Fare Charges: Every logistics company has their budget & they even consider it while picking up the shipments. So, fare estimation can help logistics companies of every size to know how much they have to pay for the particular shipment.
Driver Panel
Register: Just like the user panel, this would also entertain the registrations of the drivers by various means like social media accounts, gmail etc.
Get and Manage Request: This page allows the drivers to manage their requests that were assigned by the user, so they can track their completed & pending shipments.
Shipper Details: This will share all the shippers details like name, address, contact, information, the destination location, the invoice that was generated analyzed and stored.
Freight Details: Drivers perform various tasks like fuel & toll charges, weight of the goods that are transferred, the freight details are also charted by the drivers.
Route & Navigation: A certain route can be determined & established for the driver to reach destination. This allows the users & admin to keep track of admin's behaviour while making deliveries.
Approval of Bill: All the bills that need to be paid by the users like toll, fuel, refreshement's information. So, drivers can later reimburse by approving it by the admin.
Payments: This will store all the information on the payments done by the users either online or via cash on delivery mechanisms that can be accepted & recorded by the drivers.
Admin Panel App
Secure Login: This will allow admin to securely login to the account with their respective email id & password for maintaining the overall system integrity.
Dashboard: Under this panel, users can analyze for all the users, number of accounts pending & completed plus all the other business information.
Monitor Drivers: All the drivers that are booked for shipping & the numbers of orders taken by then. So this would help you in monitoring & managing the drivers.
Managing Trucks: The screen in the admin panel will contain the information related to vehicles, shippers and all the other additional costs & manage them.
Push Notifications: This shares all the information like payments, order completion, driver allotment etc to be updated.
Billing & Invoice: All the bills & invoices can be generated from this feature & can be approved & analyzed by the admin.
MS Feature: It will allow admin to solve all the user queries regarding services, drivers etc.
Fuel Consumption & Vehicle Management: According to the number of vehicles running, the fuel consumption for each of them is recorded accordingly.
Additional Features that Can Make your App Hit
Chat: In app chat for the ease of users and the drivers can be revolutionary as it can help you get more connected to both the aspects of your business. The chat options answers to all their queries and keep them updated with all the changes.
Live Stats of Delivery from your Merchant: It will also help you monitor all the activities of the driver and also assign the new task one they are finished with the task. It helps in increasing productivity and expanding the business. It also helps in more transparent business for your users as they can track and get all the information of the driver in a few clicks.
Multilingual support for driver: With local language in your hand, you will have ease in coordinating with your drivers. It can be very beneficial as it is very important for you scale your business. With common language you can easily assign tasks, execute and permit the user to avail remarkable service in almost every region.
Real Time Analytics: It helps you to identify the aspects of your business which are working fine and which are not working correctly. With real time analytics you can understand in which aspect you need to improve for maximum profit, and meet the user requirement in a better way.
Driver's Safety: This additional feature ensures the safety of drivers while driving. It helps in monitoring all the drivers on duty, their driving attitude while dispatching the goods & scores their safety as per the corresponding data. It can also generate a score card of every driver's behavior for ensuring maximum safety.
Payment Integration & Referral Rewards: You can allow your users to avail of your premium services. Whether it's about moving the house goods, or industrial goods. Offer them a reliable & transparent payment mechanism such as PayPal.
Adding Cloud: Addition of cloud can also be beneficial as it makes access & data storage simple & easy. You can easily access fleet information related to driver, order placement & deliveries data, driver behaviour report, times consumed for simplified approach. More and more successful businesses are incorporating cloud computing for the ease of doing work.
Other Additional Feature to Consider
–> Detailing of drivers that are ON/OFF duty along trip tracking feature & scheduling for your driver tracks.
–> Leaderboards & driver's cards can help you reward the drivers as per their behavior, scores & following guidelines.
–> Pre Plan routes for drivers determined by the users or you for easy tracking of shipments & to keep track of fuel consumption.
–> Hiring nearby mechanic & gas stations for accomplishing long journeys.
–> Offline/Online support to stay connected with the drivers & easy controlling of logistics operations that are taking place on road.
Involved Technology
Foremost you need the best mobile app development company for a seamless on-demand logistics mobile app. You also need to include the right technology while developing your application. Evolving latest technology and ideas to be ahead from all your competitors. Let us look at some must have features with your mobile app development.
–> SMS & Phone Verification – Twilio, Nexmmo
–> Push Notifications – Push.io, Twilio
–> Payments – Paypal, Strip, E-Wallets & Braintree
–> Database – Hbase, MongoDB, MailChimp Integration
–> Cloud Environment – Google, AWS, Azure
–> Real-Time Analytics – Hadoop, Big Data, Apache, Cisco, IBM
Development Process
To create a remarkable & exceptional mobile application for any idea, you need a development company that has a whole team of developers, testers, designers for a complete app development. Even if you are planning to create this application by yourself then you must the following key person by your side:
Project Manager: They add value to your team with all their knowledge and experience in the mobile industry. With their good command over managerial skills & must be able to figure out the solution.
Developers: Developers are the key as they are the one who will develop your application from scratch. If you need your app on both the platforms then you need both iOS and android developers in your team. Their skills & experience can be the key to find success.
Designers: Designers help in creating a well-designed application. They are responsible for creating a beautiful, attractive to users & seamless application with their design elements and background displays.
Testers: Testers ensures that the developed application functions & works properly. They make sure to apply all the testing standards so as to make it achieve the monumental success across all the market standards.
How Much the Mobile App Development Cost
The cost of the mobile app development depends on the company you hire, the features in the application, number of hours taken to develop, and the region of development. In Europe or the United States the price starts from $200-$500. Eastern Europe is much cheaper as compared to other parts of Europe. In India, the cost of developing an average on-demand logistics mobile app begins from as low as $20-$25 and would cost around between $9,000-$25,000 for a single platform.
(Visited 82 times, 1 visits today)