Best TV Streaming Apps to Watch Live TV in 2021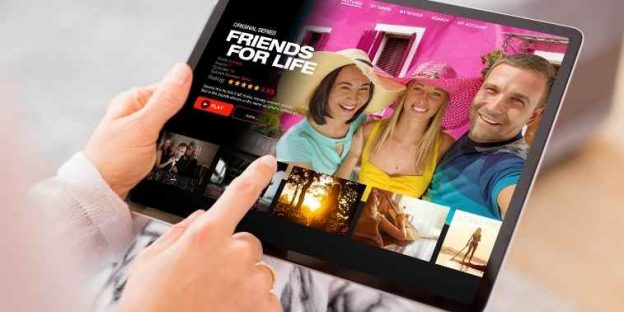 In these advanced times, we have also seen an update in the way we see our television. Now you can easily cut the cord and free yourself from the monthly cable subscription as now you have on-demand online content through various streaming applications. Well, there are many reasons behind it, as we can get everything quickly without any advertisements surfacing on your screen from time to time.
You also get to see local and international content on the same platform. Another reason why cable fails in these advanced times is that it has not changed for many years. You need to watch according to these cable channels but with the best streaming apps, you can watch a movie without worrying whether it is on cable makes it much better.
Another best thing about streaming applications is they are not limited to serials and movies. You can find valuable content including sports, entertainment, local and international news, and much more. These streaming platforms require payment from your end in order to access their services as you were also paying for the cable, it must not be a matter of concern for you as you are already paying for your cable services. Now we know the benefit of streaming services over cable, let us have a look at the top TV streaming apps in 2021.

Top TV Streaming Apps in 2021
The listed applications are made by the best mobile app development companies as these apps are amazing which offer high-quality video streaming right on your android and iOS smartphones screens. Not only that, you can use this streaming application on your LED or LCD screens too. Getting to know the best streaming service is as important as knowing about the top 10 best music apps in 2021 because people do not compromise with their music choices. Let us have a look at the best streaming apps of 2021. 
1. Netflix 

Netflix is one of the best streaming applications in the world. Netflix has 203.66 million subscribers worldwide as it has become the king of the online content distribution world. Netflix is known as the best streaming service in the world by most of the new content lovers.
Being the best, Netflix offers high-quality video streaming with a Free 30-day trial to decide whether you want to continue or not just like the best vocabulary apps in 2021. If you are a movie lover or who wants to consume the best of the best then Netflix is a must-have subscription for you as Netflix is home to new and best movies in the world. Its android app development and iOS app development make it perfect as it easily accessible on mobile phones too without any hassle. Notable features of the Netflix app:
-> Ensures multi-device support
-> Affordable subscription charges and more
-> Provides original movies and TV shows
-> Wide selection of options
-> Download and Watch offline
2. Twitch 

Twitch is very different from the other streaming mobile app development companies. But its popularity in the past few years has reached new heights and because of which it is second on our list.
Twitch is an American video live streaming service that focuses on video games live-streaming, including broadcasts of esports competitions. It also offers music broadcasts, creative content, and a real-live stream. As the above description suggests, Twitch is very famous among gamers as it offers live streams from MMO RPG, strategy, and FFS games for PS4, PC, Xbox One, and Nintendo Switch games. The most notable features of Twitch:
-> Live Chat
-> Watch gameplay of top games
-> Broadcast your feed to your audience with a chance to earn money
3. Amazon Prime 

We have mentioned it in our earlier blogs too and we are going to mention it again. Amazon will step into every field which will be profitable in the upcoming years. Amazon Prime Video is a subscription video on demand over the top streaming and rental service of Amazon.com and is a direct competitor of Netflix. As per Amazon, they have 200 million subscribers from all around the world.
You can choose from Anime, Action, Horror, Comedy, Romance, and much more. It also offers Prime Video originals just like Netflix originals. Prime Video is one of the best TV streaming apps for free that even break language barriers by offering its films in various languages. The most notable features of Amazon Prime are:
-> Download and Watch offline
-> Rent or buy media 
-> Cast from your phone to larger screens
-> Content from 100+ channels
Download Prime Video for Android
4. Disney plus

Disney+ is an American subscription video-on-demand over-the-top streaming service owned and operated by the Media and Entertainment Distribution division of The Walt Disney Company. Disney+ has around 103.6 million users all around the world because of its amazing service. On Disney+ has content from Disney, Marvel, National Geographic, Pixar, Star Wars, and much more.
Streaming services are as important in our lives as the best grocery shopping apps in 2021. One of the best features of this top mobile app development is its Chromecast feature where you can watch the same content on your SmartTV as well. The most notable features of Disney+ are:
-> Amazing content
-> Can found all Disney movies and shows in one place
-> HD and ultra HD streaming
-> Allows you to watch multiple devices at the same time
5. Tubi TV

Tubi TV is an American streaming service owned by Fox corporation which was launched on April first, 2014. At the moment 33 million monthly active users. This app is not only famous for offering a wide range of free movies and TV shows but also features a special category called "Not on Netflix " to facilitate users with exclusive videos.
There are also 34 categories available on the app that are just as innovative and fun which gives movie browsing an exciting approach. It is free to watch videos but you need to watch ads by but you can remove these advertisements by downloading and watching later options. Notable features of the Tubi TV are:
-> Multi-Device Syncing
-> Supports Chromecast and Airplay
-> Options to create and manage a personal video playlist
-> Can resume watching from where you left

6. Plex

Plex is a global streaming media service and a client-server media player platform made by Plex, Inc. Plex is very popular among the millennials and the top IT outsourcing companies as they also want to create such streaming platforms. At Plex, you can access all your video, music, and photo libraries along with your favorite podcasts and web shows.
Plex is available for iOS, Android, and Windows phones along with the Android TV platform, smart TVs, the new Apple TV, Amazon firestick on Amazon fire Tv, and much much more. The notable features of the Plex app are:
-> User-friendly Interface
-> Full Support for Subtitles
-> Allows you to watch and record with over the air broadcast TV
-> Remote Access
7. Hulu

Hulu is another top-level on-demand service fully controlled and majority-owned by The Walt Disney Company. Hulu is another best streaming android mobile app development company that offers a personalized and intuitive user interface along with an amazing library that contains some of the best shows like South Park, Fargo, Walking dead with an option of kids series as well.
Hulu is free for kids as they can enjoy it on Android and iOS TV apps which contain educational and animation channels which help your kids to grow. Hulu used to be a free service but now it is a subscription-only model since 2016 where the users need to pay a minimal fee to access online videos. The notable features of Hulu are:
-> Includes cloud DVR storage and more
-> Broad and a strong selection of TV shows
-> Available in the low base price
-> High-quality movies and TV shows
8. Youtube TV

YouTube Tv not only lets you watch thousands of videos from Youtube but also gives you access to live broadcasts from many channels. Once you buy its subscription model you can buy the live TV to watch quality online content. Available for both Android and iOS devices, this streaming app provides well-sorted categorization where users can search and find the best movies and TV shows. Youtube TV is Ads free and delivers high-quality pictures of up to 720p or 1080p. The notable features of Youtube TV are:
-> Free Trial
-> Connect up to 6 accounts on each connection
-> Cable-free TV
-> Watch Major broadcast including ABC, NFL, ESPN, HGTV, TNT, and more
Download Youtube TV for Android 
9. HBO Max

HBO Max is a recently launched American subscription-based video-on-demand streaming service which is owned by AT&T which itself is one of the largest telecommunication companies in the world. As of right now, HBO Max has around 44.2 million subscribers as it is home to some of the amazing content out there. At HBO Max you will find all the movies under Warner Bros production, DC movies, TV shows, and comics, Looney Toons, Discovery plus, etc.
HBO Max is not offering its services internationally as currently, it is only available in the USA only because they are planning to go international with their top-tier services to become the direct rival of Netflix, Amazon Prime Video, and Disney+. The most notable features of this top-class android mobile app development company are:
-> Curated Kids Experience
-> Hand-Picked Collection by Movie Buffs
-> Personalized Streaming Experience
-> Thousands of Hit Movies and Series
10. MovieFlix 

MovieFlix is another top-class Android and iOS streaming app. MovieFlix is specifically built to offer users great movies for free in high-quality resolution. This application consists of providing more than hundreds of TV shows and movies and that too without any kind of subscription or initial fees.
You can browse from Romance, Comedy, Drama, Family, Kids, Action, Horror, and much more without paying a single penny. Top Notable features of Movieflix are:
-> Smooth Interface
-> Free to use/ No registration needed
-> Subtitles and HD quality
-> TV shows and movies from various genres and languages
Download MovieFlix for Android
Here is the list of the top Streaming service which you download rather than using regular cable TV. You know the benefits of using the streaming service over cable TV. Today everything is important in our lives. For instance, you must also have an idea about the 10 Best Journaling Apps for Keeping a safe Journal in 2021. However, if you are a business and looking for a top IT outsourcing company like VerveLogic for IT consulting or mobile app development then we can help you with it.

We're VerveLogic and we've been serving our clients with our IT, designing, and Marketing services since 2012. Every day, our team of dedicated professionals works to make this world a little better through our premier solutions. Our exclusive services include Mobile App Development, Web Application Development, UX/UX Designing and Digital Marketing Services to businesses from all around the globe irrespective of your business domain.
(Visited 64 times, 1 visits today)