Top 10 Best Music Apps in 2021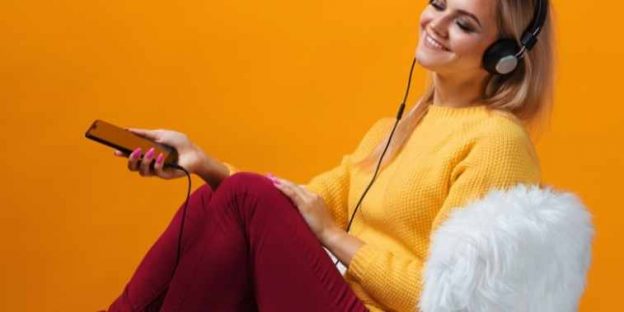 Music is much more than a rhythm for most of the people in the world and that is why total revenues for the global recorded music market grew by 7.4% in 2020 as recorded at the US $21.6 billion. No matter what you are feeling, music can be your companion for any type of mood. Earlier we needed to listen to music on radio and television as walky-talky was also a thing once. However, times have changed now, we are living in an updated world where our mobile phones are a main source of entertainment as the top music apps have boosted their coverage in the world of music. And the users look for top 5 music apps that you must download today to enjoy a unique music experience.
We have shortlisted the top 10 best free music apps so you can choose any of them and keep your favorite music with you whenever you step out of your home. These listed mobile applications are creatively developed by top mobile app development companies as these applications keep the user engaged. Every single app listed in this application has something distinct to offer. Let us dive straight away to find the best music streaming apps in the world.
Also Read: 110 Mobile App Ideas That People Are Looking for in 2021

Best Music Streaming Apps

1. Spotify 

Everyone knows about Spotify as it is one of the best audio streaming mobile apps in the world. Spotify is a Swedish audio streaming and media services provider which was founded in 2006 by Daniel Ek. Spotify added a record 74 million users in 2020 compared to 64 million users in 2019 taking its total to 345 million active users. Out of which 155 million users are paid subscribers as they have a superb 24% a year.
Spotify offers some amazing services as it has become one of the best free music apps that let you stream with the help of the internet or you can use it to save music later to save music offline. In order to save music, you need to be a paid subscriber. Let us have a look at the top features of Spotify:
-> Can be used online and offline 
-> Known for its rich library, music, podcasts, speeches in its online music player
-> Allows you to create a personalized playlist
-> Rated 4.5 on Google and 4.8 on Apple App Store
-> You can find music depending on your mood like sad music, meditation, etc.
Download the best Music App for  iOS and ANDROID
2. Shazam 

Shazam is another top free music streaming app in the market which you must have on your phone. Shazam doesn't play music for you, but you can also find the name of the song with just music or sound. It requires an online music player and requires an internet connection in order to function. You can also stream your favorite songs as it works for both android and iOS devices. You can also use its website to listen to songs on your desktop too. The top features of this music streaming application include:
-> Absolutely free to use
-> Application requires iOS 12.0 or later to work however it is compatible with every android devices
-> Find music in every language like English, Hindi, Spanish, German, etc. 
-> Rated 4.9 on the App Store and 4.4 on Google Play Store
Download the best Music App for iOS and  ANDROID
3. Apple Music 

When it comes to phones then Apple really doesn't want to lag behind in any aspect. Apple Music is one the best free music apps as it is available for both Android and iOS. You have more than 60 million songs from several genres as you can also visit music.apple.com and stream songs on your desktop. It has seamless navigation which makes it a superb offline music app. Let us have a look at the notable features of Apple Music: 
-> Apple music has more than 60 million songs to stream
-> You have the option to listen to music, radio, podcasts, and also watch documentaries
-> Comes with three months of free trial for new users
-> Allows you to create a profile and follow your friends and families on Apple Music to see their preferences
Download the best Music App for Ios and Android
4. SoundCloud 

If you are a music lover then you must have already heard about Soundcloud as it is another top-class music app. The best feature of Soundcloud is that anyone can easily upload music over it and become the next superstar in the music industry. This application lets you stream, download and share songs from its collection. Soundcloud also has a premium subscription for an ad-free experience as you also get a one-month free trial. These applications are changing the entertainment industry and taking it forward Best features of Soundcloud include: 
-> Premium version lets you download your favorite music offline
-> Allows you to join several communities to share the music taste with your friends
-> Has a community of more than 20 million artists along with 200 million+ music tracks
-> Access to unlimited and unheard songs without any subscription
Download the best Music App for Ios and Android

5. GarageBand

GarageBand is a line of digital audio workstations for macOS, iPad, and iOS devices that allows users to create music and podcasts. With the advanced features like inbuilt touch instruments that can be used to generate studio-quality music on the go and that is why the iOS app development companies love this kind of application. For instance, you can use your fingers to create music with touch cells. GarageBand also lets you make bass, drum music, guitar music, and piano music.
Fun Fact: GarageBand is developed by Apple for macOS, and was once part of the iLife software suite, along with iMovie and iDVD.
Top Features of GarageBand: 
-> Offers several digital instruments like drum, piano, or guitar
-> Can use GarageBand to live DJ music as it also allows you to create live loops and music effects in real-time
-> Rated at 4.1 out of 5 stars
-> Superb for music creators as it gives users the endless possibilities
Download the best Music App for Ios
6. Bandcamp

Bandcamp is an internet music company founded in 2008 by Oddpost co-founder Ethan Diamond and programmers Shawn Grunberger, Joe Holt, and Neal Tucker with headquarters in Oakland, California, US. The best thing about this top music streaming mobile app is that it has music from all around the world, as the users can follow their favorite artists and also buy their songs to support them.
Bandcamp is the perfect blend for both fans and artists. Artists can also build a community and sell their tracks and accessories. It also has a unique interface for your labels or merchandise and that is why Mobile UI/UX is really important for any application. Top features of Bandcamp include:
-> Register and start with the application
-> Find great music on recommendation
-> Rated 4.2 on Play Store and 4.8 in App Store
-> As per the latest data the artists have earned about $600 million by selling their music and merchandise through Bandcamp
Download the best Music App for Ios and Android
7. Tidal 

Tidal is a Norwegian subscription-based music podcast and video streaming service that offers audio and music videos with exclusive content and special features on music. It is currently available in 61 countries and is available for Windows, macOS, iOS, and Android devices.
Tidal consists of more than 70 million songs for you to enjoy as it offers a 30 days trial that can be used to hear offline and ad-free music. The most notable features of Tidal are: 
-> Enjoy live streaming from your favorite musicians on Tidal for free
-> It has more than 250,000 videos and 70 million songs
-> Offers personalized recommendations as per your streaming history and taste
-> Rated 4.2 on Google Play Store and 4.6 on the App Store
Download the best Music App for Ios and Android
8. Deezer

Deezer is another popular name in the music community, Deezer is a French online music streaming service. It allows users to listen to music content from record labels, including Universal music group, Sony Music, and Warner Music Group as well as podcasts on various devices online or offline. It is available in 180+ countries and has more than 55 million songs, podcasts, and playlists. Just like Shazam it also comes with a song catcher feature that lets you identify songs or music around you and which makes it the best music streaming app.
The best thing about streaming music is that it is up to 320kbps quality and it also doesn't disturb you with any kind of ads while listening to songs. The best features of Deezer include: 
-> Trusted by people as it has been downloaded more than 100 million times on Android devices
-> Share your playlists with others through social media
-> Has a plan for the entire family and a plan for students as well at a very cost-effective price
Download the best Music App for Ios and Android
9. Amazon Music 

If Apple is stepping into something then how can other giants sit and do nothing? Something like this happened when Amazon also stepped into the music industry with its own music streaming mobile app. However, it was launched as a beta in 2007 and in January 2008 it became the first music store to sell music without digital rights management from the major music labels, as well as independents.
It is available for android, iOS, and as an internet browser with more than 70 million songs to stream. It comes with a 30 days free trial for users but before you need to buy the subscription. The most notable features of Amazon Music include: 
-> Offers ultra HD music experience for high-quality sound
-> Download and save music for later
-> Also offers podcasts and radio channel along with music
-> Rated 4.4 on Play Store and 4.7 on App Store
Download the best Music App for Ios and Android
10. Musyc

Musyc is specially developed for iPhone users by Fingerlab. This music streaming app has some amazing features like an audio track mixer to adjust pitch, length, on music files and it also comes with an in-built motion recorder as well. There are 88 instruments included in this best offline music app. These instruments are divided into 22 groups according to their specifications. The top features of Musyc are:
-> This application comes in two appearances i.e. Black and white
-> The interface offers more than 10 languages including German, English, Italian
-> Looks best on iPhones looks stunning due to retina display support
-> Can use this music streaming app to record real-time audio
Download the best Music App for Ios
These are the top music streaming apps from which you can use to listen and create music and feel alive. For some, you need to pay to have all features but many of them are also free to use.
If you are a business that wants to create such an application for your business then you can contact a top IT outsourcing company like VerveLogic for IT consulting and development and how to make a music streaming app.
We're VerveLogic and we've been serving our clients with our IT, designing, and Marketing services since 2012. Every day, our team of dedicated professionals works to make this world a little better through our premier solutions. Our exclusive services include Mobile App Development, Web Application Development, UX/UX Designing and Digital Marketing Services to businesses from all around the globe irrespective of your business domain.

Also read: Live Video Streaming & Broadcasting Mobile App Development
Music Stream Mobile App Development Company
(Visited 6,445 times, 1 visits today)